As we sit back and discuss sports, only a few athletes come to mind for whom we could go on continuous for hours and hours, and when such happens, we don't want to let go of the player ever.
Andrew Luck is a rare player we wish to see forever on the field. The American former professional footballer was featured as an Indianapolis Colts member for seven seasons in the National Football League (NFL).
Furthermore, compared to other great players, he came into the field for fewer seasons but achieved many more milestones since his rookie years.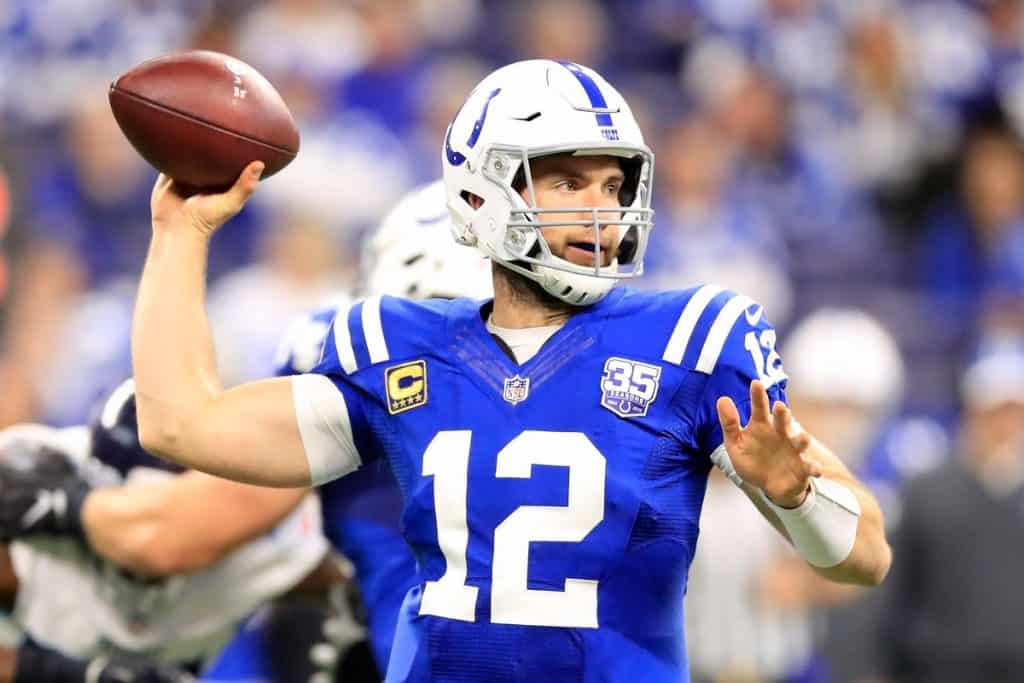 Throughout his journey, Luck has improvised himself as the running quarterback (dual-threat quarterback), hence retiring during his peak time.
Above all, Andrew is a badass celebrity that you will never see worrying about that stuff, either huge or small.
Therefore, he proves chilled time with himself, portraying how big of a deal he is. So get ready to know more about Andrew Luck, and stick with us till the end.
Quick Facts:
| | |
| --- | --- |
| Full Name | Andrew Austen Luck |
| Date of Birth | September 12, 1989 |
| Birthplace | Washington, D.C. |
| Nick Name | Wolverine, Meal Ticket |
| Religion | Christianity |
| Nationality | American |
| Ethnicity | White |
| Zodiac Sign | Virgo |
| Age | 33 Years Old |
| Height | 6 ft 4 in (1.93 m) |
| Weight | 240 lb (109 kg) |
| Hair Color | Dark Brown |
| Eye Color | Hazel |
| Build | Athletic |
| Father's Name | Oliver Luck |
| Mother's Name | Kathy Wilson Luck |
| Siblings | A younger brother, Addison Luck, and two younger sisters, Emily Luck and Mary Ellen Luck |
| Education | Frankfurt International School The American School in London Stratford High School Stratford University |
| Marital Status | Married |
| Wife | Nicole Pechanec |
| Kids | Lucy Luck |
| Profession | Football Player |
| Position | Quarterback |
| Affiliations | Indianapolis Colt (2012-2018) |
| Jersey number | 12 |
| Net Worth | $40 million |
| Social Media | Instagram, Twitter |
| Merch | Paperback, Autograph, Jersey, Card, T-shirt, Football Card |
| Last Update | February, 2023 |
Andrew Luck | Early Life, Family & Education
Andrew Austen Luck shortly Andrew Luck was born in Washington, D.C., to parents Kathy Wilson Luck and Oliver Luck.
His Father used to be a former NFL quarterback for the Houston Oilers and athletic director at West Virginia University.
He is also a former Executive vice president for regulatory affairs at the NCAA and the XFL commissioner.
Before moving out of the States, Oliver had tried his hands on law and congressional candidates, which both failed.
Therefore, he thought of starting his pro football team, and thus, he came to Germany with his wife and one-year-old son.
Luck's family were Americans living abroad as, back then, his Father was a general manager of two World League of American Football teams working from Frankfurt, Germany.
In addition, until the age of four, Luck attended the Frankfurt International School until they moved to London.
Andrew spent a big chunk of his childhood in London as he attended the American School there.
As far back as he can remember, Andrew had opened up, stating how he thought every dad would own a pro league football team in Europe after being a professional quarterback.
During his childhood, he learned to speak german, drink, eat in Europe, watch NFLs, visit museums, and sketch stadium designs.
As we moved into his schooling days, he would teach his non-American friends about football during recess, sketching the details in their palms.
To sum up his childhood, it was hosting a birthday Party for his non-American friends, playing football in sweatshirts as a jersey, and re-watching his dad's games.
How old is Andrew Luck? Age, Height & Body Measurements
Andrew Luck is 33 years old. He was born on September 12, 1989, under the sun sign Virgo.
Moreover, Andrew is a tall guy with a maintained bulk athletic body. The player stands at 6 ft 4 inches (1.93 m) while weighing 240 lb (109 kg).
Overall, he has an oval-shaped face with beautiful hazel eyes and dark brown eyes with a beard of the same color.
Not to mention, Andrew has also received a lot of attention for his legendary neckbeard.
As for his bodily measurements, he has a perfect athletic body measuring 48-chest size, 36 waist size, and 16.5-biceps size (122-42-91.5cm)
High School
During his teenage days, they moved back to Texas as his Father became the Harris County-Houston Sports Authority CEO.
Luck started his high school days at Stratford High School as he commenced his baseball days.
He is the graduation pack of 2008 as he threw 7,139 yards, 53 touchdowns, and added 2,085 yards by the end of the time.
As he graduated with honors, he played in the U.S. Army All-American Bowl the same year, and thus, he has titled the No. 4 pro-style quarterback in the class of 2008.
Simultaneously, as he had offers from Northwestern Wildcats, Oklahoma State Cowboys, Purdue Boilermakers, Rice Owls, and Virginia Cavaliers, Luck was named the four-star recruit Rivals.com.
However, he chose Stratford over all of them as head coach Jim Harbaugh recruited him.
Not to mention that sweet moment when Andrew had stated how football had founded his passion, adding,
"The Houston Dynamo is the number one team in my heart because my Father is the club's founding president and general manager."
College Career
With graduation day ending, Luck enrolled in Stanford University with a full scholarship, where he spent his time from 2008-2011 under the Cardinals' coach David Shaw.
For the extra facts, his younger sister Mary Ellen is also a Stanford graduate who used to play volleyball. His other sister, Emily, is a current Stanford student.
2009
Before the beginning of the foremost season with his college, he was redshirted and played as the starting quarterback winning the position over Tavita Pritchard.
With this, he became the second Stanford freshman to earn the starting quarterback job standing behind Chad Hutchinson.
During the season, Andrew led the Cardinals and earned victories over Oregon and USC teams; however, he broke his finger at the match against Notre Dame.
Hence, he had surgery and did not attend the Sun Bowl, thus, ending the season with 2,929 yards and an efficiency rating of 143.5.
2010
A year into his college career, Andrew stood as one of the nation's top players.
He recorded a victory in the Orange Bowl over Virginia Tech during the same season and claimed the Orange Bowl MVP.
Following it, as he had an efficiency rating of 170.2 leading into Pac-10, he surpassed Steve Stenstrom and John Elway's touchdowns record of 27 with 32 of his own.
Additionally, he had won the Offensive Player of the Week award with new Stanford single-season records such as a 70.7% completion percentage and 170.2 pass efficiency rating.
By the end of the season, he had a chance to be in the 2011 NFL Draft; however, he stayed in the college to finish his degree.
2011
Andrew moved to another shining year with banging commencement as he claimed the Maxwell Award and the Walter Camp Player of the Year Award.
Like last year, he stood second again in the Heishman Trophy voting and won the Pac-12 Offensive Player of the Year for the second time in his career.
Furthermore, bigger organizations and websites such as AFCA, Walter Camp, ESPN.com, and Pro football weekly named him the First Team All Americal.
In the meantime, he successfully broke John Elway's touchdowns record of 77 with 82 of his own, followed by Steve Stenstrom's record of 9,825 yards with 10,387 yards of his.
By the end of the year, he had the highest completion percentage in a season with71.3% and was awarded 2011 Academic All-America of the Year.
Overall, Luck graduated from Stanford on June 17, 2012, with a bachelor's degree in architectural design.
Subsequently, he was given the Al Masters Award to honor his athletic performance, leadership, and academic achievement.
Andrew Luck | Professional and NFL Career
A long time before the commencement of his career on professional grounds, Andrew was already all over the news as "the best quarterback since Peyton Manning," the No. 1 overall draft prospect, and "the most NFL-ready of all the draft-eligible quarterback prospects."
Indianapolis Colts
On April 26, 2012, the Colts announced to draft him into the team as the first overall draft pick, and on July 19, 2012, they signed a four-year $22 million deal with Andrew.
As Colt's general manager, Ryan Grigson had selected Luck as the first overall draft. He stood as the fourth quarterback to be the first pick after Bobby Garrett, Jim Plunkett, and Elway.
The Year 2012
Luck made his debut for the team against the St. Louis Rams, and he had his first career interception to Tim Jennings and a first career touchdown pass to Donnie Avery for a regular-season update.
Unfortunately, he had several losses at the start of the season and had his first career win against the Minnesota Vikings.
Similarly, his first career overtime game wins facing the division rival Tennessee Titans.
Consequently, by the end of Week 13, Luck was named as the most wins by a rookie quarterback drafted first overall in NFL history.
Furthermore, Luck closed his rookie season with 205 throws with 4,183 yards.
The Year 2013
Unlike the last year, he began this with a win against the Oakland Raiders, followed by losses and an eventual victory over his former Stanford coach Jim Harbaugh against the San Francisco 49ers.
He also made the Seattle Seahawks taste their first loss during the journey as he had his ninth comeback win.
By the end of the season, Luck had two AFC Offensive Player of the Week award, leading the Colts to their first divisional championship win.
The Year 2014
This year is labeled as Luck's best year of his career, and the same year, he had his first playoff on January 4.
During his first NFL home playoff game, Luck recorded 29 passes for 433 yards and 4 touchdowns and was ranked #1 on NFL.com's Top Games.
On January 19, he was named to the Pro Bowl, followed by AFC Offensive Player of the Week to match against the Jacksonville Jaguars.
Subsequently, let me wrap up things in short about his season's achievements.
The first quarterback in NFL history to throw for 370 yards, 4 touchdowns, and a completion percentage of 70 percent or above in consecutive games.
He broke his single-season touchdown against the New York Giants, the first quarterback in 2014 to reach 3,000 passing yards.
AFC Offensive Player of the Month (November)
Pro Bowl berth (third straight)
AFC Divisional Round (a win against Denver Broncos)
league's Leader in passing touchdowns
The Year 2015
With the end of the star-studded season, Colts added a fifth year in their deal with Andrew as they would pay $16.55 million guaranteed money from 2016.
At the beginning of the season for the year, he did not attend two games due to his unfortunate shoulder injury.
Thus, he came on the field on October 16 against the New England Patriots, which came as a loss.
Advancing further, with a win against the Caroline Panthers, he was again sidelined due to his lacerated kidney and a partially torn abdominal muscle.
Therefore, he did not attend any games for the remaining season, including the playoff games.
The Year 2016
This year, Luck became the highest-paid player in the league as The Colts extended their contract to the sixth year with $87 million guaranteed money and a worth of $140 million.
He had bagged the AFC Offensive Player of the Week with 278 yards and four touchdowns for the season.
By the end of the year, he has had 4,240 yards and 31 touchdowns, and a career-high 63.5 completion percentage.
The Year 2017
Due to Luck's shoulder injury, he missed the whole year in the game as he underwent surgery. Hence, he was also sidelined from the playoff games and training camps.
For his thorough treatment, he flew to England on November 11, and as he returned to the U.S, at first, he was given a throwing program.
The Year 2018
With an interval of 616 days, Luck returned in 2018 and debuted against the Cincinnati Bengals as the Colts lost. However, he managed to set a career-high completion with 39.
In Weeks 2 and 3, both came as a loss that drew attention from crowds and fans questioning his shoulder issue.
Likewise, in Week 4, he again had a career-high completion of 40 against the Houston Texans, but the game came as a loss.
With the continuous loss until Week 6, the Colts had five winning streaks from Week 7 against the Buffalo Bills, Oakland Raiders, Jacksonville Jaguars, Miami Dolphins, and the New York Giants.
At this moment, coming to the end of the season, they had won nine out of ten games in Wild Card berth, while Luck recorded 4,593 passing yards, 39 touchdowns, and 15 interceptions.
In the meantime, he was named to his fourth Pro Bowl, and Pro Football Writers Association awarded him with the National Football League Comeback Player of the Year.
"For better or worse, many people's image is based on the first things written about them. You can't control what people write about you, so-good or bad-I. Have never lost sleep about it."
–Andrew Luck quotes
Andrew Luck | Summary Career Stats
| | | | | | | | | | |
| --- | --- | --- | --- | --- | --- | --- | --- | --- | --- |
| SUMMARY | G | AV | QBrec | Cmp% | Yds | Y/A | TD | Int | FantPt |
| Career | 86 | 80 | 55-33-0 | 60.8 | 23671 | 7.2 | 171 | 83 | 1686.2 |
Learn more about Luck's stats and scouting report on ESPN.
Andrew Luck | Early Retirement
At only 29, Luck officially announced his retirement from the NFL due to his recurring injuries and long rehabilitation processes.
Andrew is also named the best professional player who is ending his career at the peak, and following his retirement, he made the following statement on August 24, 2019.
"I've been stuck in this process. I haven't been able to live the life I want to live. It's taken the joy out of this game. The only way forward for me is to remove myself from football. This is not an easy decision. It's the hardest decision of my life. But it is the right decision for me."
-Andrew Luck quotes
Andrew Luck | Awards and Highlights
College
First-team All-American (AFCA, Walter Camp, ESPN.com & PFW)
Maxwell Award
Walter Camp Player of the Year Award
Johnny Unitas Golden Arm Award
Academic All-America of the Year (CoSIDA)
Pac-12 Offensive Player of the Year
First-team All-Pac-12
Professional
4× Pro Bowl (2012, 2013, 2014 & 2018)
NFL Comeback Player of the Year (2018)
2× AFC Offensive Player of the Month (November 2014 & November 2018)
5× AFC Offensive Player of the Week (Week 9, 2012; Week 7, 2013; 2014 Week 3; Week 13, 2016 & Week 11, 2018)
3× Pepsi NFL Rookie of the Week (Week 3, 2012; Week 5, 2012; & Week 8, 2012)
You might be interested in reading: <Glenn Gronkowski Bio: Age, Career, Net Worth, Instagram & Wiki>>>
How much is Andrew Luck worth? Net Worth and Salary
As of 2023, Luck is reported to have a net worth of $40 million, with an annual salary of $24 million at his career peak.
Likewise, he earned more than $97.1 million in salary during his seven NFL seasons.
Andrew was the highest-paid player in NFL history in 2016. Previously, he had signed a six-year, $140 million deal with the Indianapolis Colts.
That deal included $47 million as fully guaranteed money and an average annual salary of $23.3 million.
He played three of five years with the Colts. It was the last contract of Andrew Luck's football career.
Furthermore, he is sponsored by brands such as BodyArmor, DIRECTV, Inc., Nike, and Panini, and he earns $2.8 million only through brand endorsements.
To date, Luck first made his media appearance in 2013 with the comedy series Parks and Recreation.
Back then, he featured in the show's fifth episode alongside his teammates Reggie Wayne, Anthony Castonzo, Robert Mathis, and Adam Vinatieri.
Who is Andrew Luck's wife? Love Life & Child
Luck is happily married to his longtime girlfriend, Nicole Pechanec, a former Stanford gymnast.
The duo married in Prague in the Czech Republic, and at present, they have a daughter named Lucy Luck.
Back in their days, they were both architecture majors and athletic figures, as Nicole was also the gymnast captain.
Additionally, there was news that the two lived together in a condo. As we move onto Andrew's social media, he is too behind in the digital area.
According to the news, he is not into smartphones, so he uses a simple and old-fashioned Samsung flip phone.
Social Media Presence:
Andrew Luck does not have any social media accounts. He used to have one during high school, but he has not used that ever since.
In addition to that, we'll provide you with his fan pages. Interestingly, a hilarious Twitter account is dedicated to Andrew Luck named Capt. AndrewLuck.
The account imagines life from the all-star Quarterback as a Civil War officer, writing home to tell his "Dearest mother" the latest news on his season.
You can follow his fan accounts via this link.
Andrew Luck | Favourites
Before wrapping up this article, let me add a few doses of Andrew's likes below.
| | |
| --- | --- |
| Favorite book | Papillon by Henri Charrière |
| Favorite music concert | By Edward Sharpe and the Magnetic Zeros |
| Favorite food | Baked Beans, Stinky Cheese, Chocolate, Duck Prosciutto, and Beer |
| Favorite board game | Settlers of Catan |
| Favorite musician | Bruce Springsteen |
Some FAQs:
Who is Colt's quarterback right now?
At present, Philip Rivers is Colt's quarterback.
What is Andrew Luck's highest Madden rating?
Andrew Luck's highest overall Madden rating is 83.
Did Andrew Luck send his jersey to the Hall of Fame?
Yes, Andrew Luck sent his jersey from the Dolphins game to the Pro Football Hall of Fame.
Is Andrew Luck a free agent?
No, Andrew Luck is not a free agent. He retired from football in the 2019 NFL season. So, he will not sign a contract to play for any team.
How much are Andrew Luck football rookie cards worth?
Andrew Luck's football rookie card price ranges from $1.73-$45.16.
Which team did Andrew Luck play the last game with?
Andrew Luck played his last game with the professional football team Indianapolis Colts.
What are the chances of Andrew Luck coming back?
Some Indianapolis Colts fans rumored that Andrew Luck would soon be coming out of retirement to rejoin the NFL's Indianapolis Colts.
However, Jim Isry, the Indianapolis Colts CEO, mentioned during his interviews that Andrew is not coming out of retirement to solve Indianapolis' quarterback quandary. Jim said,
"He's more retired now than he was a year and a half ago. He is retired, and there's no wiggle room or rumor or anything, as much as people would like to hear that."
Did Andrew Luck ever win MVP?
Andrew Luck was named the Orange Bowl Most Valuable Player (MVP) in the 2010 season after throwing four touchdown passes with Stanford's 40–12 win over Virginia Tech.
Did Andrew Luck sustain a knee injury?
The player sustained injuries to his calf and ankle, eventually leading Luck to announce his retirement plans.
Was Andrew Luck in New World Cup Panini Sticker Commercial?
Yes, Andrew Luck was featured in the Panini's World Cup "Who Do You Collect" series alongside the legendary basketball player Kobe Bryant.
The video showcases how growing up in Europe, Andrew Luck, and Kobe Bryant played the game and achieved success on the basketball court and football field.