How do people describe Philip Rivers? While his teammates describe him as a brave, tough, confident, and talented player, his opponents describe him as a cocky and overrated person.
However, the audience judges him purely through his plays and movement in the field.
Philip is one of the coach's boys who is determined to challenge the world. When the experts were against his plays in the field, he did not let their opinion hold him back.
The man quickly learned what he needed to do and burned the experts' opinions to the ground.
The quarterback is living proof that experts are not the ones who can be trusted consistently when it comes to their comments on a young quarterback.
Let us take a ride through this talented quarterback's journey from being criticized to being complimented in American Football.
Philip Rivers | Quick Facts
| | |
| --- | --- |
| Full Name | Philip Rivers |
| Profession | Football Player |
| Date of Birth | December 8, 1981 |
| Place of Birth | Decatur, Alabama |
| Father's Name | Steve Rivers |
| Mother's Name | Joan Rivers |
| Zodiac Sign | Sagittarius |
| Age | 41 years old |
| Married | Yes |
| Spouse's Name | Tiffany Rivers |
| Spouse's Profession | N/A |
| Children | 9 children |
| Religion | Christianity |
| Height | 6'5″/1.96 m |
| Weight | 103 kg/ 228 lb |
| Eye Color | Brown |
| Hair Color | Black |
| College | North Carolina State University |
| Last Team | Indianapolis Colts |
| Jersey Number | 17 |
| Nationality | American |
| Social Media | Twitter |
| Merch | Jersey, Posters, Autograph Photo |
| Last Update | March, 2023 |
Philip Rivers | Early Life, Family, and Education
Early Life
Rivers was born in the year 1981 in Decatur, Alabama. His birthday is on December 8. Philip was born to the head coach of Decatur High's football team and a teacher. Rivers was into sports from a very young age.
He had pasted his face over the Minnesota Vikings player appearing on the cover of Sports Illustrated as a part of a fifth-grade project about dreams and aspirations.
This showed the passion and interest he had as a kid for football.
However, Philip had reported that he was more interested in basketball than football when he was a small child. He used to play the sport more often, until one day he tried football, and the rest became history.
Rivers' stay in Decatur was interrupted when he and his family moved to Athens.
He started playing football in class 7, and when he got into high school, he started playing in the Athens High School team.
Family
Philip was born to a head football coach Steve and a teacher Joan Rivers. His passion and interest in football might have grown through his father's profession too.
Both his father and mother gave him total support when he played football.
When Philip was in his teens, he was gifted with two more siblings, Stephen and Anna. These two young ones were loved dearly by their older brother Philip.
Education
Philip started his primary education in the school where his father was the head coach of football in Decatur.
His parents' job was related to education directly and indirectly (father), which helped him rise through grades with good marks.
He later moved to Athens High School to complete his high school. This is where he rose and shined as a football player.
Further down the road, he was recruited as a quarterback at North Carolina State after high school graduation. This was exactly what he needed to boost his career as a football player.
He is said to have studied Bachelor of Arts at North Carolina State University.
However, we would suggest taking this information with a grain of salt as there is no confident evidence to support the statement further.
Philip Rivers | Age, Body Measurement, and Nationality
Age and Body Measurement
Born near the end of 1981, Philip Rivers is 41 years old. But due to his athletic build and exceptional physical fitness, the man looks a lot younger than an average 38 years old man.
Now, talking about his body measurement, Philip is a very tall guy with a height of 6 feet and 5 inches.
This makes him taller than an average North American male. His last recorded weight was 103 kg, but this is the one stat that could change for better or worse.
Nationality
Philip was born and raised in Decatur, Alabama. He later moved to a nearby Athens city for his high school, but he is a true American. In addition to that, the man is a true patriot for his country.
Although his hometown and birthplace are in Alabama, he currently resides in Santa Rosa Beach, Florida, with his wife and children.
Philip Rivers | career
Early Career
Right after high school, Philip was recruited by North Carolina State University. He was recruited because of his phenomenal skills and talent in football.
The coach Chuck Amato convinced his parents to let him study at NCSU right after high school.
After Rivers enrolled in January, he started his practice to be the college's quarterback. During their freshman year, Rivers led the NCSU to an 8-4 record win, where they also won against Minnesota once.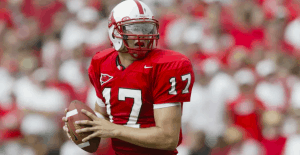 Likewise, the winning streaks continued, with Rivers having 16 touchdowns in their sophomore year.
In addition to that, Philip led his team to victories in their first nine games. This was the best start in the college's history.
He gave an MVP performance in the most important game against Notre Dame for a win.
In his senior year, Philip threw for 4,491 yards. He scored about 34 touchdowns in 12 games, which capped his career as the most productive and durable football quarterback in Atlantic Coast Conference's history.
Rivers broke almost every NC State and ACC passing record during his collegiate career.
Read about another star quarterback: Kyle Sloter Age, College, Stats, Football, Vikings, Highlights, Net Worth, Instagram >>
Professional Career
Philip's professional career was more awe-inspiring than his college career.
Although his professional career did not kick off like he expected it to because of his criticism of his techniques in the game.
New York Giants drafted him in 2004, and he was later traded to the San Diego Chargers. He played in the team for about 12 years, i.e., 12 seasons.
There were times when he showed exceptional sportsmanship and skills in the play; however, he was not the best player on the field all the time.
Going through his statistics, he had the best season of his career in 2008 for the San Diego Chargers. During this season, he was able to score 34 passing touchdowns, which is actually pretty impressive.
He had a passer rating of 105.5, which is slightly less than his highest 110.9.
Later in 2017, he joined Los Angeles Chargers, where he played for three years and made quite a name for himself.
Although he could not shine as bright as when he was in the San Diego Chargers, he made influential LAC plays to grab some important wins.
Currently, he is playing for Indianapolis Colts. He signed a one-year $25 million deal with the Indianapolis Colts on March 21, 2020.
You can get more detailed season-to-season information about the career of Philip Rivers through his Wikipedia page.
Also, read about another NFL player: Drew Brees – Wiki, Age, Net Worth, Wife, Kids & Career >>
Philip Rivers' Injury
It is not odd for players and athletes like Philip to suffer from various injuries throughout their careers. And no doubt, Rivers have missed many games due to his injury, like in the 2010 Pro Bowl.
A year later, Rivers started getting criticisms for his poor performance, probably from his undisclosed injury.
Other than that, Philip has suffered from sore ribs, back injuries, and many other minor ones.
Philip Rivers | Wife and Kids
Philip is a Roman Catholic and a keeper of his word. He got married to his junior high school girl, Tiffany, in the year 2001. Both of them love each other very much and had been together for quite some time before getting married.
To show her love, Tiffany converted to the Catholic faith to be more like her husband.
The happy couple has children of their own. To be clearer, they have nine children. They had their last child on October 28, 2015. They named their last child, daughter, Clare.
Philip has said that his wife and his kids mean everything to him, and he has worked continuously to fulfill every need of his family.
As he comes from an athletic family, his children also seem to have athleticism in their blood as they seem to love playing football.
Philip Rivers | Salary and Net Worth
Philip's exact salary has not been disclosed to the public until now. However, considering football is one of the most loved sports in America, his salary could be more than a hundred thousand dollars a month.
But, his salary is not the only source of income for him. He gets sponsored by different brands, plus he also has investments in different sectors to build up more money for himself.
It has been reported that his total career earnings are getting close to $200 million.
Not to mention, the NFL player signed a one-year contract worth $25 million with the Colts.
He is a simple man with good taste; the man had made a major investment of $200,000 in customizing an SUV into a moving film room. The SUV has got all the facilities that are available at home.
We do not know his exact net worth right now, as it has not been revealed.
However, his estimated net worth is around $40 Million, which is pretty huge.
Forbes has also listed him in the top 100 highest-paid athletes in 2020.
More information on Rivers' net worth and assets, right here: Philip Rivers Net Worth: Charity, House & Endorsements >>
Philip Rivers | Social Media
Unfortunately, Philip Rivers does not seem to be quite active on any social media platform. We could not find any verified accounts in his name.
This could probably mean that he prefers to have a private life, as having social media would mean that people could see his life events.
He is one of the few celebrities who prefer not to be active on social media. Although this comes as a bummer for his fans, this might actually be good for him.
However, we found an official Twitter account for his fans, which seems to be quite active. The Twitter account has 9.7k followers and does have content involving Philip and his plays in football.
What People Ask About Philip Rivers
Is Philip Rivers a Hall of Famer?
Yes, through his stats, Rivers qualifies as a Hall of Famer. The man is sixth in passing touchdowns and passing yards with about 59,271 passing yards and 397 passing touchdowns. This is quite an impressive stat.
What happened with Philip Rivers?
Philip Rivers was playing in the Los Angeles Chargers a while ago; however, it has been confirmed that Rivers is no longer the LAC's quarterback.
Is Philip Rivers moving to Florida?
Philip has moved to Florida permanently from San Diego to be closer to his family with his family.
When did Philip Rivers retire?
Philip Rivers retired from the NFL on January 20, 2021, stating, "It's just time. It's just right."
What is "Nunc Coepi"?
The former Colts' quarterback is a big believer in the Latin phrase "Nunc Coepi," which translates to "Now I Begin." And Rivers makes sure to apply the phrase in his life every time.
Read another article from the same writer: Roger Federer: Early Life, Family, Age, Wife, Children, Net Worth >>