We all have had to deal with our fair share of bad luck over the years. However, one such lady who has continuously been on the wrong foot with fortune is Angela Magana.
Ever since her birth, Angela has had to face adversities. From eating out of garbage cans and living on the streets to getting raped at just 14, poor Magana had to endure the worst.
However, she fought through those hard times and made herself a top MMA fighter. As a result, we here at Playersbio have written this article about the strawweight fighter to inspire our dear viewers.
In this article, you will find every little detail from her teen years all the way to her recent days. So without further ado, let's begin.
Quick Facts
| | |
| --- | --- |
| Full Name | Angela Magana |
| Nickname/Moniker | Your Majesty |
| Birth Date | August 2, 1983 |
| Birth Place | Farmington, New Mexico, United States |
| Current Residence | United States |
| Religion | Unknown |
| Nationality | American |
| Ethnicity | White |
| Horoscope | Leo |
| Father's Name | Not Known |
| Mother's Name | Not Known |
| Grand Father | N/A |
| Sibling | Unknown |
| Age | 39 Years Old |
| Height | 5 ft 1 in (1.55 m) |
| Weight | 115 lb (52 kg; 8 st 3 lb) |
| Body Measurement | Unknown |
| Body type | Athletic |
| Eye color | Amber |
| Hair Color | Brown |
| Profession | Mixed Martial Artist |
| Marital Status | Unknown |
| Husband | Unknown |
| Children | Yes (1 Daughter) |
| Net Worth | $200,000 |
| Social Media | Twitter |
| Last Update | June, 2023 |
Angela Magana: Coma
At the time of writing, former UFC star Angela has successfully recovered from her serious health scare. She went through a tenuous process to get herself fit, and now she is healthy as ever.
Magana had fallen into a coma in April 2019 and remained unconscious for two days. In the build-up to her fight, Angela regularly dealt with severe back pain.
Against all better judgments, she decided against taking medical help. And that is when the problems arose. Subsequently, Magana was diagnosed with cauda equina syndrome.
As a result, the 39 year-old strawweight had to undergo surgery. Instead of getting better, Angela fell into a coma that lasted for two days.
In an interview, her longtime coach, Gabriel Lamastus, said that anesthesia played a significant part in the life-threatening scare.
Angela Magana: Wiki Bio
Angela Magana was born on August 2, 1983, in Farmington, New Mexico. Unfortunately, there is no information when it comes to her family.
She is a 39-year-old single mother and a former UFC fighter. Moreover, Magana has been fighting professionally since 2007.
Early Life
When it comes to Magana's early life, it is filled with tragedies. Firstly, her mother was a heroin addict. As a result, she lived in the streets of Los Angeles and ate out of garbage cans.
Eventually, her grandparents got custody of her and gave her a new beginning. But unfortunately, when she turned 14, Angela was raped by the child's father that she babysat for.
Although the man was sentenced to 14 years in prison, it left a lasting scar on Angela's mind.
Angela Magana: Career & Fights
Angela made her professional debut on March 23, 2007, against Tia Castillo. Impressively, she won the fight via a TKO in the first round.
Since then, Magana has fought 21 times, winning 11 and losing 10. However, her record has suffered a lot from 2012 onwards as she has lost six fights in a row.
During her 13-year career, Angela has fought for many top organizations. But, her time at UFC stands out the most as it is there that Magana gained her international recognition.
In her three fights under the UFC banner, Angela had an appalling record of three losses in three bouts. However, much of it was due to her injuries and accidents.
Regardless, she was let go by the UFC in 2017. After that, Magana fought at Rizin 12 against Kanako Murata. Just like several times before, she lost the fight to losing streak to six.
Since then, Angela has not fought in any professional event. The main reason being her ill-fated surgery, which resulted in the 39-year-old being in a coma for two days.
Angela Magana: Age, Body Measurements & Nationality
At the time of writing, Angela is 39 years old. She was born on the 2nd day of August, which makes her birth sign Leo. Typically, Leos tend to be passionate, warm, and dynamic.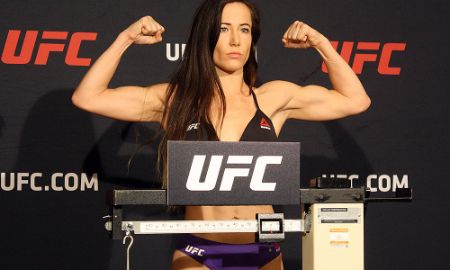 Moving on, Magana stands at 5 feet 1 inch (1.55 m) and weighs 115 lb (52 kg). Moreover, she fought in the strawweight division during her time at UFC.
About her nationality, the fighter was born in Farmington, a city in San Juan County of New Mexico. Therefore, Angela is an American citizen.
Record
Before her unfortunate surgery in 2019, Angela had fought in 21 professional fights dating all the way back to 2007. In those bouts, Magana has a record of 11 wins and 10 losses.
Angela Magana: Net Worth
As of2023, Angela has a net worth of $200,000 accrued from her career as a mixed martial artist. It is shallow, considering she has been fighting professionally for 13 years.
Sadly, that is the case with MMA fighters and more so females. Yes, guys, behind all the glitz and glam on the TV, there is a ruthless world that awaits these fighters.
Jessie Graff Bio: Husband, Age, Height, Career, IG, Net Worth, Salary Wiki >>
They have to live paycheck to paycheck. And if MMA fighters get injured, there is no compensation as they are not employees.
Rather, they are like contractors who have contracts with MMA organizations for a certain number of fights.
During her three fights in the organization, Angela took home $33,000 in total. Sadly the partnership ended prematurely as she lost all three of her bouts.
Fight Purse
Talking about her fight purse, Magana earned $12,500 at UFC 218. The paycheck included $10,000 to show and $2,500 as Reebok sponsorship.
However, she would have earned even more had she won the bout. To be precise, Angela would have bagged another $10,000.
Angela Magana: Delilah Magana & Husband
Angela is a single mom to her beautiful daughter, Delilah Magana. Although there are no details about her baby's father, we did find out that they were involved in a legal battle over custody.
The problem got so worse that Angela and her child had to leave Thailand and move to the U.S. As a result, she also missed many fights in that period.
Alexa Grasso Bio: Career, Age, Height, Salary Wiki >>
Sadly, Magana's tragic love life doesn't end there. She once confessed that she was engaged to a mystery man. Unfortunately, Angela's fiancee was murdered just six months into their engagement.
Currently, there is no indication of Magana being involved in a romantic relationship. She is entirely focused on raising her daughter and her career.
Angela Magana: Some Common Quotes
One of my favorite sayings is, If you want something bad enough, you'll find a way; if not, you'll find an excuse.
Don't let the doctors put an expiration stamp on you.
We cannot heal our bodies through healing ourselves with our minds.
Social Media Presence
Twitter: 34.9k followers
Some FAQs
Who is Angela's Husband?
As we all know that Angela is blessed with a beautiful daughter Delilah Magana. The details regarding Angela's husband and Deliah's father is still unknown.
Has Magana ever fight with Kyra Batara?
Magana has not yet fought with Kyra on the rings. We might see them on the same rings someday in the future.