Anthony Jelonch parents are the ones who ingrained his love for rugby since his childhood. They are proud of his hard work and achievements.
His father was his initial trainer and trained him for over nine years.
Like his parents, the rugby flanker prefers to spend time at the farm in Parré, which is equivalent to meditation for him.
Anthony Jelonch is a French rugby union player born on July 28, 1996. He plays as a flanker for the Toulouse.
He started his rugby training at the Vicoise Athletic Union, where he returned with the shield of Brennus, showing his appreciation for the place.
Before joining the Toulouse, his current club, the rugby star, he represented multiple clubs, including his most prominent club, Castres.
Besides, the flanker joined the French national team in 2017 for the France rugby union tour of South Africa.
Additionally, Jelonch, after recovering from knee surgery, will lead his country in the 2023 Rugby World Cup game.
Anthony Jelonch Parents Father Jérôme And Mother Floriane
Anthony Jelonch was born to his parents, Jérôme and Floriane Jelonch. They had three children, including Anthony.
The flanker grew up with his two siblings, Fanny and Charline Jelonch. His sisters can be seen often during his games supporting him with their parents.
Talking about his parents, they have been the biggest influencers in his rugby career. The rugby player's parents were the initial force to introduce him to the sport.
Floriane leads a private life with her family members, keeping herself away from the world. However, her husband is often in the news regarding his strong opinions.
Anthony Jelonch: Father Jérôme
Jérôme Jelonch, the father of the rugby flanker, is an AOC Saint-Mont winegrower, former breeder, and an active farmer who uses his land for fodder and firewood.
Anthony has spent most of his childhood with his father in the winery, working alongside him. He used to drive a tractor at the age of 7 years old.
His father has trained him for more than nine years, so his performance still affects him, and he has strong opinions regarding his coaches.
Despite football being the first choice of Anthony, his father said he always wanted Anthony to follow his career in Rugby.
Jérôme expressed that when his son broke his arm, he took his chance and started to make him play rugby, which later turned out to be a wise decision.
On the other hand, the rugby flanker's father was on the news when he sent a harsh letter to the newspaper Le Parisien criticizing the way the French team handled the supervision of his kid, placing full responsibility for the injury on them.
Additionally, the fact that his son is leading the French team in the World Cup 2023 with his comeback has also made him happy and incredibly proud.
Anthony Jelonch Proud To Lead His Country At Rugby World Cup 2023
After less than seven months of sustaining the kind of injury that would usually sideline a player for years, Anthony Jelonch will captain his country in the Rugby World Cup 2023.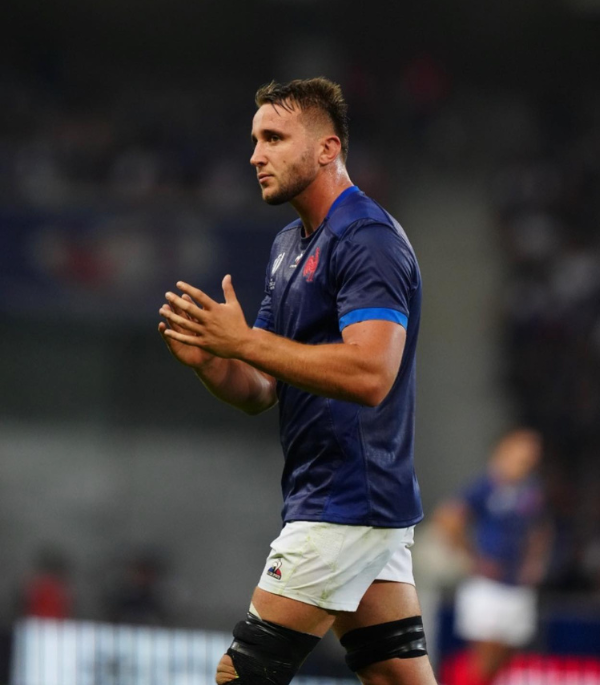 The flanker expressed his gratitude to his family and physiotherapist, who assisted him in getting back again.
Additionally, he also had a conversation with his father, who was pleased to see his son as the captain of the French team at the World Cup.