Fans are wondering whether Jon Gray and Sonny Gray are related as the Rangers pitcher covered three scoreless innings in Game 3 of the 2023 World Series.
Jon Gray emerged from the bullpen following the early exit of Max Scherzer, helping lift the Rangers over Arizona 3-1 on Monday.
Baseball enthusiasts often wonder if Jon and Sonny have a familial connection. The two pitchers share a surname and compete at the sport's highest level.
Let's explore the family tree to see if there's any connection between these two prominent Major League Baseball players.
Meet Jon Gray
Jonathan Charles Gray, born November 5, 1991, is a professional baseball pitcher for the Texas Rangers.
He attended Chandler High School, where he played multiple sports. He further honed his skills at the University of Oklahoma as a right-handed pitcher.
Gray was highly regarded in college and was subsequently selected by the Colorado Rockies as the third overall pick in the 2013 MLB Draft.
Jon Gray made his MLB debut in 2015 and spent the majority of his professional career with the Rockies.
The pitcher then joined the Rangers in 2021, earning a reputation as one of the team's top starting pitchers.
Meanwhile, he has been a strikeout machine with a formidable fastball and an impressive curveball.
Meet Sonny Gray
Sonny Douglas Gray, born on November 7, 1989, is a professional baseball pitcher for the Minnesota Twins of the MLB.
He attended Smyrna High School and was a baseball and football varsity team member.
As a quarterback for Smyrna's football team, he guided them to back-to-back 5A State titles in 2006 and 2007.
Despite being picked by the Cubs in the 2008 MLB Draft, he opted to play collegiate baseball at Vanderbilt University.
He began his professional baseball in the minor league. He was the 18th overall pick of the Oakland Athletics in the 2011 MLB Draft.
His MLB debut came with the A's on August 10, 2013, against Toronto Blue Jays in Toronto.
Later, he went on to play with other MLB teams like the Yankees and Reds before joining his present team, the Twins.
Are Jon Gray And Sonny Gray Related?
While Jon Gray and Sonny Gray share a last name and a profession, there is no family connection between them.
Their similar surnames are purely coincidental. Both players have distinct family backgrounds and grew up in different regions of the States.
Jon Gray was born to his father, Jack Gray, and his mother, Sarah Sullivan McCollough, in Chandler, Oklahoma.
His brother, Jack, a former standout at Northeastern State University, is the Head Football Coach at Chandler Public Schools in Oklahoma.
Likewise, he has been married to his middle school sweetheart, Jacklyn Gray, since 2015.
On the other hand, Sonny Gray was born to his parents, Cindy and Jesse Gray, in Nashville, Tennessee.
Sonny is married to Jessica Forkum, and together, they have two sons named Gunner and Declan.
The Historical Gray Matchup
Interestingly, the Grays made headlines in 2019 as a Reds-Rockies game featured a pitching matchup of Sonny and Jon.
OptaSTATS tweeted, "This is the first matchup of starting pitchers with the last name "Gray" in MLB history."
Sonny was with the Reds while Jon was playing for the Rockies at the time.
The Reds even shared an image on Twitter from the fixture illustrating the Gray-Gray showdown in prime form: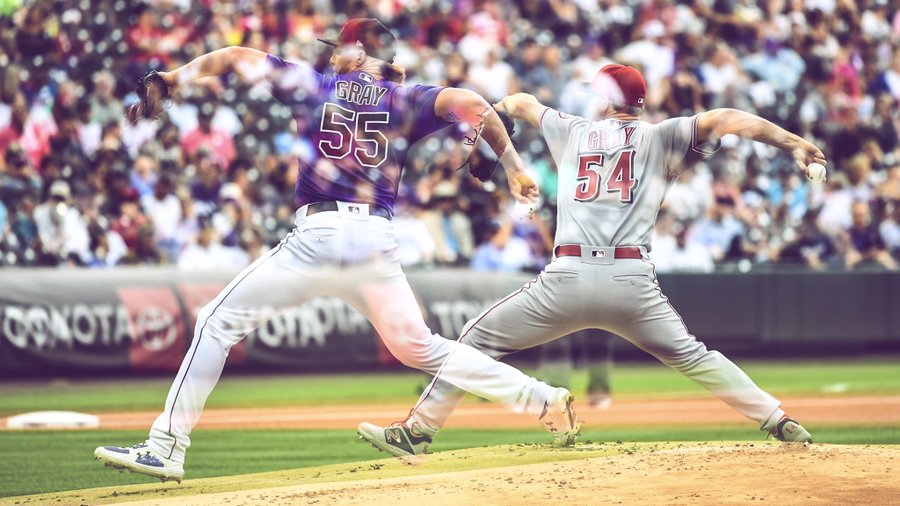 It's not unusual for baseball players with the same last name to pique fans' curiosity.
But the world of professional sports is vast, and athletes often come from diverse and unrelated backgrounds.
In the case of Jon and Gray, their last names may be a point of commonality, but any familial connection between them is not evident in their family trees.