When someone lists out the best players to play for Indiana Pacers, Austin Croshere's name is definitely included. Austin Croshere, the legend, is 45 years old former American professional basketball player.
Croshere played 12 seasons in NBA for 5 different teams. Out of that, he played 9 seasons for the Pacers from 1997 to 2007. He was a crucial member of the Pacers for their only NBA final journey.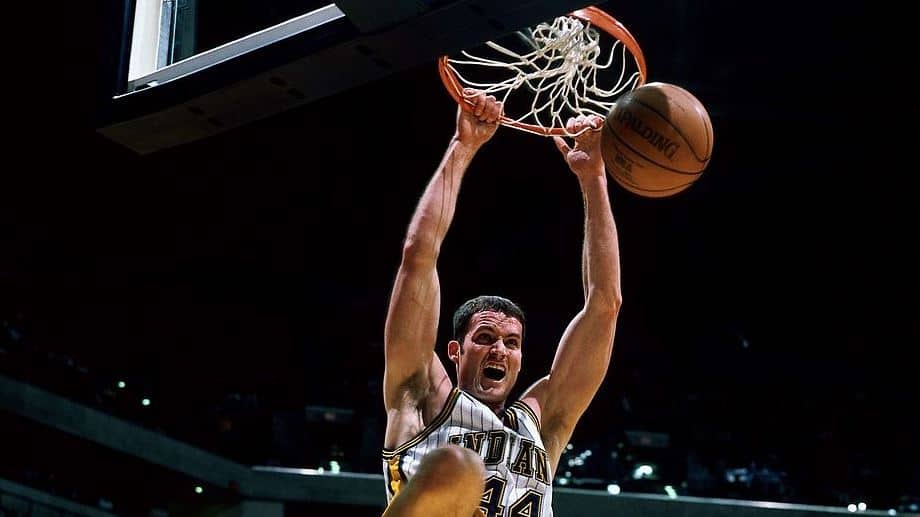 Likewise, Croshere is inducted into the high school and college hall of fame. At present, he works as a college basketball analyst. To find more details and information about Croshere, stay with us.
Quicks Facts
| | |
| --- | --- |
| Name | Austin Nathan Croshere |
| Date of Birth | May 1, 1975 |
| Birth Place | Los Angeles, California |
| Nick Name | The Crusher |
| Age | 47 years old |
| Gender | Male |
| Religion | Unknown |
| Nationality | American |
| Ethnicity | White |
| Horoscope | Taurus |
| Body Measurement | Unknown |
| Height | 6 ft 10 inches (2.08m) |
| Weight | 107 kg (235 lb) |
| Body Mass Index (BMI) | 24.6 |
| Build | Muscular |
| Wingspan | Unknown |
| Shoe size | 16 |
| Hair Colour | Black |
| Eye Colour | Black |
| Tattoo | No |
| Father name | Unknown |
| Mother name | Unknown |
| Siblings | Damon Croshere |
| Relationship | Married |
| Wife | Emily Croshere |
| Children | 3 children |
| Profession | Former Basketball Player |
| Position | Power Forward/ Small Forward |
| High School | Crossroads Highschool |
| High School Ranking | Providence College ( Bachelor in Sports Management) |
| Draft | 1997 (12th pick) |
| NBA Debut | 1997 |
| Team | Indian Pacers, Dallas Mavericks, Golden State Warriors, Milwaukee Bucks, and San Antonio Spurs |
| Salary | Unknown |
| Net worth | $ 20 million |
| Jersey Number | 44, 22 |
| Social media | Twitter |
| National Team career | 1995 Fukuodka First Place |
| Merch | Autographed Basketball Card, Rookie Card |
| Last Update | March, 2023 |
Austin Croshere | Background, Wife, and Family
Austin Croshere was born on 1st May 1975 in Los Angeles, California. The name of his father and mother is not revealed yet. Croshere is 45 years old and currently resides in his hometown after spending around 16 years in Indianapolis. Growing up, Croshere idolized Magic Jhonson.
Similarly, Croshere is of American nationality. As per the horoscope chart, his zodiac sign is Taurus.
Talking about his personal life, Austin Croshere is married to Emily Croshere. But the information about their marriage and Emily is still undisclosed.
We know the two are proud parents of three wonderful children despite that. The older one is the daughter named Taylor Croshere, and the younger son is named Aidan Croshere. The name of her second daughter is unknown.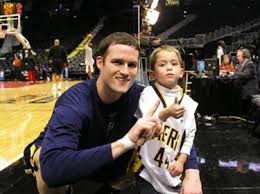 Aidan, like his father, also attends Crossroads High School, where Austin is an assistant coach. He is listed in Class of 2024.
Austin Croshere | Body Measurement and Playing Style
At present, Croshere is quite muscular, like back in his playing days. He has the ideal size and height that suits the center and power forward in basketball. For those curious, Croshere stands at 6 ft 10 inches(2.08 m) and weighs 107 kg(235 lbs).
Despite being a big man, Croshere was a good shooter. The former player was good at scoring from inside and mid-range. He was also a solid ball-handler and passer.
Because of his size and height, Austin could play in any forward position. He was decent at rebounding too. But due to a lack of athleticism, he couldn't make a huge defensive contribution.
Read Also: Allonzo Trier Bio: Mother, Drug Test, NBA & Net Worth >>
Austin Croshere | High School and College Career
Austin Croshere attended Cross Roads High school in Santa Monica, California. During Croshere's high school days, he was an all-conference volleyball player.
Likewise, Croshere, in the interview, stated that he would have been playing volleyball if he had not been a professional basketball player.
But just like that, Croshere played three years at Crossroads. Then, in 1993 during his final year, Croshere led the team to the CIF championship.
The Californian-native decided to play four years of college at Providence College, Rhode Island. During his junior and senior seasons, he led the team in scoring.
Likewise, Croshere also has a Big East record of 57 straight free throws made. Austin then led the Friars to elite 8 in the 1997 NCAA tournament.
On 14th March 1997, Croshere scored career-high 39 points in an 81-59 victory over Marquette during the tournament opener.
Overall, in his whole college career, he scored 1,500 points. Croshere is the 8th all-time top scorer for Friars. Likewise, Croshere was also mentioned in All-Big East's first team in 1997.
Hall of Fame
Austin is inducted in both of his high school and college hall of fame
Croshere was inducted into the Providence Athlete Hall of Fame in 2011. Likewise, he was inducted into the Crossroads hall of fame in 2014.
The former player also had his high school jersey number 23 retired back in 2008.
Austin Croshere | NBA Career
1997 NBA Draft
After the end of his college career, Austin Croshere decided to declare for the 1997 NBA draft. His former USA teammate Tim Duncan was selected as the first pick by the Spurs. Later as a lottery pick, Croshere was selected as the 13th overall pick.
On 20th November 1997, Croshere made his NBA debut against Milwaukee Bucks, but he could not score any point.
The best season in terms of scoring and rebounding was the 1999-00 season. During that season, he averaged 10.3 points and 6.4 assists, playing a total of 81 games.
On 17th March 2000, the American player posted an impressive double-double with season-high 22points and 13 rebounds in a 111-102 win over Houston Rockets.
Journey to NBA Finals
In 1999-2000, Indian Pacers, led by Reggie Miller, reached the NBA finals for the first time in their history. During finals, Croshere became an important player for the team, averaging 15.2 points and 6.0 rebounds.
Moreover, in the second game of the series, he scored the playoffs high, 24 points. But they fell 4-2 series loss against Lakers led by the duo of Kobe and Shaq.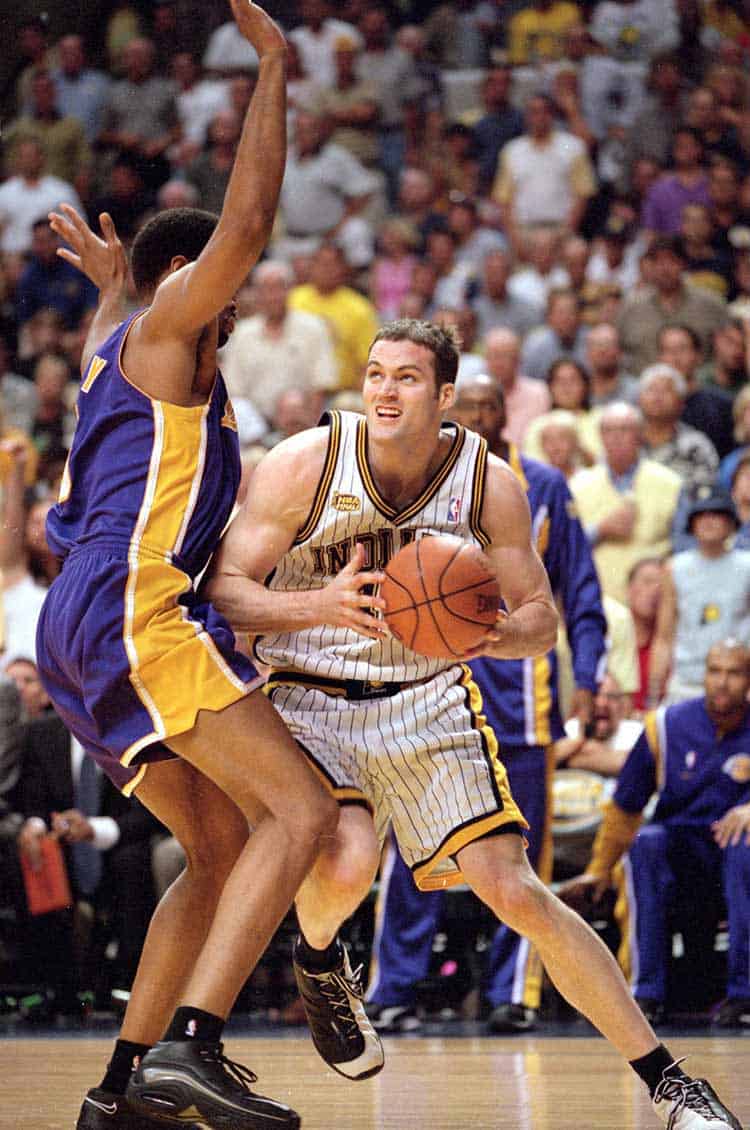 Later for his performance in the finals, Croshere was awarded a new contract. But in the 2002-03 season, he only played 49 games. Croshere also dropped for rotation role and averaged career-low 12.9 minutes that season.
Eastern Conference Final
After the appointment of a defensive-minded coach Rick Carlisle for a new season, Croshere again became a crucial team member.
In the playoff, he contributed 4.8 PPG and 3.1 APG to help the team reach Eastern Conference Finals. But they were eventually defeated by eventual champions Pistons.
In the 2005-06 season, Croshere started in 26 games (career-best). During that season, he averaged 8.2 points 3.0 rebounds in 50 games.
New Team
Pacers traded Croshere to Dallas Mavericks for Marquis Daniels on 5th July 2006. On 30th January 2007, Croshere scored career-high 34 points in a 122-102 win over Seattle SuperSonics.
He registered 3.7 PPG and 2.4 APG in 61 games during his only season at Dallas.
Later on 3rd August 2007, Croshere signed a deal with Golden States Warrior. After joining the Warriors, he didn't make the playoff journey after 1999. In the Warriors, Croshere averaged 3.9 points and 2.4 assists.
Career-Ending
In the 2008-09 pre-season, Larry Bird invited Croshere to Pacers' training camp but failed to make the team. Later on 27th October, he signed with Bucks.
However, on 6th January 2009, Croshere was waived just after playing 11 games, averaging 3.3 points and 2.2 rebounds.
Later, on 16th January 2009, Austin signed a 10-day contract with Spurs. Sadly, his contract was not extended. Then on 26th January, Croshere was released after playing 3 games and scoring 4 points.
Over his 12 seasons in NBA, he scored 4,475 points (6.8PPG), grabbed 2,649 rebounds (4.0 RPG), and dished 627 assists (1.0APG). Mostly, Croshere played a valuable role player for teams in his career.
Read Also: Gary Payton Bio: Wife, Career, Education & Net worth >>
Highlights
Selection to the first-team All-Big East in 1997
Gold Medalist at the 1995 Summer Universiade
Austin Croshere | National Team Career
Austin Croshere represented team USA in the 1995 World University Games held in Fukuoka. He played in all 7 games for the USA.
Likewise, Croshere averaged 6.1 points and 5.9 rebounds to help the USA clinch title with a perfect 7-0 record.
Austin Croshere | Post Career
After retiring from basketball in 2009, Austin Croshere became pre and post-game analyst for the Pacers game working in Fox Sports Indiana.
Likewise, he also worked as a color commentator for them. Later in 2013, Austin was named an analyst for college basketball.
Then in 2019, Croshere started to work in Westwood One Radio as a college basketball analyst. He is also the assistant basketball coach of the Crossroads High School Varsity team.
Austin Croshere | Social Media & Contracts
Austin Croshere only has Twitter handles. Likewise, he has around 9.7k followers. Croshere usually tweets and posts basketball-related stuff.
Salary Contracts
During 2000, free agent Croshere signed 7 years deal with the Indian Pacers worth $51 million.
With that contract, he earned $7.3 million each season. So even after being traded to Dallas in the final season of his contract, Croshere was getting paid.
Likewise, in the late stage of Croshere's career, he signed a $1,219,590 deal with the Warriors, whereas another $527,185 worth deal with Bucks. While playing a 10-day contract for Spurs, he earned around $74,251.
Not to mention, Croshere made huge money in his NBA career. Overall in his professional career, Croshere earned $55,481,586, excluding endorsement deals.
Currently, Austin is working as a basketball analyst for Pacers as well as college basketball. The amount is unknown, but he must surely be making 5 figure salary as an analyst.
Just recently, Croshere purchased a $4.6 million house in San Monica near his high school Cross Roads. This just further proves how rich he must be.
According to various sources, the estimated net worth of Austin Croshere is $20 million.
Frequently Asked Questions
How much was the salary/contract of Austin Croshere?
From his NBA career, Austin Croshere earned $55,481,586. After the 2000 finals, Croshere signed 7 years, worth a $51 million deal with the Pacers.
How many teams did Austin Croshere play for?
Over his 12 years in NBA, Austin Croshere played for 5 different teams. He played nine seasons for the Pacers before changing the team for the first time.
What is Austin Croshere doing now?
Currently, Croshere is working as a broadcaster and college basketball analyst in Fox Sports, Indiana. Croshere is also an assistant coach at Crossroads High School.