Avery Bradley is a prominent NBA shooting guard. In his twelve years of NBA career, Bradley has played for nine different teams. However, he is most remembered for his career with the Boston Celtics.
Bradley was a vital ingredient in the Boston Celtics' winning formula, garnering All-NBA Defensive Second Team accolades and All-NBA First Team recognition.
He was drafted nineteen overall in the first round by the Celtics and has played for the Los Angeles Clippers, Memphis Grizzlies, Los Angeles Lakers, and Miami Heat.
Bradley's speed, strength, and perseverance set him apart from the other players as a defender.
Where is Avery Bradley, and what is he doing? Make sure to read till the end to figure it out.
In addition, this article will explore Avery Bradley's early life, wealth, career, and personal life. But let's quickly take a glance at Bradley's quick facts.
Quick Facts
Full Name
Avery Antonio Bradley Jr
Name

Avery Bradley

Nick Name
Poison
Date of Birth
November 26, 1990
Age

33 years old

Birth Place

Tacoma, Washington, U.S

Nationality

American

Ethnicity
Black
Zodiac Sign
Sagittarius
Height

Six ft. 3 inches (1.91 m)

Weight

180 lb (82 kg)

Hair Color

Black

Eye Color

Brown

Father's Name
Avery Bradley Sr
Mother's Name
Alicia Jones
Siblings
Four siblings: two elder brothers, one younger brother, and one older sister.
High School

Bellarmine Prep School
Findlay Prep School

Education

Graduate

University

University of Texas

Marital Status

Married

Wife

Ashley Lauren Bradley

Marriage Year

2015

Children

Two sons: Avery Bradley III and Ashton Bradley

Profession

NBA Player

Position

Shooting guard

Jersey Number

0 (Boston Celtics)

Leagues

National Basketball Association (NBA)

NBA Draft
19th overall in the first round by the Boston Celtics in the 2010 NBA draft.
Debut Year

2010

Retirement

Not available

Playing Teams

Boston Celtics (2010–2017)
Detroit Pistons (2017–2018 )
Los Angeles Clippers (2018–2019)
Memphis Grizzlies (2019)
Los Angeles Lakers (2019–2020)
Miami Heat (2020–2021)
Houston Rockets (2021)
Los Angeles Lakers (2021–2022)

Awards and achievements

NBA All-Defensive First Team (2016)
NBA All-Defensive Second Team (2013)
Big 12 All-Rookie Team (2010)
First-team Parade All-American (2009)
McDonald's All-American (2009)

Net Worth
$8 million
Social Media
Merch
Basketball Trading Card
Affiliation
Avery Bradley Skills Academy
Last Update

December 2023
Avery Bradley | Early Life
Avery Antonio Bradley Jr. was born in Tacoma, Washington, on November 26, 1990, to his father, Avery Bradley Sr., and mother, Alicia Jones. He has four siblings: two elder brothers, one younger brother, and one older sister.
His mother worked at a welfare office, while his father served in the military for 22 years. Since Bradley's father had a military career, he would always travel and barely spend time with him.
Though Bradley felt the absence of a father in his life, he had a close bond with him. Whenever his father would return home for vacation, the father and son would play football and basketball together.
But, things changed after his parents divorced in 2001. Bradley was a child who probably didn't know what divorce was back then. However, Bradley's mother took custody of Bradley, and he lived with his mother.
Though their family relationship had changed, it wasn't much of a change for Bradley as he maintained a close relationship with his father.
The children would meet whenever his father was available. It was almost the same as before; the fact that changed was that their parents were divorced.
After the divorce, his mother migrated from Tacoma to Texas, working two jobs to ensure they could maintain their standard of living. Three years later, they returned to Tacoma.
At the time, her mother had enrolled Bradley Jr. in basketball programs primarily as a recreational activity, but she didn't know a professional basketball player was in the making.
Age, Height & Weight
Avery Bradley was born in November 1990, which makes him 33 years old. People born in November are Saggitaurus.
Furthermore, Avery was born in Tacoma, Washington, U.S., and identifies as an American of black ethnicity.
Also, Bradley is 6 ft 3 in (1.91 m) tall and weighs around 180 lb (82 kg).
Vince Carter is a renowned NBA shooting guard considered the greatest dunker of all time. Know more!
Avery Bradley | Early Career
When Bradley was in eighth grade, he tried out for Ward's AAU club. At that time, he wasn't particularly skilled but was exceptionally defensive. He couldn't score, but he was fantastic on defense.
Bradley enrolled at the University of Texas in Austin. He was drawn to the Texas Longhorns basketball program as he grew up in Arlington and was a huge fan of T. J. Ford.
Furthermore, Bradley averaged 11.6 points per game for the Longhorns as a freshman in 2009–10, establishing himself as one of the greatest defensive players in the country.
He was later named to the Big 12 All-Rookie Team and All-Big 12 Honorable Mention. In addition, Bradley declared for the NBA draft in April 2010, preceding his remaining three years of NCAA eligibility.
Avery Bradley | Professional Career
The Boston Celtics picked Bradley with the 19th overall choice in the 2010 NBA draft. He signed his rookie contract with the Celtics on July 2, 2010.
Bradley joined a Celtics team but was sent to the NBA Development League's Maine Red Claws. The Boston Celtics called him after a player suffered a spinal cord injury.
He then played for Detroit Pistons, Los Angeles Clippers, Memphis Grizzlies, Los Angeles Lakers, Miami Heat, and Houston Rockets. He currently plays for Los Angeles Lakers.
Avery Bradley | Awards and Achievements
Avery Bradley has a long list of awards and achievements. Some of them are as follows:
NBA champion (2020)
NBA All-Defensive First Team (2016)
NBA All-Defensive Second Team (2013)
Big 12 All-Rookie Team (2010)
First-team Parade All-American (2009)
McDonald's All-American (2009)
Tracy McGrady is a forgotten star of the NBA. He is one of the NBA's most productive scorers but often gets overshadowed by his celebrity batchmates. Know more!
Avery Bradley | Family
Hard Working Mother, Alicia Jones
Avery was mainly brought up by his single mother, Alicia Jones. He regarded his mother as a source of inspiration and had a close relationship with her. Avery respects how hard she worked to ensure they had an ordinary life.
It was hard for her mother to raise all four kids. They lived in a small apartment, and her mother would sleep on the couch to ensure her kids could sleep in a bed. But, with love, her mother was strict with them as well.
Due to their mother being busy, Bradley had to assist in household chores. Her mother regularly inspected to ensure they had washed dishes and cleaned their room.
But, Avery was the naughtiest child in the Family. Instead of cleaning the kitchen, he would play basketball using garbage cans as goals driving her mom mad every time.
But unfortunately, her mom died at the age of 46 on September 10, 2013. She suffered a massive stroke while doing Zumba and was hospitalized for several days. Avery was beside his mom till her last breath.
Beautiful Wife, Ashley Lauren
Avery Bradley is married to Ashley Lauren Bradley. The couple married in 2015 and are blessed with two sons: Avery Bradley III and Ashton Bradley.
Bradley's love story began at the University of Texas when he saw his future wife, Ashley Lauren, on his friend's Facebook profile.
He was smitten by her beauty and even commented that she would not be accurate. Likewise, he had fallen head over heels in love with her.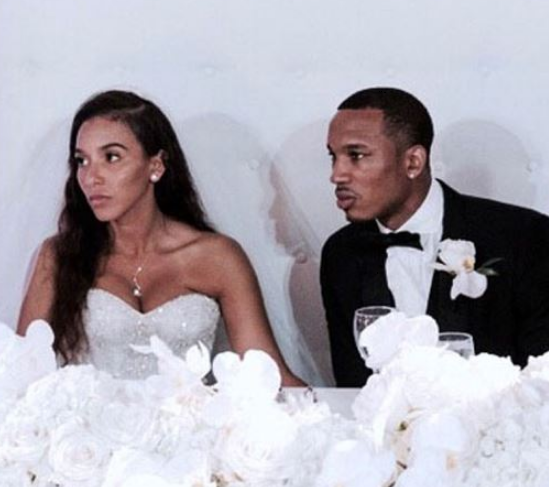 Bradley took the initial step and started talking to her, and their conversation evolved into flirting, and their flirting evolved into late-night Skype video chats.
However, Bradley didn't tell her he was an NBA player. But, he told her his age because he was younger than her. They kept in touch for nearly a year before they finally met face-to-face.
Finally, the couple started dating and introduced themselves to one another families. Bradley's mom loved Ashley the most and regarded her as her daughter law before she married.
Cute Children, Avery and Ashton.
Avery was mourning his mother's death. Ashley was eight months pregnant then, and Avery felt life had taken a particular person from him.
But life also gave him another particular person. Avery's first child was born at 8:13 a.m. on September 24, 2013, two weeks after his mother died. The child was named Avery Bradley III. But, the couple calls him Liam.
When Avery's mom took her last breath, she appeared to dream of Ashley. She handed the child to Ashley and told her to name him Liam. That's why the couple calls him Liam.
Unfortunately, not much about his second son, Ashton Bradley, is known. But, Avery says Ashton has a lot of resemblance to his late mother.
Social Media Presence
Avery Bradley loves to keep his personal life low-key and thus, is not much active on social media. However, you can still follow him to get updates about his life.
Avery Bradley| Net Worth and Salary
The net worth of Avery Bradley is reported to be somewhere from $8 million. It's safe to say that his NBA career has brought a considerable fortune.
The athlete signed a rookie agreement with the Boston Celtics for $1,418,160. Furthermore, Bradley inked his career's most expensive contract with Memphis Grizzlies for $12 million.
Thus, the athlete made millions of dollars being an NBA player playing for several teams.
Larry Hughes is one of the NBA's greatest shooting guards. His versatility, agility, and defensive skill made him win the title of NBA steal leader in 2005. Learn about his journey here!
Avery Bradley | Lifestyle
Avery Bradley is a millionaire and lives a lavish lifestyle. He has a luxurious villa in Washington and an offseason house in Austin, Texas. He owns seven luxurious cars, including Mercedes, Range Rover, and Nissan.
Despite the successful and lavish Lifestyle, Avery doesn't like the spotlights and NBA's nightlife. He is family and loves spending time with his kids and wife. He often plans a family vacation and goes on a long drives with his Family.
Avery Bradley Skills Academy
Avery Bradley has founded the Bradley Sports Group, a non-profit organization that aims to help young people improve their basketball talents via educational programs and camps.
As part of the initiative, The Avery Bradley Skills Academy was founded in 2017. It is a place for young players who want to improve their basketball skills while maintaining a healthy lifestyle to do so.
Avery, his colleagues, and NBA players serve as Academy instructors and guest lecturers for the campers.
The basketball camp is held at several locations and is open to all boys and girls interested in learning basketball skills.
Frequently Asked Questions (FAQS)
What are the overall NBA statistics of Avery Bradley?
In his NBA career, Avery Bradley played 660 games with an average of 2.8 rebounds, one steal, 1.7 assists, 0.2 blocks, and 11 points per game.
Why did Avery Bradley not go to the bubble?
Avery Bradley did not go into the bubble due to health concerns. As the covid was still prevalent, he did not want to take risks as his son, Liam, had a respiratory illness. Liam was recently diagnosed with Pneumonia, and he put his health first over his career.