Ayrton Senna is widely known as "Magic Senna" in the Racing community, one of the best to grace the game.
He is one of the most famous racing drivers from Brazil. Senna won the Formula One Championship three times and became the youngest to do so.
Senna began racing at the young age of thirteen. But, what followed next was a behemoth rise to stardom. Eventually, he rode for Lotus, McLaren, and Williams.
However, his stardom was cut short when he died in a fatal accident. His death is considered one of the most devastating Formula One incidents.
As a result, it generated questions about Formula One's safety issues and improvements. But, despite a short career, Senna won everything it had to offer.
He had an illustrious career winning 41 Grands Prix and 65 pole positions. We wonder how far he could have reached if it wasn't for destiny.
From this article, you will gain more knowledge regarding the player. So, let's dig deeper into Ayrton Senna's early life, career, height, weight, and other information.
Also, here are some quick facts about the player before we head any further into the details.
Quick Facts
Name
Ayrton Senna
Birthname
Ayrton Senna da Silva
Date of Birth
21 March 1960
Place of Birth
São Paulo, Brazil
Date of Death
1 May 1994
Place of Death
Bologna, Emilia-Romagna, Italy
Aged
34 (At the time of death)
Zodiac sign
Aries
Chinese Zodiac
Rat
Nationality
Brazilian
Sexual Orientation
Straight
Body Type
Athletic
Hair color
Hazel Brown
Eye color
Black
Skin
Fair
Height
5 ft and 9 in (1.76 m)
Weight
154 lb. (70 kg)
Shoe Size
8.5 (US)
Profession
Racing Driver
Active Years
1984-1994
Teams
Toleman, Lotus, McLaren, Williams
Engines
Hart, Renault, Honda, Ford
Championships
3 (1988, 1990, 1991)
Wins
41
Podiums
80
Pole positions
65
Fastest laps
19
Education
Great Bridge High School (School)
Lafayette College (College)
Educational Major
Graduate in Mechanical Engineering
Parents
Milton da Silva (father),
Neide Senna (mother)
Siblings
Leonardo Senna (brother),
Viviane Senna (sister)
Married Year
1981
Wife
Lilian de Vasconcelos Souza
Divorced
1983
Gender
Male
Social Media
Twitter, Instagram, Facebook
Hobbies
Fishing, Wooden Go-Cart, and Bicycle
Merch
Yellow Helmet, Senna (Video), Signed Pacific GP Model Car
Net Worth
$100 Million
Last Update
March, 2023
Ayrton Senna | Early Life and Background
On March 21, 1960, Ayrton Senna was born in the Santana neighborhood of Sao Paulo. He was born to Milton da Silva and his wife Neide Senna da Silva.
Similarly, Senna was the middle child of a wealthy Brazilian family. His father was a land and factory owner in Brazil. Also, he had an elder sister, Viviane, and a younger brother, Leonardo.
Likewise, his mother was an Italian immigrant's granddaughter. So, Senna spent his first four years at the house that belonged to his grandfather.
However, he had poor motor coordination as a child. Then, by the age of three, he was having problems ascending stairwells. Yet, Senna's EEG revealed that she was free of any issues.
Senna was a gifted athlete who mastered gymnastics and other sports. Consequently, he exhibited a keen interest in motor racing and cars as he grew up.
Eventually, he learned to drive a Jeep around his family's farm at the age of seven. He began competing in karting competitions when he was thirteen years old.
Additionally, his first go-kart was a modest one-horsepower go-kart built by his father. Nonetheless, he began in pole position in his maiden race and led for most of the race.
Regardless, he had to quit the race after colliding with a competitor. But, this event in his life would mark the birth of an inspiring career.
You might like to know about: Randy LaJoie Bio: Family, Racing, Wife & Net Worth.
Ayrton Senna | Professional Career
Doubts and What If's
Senna's first race might not have gone to plan, but he led the race most of the time. Naturally, he was inspired to dedicate himself more.
Similarly, his father supported him, too, as he started developing his talents. Then, his father selected Lucio Pascal Gascon as his manager.
Consequently, in 1977, he won the South American Karting Championship. Furthermore, from 1978 through 1982, he competed in the Karting World Championship every year.
Eventually, he secured podium finishes placing second in 1979 and 1980. It was clear that his performance was increasing with every race and tournament.
Therefore, he decided to go all in and moved to England. Senna wanted to make a career in a single seating. So, he joined the Van Diemen team and competed in the Townsend-Thoreson Formula Ford 1600.
Despite being new, he won the title as well as the RAC competition. However, after that, Senna doubted his ability to continue racing. Hence, he declared his resignation from Formula Ford.
Senna returned to Brazil at the end of that season to join the family company. But, Senna was offered a $10,000 drive with a Formula Ford 2000 team before departing England.
He accepted the offer and returned to England after returning to Brazil. Moreover, Senna saw this as a sign to return to racing as he worked harder than ever.
Formula One Debut
Ayrton Senna took his mother's maiden name, Senna, for racing. He went on to win the British and European Formula Ford 2000 titles in 1982.
In 1983, he joined a West Surrey Racing team in the British Formula Three Championship. The racer dominated the first half of the season and went on to win the title.
By this time, he was already trying out for famous Formula One teams like Lotus, Brabham, and Toleman. However, teams like Lotus wanted a British Driver. In contrast, Brabham's main sponsor wanted an Italian driver.
Consequently, Senna joined Toleman, a young squad that used less competitive Pirelli tires. With the Toleman team, he made his Formula One debut in 1984.
Ayrton made his debut at the Brazilian Grand Prix. He secured the 17th position but retired on lap 8 due to a failure of the Hart 415T turbocharger.
In the same year, he won his first World Championship point. Senna had finished 6th in his second race in the South African Grand Prix at Kyalami.
Nonetheless, he failed to qualify for the San Marino Grand Prix. As per sources, it was due to a combination of tire troubles and a fuel-pressure problem.
Yet, he finished the season on a high after two more podium finishes. He secured third at the British and Portuguese Grands Prix.
Lotus and Honda
Senna was performing well with Toleman. But, he couldn't compete in the Italian Grand Prix. So, Toleman suspended him for violating his contract by initiating negotiations with Lotus.
Nonetheless, the move happened as he competed in 1985 for Lotus. He spent his first year with Italian driver Elio de Angelis. Moreover, he realized he had a synergy with him like no other.
Eventually, he won his first pole position in Formula One in the Portuguese Grand Prix. It came in the second round of the season and was his first.
Senna took this momentum into the primary race. The main race was conducted in extremely wet conditions. Yet, he rose to the challenge as he won his first Grand Slam. Also, he recorded his fastest lap.
Senna also won the San Marino, Monaco, British, and German Grand Prix. But then, he had a major crash at the Paul Ricard circuit's fastest curve in the French Grand Prix.
In 1986, he won both the Spanish Grand Prix and the Detroit Grand Prix. However, Lotus had a transitional year as they had replaced De Angelis with Johnny Dumfries.
In 1987, Team Lotus signed a new engine agreement. They started running turbocharged Honda V6 engines.
He won the Detroit Grand Prix for the second time the following year and the Monaco Grand Prix. Furthermore, he developed a strong bond with Honda throughout the year.
The Ultimate Prize
1988 turn out to be one of the most historical years for him. Firstly, Senna joined the McLaren team with the permission of Alain Prost. After that, Alan was McLaren's number-one driver and then-double world champion.
The duo kept aside their ego clashes and worked together throughout the year. Consequently, the pair won 15 of 16 races in 1988.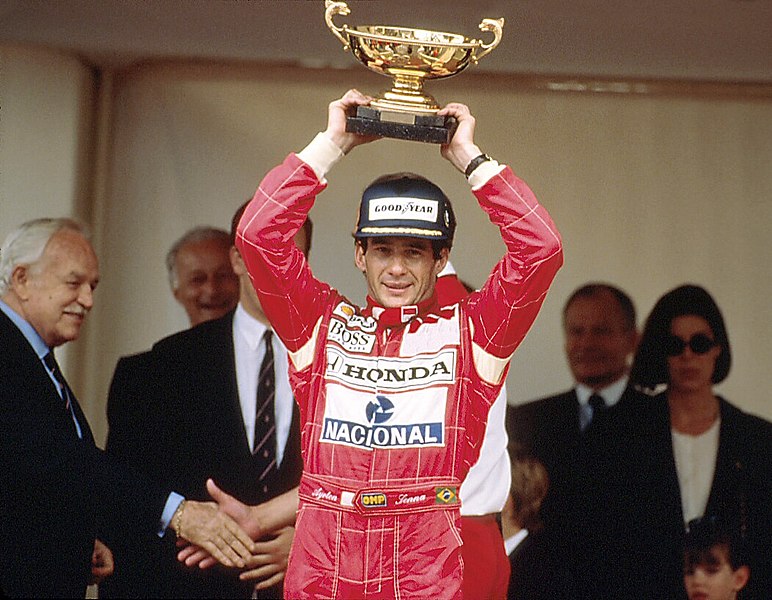 However, Senna captured his first Formula One world championship title. He had eight victories to Prost's seven. It was indeed a dominant year for McLaren.
It wasn't a surprise a rivalry had developed between Alan and Senna. Prost won the 1989 world championship after colliding with Senna at the Suzuka Circuit. It was the season's last race, which Senna needed to win to stay.
1990 marked the separation of the duo as Alan went to Ferrari. Despite the change, Senna held a dominating lead in the championship.
Eventually, he went on to win the Formula One World Championship. He had six victories, two second-place finishes, and three third-place finishes throughout.
1991 wouldn't be any different as he became the world's youngest three-time champion. He won seven races and expanded his pole position record. But, Alan was no longer a genuine competitor after a series of poor results at Ferrari.
Ayrton Senna | The Tragic Weekend
Williams-Renault outshined McLaren-Honda in 1992. In that season, Ayrton finished fourth in the championship.
After Alain Prost retired from racing, he joined the Williams-Renault team on October 11, 1993. He was given a one-million-dollar bonus for each race and a total of $20 million for the season.
The season's third race was scheduled to take place in Imola, San Marino. But, the weekend was full of accidents and tragedies.
Firstly, Rubens Barrichello was gravely hurt in an accident on Friday. It happened during the practice session when the vehicle flipped over and crashed.
Then, the Austrian rookie driver Roland Ratzenberger was killed the next day. His car collided with a concrete wall. Senna had just recently met Ratzenberger.
Senna spent his final morning in Formula One speaking with fellow drivers. They were thinking about ways to enhance driver safety.
But who can go against the dictates of destiny? Senna was also killed in an accident on the seventh lap. His car exited the track on the high-speed Tamburello circuit at roughly 205 mph (330 km/h).
It hit the concrete retaining wall at around 135 mph (217 km/h). Despite being transported to the hospital, Senna was proclaimed dead upon arrival.
You might like to know about: Leah Pruett Bio: Early Life, Career, Racing & Net Worth.
Is Ayrton Senna Married? | Know About His Marital Status
Ayrton Senna was often called a romantic hero because of his good looks and dashing personality.
Per notable sources, Senna married Liliane Vasconcelos in February 1981. She was a 19-year-old childhood acquaintance of Senna. However, the marriage only lasted two years.
Liliane discovered that living in England as the wife of an ambitious Formula One driver wasn't easy. Yet, she decided to give her marriage a fighting chance.
Consequently, after a season in British Formula Ford in 1981, the couple returned to the UK.
In the end, Senna returned to the UK in early 1982. However, the marriage lasted only a few months after that as they quietly divorced.
She is currently a well-known interior designer. Nonetheless, Senna dated a few more women after splitting up with Liliane. Yet, none of them were severe until he met Xuxa Meneghel.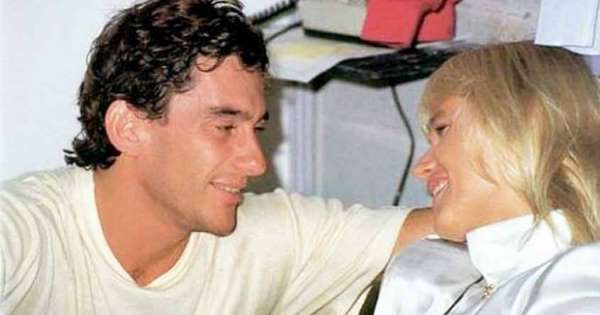 Xuxa was a Brazilian TV presenter, actress, and singer. Between 1988 and 1992, the couple dated on and off for five years.
Senna had a relationship with American model Carol Alt too. Likewise, he dated Marjorie Andrade and Elle Macpherson for a short time.
Senna was dating Adriane Galisteu at the time of his death. But, Xuxa was chosen as the official widow at his burial since the Senna family admired her.
Ayrton Senna | Age, Height, and Personality
People often think Formula one is about mastering driving a car and changing gears. But, there are various parameters involved, like staying fit to training reflexes.
Throughout, he had put in a lot of effort to improve himself and obtain the athleticism necessary.
During the year the accident had happened, he had signed a multi-million deal with the best team on the scene. This deal proves he was at the top of his game that year.
The F1 racer was 34 years old at the time of the accident. The Brazilian government commemorated three days of national mourning. Approximately three million people gathered to pay their last respects.
Moreover, he weighed around 154 lb. (70 kg) and stood at an astonishing height of 5 ft. 9 in (1.76 m).
Senna was an engaging personality, according to his close friends. He loved eating pasta with tomato sauce the most. But, disliked pork, okra, and scarlet eggplant. Indeed, he had a weird eating habit.
He loved listening to Phil Collins, Milton Nascimento, Tina Turner, Enya, and Queen. On vacations, he went fishing, jet skiing, and playing tennis.
Ayrton Senna | Net Worth & Earnings
As a professional racing driver, Ayrton Senna accounts for much of his net worth. Since his professional debut in 1984, he has competed in several tournaments in Formula One alone. Per Celebrity Net Worth, he had a net worth of $200 million at the time of his death.
It is not surprising as he is the youngest racer to win three Formula One Championships. As of the present, the victors are expected to get roughly $66 million (£48 million).
Even in 1988, the prize pool must have been in the millions, and Senna won it three times. Additionally, he was paid $1 million for each race at the height of his career.
In 1994, he signed a contract with Williams for a $20 million yearly pay. He had contracts with Lotus and McLaren too. Hence, he has made millions just from his racing career only.
Being a formula one champion, he was the face of several endorsements and advertisements. Similarly, he created his product brand in the early 1990s.
Clothing, watches, bicycles (Carraro), motorbikes, and yachts were all sold. Hence, it is clear that he had many active and passive income sources. Thus, even at present, his net worth is estimated to be around $100 million.
Ayrton Senna | Social Media
Ayrton Senna belonged to a time when personal computers weren't even around. However, with the advent and need of time, his social media accounts were launched as a part of a series of tributes.
Fans have always been vocal about their support for the Brazilian driver. As a result, his Instagram handle is the most active one as of now.
You can find and reach him on Instagram through the username @oficialayrtonsenna. His Instagram posts include exclusive photos from Senna's career. Going through the feed is like revisiting the time when he was racing Formula One.
Similarly, information on awards and vehicles and facts about the driver's life are all available to fans.
Also, he has a Twitter account under the username @ayrtonsenna. Additionally, he has an interactive Facebook page with the username of @oficialayrtonsenna.
You might like to know about: Alexis DeJoria: Father, Tattoos, Racing, Net Worth & Sponsor.
Queries
What was the actual cause of his death?
An on-site tracheotomy was required due to significant blood loss and poor neurological status. He was flown and transferred to the Maggiore Hospital in Bologna, where he was pronounced dead.
Where were his final rites held?
He was put to rest in Ibirapuera Park's Legislative Assembly building. The burial procession went to Morumbi Cemetery after a public viewing of his body. The 2nd Artillery Brigade fired a 21-gun salute, and seven Brazilian Air Force planes flew in a diamond configuration.