Baby Gronk & his parents are often in media talks, thanks to Gronk's remarkable football talents. By the age of seven, the child prodigy was already playing in youth football leagues.
The 11-year-old with his football & baseball prowess didn't take long to get attention on social media.
While other kids of his age wonder about video games & fun, Gronk (birth name: Madden San Miguel) continues to pave his professional career in the NFL.
Gronk's father, Jake San Miguel, began posting about his son's ability on Instagram & now the popularity has got him more than 315K followers.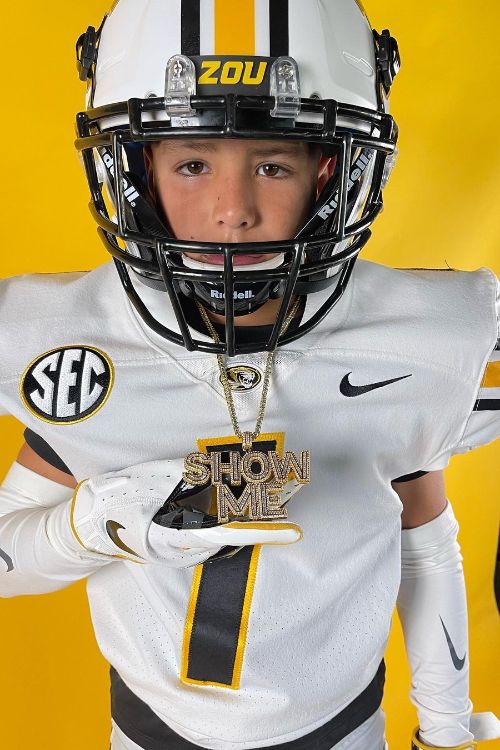 Besides managing his social media, Gronk's father also coaches & trains him.
Towering above his teammates while playing football is a common sight when Baby Gronk is on the field.
Madden is currently in middle school and has already received numerous scholarship offers.
He has received college scholarships from Texas A&M University, the University of Alabama, and the University of Georgia.
Baby Gronk Parents: Father Jake San Miguel
Baby Gronk was born on November 4, 2012, to his father, Jake San Miguel & his mother, Elizabeth. Gronk's real name is Madden San Miguel & lives with his parents in Frisco, Texas.
His father, Jake, is a former musician & high school football player. Not much about his mom is about.
The young football player shared a picture with his mother on his parents-managed Instagram account on Mother's Day.
Jake additionally revealed to the media once,
"I knew sports, that's pretty much all I knew, so that's why I got him (Madden San Miguel) into sports."
He has always been a huge supporter of Gronk, who has participated in jiu-jitsu, football, baseball, lacrosse, and other sports.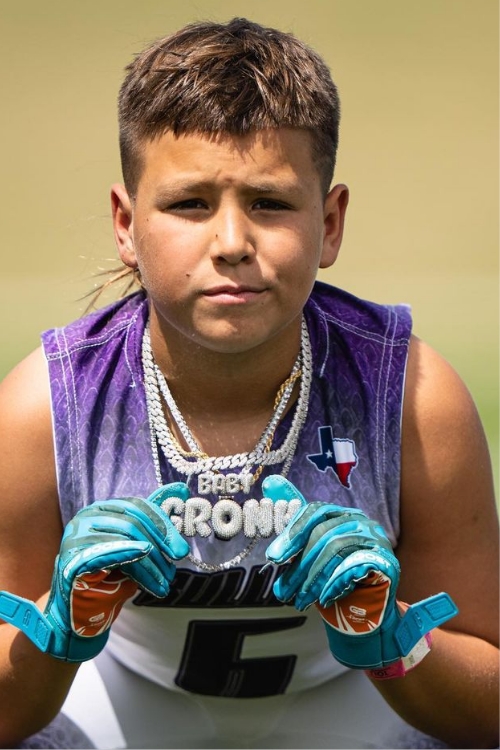 Although the father benefits from his son's success and work, he also equips Baby Gronk with the skills necessary to succeed in life both financially and professionally.
Madden has had assistance from his father, Jake, but he has also been associated with other brands that have contributed to his rise to popularity.
Additionally, he assists in teaching and honing his son's football skills.
Baby Gronk Has Celebrity Friends
Madden became famous after pulling a pickup truck in 2020 & got an instant boom of followers & attention on social media.
Since then, his football skills & physical capability's been on watch. No wonder his followers count rose to 317K followers from 180K in the course of three years.
Having joined Instagram in May 2018, Gronk joined another social media profile, Twitter, in June 2020.
His popularity got him the interest of other social media influencers, marketing agencies & sports personalities.
NFL stars Ezekiel Elliot, Derrick Henry & many more follow him on Instagram. Not to mention, he shares several posts with his significant sports figures on his social media.
Additionally, Baby Gronk's internet fandom has allowed him to interact with other celebrities and test some of the trendiest sports equipment.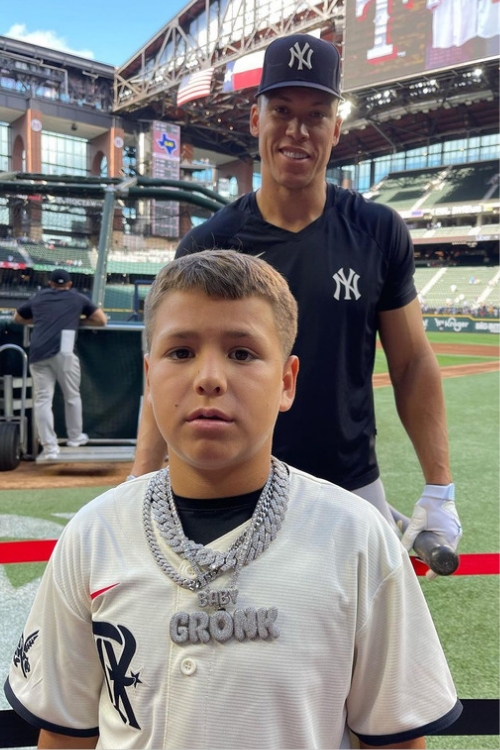 John Hicks and the child prodigy were spotted together at A+D1 Training in Carrollton.
Moreover, Baby Gronk and Cowboys quarterback Dak Prescott were spotted exercising together.
He has also been around Aaron Judge, Druski, Mark Wahlberg, and so many other superstars.
The young football player has joined rapper Bossie's Syndicate Marketing and Sports Management after having previously worked with him.
Dawn of a football star in cooking!