Derrick Henry is one of the most anticipated NFL running back who never ceased to impress with his intense gameplay. The American NFL star currently plays for the Tennessee Titans after being the 2016 NFL draft pick.
He is famously known as "King Henry" because of his commanding rushing style and larger build than the usual running back. Not to mention, Henry ranks #1 with the highest stiff arm attribute per Madden ratings.
Currently, in his 7th NFL season (2022 season) with the Titans, the Yulee Florida-born is attempting to win the Super Bowl of 2022-23. Last season, they lost to Cincinnati Bengals in AFC Divisional Playoffs.
While at high school, Henry helped the Yulee Hornets set a record for most rushing yards of 12,124. Likewise, he played college football for Alabama, where he broke Herschel Walker's Southeastern Conference (SEC) single-season rushing yards record during his junior year.
Derrick also won the 2015 Heisman Trophy, the Doak Walker Award, the Maxwell Award, and the Walter Camp Award.
Moreover, he was also a significant contributor to the 2015 Alabama Crimson Tide football team that won the 2016 College Football Playoff National Championship.
Want to know more about the NFL champ, Derrick Henry? Then, read the article to the end and get updated about all the information about Henry's family, career, and more!
Quick Facts
Full Name
Derrick Lamar Henry Jr.
Nick Name
King Henry
Date of Birth
January 4, 1994
Age
29 Years Old
Birth Place
Yulee, Florida
Nationality
American
Ethnicity
African-American
Zodiac Sign
Capricorn
Chinese zodiac
Dog
Height
6 feet 3 inches (1.91 m)
Weight
112 kg (247 lbs)
Hair Color
Black
Eye Color
Black
Father's Name
Derrick Henry Sr.
Mother's Name
Stacy Veal
High School
Yulee High School
University
University of Alabama
Relationship Status
Dating
Girlfriend
Adrianna
Children
One daughter
Profession
NFL player
Position
Running Back
Jersey Number
22
Leagues
NFL
NFL Draft
2016, Pick 45, Round 2
Religion
Christianity
Food Habits
Nonveg
Tattoos
Yes
Career Highlights and Awards

NFL Offensive Player of the Year (2020)
First-team All-Pro (2020), etc

Team
Tennesee Titans
Net Worth
$10 Million
Social Media
Instagram, Twitter
Merch
Signed Jersey, Autographed Rookie Card
Last Update

June 2023
Derrick Henry | Troubled Early Life, Family & Nickname
Derrick Henry was born on January 4, 1994, in Yulee, Florida. His full name is Derrick Lamar Henry Jr.
The player is the eldest of 3 children to Derrick Henry Sr., aka "Big D," and Stacy Veal. He was born when his parents were only 16 and 15 years old, respectively.
His younger brother's name is Donovan- he plays as an offensive linesman at Ottowa University. Moreover, he has a younger sister.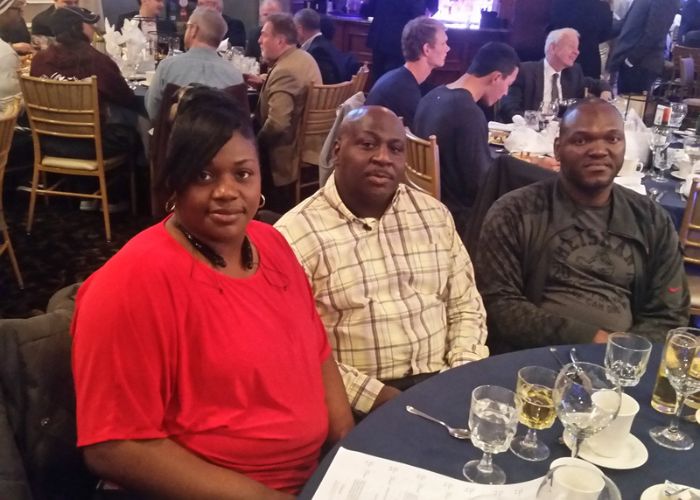 Derrick's upbringing primarily went without his father as he saw frequent jail time (20 times) for drug-related & other offenses. It saw him with volatile employment.
On the other, Henry's mother, Stacy, worked as a hemodialysis technician. She later re-married Latrell (Derrick's stepdad).
Grandmother Nicknamed Him 'Shocka'
Due to family issues in his early days, Derrick Henry lived with his grandmother Gladys. She primarily raised him, so he became close to his grandmother.
The NFL star credits his now-late grandmother for encouraging him to be a decent man. The player also has a portrait tattoo of his grandmother on his chest.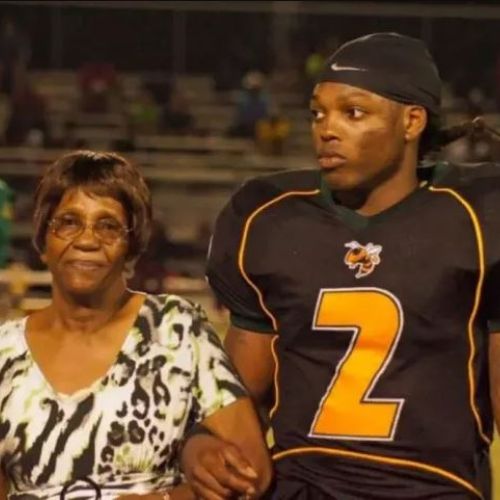 As reported, his grandma nicknamed him 'Shocka,' given that his birth was a surprise as his parents were too young at that time.
During his graduation from Alabama University in 2018, Henry wrote an emotional letter to his grandmother, who died in 2016 due to a respiratory infection.
You May Like: Charles Cross: NFL Contract, Salary, Draft, Family & More!
Derrick Henry | High School Career
Derrick attended Yulee High School, where he participated in football as a running back for the Yulee Hornets.
Before graduation in 2013, the three-star prospect wore jersey number #2. His high school overall stats records 12124 rushing yards, 96 kickoff return yards, and 153 touchdowns.
In 2009, as a rookie, he ran for 2,465 yards and 26 touchdowns. He ran for 2,788 yards and 38 touchdowns in 2010 while averaging 8.9 yards per carry, earning him a spot on the first team of the Coast.
Likewise, as a junior in 2011, the player carried 2,610 yards and 34 touchdowns, earning first-team All-Coast recognition from the Florida Times-Union.
As a senior, he averaged 9.2 yards per rush and 327.8 yards per game while setting the Florida high school record with a 510-yard effort against Jacksonville Jackson. He also finished the season with a state record of 4,261 yards and 55 touchdowns.
Derrick beat Ken Hall's previous mark with 12,124 rushing yards at the end of his high school football career.
Similarly, the player also scored 153 touchdowns while running. His overall number of career touchdowns is eighth all-time.
In the 2013 U.S. Army All-American Bowl, Derrick participated for the East team and ran for 53 yards, scoring a touchdown and converting a two-point play.
Derrick Henry College Career | Alumnus Of University Of Alabama
From 2013 to 2015, Derrick was a student at the University of Alabama, where he played collegiate football under the head coach Nick Saban.
On September 28, 2012, Henry committed to play for Alabama Crimson Tide and enrolled at the college on Jnauary 8, the following year. It has served as home to many NFL players like Daron Payne, Julio Jones, and Calvin Ridley, to name a few.
While at Alabama, he won the 2015 Heisman Trophy. Moreover, his spiritful collegiate career saw him accolades like Maxwell Award, the Walter Camp Award, and the Doak Walker Award.
Collegiate Stats
As a freshman, the Florida-born went with 443 yards and four touchdowns through 10 games. He made a 61-yard touchdown reception in the 45–31 loss to the Oklahoma Sooners during the 2014 Sugar Bowl.
During the 2014-15 season, he collected 189 yards and a touchdown in the 29-15 victory over Florida in the SEC Championship.
But they lost to Buckeyes 32-45 in National Semifinals in the Sugar Bowl, where Henry went for 95 rushing yards and a touchdown, concluding the sophomore season with 11 touchdowns and 990 yards on 172 carries.
View this post on Instagram
The 2015-16 season went with an impressive 2,219 rushing yards and 28 touchdowns for Derrick Henry. As a senior, he scored two touchdowns and 75 yards in the Cotton Bowl victory against the Spartans in a 38-0 lead.
Moreover, at the 2016 College Football Playoff National Championship, Derrick grabbed 158 yards on 36 runs with three touchdowns during Alabama's 45-40 victory over Clemson.
It aided him in surpassing Shaun Alexander's record for the most rushing yards in Alabama's history.
Derrick Henry | NFL Draft & Professional Career
After his junior season at the University of Alabama, Henry declared for the NFL draft. And to no surprise, he became a second-round (45th overall) pick of the Tennessee Titans in the 2016 NFL Draft.
He ranked as the second-based running back in the draft after Ezekiel Elliott of the Dallas Cowboys.
After starting as DeMarco Murray's backup, the player established himself as the most physically robust and tenacious runner in the game.
Additionally, he is very challenging to defeat because of his signature stiff arm.
Derrick had a career-best year in 2019, concluding the regular season with 1,540 yards, 16 rushing touchdowns, and 303 carries. Added that, he achieved career highs in receptions (16), receiving yards (206), and receiving touchdowns (2).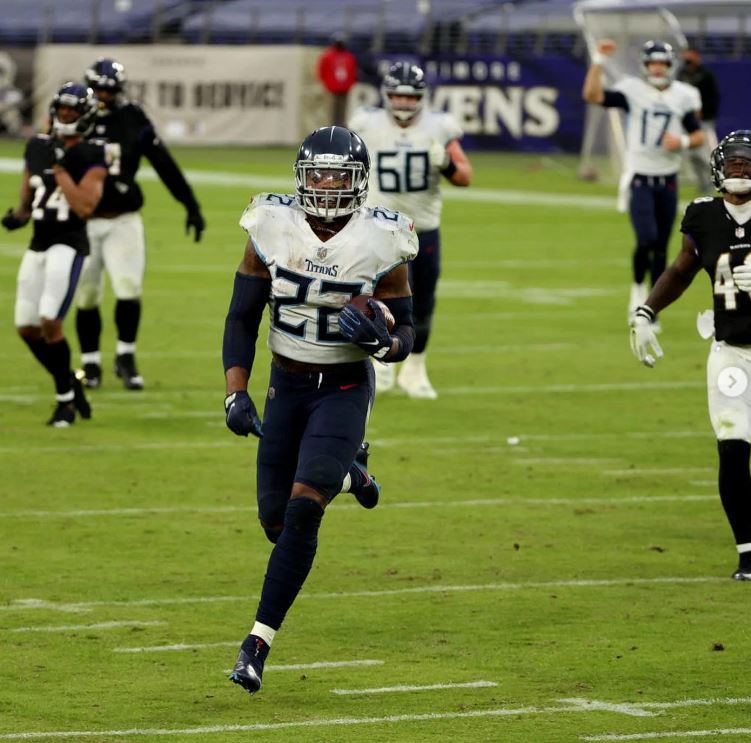 The player was named to the second-team All-Pro at both the running back and flex positions and received his first Pro Bowl selection.
In the 2020-21 regular season, Henry started in all 16 games and completed 2,027 yards with 17 touchdowns. It included notable contributions from:
212 rushing yards, 52 receiving yards, and two touchdowns against the Texans in Week 6
133 rushing yards and the game-winning touchdown against the Ravens in Week 11
178 rushing yards and three touchdowns in a victory against Indianapolis Colts in Week 12
A career-high 250 rushing yards and two touchdowns in a win vs. Texans in Week 17
He saw an honor as the 2020 Offensive Player of the Year.
During the 2020 post-season, he was without a single down during the 20-13 loss against Baltimore Ravens in the AFC Wild Card playoffs.
2021 Season Curtailed With Injuries
The season had a sluggish start for Henry- gaining only 58 rushing yards in the Titans' 38-13 loss against the Arizona Cardinals.
He later managed 182 rushing yards, 55 receiving yards, and three rushing touchdowns in Week 2's 33-30 overtime victory over the Seattle Seahawks. Derrick was named Week 2's AFC Offensive Player of the Week.
Likewise, he won the AFC Offensive Player of the Week award for the second time this season in Week 6 after rushing for 143 yards and three touchdowns in a 34-31 victory over the Bills.
Henry was on course to shatter the NFL rushing record; however, Derrick sustained a Jones fracture in a Week 8 victory over the Indianapolis Colts, sidelining him for the rest of the regular season.
Derrick Henry potentially suffered a season-ending foot injury yesterday, per @AdamSchefter

Henry will go under tests today to get a better picture of the injury. pic.twitter.com/Ut29RqVene

— PFF (@PFF) November 1, 2021
On November 1, he was put on injured reserve.
By January 21, 2022, Henry was reactivated from injured reserve in time for the team's Divisional Round matchup against the Cincinnati Bengals.
The player got 20 carries for 62 yards and a rushing touchdown in his comeback game, which the Titans lost 19-16.
2022-23 Season Stats
Derrick had 143 scrimmage yards and a rushing score in Week three's 24-22 victory over the Las Vegas Raiders. The player had 22 carries for 114 rushing yards and a rushing touchdown in the next game, a 24-17 win over the Indianapolis Colts.
Henry also won the AFC Offensive Player of the Week award in Week 8 after rushing 32 times for 219 yards and two scores in a 17-10 victory over the Houston Texans.
Similarly, Derrick had 17 touches for 115 rushing yards and two rushing touchdowns in Week 9's 20-17 overtime loss against the Kansas City Chiefs.
Likewise, Against the Green Bay Packers in Week 11, the player racked up 132 scrimmage yards and one running score. In the 27-17 triumph, he also connected with Austin Hooper on a three-yard touchdown throw.
Moreover, the player accumulated 155 scrimmage yards in Week 14's 36-22 loss to the Jacksonville Jaguars.
Career Highlights And Awards
Derrick has had an incredible playing career. His career highlights and awards are listed below:
NFL Offensive Player of the Year (2020)
2020 First-team All-Pro
2019 Second-team All-Pro
2× NFL rushing yards Leader (2019, 2020)
2× Pro Bowl (2019, 2020)
2× NFL rushing touchdowns Leader (2019, 2020)
CFP National Champion (2015)
2015 Heisman Trophy
Maxwell Award (2015)
2015 Doak Walker Award
Walter Camp Award (2015)
2015 Unanimous All-American
SEC Offensive Player of the Year (2015)
2015 First-team All-SEC
99-yard rushing touchdown NFL record (tied with Tony Dorsett)
Derrick Henry | Age, Body Measurements, and more!
The NFL player was born in the year 1994. Hence, he is 29 years old.
The player was born in the Dog year as per the Chinese calendar, while his zodiac sign is Capricorn.
Derrick is significantly bigger than most running backs at 6 feet 3 inches (1.91 m) and 247 lbs (112 kg), with a build more akin to a linebacker. As a "power back," the player can overwhelm opponents and avoid tackles using his stature and muscle.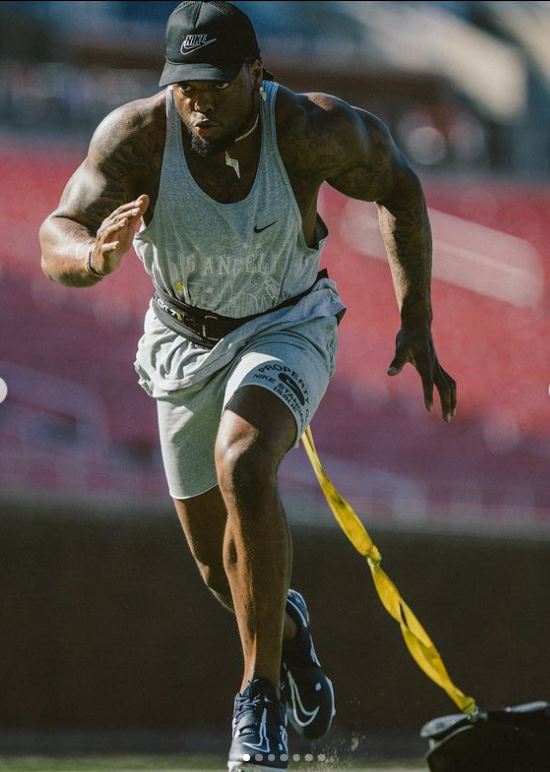 Derrick amassed 1,073 yards after contact in 2020, more than 300 yards more than any other rushing back in the league. He also led with 34 broken tackles.
Despite his height and power, he moves with fantastic speed. The player is skilled at eluding defenders by employing a stiff arm.
Derrick is a power back, and his playing style contrasts with smaller, so-called "scat backs," who are more elusive because they can change directions more quickly.
Derrick Henry Has A Daughter | Wife Or Girlfriend?
The Tennessee Titans running back, besides being a promising player, is also a lovable father of one. The baby mama is none other than his girlfriend, Adrianna Yasmin Rivas Colmenero, with whom he has many years of relationship.
She goes by the Instagram handle @adriannarivas and often mentions her NFL star boyfriend on her posts.
On January 10, 2020, Adrianna shared an Instagram post with a sonograph photo confirming that she and Derrick Henry were expecting a child.
A few months later, on March 23, 2020, the NFL player confirmed the birth of her baby girl via Instagram. According to the post, his daughter Valentina Allure Henry was born on May 18, 2020.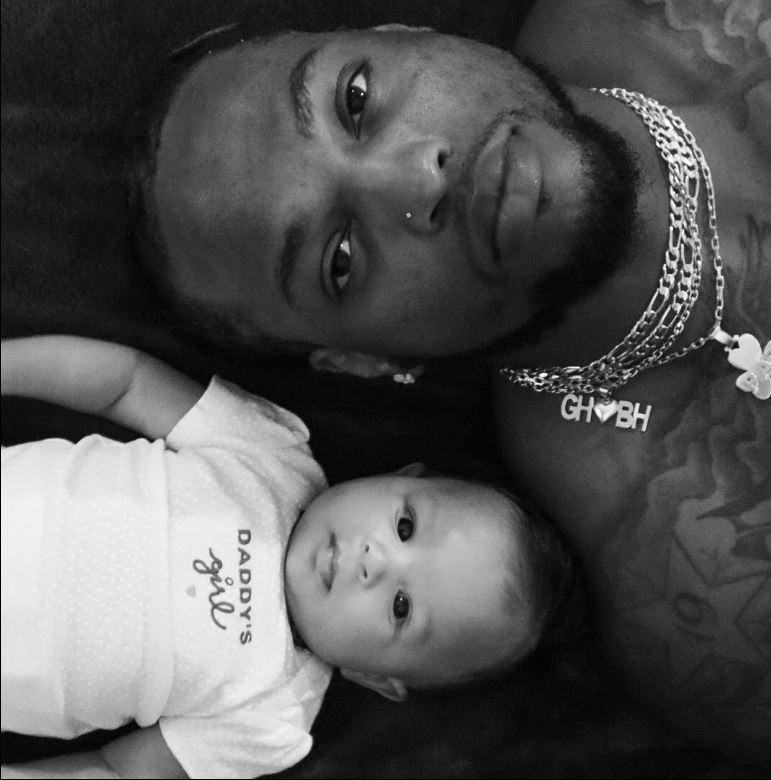 On the occasion of her second birthday, Derrick wrote on Instagram:
"🎉Baby V turns 2🎈
Happy Bday to my lil gangsta‼️
Everyday is a blessing to be your Dad & watch you grow ♥️
Love, Daddy (SAS) 😘"
Derrick and Adrianna have been dating since 2016- they have been together since college. They are yet to get engaged or have disclosed plans to get married.
Currently, the couple lives in Nashville, Tennessee. They also have two pet dogs, Nino, a Rottweiler mix, and Nala, a Golden Doodle.
More On Girlfriend Adrianna
Derrick Henry's girlfriend, Adrianna, was born in Texas on May 3, 1994, to Joe Rivas and Simona Rivas. She has an older brother named Daniel and a younger brother named Adriel Rivas.
In May 2016, Adrianna graduated from the University of Texas at Arlington with a Bachelor of Arts in Public Relations.
Before relocating to Nashville, Rivas also worked as a guest services representative for Marriott International and as an account executive for Technifax Office Solutions.
As of now, she owns and operates her eyelash extension business, 'Attraction by Adrianna.'
Derrick Henry | Facts And Trivia
Derrick is a believer. He stated that he always prays. The player feels eternally grateful to God for all the blessings he has bestowed upon him and his family.
The player says that his grandmother used to tell him that God should always come first and that he should never stop giving God praise for everything, whether it's good or bad.
Yulee, Florida, Henry's hometown, honored him with a welcome sign in November 2019. Locals and businesses raised the money because they wanted to honor the accomplishments of the budding football star.

The player runs 'The

Two

All

Foundation.'

The foundation exists to level the playing field for today's

youngsters

so

that

their upbringing, background, disability, or influence do not limit their future achievements.



Henry wrote jersey #2 while at the Tennessee Titans camp but later switched to #22. It was to comply with NFL's rules for jersey numbers 20-49 and also as a tribute to a college teammate who died killed in a car accident in October 2015.
Social Media
Derrick's Instagram account has more than 1.7 million followers as of June 2023.
Most of his IG posts showcase his journey from college to NFL prominence and achievements, but it doesn't limit him from sharing family moments on the platform. His girlfriend and his daughter are often featured on Instagram.
He is also active on Twitter with over 431.8K followers- he joined in June 2010.
Instagram: @last_king_2
Twitter: @KingHenry2
Derrick Henry | Net Worth
Henry's net worth is projected to be $10 million as of June 2023.
Derrick Henry signed a four-year, $50 million contract with the Tennessee Titans in 2020, which included a $12 million signing bonus, $25.5 million in guaranteed funds, and an average annual salary of $12.5 million.
In 2022, Henry will earn a base salary of $4 million and roster bonuses of $1 million. His restructured bonus of $9 million resulted from a 1-year $10.278 million franchise tag by the Titans signed on March 16, 2020.
For the 2022-23 season, his cap hit is $9,367,647, while the dead cap value is $14,250,000.
Likewise, Derrick also earns additional sums from various sponsorships and endorsement deals. The player has made millions of dollars through endorsement deals with well-known brands like Nike, Pepsi, Dr. Teal's Epsom salt, Champs Sports, and others.
Frequently Asked Questions (FAQs)
What other sport did Derrick Henry play?
Derrick was a three-sport star in football, basketball, and track at Yulee High School. From 2010 to 2011, Henry participated in track and field as a sprinter at Yulee. At the 2011 FHSAA 2A District 3 Championships, the player finished sixth in the 100-meter dash with a personal-best time of 11.11 seconds.
What subject did Derrick study at the University of Alabama?
Derrick chose communication as his major and graduated on May 4, 2018. He also wrote a piece for The Players' Tribune the same day, thanking his late grandma for motivating him to continue pursuing his degree.
Does Derrick Henry have a gf?
Yes, Derrick Henry is currently in a relationship with his girlfriend Adrianna Rivas. She is also the mother of his daughter Valentina Allure Henry. Henry and Rivas began dating in 2016 but are yet to marry.