Sports and films are always tied together. Like any sport, football has all the unexpected moments, drama, emotions that perfectly fit the movie.
Being the most popular game in the United States. Football has caught the attention of Hollywood. It has resulted in many films produced about football.
Every fans and people have their own favorite football movie. Looking at various online sites like USA Today, Complex, NFL, and IMDb, we have prepared our list of all-time best football movies.
10. Leatherheads
Released date: 2008
IMDb rating: 6
Leatherheads is a comedy sports movie setting backdrop of American pro-football league during 1925.
Dodge Connelly (George Clooney), Duluth Bulldogs, wants to rebuild his team after losing sponsors, and the pro-league is on the verge of collapse.
So, he convinces college football star Carter Rutherford (John Krasinski) to join the team to draw national attention.
Rutherford is an American favorite son who fought in The Great War and single-handedly captured multiple German soldiers.
Alongside being a decorated army figure, he is also a speedy and skillful player. Later, Rutherford's arrival prospered both pro football and Bulldogs began to rise.
Likewise, Chicago Tribune points to Lexie Littleton (Renne Zellweger) to investigate Carter's war heroism.
But while she dives into the case, Carter and Doge become teammates on-field and rivals off-field for her love.
As football started gaining popularity, Dodge fights to keep his teammates together and get girls he loves.
During an interview at Late Show with David Letterman, Clooney said the story is based on University of Illinois football athlete Harold Grange and pro-team captain George Halas.
9. The Game Plan
Released date: 2007
IMDb rating: 6.1
The movie follows the story of a professional football quarterback Joe Kingman (Dwayne Johnson). He had everything going perfectly for him.
However, one day, an eight-year-old girl (Peyton) suddenly comes to his house door, mentioning her as his daughter from a past relationship.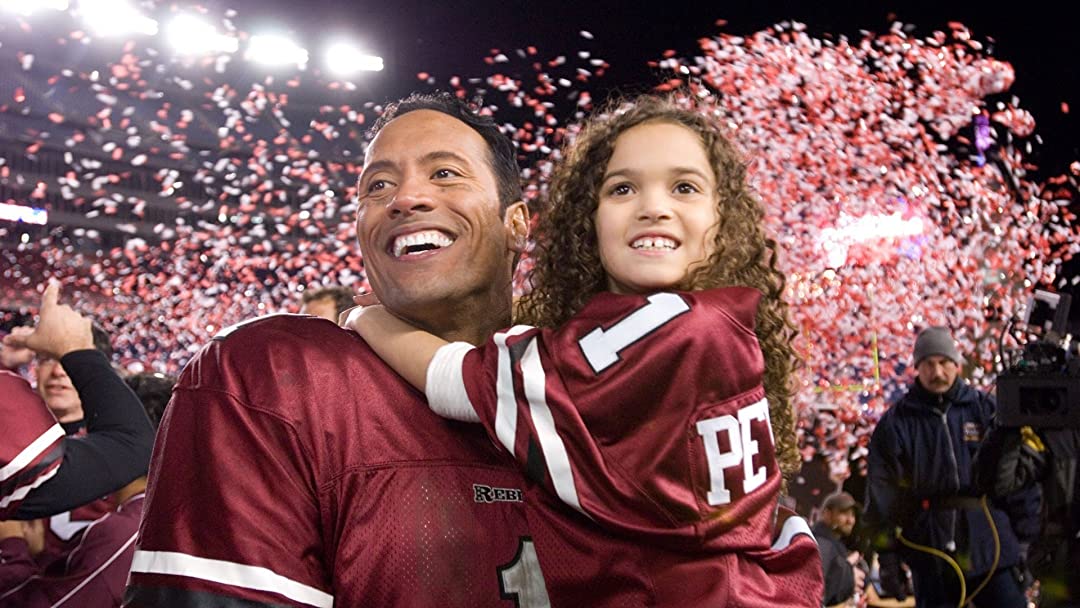 He looks for proof and finds out she is his real daughter; Joe still fails at parenting. For example, Joe sometimes takes her on a ride in a speedy car without a backseat, leaves her in the bar alone at 3.00 am.
However, he gets things under control slowly and presents himself as a loving and caring father.
After finding out Peyton's mother died a year ago, he asks her to move and live with him together as a family. But her aunt Karen Kelly, the legal guardian, takes Peyton home.
Later, he has to play the championship game with an injury, as things were looking bad for Joe. But his daughter surprisingly shows up, motivating him to play the best game of his life.
Top 10 Best Basketball Movies of All Time >>
8. Any Given Sundays
Released date: 1999
IMDb rating: 6.9
The movie covers the story of aging coach Tony D'Amato (Al Pacino). His team Miami Sharks once-great team a few years back, and now they are struggling to make it into the AFFA playoff.
In addition, his marriage life is about to fail, and he has also fallen out to new team owner Christina Pagliacci.
The playoff hunt becomes more difficult when the team's starting quarterbacks Jack Rooney and backup QB Tyler Cherubini, have injury problems.
For the remaining games of the season, Willie Beamen, thrid string quarterback replace them.
Although, Beamen struggles initially, his higher performance level later questions the future of the other two top quarterbacks.
D Amato struggles with his personal and professional life. Alongside he is trying to make the team stronger and save them from another disappointing season.
7. Jerry Maguire
Released date: 1996
IMDb rating: 7.3
Jerry Maguire is inspired by Leigh Steinberg, an American Sports agent. He also acted as a technical consultant for the movie crew.
The movie portrays Jerry Maguire (Tom Cruise) as a powerful sports agent. Jerry has famous clients, respect, beautiful finance, money, everything he desires.
However, one day he writes a mission statement to his company stating his desire to work with fewer clients and operate their business.
But superior don't like his proposal and fires him. Later, he opens his own sports agency supported by single mom Dorothy Boyd (Renee Zellweger).
He starts his company with only one client Rod Tidwell who believed in his skills and ability.
Later, Jerry and Dorothy face the impossible task of rebuilding all the elite status, earning clients one he possessed.
On the way to a new journey, Jerry goes through harsh realities he ignored earlier and difficulties he never faced in the past.
6. The Blind Side
Released date: 2009
IMDb rate: 7.6
The Blind Side, adapted from the book The Blind Side: Evolution of a Game, is one of the best football movies. The book is the true story of American footballer Michael Oher.
The movie portrays the real life of Michael Oher (Quinton Aaron) how he went from homeless to NFL draft first-round pick and All-American with the help of caring women and family.
Aaron had a traumatic childhood during his early years. Due to his mother's drug addiction problem, he is always moved to new foster homes.
However, his friend's father helps him enroll in a private Christian high school, but he becomes a social outcast.
Later, Leigh Anne Tuohy (Sandra Bullock) spots Aaron and invites him to her house. She gives him the most important need of his life family.
The Blind Side is not just a sports movie its shows the value of family. Its heart touching and a good movie to watch with family.
In 2010 The Blind Side won Best Sports Movie in ESPY Awards.
Top 10 Best NBA Players of All Time >>
5. The Longest Yard
Released date: 2005
IMDb rating: 6.4
The Longest Yard is a remake of 1974 The Longest Yard. Alongside being one of the best football movies, it's also among the best prison movie.
The movie is of washed-up Paul Crewe (Adam Sandler), former Pittsburgh Steelers professional quarterback.
Paul ends up in jail due to a drunk driving police chase incident. Later, an avid football fan Rudolph Hazen, Texas Warden, transfers him to his prison.
In exchange for a reduced prison sentence, Paul is compelled to form a football team to play a match against prison guards.
Later, his fellow caretaker helps Paul to arrange tryouts. Finally, looking at the team, former college football player Nate Scarborough decides to join the head coach.
Then Nate helps gather multiple intimidating prison mates, where most of them join to take revenge against those brutal guards.
Looking team gets stronger, the guard's team tries to hinder the Crewe team in several ways as possible. However, Crewe is ready for a big football match against guards.
The warden and other guards don't know who they are up against and the driving factor behind Paul's newly formed team.
4. Gridiron Gang
Released date: 2006
IMDb rating: 6.9
Gridiron Gang is a true story of the Kilpatrick Mustangs juvenile detention camp in 1990.
The movie is a powerful story of Sean Porter (Dwayne Johnson), an officer at the Los Angeles Kilpatric Detention Center.
He is frustrated with not being able to help children cope with their life problems such as street gangs, drugs even after being released from the center.
So, Sean asks his fellow officers Malcolm Moore, Paul Higa, Ted Dexter to form a football team to develop the feeling they are always part of something.
Former college football player Sean believes football will definitely teach these kids what ts takes to be responsible, teammates, and winners.
They convince the Christian school league to let their team compete in the league.
Porter and his colleague have just 4 weeks to form a team before their first match. But, first, he must get juveniles united, eliminating gang rivalries.
3. Remember The Titans
Released date:2000
IMDb rating: 7.8
Remember the Titans is a real-life story of football coach Herman Boone played by Denzel Washington and his effort to unite the T.C. Williams High School football team in 1971.
It is one of the best football movies about a white football team beginning to allow black players to join their team.
In the early 1970s Black coach, T.C. Williams hires Herman Boone to end racial discrimination.
Later, tension arises when black and white players are forced to play together on the same team.
However, the earlier disputes ease after the team spends a two-week training camp together in Gettysburg College, Pennsylvania.
After returning, players become unified and accomplishing racial harmony. As a result, the Titans finish the season undefeated.
They battled racism, and their success resulted in communities accepting the social change.
At last, Remember the Titans is all about leadership, teamwork, and the effort to fight against racism in society.
Florida Gators Shoes: Stylish Men and Women Sneakers>>
2. The Express
Released date: 2008
IMDb rating: 7.3
The Express is a true story based on the life of Ernie Davis, Syracuse University American footballer who became the first African American to earn the Heisman Trophy.
Moreover, the movie's storyline is taken from Ernie Davis: The Elmira Express, published in 1983.
Rob Brown has played the role of Ernie Davis in the movie. During his high school Brown showcase, he is an exceptional football player, faster than any other field player.
Syracuse head coach Ben Schwanrtzwalder is impressed by seeing his video footage and convincing him to join his recruiting program.
The film is set in 1959 when Syracuse went undefeated. Davis immediately proves everyone his talent and set many records. But when he was awarded MVP, he hasn't presented the trophy at the banquet.
Similarly, during games against West Virginia and Texas, they are given hard times. The fans make racial chants and throw bottles aiming towards black footballers.
Likewise, he even had to take back door to enter hotels and slept in servant quarters too.
Furthermore, the film covers the story of challenges faced by African-American players.
1. Rudy
Released date: 1993
IMDb rating: 7.5
Rudy is adapted from the real-life story of Daniel "Rudy" Ruettiger and his dream of playing for the Norte Dame football team.
The movie teaches that we should never give up on our dreams even if thousand of people discourages you.
Rudy was born into a working-class family and has dreamed of playing football for Norte Dame.
Although he has talent and physicality, he doesn't have money and grades to enroll. So, like his brother and father, he starts working at a steel factory.
But, after Rudy turns 22 years old, his supportive and best friend dies in a mill explosion. Then he realizes it's time to pursue his dreams.
He knew he is ineligible, so he enrolls in Holy Cross Junior College with the help of a priest John Cavanaugh. Later, he is helped by a tutor to get good grades.
Finally, he transfers to Norte Dame after being eligible. For 2 years, he plays as "tackling dummy."
His dedication, hard work, and inspirational character coach give him a chance to play in one match. Then, at last, he is carried by his teammates after the game.
Summary
The new NFL won't resume until September. So, it's the best time to watch the best football movies which give the same thrill and unpredictable moments.
Surprisingly, more than half of the movies on our list are based on true stories. Let's looks into a quick summary of our top 10 list.
Rudy
The Express
Remember the Titans
Gridiron Gang
The Longest Yard
The Blind Side
Jerry Maguire
Any Given Sundays
The Game Plan
Leatherheads