There are a handful of football players in the world. Many of them are a great inspiration to every one of us. One of such an inspirational and motivational American Football player is Michael Jerome Oher.
Famous by the nickname Michael Oher, he has faced many ups and downs in his early career.
Born and grew up in a low-income family with a lack of proper love and care from parents, he lived his early life in a different foster home.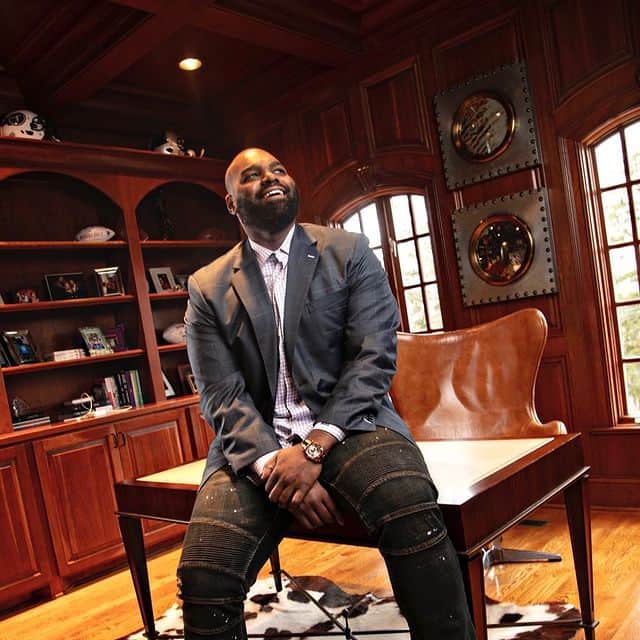 However, today he has established himself at the top of the crowd with his skills and proper guidelines from his second home.
So more to go on Michael Oher's life and his siblings. Keep Reading!
Quick Facts about Michael Oher
Full Name
Michael Jerome Oher
Known As
Michel Oher
Birth Date
May 28, 1986
Birth Place
Memphis, Tennessee, United States
Nick Name
Mike
Religion
Not Known
Nationality
American
Ethnicity
African-American
Education
University of Mississippi
Horoscope
Gemini
Biological Father's Name
Michael Jerome Williams
Biological Mother's Name
Denise Oher
Adoptive Father's Name
Sean Tuohy
Adoptive Mother's Name
Leigh Anne Tuohy
Biological Siblings
12
Adoptive Siblings
2 (Collins Tuohy and Sean Tuohy Jr.)
Age
35 Years Old
Height
6 feet 4 in (1.93 m)
Weight
315 lbs. (143 kg)
Hair Color
Black
Eye Color
Black
Net Worth
$20 million
Profession
Former American Football Player
Position
Offensive lineman, Tackle
Teams that he played for
Baltimore Ravens

Tennessee Titans

Carolina Panthers

Philanthropy
Making it Happen Foundation
Book
The Blind Side: Evolution of a Game

I Beat the Odds: From Homelessness to The Blind Side and Beyond (Autobiography)

Movie
The Blind Side
Merch
Football Cards, Posters
Social Media
Instagram, Twitter, Facebook
Last Update
May, 2022
Michael Oher – Early Life, Family, and Education
Michael Oher was born on May 28, 1986. Born in Memphis, Tennessee, United States, Oher grew up with eight siblings of him. Michael Jerome Williams and Denise Oher are Michael Oher's parents.
The future All-Americans didn't receive any proper guidance and discipline in his childhood. Denise suffered from addiction to alcoholism and cracked cocaine, whereas Michael Jerome spent most of his life inside prison.
Sadly, his father was murdered when Michael was in high school.
Moreover, at the age of seven, Micheal was sent to foster care. He attended Briarcrest Christian School and joined the school football team.
His academic records were not so good, but his interest in football was always in the first position from an early age.
Despite receiving a scholarship from various universities, he chooses the University of Mississippi.
The reason is not very big; he just wanted to play for Ed Orgeron, one of the head football coaches at the University of Mississippi. In 2009, he graduated from the university with a degree in criminal justice.
Michael's Second Home
Michael belongs to a low-income family, and there was no one to take care of him and his siblings. So forcefully, he was sent to a foster home.
But the turning point of life in Michael came when Tuohy Family adopted him.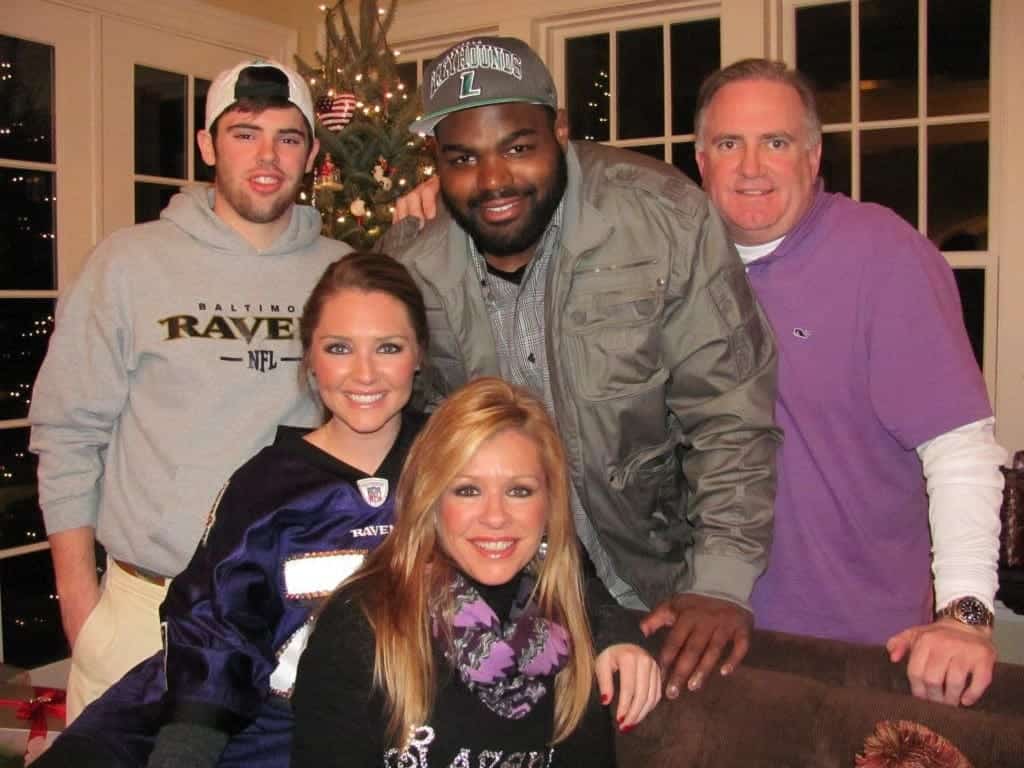 Tuohy's family accepted Michael as their family member when he was 16 years and became a legal guardian when he turned 17.
Tuohy family consists of the Tuohy couples Sean Tuohy and Leigh Anne Tuohy and their two children. Daughter Collins Tuohy and son Sean Tuohy Jr.
You might be interested in reading: Jalen Reagor Bio: Football, NFL, Father & Net Worth.
Michael Oher's Siblings
As mentioned earlier, Michael is one of the twelve children of Michael Jerome Williams and Denise Oher. He has two more siblings from his adopted parents' side.
Collins Tuohy- Born on December 29, 1986, Collins Tuohy is Michael's adoptive sister. Her parents Sean Tuohy and Leigh Anne Tuohy, welcomed Micheal into the Tuohy family because his family condition was not good.
Besides Michael, Collins also has one brother Sean Tuohy Jr.
Collins Tuohy is co-owner and director of marketing of the Whimsy Cookie Company. Moreover, she is best known as an actress, public speaker, and businesswoman.
The actress has established herself in the glamour industry in America.
In addition to The Highwaymen (2019), Night of the Loup Garou (2010), and Family Addition with Leigh Anne Tuohy (2013) are some movies in which Collins appeared.
In 2016, she launched Collins Closets-a lifestyle, fashion, and travel blog.
Besides that, this American actress is happily married to her long-time boyfriend, Canon Smith. The Smith couples are enjoying their life together, and till now, there are no rumors of divorce or extra-marital affairs.
Sean Tuohy Jr- Born on July 4, 1993, Sean Tuohy Jr is the adoptive brother of Michael Oher. He is more famous for how he was portrayed in the acclaimed movie "The Blind Side."
Furthermore, Sean has played guard as a basketball player for Loyola Greyhounds. Currently, he's working as assistant athletic director of football operations for the Liberty for liberty team.
Michael's biological siblings are namely:
Carlos Oher
Marcus Oher
John Oher
Andre Oher
Deljuan Oher
Tara Oher
Rico Oher
Denise Oher
Sadly other information about his other siblings is unknown, such as their education and whereabout. But we will make sure to update it as soon we uncover more information.
Michael Oher – Career
Early Career
Michael started playing football from the first year at his high school. Freeze and Tim Long coached him.
This leads him to named 'Division II (2A) Lineman of the Year' and 'First Team Tennessee All-State.' Scout.com also rated Oher's like a 'five-star recruit.'
After being named 'No five offensive lineman prospect in the country,' he appeared into the limelight. This turned him to get a new family.
Impressed by huge achievement, Leigh Anne and Sean Tuohy allowed him to live with them together.
There he received proper love and care from the Tuohy family and got the opportunity to train in different sports.
Along with sport, the American native worked equally hard in the academic sector to get accepted into the NCCA program. In 2005, he participated in U.S. Army All-American Bowl.
During his university period, Michael played as a guard for the Ole Miss Rebels' football team. With that, he was also named as 'Freshman All-America.' He announced the news of joining the 2008 NFL Draft.
But a few days later, he withdrew his decision and joined 'Ole Miss Rebels' senior team. Moreover, he was known as 'First-team All-American' at the end of the season. The same year he also graduated from university.
Professional Career
Michael was selected in the 2009 NFL Draft by 'Baltimore Ravens.' Later on, he signed a 5-year contract with Baltimore Ravens with a payment of $13.8 million. At the beginning of the season, he started with the right tackle position.
However, he returned to the left tackle after a small injury but later joined the right tackle position.
In January 2010, in the first season, the Ravens team against New England Patriots won 33-14.
Similarly, in February 2013, Michael won his first Super Bowl Ring after Ravens played against the San Francisco 49ers in Super Bowl XLVII with a 34-31.
With the end of a 5-year contract with the Ravens, Oher joined Tennessee Titans with a deal for 4-year.
Due to many injuries, he missed many games, and this led him to leave the team. After termination with Tennessee Titans, he signed a two-year contract with Carolina Panthers.'
He started with the left tackle, as announced by the General Manager of Panthers. His contract was extended for two more years on June 17, 2016.
Because of several injuries, he terminated the contract with Carolina Panthers on July 20, 2017.
Michael Oher – Retirement
Oher calls himself a proud NFL veteran. The initial reason for his absence from the game was an injury.
Oher's retirement was declared later on.
Life after Retirement (Philanthropy)
Oher has indulged himself in charity works once he retired. Oher and his family run the "Making it Happen Foundation."
The Tuohys, with their adopted son, have been operating the foundation for over a decade now. The foundation aims to fill the gaps in the life of children who have no one behind them.
The family has the first-hand experience of how a small effort by an individual can turn around someone's life.
The foundation basically touches lives by supporting low-income schools, assisting students' journey to college, helping and encouraging foster moms, or simply binding some dots.
Michael Oher was himself one of those children who required assistance once upon a time. He was blessed to have been adopted and cherished by a loving family.
After completing his purpose on the field via football, Oher dedicated his life to helping people who are going through a similar situation that he had been in years ago in Tennessee.
Michael Oher – Age, Height and Physical Appearance
At the moment, Michael is 34 years old with the sun sign Gemini. And people with the Gemini sun signs are known to be emotionally strong and kind. Oher height is around 6 ft 4 in (1.93 m) and weighing about 315 lb (143 kg).
His physical body measurements are not available at the moment.
But we believe that being a player, he takes good care of his health, following specific fitness tips and diet plans. Likewise, he belongs to the American native with Afro-American ethnicity.
Who is Michael Dating? Does Michael Oher have children?
Being one of the most prominent and most celebrated personalities in the sports world, there's always a curiosity among fans who Michael is dating, or is he married?
Michael is one of those players who loves to keep his personal and relationship life private. There's no rumor of link-ups or romantic relations of this NFL start with anybody.
Since he values his private life, people are willing to know if he's married. No, he's not married.
In addition to a successful career in sports, we hope he'll be too successful with his love life in the future also.
Michael Oher – Book and Movie
Michael's life is very inspiring to all of us, and not everyone can achieve this amount of success in their life with many ups and downs.
To praise such an exceptional human being, Michael Lewis translated Michael Oher's life into a book. The book is named 'The Blind Side: Evolution of a Game.'
This book features the life of Michael from his high school journey. Later on, the story was later showcased in a beautiful movie with the same name. Director John Lee Hancock directed the movie.
The movie was released on November 20, 2009.
People like to talk about "Cinderella stories," but Cinderella didn't get her happy ending without lifting a finger.
She had to show up at the ball, be charming and smooth, and win over the prince. Of course, she had help along the way, but ultimately it was up to her to make the fairy-tale ending happen."
The movie shows Michael's upbringing, early school days, and what kind of love and affection he received in the Tuohy Family.
Moreover, the film grossed around $300 million and received an Academy Award nomination for Best Picture.
Moreover, In 2011, Michael published his autobiography named 'I Beat the Odds: From Homelessness to The Blind Side and Beyond.
Michael Oher – Awards and Achievement
Throughout his career, Micheal has received many awards and honored for his laudable feat in sports. From an early stage of his life, his excellence in football has reached a top level.
Let's look at some of the prestigious awards and achievements of NFL stars.
First Team Freshman All-American, First Team All-Quad Freshman Chrome [AQFC], First Team SEC All-Freshman – 2005
Second Team All-SEC – 2006
First Team All-SEC – 2007
First Team All-American and First Team All-SEC – 2008. The same year he received the Shug Jordan award as the Southeast Offensive Lineman of the Year and the Colonel Earl "Red" Blaik Leadership-Scholarship Award.
Outland Trophy finalist, Conerly Trophy finalist, Lombardi Award semifinalist, SEC Jacobs Blocking Trophy – 2008
Michael Oher – Net Worth
Football is a popular game worldwide, and there's no doubt that the player receives a fair amount of salary for their footwork on the ground.
As mentioned earlier, Michael is a former American football player with a net worth of $20 million. He has signed four big contracts worth multi-million dollars for three different teams in the NFL.
Similarly, he signed a contract with the Baltimore Ravens of $13.8 million. His signing contract from Tennessee Titans is $20 million, and Carolina Panthers is $7 million.
Moreover, the Panthers extended his contract for two years with $21.6 million, with $9.5 million guaranteed.
You might want to read: Sterling Sharpe Bio: Career, Family, Injury & Net Worth.
Michael Oher: Social Media Presence
Facebook – 732K followers
Twitter – 234.7K followers
Instagram – 215K followers
Common Queries about Michael Oher
Is Michael Oher's biological mother alive?
Michael Oher's biological mother, Denise Oher, is fine and living in a new home now. She currently lives in South Memphis.
Denise has been into alcoholism and drug-taking most of her adulthood, and she acknowledges the fact that her mal habits wrecked the Oher family.
Nonetheless, Denise is slowly and steadily turning her life around.
However, Denise has complained that she barely gets to hear from Michael. The mother-son duo is not in the nicest terms.
How did Leigh Tuohy meet Michael Oher?
Leigh Tuohy and her husband, Sean Tuohy, were driving on a cold night. The couple spotted a young boy walking in minimal clothes which could barely keep him warm.
The boy was just wearing a T-shirt and shorts in the cold. Leigh could not control herself and asked her husband to turn the vehicle around towards the young boy.
It was Michael Oher, lonely and helpless. The Tuohy's, with God's grace, had the ability to fulfill that need. Henceforth, Michael became the fifth member and third child of the Tuohy family.
Which team is Michael Oher on?
Michael Oher
has been without an NFL team since the year 2017. He was last associated with the Carolina Panthers.