Robert Malcomson McKenzie is a Canadian hockey commentator, covered since joining TSN in 1986. He analyzes the NHL on TSN telecasts, the IIHF World Junior Championships, NHL Draft, NHL Trade Deadline, Free Agency, and six Olympic Winter Games.
Having spent over four decades as a Journalist for NHL games, Bob McKenzie is one of the most well-known personalities among ice hockey fans.
Bob's dedication and work ethic have driven him to improve with each passing day, as he still works as an analyst for the TSN network at age 66.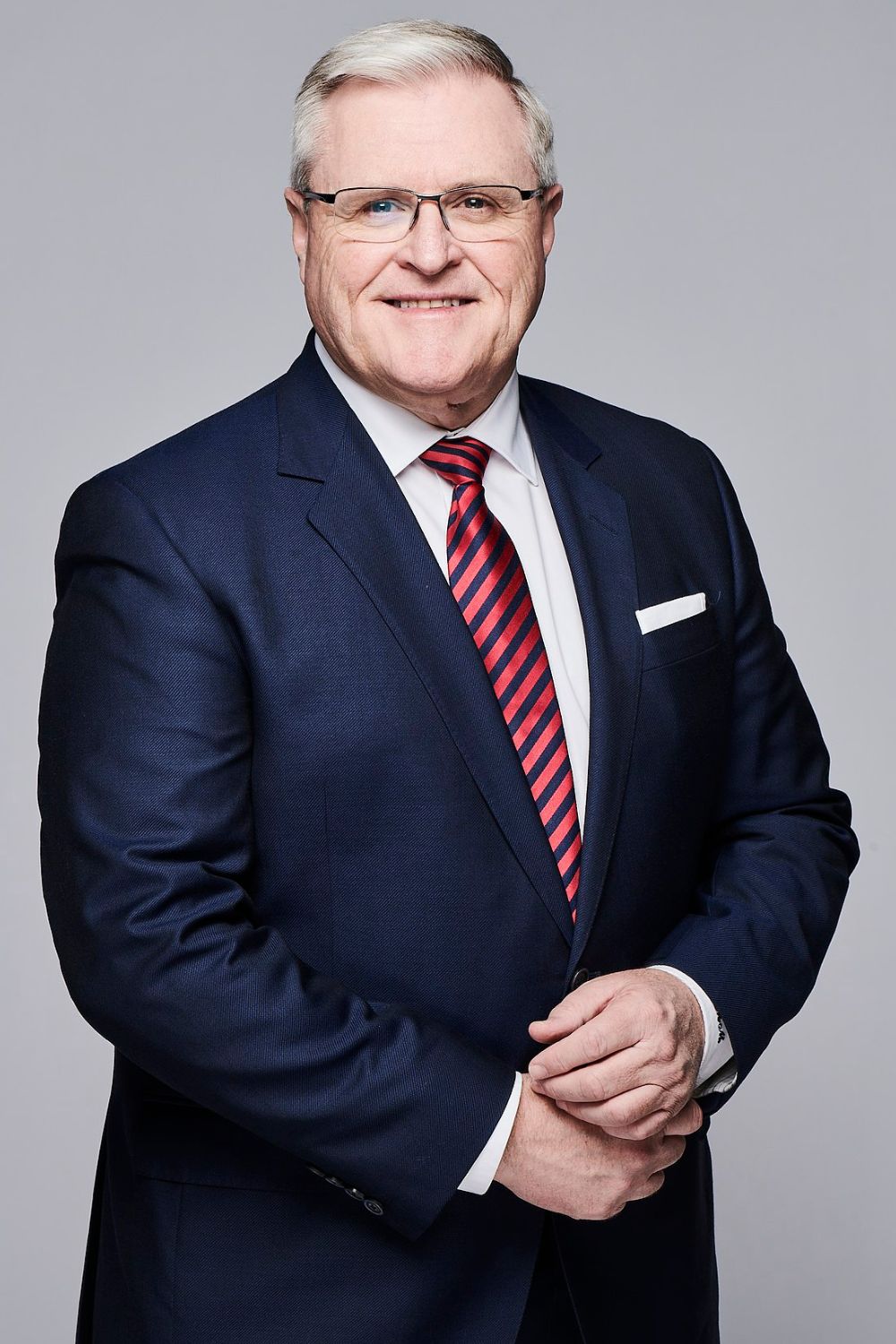 But, it was not all plain and rosy for the Toronto native in his early years. McKenzie had to work in low-paying jobs to get experience, which came in handy later in his career.
However, the 66-year-old has risen since he is probably the most famous sportscaster in NHL. Besides that, he is considered a draft expert and served as a draft expert at TSN.
The sportscaster is famous for his scouting reports, draft rankings, and addressing trade rumors on players.
He has announced his final 2022 Draft Ranking and celebrated one year anniversary of his margarita brand "Bobby Margarita" in 2022.
Let's look at this article, where we will inform you about all the significant events in Bob's life from his early years to his current days with TSN. You will also find details regarding his net worth, salary, wife, kids, age, height, and social media.
Bob McKenzie | Quick Facts
| | |
| --- | --- |
| Full Name | Robert Malcomson McKenzie |
| Birth Date | August 16, 1956 |
| Birth Place | Toronto, Ontario, Canada |
| Nick Name | Bob, Bobby |
| Religion | Christian |
| Nationality | Canadian |
| Ethnicity | White |
| Education | Ryerson Polytechnic University |
| Horoscope | Leo |
| Father's Name | Bob McKenzie Sr. |
| Mother's Name | Maureen McKenzie |
| Siblings | Not available |
| Age | 66 Years Old |
| Height | 5'10″/1.82 m/182cm |
| Weight | 93 kg/205 lb |
| Shoe Size | Not Available |
| Hair Color | White |
| Eye Color | Black |
| Body Measurement | Not Available |
| Build | Endomorph |
| Married | Yes |
| Girlfriend | None |
| Spouse | Cindy McKenzie |
| Profession | Journalist |
| Position | Sports Analyst |
| Net Worth | Around $11 Million |
| Affiliations | TSN (Current); The Hockey News, Toronto Star, Sault Star, The Globe and Mail |
| Salary | $500,000 Annually |
| Social Media | Twitter, Instagram |
| Merch | Everyday Hockey Heroes |
| Last Update | April, 2023 |
Bob McKenzie | Early Life
Robert Malcomson Mckenzie, aka Bob, was born to his parents, Bob Mckenzie Sr. and Maureen Mckenzie, in Toronto, Ontario, on August 16, 1956. Unfortunately, there are no further details regarding his childhood.
However, we know that Bob attended Bendale Public School and enrolled at Ryerson Polytechnic University in Toronto.
Mckenzie graduated with a journalism degree as he wanted to work as a media personnel in the sports field.
Bob McKenzie | Professional Career
Mckenzie's first full-time newspaper job started when he got hired by Sault Star back in 1979. Following two years of learning and developing his craft, Bob decided to move on to bigger things.
Moreover, he felt that he was ready to take senior-level jobs. Subsequently, the Toronto native found a position as a copy editor in The Globe and Mail's sports department.
However, the draft expert never felt comfortable or appreciated during his time there. Consequently, the 66-year-old left the Company searching for a new one.
Fortunately, his search did not take long as he was offered a role as editor-in-chief for The Hockey News, which he always wanted to do. Therefore, having found his dream job,
Bob stayed with the organization for nine years before moving to the Toronto Star as a hockey columnist.
On the one hand, McKenzie had earned a reputation for being an excellent writer and editor in hockey. On the other hand, he was not that well known amongst the general fans.
However, it all changed when the Canadian Journalist was on reporting duty in Tampa Bay Lighting's dressing room. To explain, a scuffle ensued between Bob and Phil Esposito when the former declined to leave the room.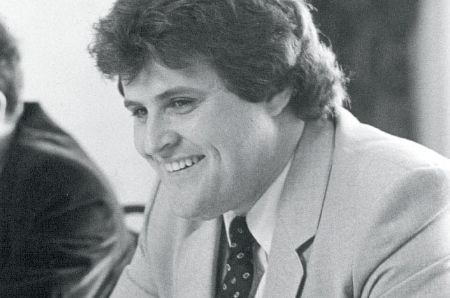 Soon after, Police were called to the scene where the 66-year-old filed a complaint against Tampa Bay, citing assault as the reason.
Subsequently, Mckenzie left his job at Toronto Star and moved back to The Hockey News as he felt his employers did not back him in the lawsuit.
After that, Bob spent the next three years appearing in half-hour segments on The Sports Network (TSN) until he was hired as an analyst for CHL (Canadian Hockey League).
Since then, the 66-year-old has been with the TSN organization appearing in various roles.
Awards
For his outstanding contributions to the media department, McKenzie was awarded the Gemini Award for Best Studio Analyst in 2008. Likewise, Bob also earned the 2015 Elmer Ferguson Memorial Award, selected by the Professional Hockey Writer Association.
Furthermore, the Toronto native also won the Best Sports Analyst at the 2016 Canadian Screen award. And finally, for his great four decades of service to the NHL, McKenzie got inducted into the Whitby Hall of Fame in 2017.
Semi-Retirement
Bob McKenzie enters 'soft retirement,' bids farewell as TSN's top Insider and Trade Rumors.
After a great career as one of the top figures in Canada Sports Media, TNS Hockey Insider, Bob is quitting the show.
While he still plans to grace television screens with his presence during events like the World Juniors and Trade Deadline day, McKenzie is entering what he likes to call soft retirement and bids his semi-farewell.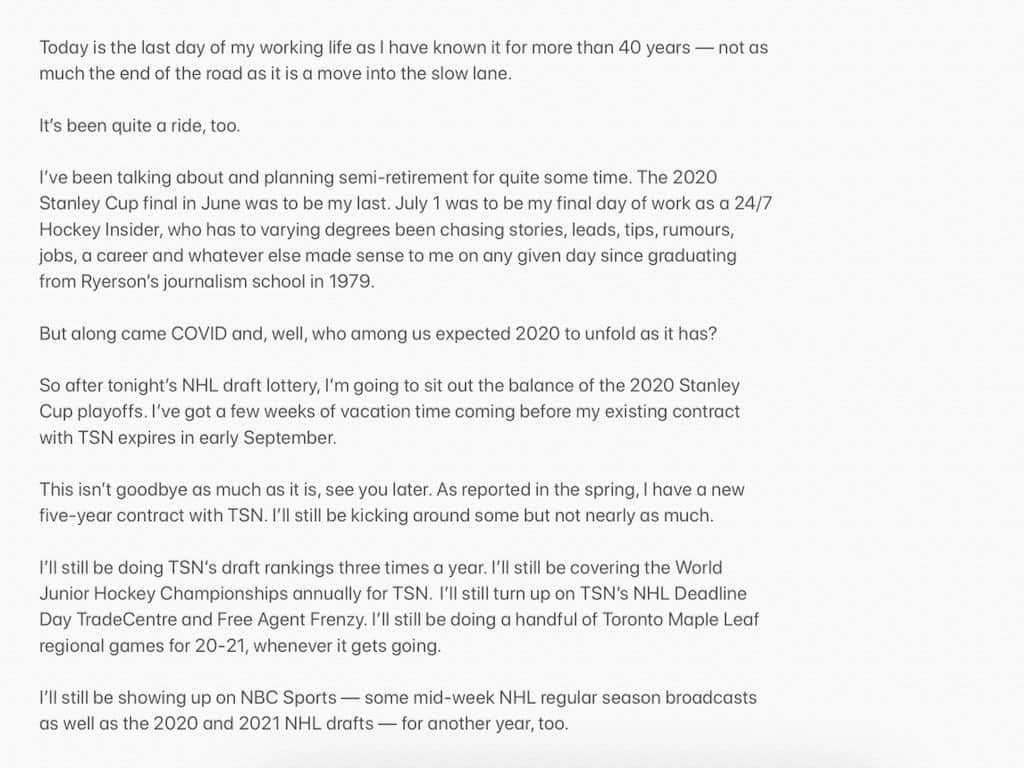 Bob McKenzie | Draft Rankings & Mock Draft
McKenzie is quite famous for his draft rankings and mock draft every year. Many fans and potential NHL players are excited about his mock draft in 2021. Hence, below is Bob's Top-10 NHL Draft Ranking 2021.
Owen Power
Simon Edvinsson
Dylan Guenther
Matthew Beniers
Brandt Clarke
William Eklund
Kent Johnson
Aatu Raty
Mason McTavish
Luke Hughes
Bob McKenzie's Final 2022 Draft Ranking
1. Juraj Slafkovsky TPS (SM Liiga Jr.)
2. Shane Wright Kingston (OHL)
3. Logan Cooley USA U-18 (USHL)
4. Simon Nemec Nitra (SVK)
5. Cutter Gauthier USA U-18 (USHL)
6. David Jiricek Plzen (CZE)
7. Joakim Kemell JYP (SM Liiga)
8. Jonathan Lakkerimaki Djurgardens (SWE J-20)
9. Matt Savoie
10. Marco Kasper
Bob McKenzie | Height & Body Measurements
Bob was born in 1956, which makes his age 66 years currently. Although people might think that McKenzie is a bit old to be working, contrarily, he recently signed a new five-year deal with TSN.
Thus, we don't believe that the Canadian sportscaster will retire soon.
Besides, Bob stands at 1.78 m and weighs 205 lbs, which is overweight for his height. But hey! Who are we to tell the man what he should eat and not?
The draft expert has been involved in the sports business for over four decades, so we think McKenzie has earned the right to eat whatever he feels.
Bob McKenzie | Salary & Net Worth
As of 2023, McKenzie has a net worth of around $11 million, mainly through his commentating prowess with TSN.
One might feel that the players earn the big bucks, but in Bob's case, he makes just as much, if not more, than most other players in the NHL.
Likewise, being Twitter's no.1 choice for analysis and breaking news with over 1.6 million followers means you must be getting paid thousands of dollars. And that is precisely the case with the 64-year-old, who earns a yearly salary of $500,000.
Furthermore, Bob recently signed a new five-year deal in 2019, keeping him with TSN until 2025. The new contract was overdue as the Toronto native is probably the best analyst for NHL on TSN and the whole of North America.
Bob McKenzie | Family & Kids
Bob was born to his parents, Bob Mckenzie Sr. and Maureen Mckenzie, in Toronto, Ontario. Unfortunately, there is no further information regarding his parents.
Furthermore, Mckenzie is happily married to his wife, Cindy Mckenzie. The couple married on September 16, 1979, at a lavish wedding.
The pair met by chance when Bob and Cindy visited the same game for reporting purposes, as both were involved in ice hockey reporting.
Since then, the two lovebirds have been in a four-decade-long relationship, which only seems to get stronger as the years roll on. Furthermore, the couple is blessed with three sons.
Two of the sons' names are Mike Mckenzie and Shawn Mckenzie, both of whom are professional ice hockey players. Unfortunately, the details regarding the third son aren't undisclosed, but we will update it as soon as it is made available.
Bob McKenzie | Books
McKenzie, the hockey encyclopedia, has written several books on ice hockey. His popular books include Hockey Confidential, Hockey Dad, and Everyday Hockey Heroes.
2022 Update
Margarita Brand One-Year Anniversary
In the April issue interview of Faces Magazine, Bob described his new Margarita Brand on his one-year anniversary, which initially started as an online gag in 2016, and now has turned into a family business.
Bob said,
"It was mostly a social media gag I started in 2016 when I got a Jimmy Buffet Margaritaville frozen concoction maker. When I fired it up for the first time on vacation that summer, I posted a pic or a video and changed my Twitter name to Bobby Margarita. It kind of took off a bit. Over the years, I leaned into that vacation persona and character, and so did a lot of other people."
Bobby Margarita is available in Alberta and Nova Scotia, now in LCBO's Ontario, Saskatchewan, and PEI.
Bob McKenzie | Quotes & Phrases
Here's a collection of McKenzie's most meaningful quotes and phrases:
If I were the commissioner of all sports media, I would make one change to sprinkle a little niceness and civility across our industry. Just a touch.
Are the people who run for president the best in a country of 240 million? If so, something has happened to the gene pool.
If you look at the causes of the accidents, quite a few are operator errors. We need people to be diligent, follow the road rules, and drive more defensively.
People can tell what's in beer, eh? My brother can mean the difference between beers by what his burps taste like.
Bob McKenzie | Social Media Presence
Twitter: 1.5 million followers
Instagram: 39.4k thousand followers
View this post on Instagram
We know how much Bob adores his golf hobby and was seen promoting golf town golf equipment in his last post in 2022.
Popularity Graph
Bob McKenzie's graph illustrates a lot of fluctuation and depicts his popularity percentage.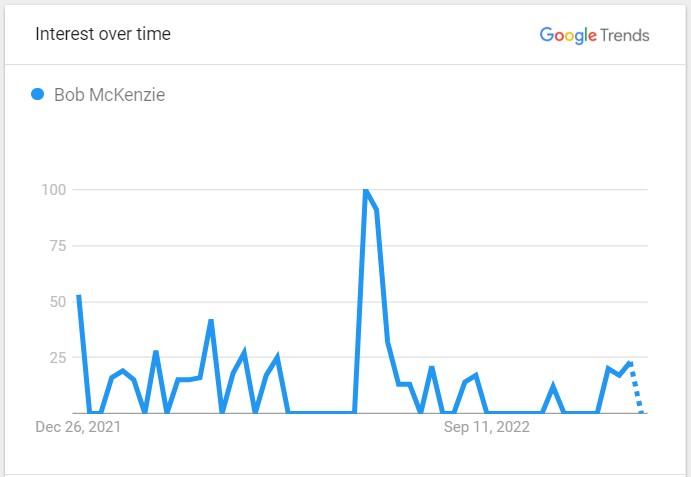 We can conclude that his search percentage isn't low.
FAQs
Who is Bob McKenzie?
Bob McKenzie is an ice hockey commentator who has worked with the sports network TSN since the start of his career. The sportscaster is very well-liked by all of his colleagues. Furthermore, he has been with the network for 35 years now.
What was Bob McKenzie's opinion on the Flyers' coach?
The reporter did not have much to say about the Flyer's new head coach, Alain Vigneault. Nevertheless, he retweeted the Flyers' tweet, revealing Alain as the head coach.
How old is TSN Bob McKenzie?
Since Mckenzie was born on August 16, 1956, the commentator is 66 years old.
Did Bob Mckenzie go through a real estate foreclosure?
From our knowledge, McKenzie has not been through a real estate foreclosure.
How much does Bob McKenzie make in a year?
The Canadian commentator makes over $500,000 in a year as a salary.
What does Bob McKenzie have to say about Wayne Gretzky?
Bob McKenzie wrote about Wayne Gretzky playing piano on his back in one of his books, "Gretzky looked as though he were skating with a piano on his back."