Booger McFarland is a former professional National Football League player positioned as a defensive tackle.
Because of his unique name, Booger is hard to forget. As a kid, the former NFL player used to dream of getting out of Winnsboro.
He never thought of being seen on TV. However, as they say, "expect the unexpected," Booger became a star player in his University and later was selected by the National Football League.
As African-Americans, it used to be challenging to have the opportunity to showcase their talent.
Regardless of that fact, McFarland achieved a milestone and probably became the first full-time African-American to be in a No. 1 NFL Booth as a football analyst.
Of course, there were few African-Americans who had been in the position, but they were somehow not in the spotlight.
Before we begin to read further about the legendary former NFL defensive tackle and a TV analyst for NFL, let us go through the quick facts.
Booger McFarland | Quick Facts
Full Name
Anthony Darelle McFarland
Birth Date
December 18, 1977
Birth Place
Winnsboro, Louisiana
Known as
Booger, Booger McFarland
Religion
Christianity
Nationality
American
Ethnicity
Black
Education
Louisiana State University (Degree in Business Management)
Horoscope
Sagittarius
Father's Name
Unknown
Mother's Name
Nancey
Siblings
Two
Age
45 Years Old
Height
6 feet 1/2 inches
Weight
127 KGs (279 Pounds)
Shoe Size
Unknown
Hair Color
Black
Eye Color
Dark Brown
Marital Status
Married
Spouse/ Partner
Tammie McFarland
Children
Two (a daughter and a son)
Profession
A former defensive tackle in NFL
Football Anaylst at ESPN
Team
Tampa Bay Buccaneers
Indianapolis Colts
Net Worth
Estimated $9 Million
Salary
$2 Million per year as a football analyst
Social Media
Instagram, Twitter
Tampa Bay Buccaneers
Hoodie, Jersey
Last Update
November, 2023
Booger McFarland | Early Life and Family
The former NFL player was born on December 18, 1977, in Winnsboro, Louisiana. He was very mischievous in his childhood and had gotten many nicknames at the time, but his mother, Nancey, called him Booger because of his naughty behavior.
That particular nickname stuck with him, and he actually liked it. However, his real name is Anthony Darelle McFarland.
Likewise, in one of the interviews, Booger mentioned that after his mother's death in 2005, he had to look after his younger brother and sister. He also stated that they were mentally disabled.
In addition to the above statement, Darelle's father's name has not been disclosed in the media yet.
Booger McFarland | Education and College Career
The former defensive tackle graduated in 1999 with a degree in business management from Louisiana State University. His career in professional football started at the same university.
He was on the LSU Tigers football team as a defensive tackle. During his time at LSU, he and his teammates brought home many awards and victories.
Booger helped the Tigers bring home the 1995 Independence Bowl, 1996 Peach Bowl, and 1997 Independence Bowl.
McFarland also earned 1996 Peach Bowl SEC Defensive MVP honors. However, victory was not theirs every time. In 1998, the Tiger had a great fall.
Nevertheless, McFarland was positioned as co-captain in his senior year at the university.
Furthermore, he had also played in the Senior Bowl, 1999 before he graduated.
Booger McFarland | Professional Career
The Tampa Bay Buccaneers chose Darelle in the first round of the 1999 NFL draft after playing in the Senior Bowl.
Moreover, after serving the Buccaneer for eight years, Booger was again drafted by the Indianapolis Colts in the 2007 NFL Draft on October 17, 2006.
The Colts did not have a satisfactory record in the league in run defense. Subsequently, when McFarland joined the team, the Colts' defense got better.
He made his first sack as the Colts on November 10 against the Buffalo Bill.
Eventually, the Indianapolis Colts won the Super Bowl against the Chicago Bears, and it was Booger's second Super Bowl ring.
Although he was not the most prominent football star, McFarland recorded 170 tackles and 22.5 sacks in a total of 109 total games in his NFL career.
He made 305 tackles over 80 games in total and won Super Bowl XXXVII in 2002.
Unfortunately, the great defensive tackle suffered a terrible knee injury during his offseason training camp, which ended his career as a professional defensive tackle.
Booger McFarland | Broadcasting Career
It was devastating news that Booger could no more play football. Nonetheless, he was not ready to give up on football altogether.
After his retirement, the former defense champion started his new journey as a co-host in a radio show on CBS Radio Network with Marc Ryan.
Later, in 2014 he joined the SEC Network as a football analyst after the CBS show was canceled.
He was also a part-time guest analyst on ESPN's morning program, "Mike and Mike."
Booger Mobile
To add to that, McFarland and ESPN had tried out broadcasting from his own commentary booth, the Booger Mobile, from the field level that was movable.
The commentators were Jason Witten, Joe Tessitore, and of course, Booger.
Joe Tessitore Age, Height, Boxing, Wife, Son, ESPN, Net Worth, Instagram
However, the Booger Mobile lasted only for one season as complaints started to pile. The field audience in the front row couldn't see the game.
Nevertheless, the end of Booger Mobile was not the end of Booger's broadcasting. He was later employed as a sideline analyst and consultant on ESPN's "Monday Night Football," which lasted for only a year.
Recently, ESPN decided to replace Booger and Joe Tessitore in "Monday Night Football."
Booger was loved by many of his audiences because of the way he anchored the game. He hilariously stated the obvious.
There were times when he made on-air blunders, confusing one team for the other.
Due to the very same reason, he was disliked by some people and made fun of. There are hundreds of memes you can find on the internet about Booger's broadcasting.
In one of the interviews, Booger stated," I'm a country boy. I got a big mouth. I talk about eating hog cracklings and walking around barefooted when I was young. You may not like that. That's OK. But when you look at the game of football, you think, You know what, he knows the game. Ultimately, if they respect that, I don't care what else they say."
Additionally, it is said that Tessitore will be going back to college football, and Booger will have a top NFL studio role.
You might be interested in Top 47 Booger McFarland Quotes.
Booger McFarland | Marriage, Wife and Kids
The former football player got married in 2008 to his wife, Tammie McFarland. The audience doesn't see much of the pair, but we can understand that they are in a perfectly healthy relationship.
Tammie was born in 1975, which makes her a year older than her husband. The former defensive tackler and his wife have two lovely children: Alexis, their daughter, and Jacob, their son.
Both Booger and Tammie have not had any rumors regarding their past relationships or affairs.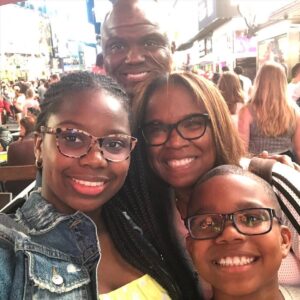 It is safe to assume that the couple met through football. As it happens, Tammie's cousin is married to Booger's teammate, Anthony Skinner, at LSU.
Booger likes to keep his personal life private; hence, there is no information about how the family spends time together.
But we are sure that like every happy family, they have a wonderful time together.
Booger McFarland | Salary and Net Worth
As a National Football League player with satisfactory records, it is sure that Booger's income was hefty.
It is unknown how much Booger earned as a professional football player. He had also signed a contract of $34 Million. Thereby, most of his savings were from his NFL career.
Similarly, during his career as a TV analyst, his income was $2 Million per year approximately. However, his current source of income is unknown.
At present, Anthony's net worth stands at an estimated $9 Million.
Judging by how he spends his leisure time, often on the golfing course, we can figure out that he has a significantly luxurious life.
You might also be interested in another NFL player, turned TV Analyst, Desmond Howard Bio: Age, Career, NFL, Wife, ESPN, Net Worth, IG Wiki.
Booger McFarland | Physical Appearance
Usually, as a defensive tackle, one should have a comparatively bigger build. Likewise, Anthony Darelle has always been a big build.
He is 6 feet and half inches tall with 33.38 inches long arms with bent fingers due to playing defensive tackle for 8 years.
Booger weighed 336 pounds when he was playing. However, he has lost 60 pounds with the daily workouts and now weighs 279 pounds(127 KGs).
Booger McFarland | Some Famous Quotes
Every team has its weakness, and every team has its strength.
Quarterbacks will make plays; they always do. But I think the team that runs the ball the best will win.
There's nothing more comforting for a team than to know when you need someone to make a play; you have someone who is going to do it when it matters most.
Booger McFarland | Social Media Presence
Even though Anthony does not share much of his personal life on his social media, he seems to be active on Instagram(@secbooger) and Twitter(@ESPNBooger).
He has 11K followers on Instagram and 145.5K followers on Twitter.
You'll be able to see his activities from time to time, however, not quite often.
Frequently Asked Questions
What happened to Booger McFarland's Fingers?
Most of his fingers are crooked. Since he had to go through so many defensive tackles in the field, his hands took the punishment.
Like most NFL players, Booger was left with a permanent reminder of the time he served the NFL.
Are Anthony McFarland Jr. and Anthony Darelle McFarland related?
Although there are many family ties in NFL, such as Peyton and Eli Manning, Rex and Rob Ryan, and many others, McFarland Junior and Darelle McFarland are not related.
The only relation they have is that they are both connected with the NFL.
You might be interested in Top 77 Peyton Manning Quotes
While Booger has already retired from NFL, McFarland Junior is a talented NFL running back and continues to play.
Why did Booger McFarland stop playing for NFL?
Booger suffered a severe knee injury in one of his training and could not go back to the field as a player.
What did Booger McFarland say about Dwayne Haskins?
McFarland said that Haskins and other players who are black comes into the NFL. After coming to the NFL, they focus more on their brand instead of football.
With this statement, McFarlan faced a lot of criticism.
Is Booger Mcfarland a hall of fame?
Yes, Booger is in a hall of fame.
What Happened to Booger Mcfarland?
Davante Adams mockingly tweeted that McFarland said games are lost more than they are won in the league.