If you are a Curling fan, then Brad Jacobs is undoubtedly not a new name for you.
Brad Jacobs is a well-known Canadian curling community, having won numerous local, national, and international awards.
His most famous accomplishment was winning a gold medal for his country in men's curling at the 2014 Winter Olympics.
He plays as the skipper (captain) of Team Jacobs, alongside EJ Harnden as second, Marc Kennedy as third, and Ryan Harnden as lead, and uses a right-hand throwing technique.
Jacobs is also a member of the Soo Curlers Association curling club and represents the province of Northern Ontario at home.
Before we get into more details, let's look at a few facts about the great curler.
Brad Jacobs: Quick Facts
Full Name

Bradley Jacobs

Birth Date

June 11, 1985

Birth Place

Sault Ste. Marie, Ontario

Nick Name

Cups

Religion

Unknown

Nationality

Canadian

Ethnicity

White

Education

Bachelor's in Geography (Algoma University)

Horoscope

Gemini

Father's Name

Robert Jacobs

Mother's Name

Cindy Jacobs

Siblings

Unknown

Age

37 years old

Height

5'11″ (1.80 m)

Weight

178 lb (81 kg)

Shoe Size

N/A

Hair Color

Brown Light

Eye Color

Blue

Body Measurement

N/A

Figure

Athletic

Married

Shawna Jacobs

Children

Cale Jacobs & Camille Jacobs

Profession

Curler

Currently Working

Senior Marketing Director (World Finance Group)

Affiliations

Soo Curlers Association, Team Jacobs

Active Since

1995

Net Worth

$1.5 million to $5.5 million

Salary

Under review

Interests

Fitness, Camping, Boating, Golf, Football, Relaxing

Social Media

Twitter

,

Instagram

,

Facebook

Curling Equipment

Grippers

,

Curling Stone

Last Update
March, 2023
Brad Jacobs: Early Life and Family
Jacobs was born on 1985, June 11, in the city of Sault Ste. Marie, Ontario, Canada. Robert Jacobs is his father's name, and Cindy Jacobs is his mother's name.
E.J. Harnden and Ryan Harnden are his cousins, and they have been teammates for most of their lives. Because of their eagerness to keep studying, the trio was nicknamed "rink rats."
Jacobs' curling career has always included members of his family. His passion for curling began when his mother dropped him off with his uncle and cousins at a curling club in Sault Ste Marie.
In 1995, at the age of 10, Jacobs began curling with coach Tom Coulterman where the coach instantly recognized his potential.
He later assembled a team that included Jacobs as the third baseman for Ryan Harnden, Matt Premo, and Scott Seabrook.
Similarly, he also played for his uncles Al and Eric Harnden, as well as his cousins.
Education
Jacob completed his early education at Sir James Dunn High School. During this time, he began competing in curling and started taking it seriously. Brad also holds an Algoma University Bachelor of Arts in Geography.
He presently works as a Senior Marketing Director for the World Finance Group (WFG).
The player sold television sets at Future Shop before becoming an Olympic champion and then worked as an account manager at the Royal Bank of Canada.
This Canadian Curler once got into controversy for his sneaky technique, which was there to see. So, what happened? All About Canadian Curler Ben Hebert >>
Brad Jacobs: Physique and Fitness
Jacobs and his teammates are well-known for their physical fitness. "Fitness freaks" is how they're described.
Brad and his teammates have demonstrated that high conditioning leads to optimal muscular toning and greater mental strength in a modern athletic approach to curling.
During the Sochi Olympics, they were dubbed "The Buff Boys" for their strenuous training regimen.
The 37 years old curler is 5 feet 11 inches tall and weighs approximately 178 pounds. Jacobs has light brown hair and stunning blue eyes.
Added to his athletic build, Jacobs is credited with designing a curling method centered on physical fitness.
Marriage and Children
Jacobs married Shawna Jacobs in 2013, and the couple has a son named Cale Jacobs and a daughter named Camille Jacobs together.
However, the Canadian player has kept other information away from the prying eyes of the media.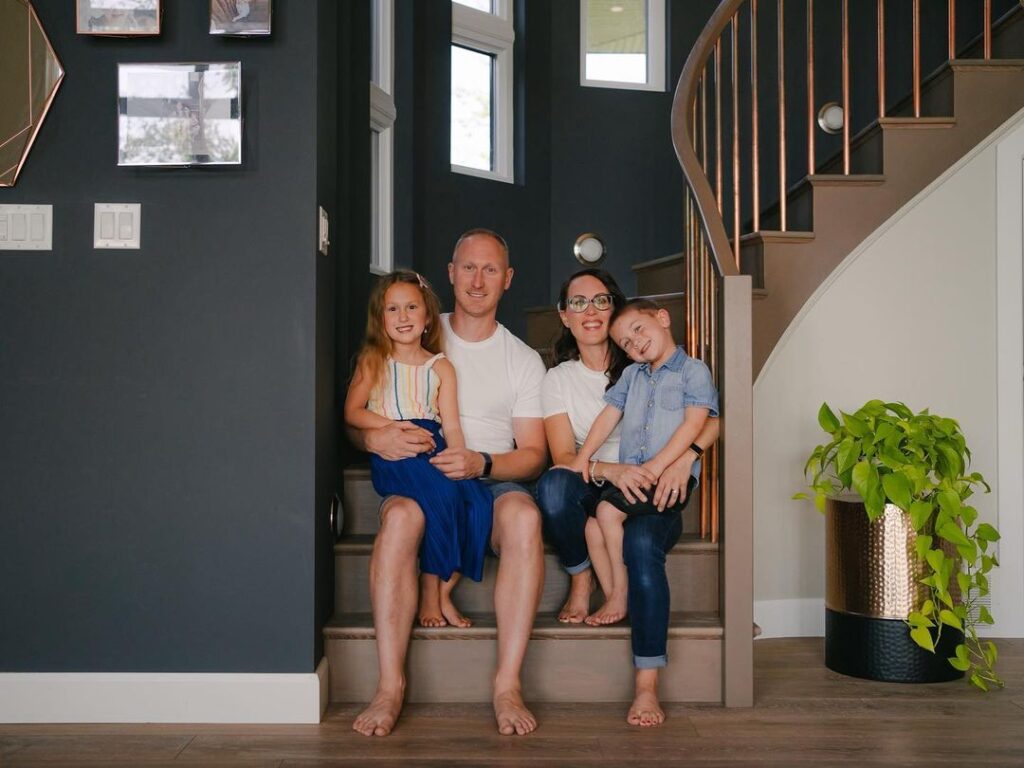 He is a family person who frequently shares cute photos of himself with his loved ones on social media.
Brad Jacobs: Career
Jacobs first competed in the Regal Capital Curling Classic men's bonspiel in the fall of 2001.
His uncle Al Harnden and Patrick Hurlimann, the 1998 Olympic curling champion, were among the competitors.
Jacobs and teammates Brady Barnett, Scott Seabrook, and Steve Molodowich won the Northern Ontario Junior Men's Championship in 2005.
This victory qualified his team to represent the region at the 2005 Canadian Junior Curling Championships.
His uncle Al Harnden chose Jacobs to play for him at the 2007 Tim Hortons Brier when he was 21 years old, and the team ended 5-6 in the competition.
He also substituted for another uncle, Eric Harnden, at the 2008 Tim Hortons Brier.
Later in 2008, he founded his team alongside cousins E.J. Harnden, Ryan Harnden, and Caleb Flaxey (sons of Eric Harnden).
They made the tournament's playoffs for the first time since 1993, becoming the first team from Northern Ontario to accomplish so.
Likewise, they won the 2013 Tim Hortons Brier, and as a result, they competed in the 2013 Ford World Men's Curling Championship for Canada.
Tim Hortons Brier
Jacobs has competed in the Tim Hortons Brier, Canada's premier men's curling event, 13 times, representing the province of North Ontario each time.
The Tim Hortons Brier, or simply the Brier, is a Curling Canada-sanctioned annual men's curling championship held in Canada.
In the competition, Jacobs won one gold, one silver, and three bronze medals. He impressively guided his squad to a 7-5 sixth-place finish in the 2020-21 season.
All About Olympic Gold Medalist Curler Jennifer Jones >>
Winter Olympics
Jacobs won gold in the Canadian Olympic Curling Trials in 2013 and was chosen to head Canada's curling team at the Olympics.
In the 2014 Olympics in Sochi, Russia, Jacobs guided his rink to gold medals in men's curling. In the final, he defeated David Murdoch of the United Kingdom 9-3.
This was Canada's third gold medal in a row in the competition.
Grand Slams
In 2015, Jacobs' rink won its first grand slam, the Players' Championship. They have won other grand slams since then, a total of seven titles.
Jacobs had his most successful season in 2019-20, winning the Tour Challenge, Canadian Open, and Boost National championships.
These accomplishments propelled him to the top of the World Curling Team Rankings for 2021.
Canada Cup
After winning over Kevin Koe's rink in the final match, Jacobs won his first Home Hardware Canada Cup in 2018.
By winning the competition, he took home a total of $24,000 in prize money.
Furthermore, 'Cups' also qualified for the Road To The Roar Pre-Trials and the Curling World Cup event for the 2019-20 season.
That same year, Jacobs' rink was awarded the Pinty's Cup after being the top-performing men's team. They placed first in the standings, with 41 points, and defeated Gushue's team by 9 points.
For winning the title, they received $75,000 in prize money.
Eight Ender
Jacobs and his teammates pulled off a remarkable eight-ender, a perfect score in a single curling end.
Their eight rocks scored points in the semi-final of The Dominion 2012 Northern Ontario Men's Curling Championship.
They accomplished this accomplishment while leading 6-3 in the sixth-end game against Tim Phillips. After surrendering eight points, Phillips' rink was forced to concede the game with a 14-3.
Rewards and Recognition
Jacobs received the Rotary Sports Awards' H.P. Broughton Award for curling in 2011, 2013, 2014, and 2020.
In 2013, Jacobs was voted into the Sault Ste Marie Sports Hall of Fame and was celebrated with honor with a star on the Walk of Fame.
Curling Highlights
2014 Olympic Gold Medalists

2013 Tim Hortons Roar of The Rings Title (Men's Olympic Curling Trials) Champions

2013 Ford Men's World Championship Silver Medalists

Tim Hortons Brier Champions, the year 2013 (Canadian Men's National Champions)

4X Grand Slam of Curling Champions

10X Northern Ontario Provincial Champion
Brad Jacobs: Social Media Presence
Brad Jacobs has personal and team-related Twitter, Facebook, and Instagram accounts, and he uses them to share images with his family and teammates.
Instagram: 3k followers and has made over 110 posts.
Twitter: 1.5k Twitter followers and 2.8k tweets.
Brad Jacobs: Net Worth
Jacobs has accumulated a sizable fortune due to his 18 years of curling and his position at WFG.
Jacob's net worth is estimated to be between $1.5 million and $5.5 million.
Brad's primary source of his wealth is his career as a Curler and the endorsements he receives via it.
Rachel Homan Net Worth | Lifestyle & Earnings >>
Brad Jacobs: Interesting Facts
According to Brad Jacobs, he played every sport possible when he was a kid.

Brad enjoys both the NFL and golf. He is particularly fond of the NFL quarterback position, which he regards as demanding and capable of propelling the club forward.

When his teammates win consecutive games in a row, he has a superstition of sitting in the same seats with them on the way to and from the rink.

Kevin Martin's triumph in Vancouver in 2010 and Donovan Bailey's gold medal in the 100m in Atlanta in 1996 are two of his favorite Olympic moments.
Brad Jacobs: Frequently Asked Questions
Who is Brad Jacobs mostly seen teamed up with?
Brad is usually seen playing with his cousins, also professional curlers, E.J Harnden and Ryan Harnden. The trio has been playing together since the 2008-09 season.
When did Brad receive the recognition for Eight Ender?
He accomplished the title of Eight Ender against Tim Phillips in the semi-finals of The Dominion 2012 Northern Ontario Men's Curling Championship.
In which rank does the Jacobs Team lie in curling?
According to the World Curling Team Ranking, Brad Jacobs's team is ranked at no.1 and is widely loved and celebrated by people.