Known as the "King of the North" in Canadian Curling, Kevin Koe is a two-time World champion and four-time Canadian champion.
Kevin's successes are hailed throughout the North, all the way up past the Arctic Circle to tiny Aklavik near the Northwest Territories' western point, where Fred's roots lay.
He is one of the only six indigenous Canadian Sportsmen who represented Canada in the 2018 Olympics, paving the way for other indigenous people to achieve that international success.
Kevin Koe is one of the most popular and successful curlers in Canada. This article will explore the journey of a Northern indigenous Canadian on how he became a national and international curling champion.
But, before that, let's look at his quick facts first.
Quick Facts
Full Name
Kevin Koe
Name
Kevin Koe
Nick Name
The King of North
Date of Birth
January 11, 1975
Age
48 years old
Birth Place
Edmonton, Alberta, Canada
Nationality
Canadian
Ethnicity
Northern Canadian
Zodiac Sign
Capricon
Height
6 ft
Weight
Not Available
Hair Color
Bald
Eye Color
Black
Father's Name
Fred Koe
Mother's Name
Lynda Koe
Siblings
2; Jamie Koe and Kerry Galusha
Education
Business and Commerce in Petroleum Land Management
High School
Ecole Sir John Franklin High School
University
University of Calgary
Marital Status
Married
Wife
Carla Koe
Children
2 daughters
Profession
Professional Curler
Team
Team Koe
Position
Skip
Club

The Glencoe Club,
Calgary, AB

Debut Year
1994
Major Achievement
Two-time World champion and four-time Canadian champion
Olympic Appearances
1; 2018 Winter Olympics
Net Worth
$1 million – $5 million
Merch of Winter Olympics
The Winter Olympics (Paperback), 2022 Beijing Winter Olympic Flag, Children's Book: Winter Olympics Dreams
Social Media
Twitter, Facebook
Last Update
March 2023
Kevin Koe | Early Life and Education
On January 11, 1975, Kevin Koe was born in Edmonton, Alberta, Canada. Koe was born as the eldest son of his father, Fred Koe, and his mother, Lynda Koe.
He also has twin siblings: Jamie Koe and Kerry Galusha. The Koe family belongs to an indigenous group of Aklavik.
Kevin's father is a politician and former curler. He ran for the seat in the Northwest Territories Legislature in the 1991 Northwest Territories general election, where he won the Inuvik electoral district.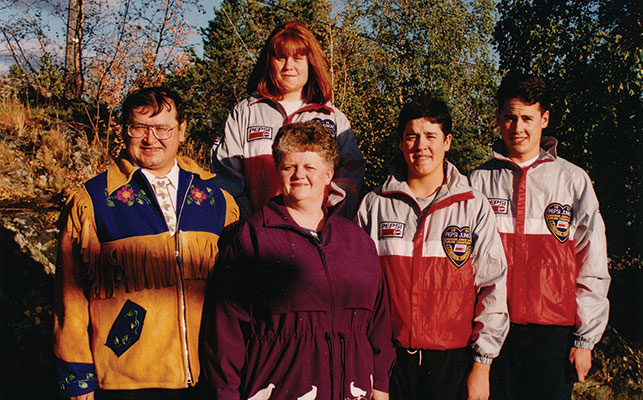 Kevin attended Yellow knife's Ecole Sir John Franklin High School, where he has been inducted into the Falcons Hall of Fame.
The curler graduated in business and Commerce in Petroleum Land Management from the University of Calgary.
After graduation, he got a good job with Talisman Energy, making his permanent transfer to Alberta.
Koe Family: The Northern First Family in Curling
Kevin was born to a family of curlers. His grandfather, Chief Jim Koe of Aklavik, was the driving force behind the family's interest in curling.
Kevin's father, Fred, competed alongside his siblings Jamie and Kerry in the 1999 Canadian Mixed Curling Championship.
Kevin's brother, Jamie Koe, has competed for the Territories in four of the last five Briers. In contrast, her sister, Kerry Galusha, has competed for the Territories in five of the last six Scotties Tournament of Hearts.
The Koe siblings learned to curl at the Yellowknife Curling Centre as children, but while Jamie and Kerry remain in the Northwest Territories, Kevin has continued to represent internationally.
The Koe family was honored at the Aboriginal Sports Circle of Northwest Territories awards for their years of contribution to the curling community.
You may also like reading about Canadian Curler Rachel Homan>>>
Kevin Koe | Professional Career
Junior Career
Koe participated in several junior men curling championships before landing his first win in 1994 at Canadian Junior Curling Championships.
The following year, Koe made it to the finals of the Alberta Junior Championships in 1995. But, unfortunately, he lost to Cameron Dechant.
Senior Career
Koe started his senior curling career with a Canadian Mixed Curling Championship win in 2000. He also won the Pointoptical Curling classic in the same year.
Kevin won his first glam slam event in the 2004 players' championship. The next year, the team won the 2005 Meyers Norris Penny Charity Classic and the 2006 Roaming Buffalo classic.
Koe slowly stepped in to prove that he was one of the potential curlers in Canada. But, he was overshadowed by Kevin Martin, the curling champion of that time.
Koe had won several curling championships, but he needed to win a provincial championship to get that spotlight upon him.
He almost won the provincial championship but lost to Kevin Martin in 2007.
Winning Provincial Championship
In 2009, Koe finally won the provincial championship. This time, Kevin Martin was preparing for the 2010 Winter Olympics, letting Koe finally grab an opportunity to shine.
After that, the provincial curling champion won Alberta Provincial championship three times more in 2012, 2014, and 2016.
International Tournaments
After winning the provincial championship, Koe finally got that attention from the public and sponsors. As a result, Koe was now starting to compete in international tournaments.
In 2010, Kevin Koe finished second at Capital One World Men's Curling Championship. But, Kevin had his first world title by beating Norway in the playoffs.
Kevin started to compete in more international tournaments, including the 2010 Twin Anchor Invitational, the 2011 Dekalb Super spiel, etc.
Koe represented Canada at the 2014 World Men's Curling Championship and ranked 4th. But, later in 2016, Kevin won another World Curling Championships, making him a two-time world curling champion.
2018 Winter Olympics
Kevin Koe and his team competed in the 2017 Canadian Olympic Curling Trials to represent Canada in the 2018 winter Olympics.
They competed against Mike McEwen and won the finals with a 7-1 score.
Kevin's Team got off to a fantastic start at the 2018 Olympics, winning their first four matches. But unfortunately, Koe's team lost to John Shuster of the United States in the semi-finals.
It was the first time a Canadian team had failed to reach the Olympics finals.
But, the team finished fourth overall after losing in the bronze medal match against Switzerland. So, unfortunately, Kevin and his team had to return home empty-handed.
You may also like reading about Olympic Gold Medalist Curler Jennifer Jones>>>
The Olympics Misfortune
It seemed as if misfortune followed Kevin after returning from the Olympics empty-handed. Two of his talented teammates left the team.
The new team lost the 2018 Canada Cup final 5–4 to Brad Jacobs. Also, they went on to represent Canada at the 2019 World Men's Curling Championship, where they finished with a 9–3 record.
Finally, they made it to the finale but were badly defeated by Team Sweden's Niklas Edin rink with a 7–2.
After the 2018-2019 season, which seemed the worst season for Team Koe, they started the next season with hope.
But, unfortunately, misfortune followed as they began the 2019–20 season with a quarterfinal loss to Brad Jacobs at the 2019 AMJ Campbell Shorty Jenkins Classic.
Also, they lost in the finale of Stu Sells Toronto Tankard at the Jacobs rink. They reached the semifinals of the Tour Challenge and the quarterfinals of the National in Grand Slam competition.
They qualified for the Canada Cup final but then lost to John Epping. Also, they finished fourth in 2020 Tim Hortons Brier with a 7–4 record, but they were eliminated after losing against Jacobs.
Comeback
What's matters in the game is not if you win or lose. It's about the effort that you put in. The misfortune might have followed Koe, but they did their best in every tournament.
So, amidst the misfortune, their efforts beat the bad luck they faced the whole season.
The Koe rink lost two of its first three games at the provincial playdowns. However, the team worked hard to win the next five games straight and won the Alberta championship.
The team also competed in the 2019 Tim Hortons Brier and remained unbeaten, winning the event by defeating their provincial rivals, Team Brendan Bottcher.
In 2021 Tim Hortons Brier, Team Koe won first place with a 10-2 score. Then, the team faced Team Alberta in the finale but lost to them. But, they brought home a silver medal.
Kevin Koe | Awards and Achievements
Ranked first in CTRS ranking in the 2015-16 season.
Two golds at World Curling Championships (2010 and 2016)
One silver at World Curling Championships (2019)
One silver at Tim Hortons Brier representing Canada (2017)
Four Golds at Tim Hortons Brier representing Alberta (2010, 2014, 2016, 2019)
One silver at Tim Hortons Brier representing Alberta
Kevin Koe | Wife and children
Kevin Koe is married to Carla Koe. The couple is blessed with two daughters. Unfortunately, there is not much information about Kevin's wife and his children.
But, his family can be seen supporting Kevin in every tournament. So, it seems Kevin's happy family is a strong boost for Kevin in the games.
Kevin Koe | Net Worth
The net worth of Kevin Koe is estimated to be anywhere around $1 Million to $5 Million. He has earned a net worth as a professional curler.
Kevin ranked third in the list of Most Paid Curlers published by TSN. According to the list, Kevin had earnings of $112,800 in 2017-2018, becoming the highest-paid Canadian curler, a spot behind Brad Gushue.
Kevin Koe | Social Media
Link of the social media accounts:
You may also like reading about Curler Russ Howard>>>
Frequently Asked Questions
Is Kevin Koe indigineous ?
Yes, Kevin Koe is indigineous. Koe's father grew up in Aklavik but later was forcefully moved to Inuvik. He was a victim of the Canadian Indian residential school system and was moved to the school in Inuvik, away from his family, at the age of 11.
The Canadian Indian residential school system was designed to segregate Indigenous children from their own culture and religion to assimilate them into the dominant Canadian culture.
What does Kevin Koe do for a living?
Kevin Koe is a professional curler and does curling to make a living. Apart from this, he worked as a surface landman in Repsol for fifteen years before leaving in June 2021 to work for Talisman Energy.