Brandon Spikes is a former American football player who exemplified the sport's virtues. When it comes to football, he defends his linebacker abilities. His name became well-known as a result of the manner he dealt with opponents.
He was one of the defendant team's worst nightmares. His mere presence elevated the match he was participating in.
However, he retired early due to his career's ups and downs. Despite this, Spikes was regarded as the best football player in the United States. His ability astounded the audience every time he performed.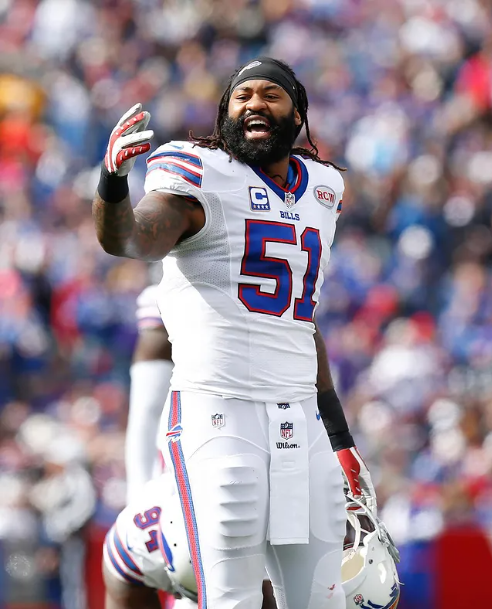 Brandon Spikes had a very traumatic childhood. He was raised by his brother, who was later imprisoned for the charge of first-degree murder.
After a while, we will be discussing every controversy and tragedy of his life, so stick with us to know everything about Brandon Spikes.
Quick Facts
Full Name
Brandon Spikes
Nickname
Brandon, Brandon Spikes, Spikes
Father's Name
Not Mentioned
Mother's Name
Sherry Allen
Birth Date
3 September 1987
Age
35 years old
Birth Place
Shelby, North Carolina, US
School
Crest High School
University
University of Florida
Zodiac Sign
Virgo
Nationality
American
Religion
Not available
Weight
Unavailable
Height
6'2″
Hair Color
Black
Eye Color
Not mentioned
Profession
NFL player
Career

Crest High School
University of Florida

Position
Linebacker
Net Worth
Approx. $9 million
Current Team
Retired
Active Since
2010 – 2016
Siblings
Brother – Breyon Middlebrooks
Spouse
Lela Woods
Children
Daughter – Name not mentioned
Agent
Not mentioned
NFL Debut
2010
Social Media
Instagram, Twitter
Merch
Football Card, Autographed Photo
Last Update
March 2023
Brandon Spikes | Early Life and Education
Brandon Spikes was born on 3 September 1987 in Shelby, North Carolina, US. His childhood is complicated to explain in a phrase.
His brother, Breyon Middlebrooks, raised him while their mother, Sherry Allen, worked 12-hour a day in a fiberglass company.
Spikes is also known as the younger cousin of former NFL linebacker Takeo Spikes. Takeo was one of only seven linebackers in the NFL to have more than 200 career starts.
Brandon graduated from Crest High School and completed his high school studies. The linebacker received an athletic scholarship to the University of Florida after graduating from high school, beating out offers from numerous other universities.
Brandon Spikes | Career
Brandon comes from a poor family. Though, his talent and tenacity made him well-known.
His career seems much similar to every player who commenced through school level. Still, Spikes had got some features that weren't similar to others.
He was a standout high school football player for the Crest Chargers at Crest High School in Shelby. Spikes was regarded as one of the finest linebacker prospects in the country coming out of high school.
Later on, Brandon was accepted on an athletic scholarship to attend the University of Florida. He even played for coach Urban Meyer's Florida Gators football team from 2006 to 2009.
Subsequently, his professional career started through New England Patriots, he was drafted by the club in the second round of the 2010 NFL Draft.
Spikes signed a four-year contract with the Patriots and became a starter at inside linebacker. After the Patriots, Spikes signed one year deal with Buffalo Bills, but he was fined $8,268 for a late hit on Chicago Bears.
Spikes was confirmed to return to the Patriots for one year, but he was released due to a police investigation. Keep following this article to learn about this police case.
After Patriot, Brandon again signed a one-year contract with the Buffalo Bills on 7 August 2016.
Currently, Brandon's life is outside of the football arena. However, he is continuously updating news about the clubs he had played earlier through his social media accounts.
Brandon Spikes | Net Worth
Salary & Net Worth
Many clubs were eager to sign Brandon because of his talent and accomplishments.
His net worth is said to be about $9 million US dollars which is a huge amount. This sum of money helps him in pursuing his lavish lifestyle.
Categorically, his net worth can be estimated through his career earnings;
| | | |
| --- | --- | --- |
| Year | Team | Earnings |
| 2010 | New England Patriots | $1,204,705 |
| 2011 | New England Patriots | $450,000 |
| 2012 | New England Patriots | $540.000 |
| 2013 | New England Patriots | $630,000 |
| 2014 | Buffalo Bills | $3,250,000 |
| 2015 | New England Patriots | $25,000 |
| 2016 | Buffalo Bills | $760,000 |
He played a total of 7 seasons combining both the New England Patriots and the Buffalo Bills. He earned $2,849,705 from New England Patriots and $4,010,000 from Buffalo Bills.
Controversies & Suspensions
Confronting hardship is what gives life its actual meaning and excitement. Spikes was also involved in scandals and was suspended.
Brandon made the most of his life. He worked hard, proved himself, lived a lion's life, and retired sooner than expected to kill time with his friends and family and relax his professional exhaustion.
Controversy About his Brother
Brandon Spikes have not revealed much information about his parents and personal life. Although, it is evident that he has a brother named Breyon Middlebrooks.
Tragedy hit when his brother was found guilty. As a result of a drug deal in 2001, Middlebrooks was found guilty of first-degree murder and sentenced to life in lockup in 2003.
Middlebrooks used to watch his brother play every game even though he was inside the bar, Scotland Correctional Institute in Laurinburg, North Carolina. He used to write his brother letters daily.
Even though Breyon committed a crime still, he can be signified as a great parent who looked after his brother during hard times.
Click here to know about the lifestyle, stats, and net worth of Paddy Fisher, a linebacker for the Northwestern Wildcats.
Controversies and Suspension
Brandon posted a tweet in 2012, which became a huge talk of the town though he clarified it as a joke.
He twitted, "I'm homophobic just like I'm arachnophobic. I have nothing against homosexuals or spiders, but I'd still scream if I found one in my bathtub!"
Spikes also showed his hot-head personality when he attacked quarterback Ryan Fitzpatrick with an illegal helmet-to-helmet hit. He was accused of making an illegal hit.
Spikes was fined $21,000 for the foul. Spikes' shoulder collided with the chin of the opposition team's Scott Chandler when he was following another player. Still, Spikes told the reporters, "I don't think I've done anything illegal."
Again, he and his girlfriend were involved in another problem.
Spikes' 2010 Chatroulette video, in which he and his companion performed sexual acts, prompted the NFL to initiate an investigation, forcing an apology from his agency.
As a result of breaking the NFL's drug policy, Brandon Spikes was suspended for four games.
Many news reporters & players believed that Spikes was good at playing football but he lacks certain other qualities.
Charge and Police Investigation
In 2015, the Patriots linebacker's car was discovered abandoned in a highway median alongside a rear-ended vehicle, injuring three persons.
While it was ambiguous who was behind the wheel, Massachusetts State Police spokesman David Procopio said in a statement that the driver of Spikes' 2011 Mercedes Maybach reported hitting a deer through the car's On-Star navigation system.
After the incident, the Patriots refused to sign Spikes. As a result, Buffalo Bills signed him for a year. Subsequently, a year later, he was again resigned from the Patriots.
Brandon Spikes | Wife & Kids
Brandon's social media are full of his professional careers. He hasn't mentioned much about his family.
Spikes married his girlfriend, Lela Woods, and are living a well-settled happy family. They also have a daughter. The couple appeared on an Oxygen program with his Florida teammate, Aaron Hernandez.
Click here to read about Dave Gettleman, the New York Giants general manager who is a veteran in this field now.
Awards and Achievements
His incredible performance never left to blow the mind of his fans. Spikes was compensated well for his efforts, which is a true honor. In addition, various institutions and organizations awarded him numerous titles and honored him for his performance.
Awards
2 times BCS national champion (2006, 2008)
2 times Consensus All-American (2008, 2009)
3 times First-team All-SEC (2007-2009)
Brandon Spikes | Social Media Presence
Brandon has a large pool of online fans on each media platform.
He has 118.2k followers on one of the most popular platforms, Twitter. His 37.5k tweets demonstrate his active presence on this site, indicating a high level of engagement.
Similarly, Brandon is also an active user of another social media giant Instagram. His id read @bspikes55 and got an amazing 30.5k followers.
Furthermore, his presence may be seen on Facebook as well.
He has a Facebook account with 11,170 followers. He also has a Spikes page where he talks about health and wellbeing.
(Note: Above mentioned data are as of May 2022)
A native of Illinois, Jimmy Garoppolo has been flavoring his gameplay with the best hits of his. Click to learn about his life!
FAQs
How many years did Brandon Spikes play in the NFL?
Brandon Spikes was in the NFL for a total of six years. From 2010 to 2013, he was a member of the New England Patriots for four years. Similarly, he spent two seasons with the Buffalo Bills (2014 and 2015).
Are Brandon and Takeo Spikes related?
Brandon and Takeo Spikes are related by blood. Brandon Spikes' uncle, Takeo Spikes, was also a linebacker for the San Diego Chargers. Takeo complimented his cousin saying, "He's a good football player."