Brenden Aaronson is a professional soccer player who plays in the Austrian football league called the Austrian Football Bundesliga. Currently, he serves as an attacking midfielder for the Red Bull Salzburg.
Besides that, he started his professional career with Bethlehem Steel in 2017. Thereafter, he played for Philadelphia Union before joining the Red Bull Salzburg.
The soccer player has also played in Philadelphia Union's YSC Academy as a high schooler.
Although he committed to playing soccer for Indiana University after high school, he opted to have a professional career than a collegiate career.
While in Philadelphia, Brenden was receiving offers from multiple leagues and clubs.
Union's manager, Jim Curtin, expressed his pride over Aaronson's success and said,
"It's something for him to be proud of, for his teammates to be proud of and for the Philadelphia Union to be proud of, too."
Before getting into details about the rising soccer player's life and career, here are some quick facts about him.
Quick Facts
| | |
| --- | --- |
| Full Name | Brenden Russell Aaronson |
| Birth Date | October 22, 2000 |
| Birth Place | Medford, New Jersey, United States |
| Nick Name | Not Available |
| Religion | Christian |
| Nationality | American |
| Ethnicity | White |
| Education | Philadelphia Union's YSC Academy |
| Horoscope | Libra |
| Father's Name | Rusty Aaronson |
| Mother's Name | Janell Aaronson |
| Siblings | Two; Paxten and Jaden Aaronson |
| Age | 22 years old |
| Height | 5'10″(178 cm) |
| Weight | 150 lbs (68 kg) |
| Hair Color | Black |
| Eye Color | Brown |
| Build | Athletic |
| Profession | Soccer Player |
| Current Team | Red Bull Salzburg |
| Position | Attacking Midfielder |
| Active Years | 2015 – Present |
| FIFA 22 Rating | 73 (Overall) |
| Marital Status | Unmarried |
| Girlfriend | Milana Dambra |
| Transfer Market Value | €10 million |
| Net Worth | $1 million – $5 million |
| Social Media | Instagram, Twitter |
| Merchandise | Player Plaque |
| Jersey Number | 11 |
| Last Updated | November, 2022 |
Brenden Aaronson | Early Life, Family, And Education
Brenden Aaronson was born in Medford, New Jersey, United States. His parents are Rusty Aaronson and Janell Aaronson.
Moreover, his dad also used to play soccer. Rusty was a collegiate soccer player who played for Monmouth University.
Furthermore, he runs a trendy and successful youth club in New Jersey. Hence, it is probably not necessary to mention who got Brenden into the sport.
Rusty used to teach and train his sons as kids and teach them football technics and rules. As a result, Brenden started playing soccer when he was only ten years old.
Likewise, he used to train and practice with his brother Paxten. So, the brothers share a close bond.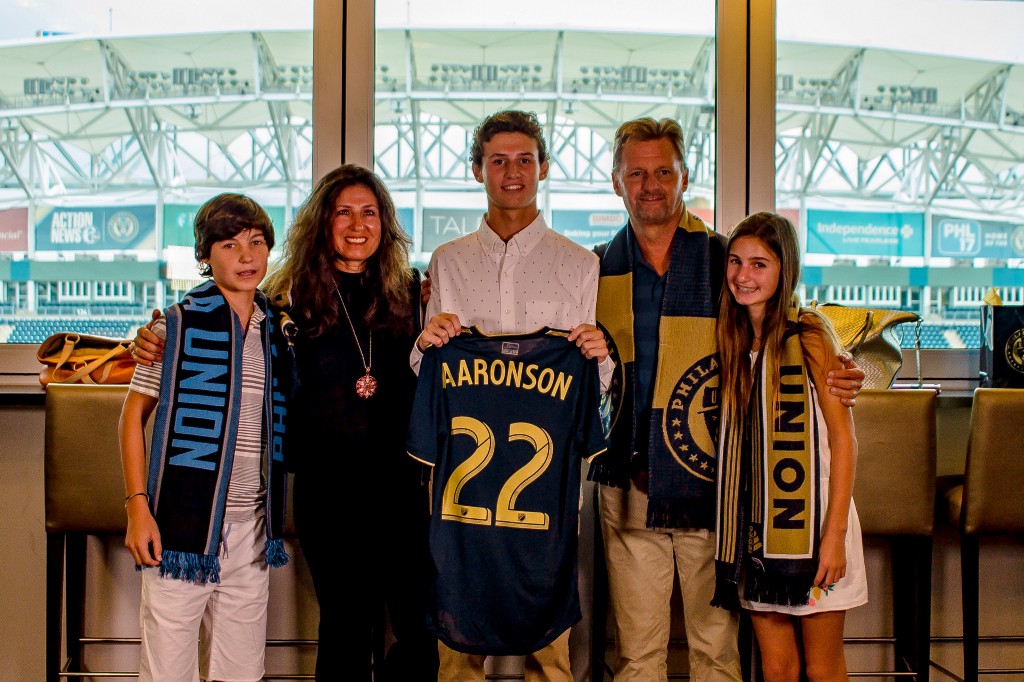 Besides that, his younger brother Paxten Aaronson is also a soccer player. Currently, Paxten plays for his older brother's former team Philadelphia Union.
The bond between the brothers
The younger brother credits Brenden for his developing skills as he is able to learn from his older brother's mistakes and errors.
He said, "Watching him set the path, it obviously gave me hope because I was like, OK, I see him doing it, so it's a clear vision for me. I was like, alright, now I can really go after this."
Pexton added, "He set the pathway and me saying, OK, he made a mistake, me knowing he did that and fixing my way around it. I give him a lot of credit for setting the path, and it kind of helped me out a lot."
Not to mention, the midfielder's younger sister, Jaden, also plays soccer and is very good at it. Aaronson said in an interview about his sister,
"She's turning out to be a very, very good young player. I've been to a few of her games. She kills it every time … . But she's more of a winger, though, than we are."
Besides that, the athlete's mother is very supportive of his and his brother's career. When he moved to Europe to play in the Austrian League, she wanted to be there to help him settle properly.
However, due to the Covid-19 pandemic, she was unable to go to Europe. Nevertheless, the mom cheers for her son all the way from New Jersey and does not miss a single game.
Janell's dream is to one day see both of her sons play for the same club. With Paxten's continuous efforts and improvements, it won't be long before he starts receiving offers from international leagues.
High School and College
Initially, the midfielder attended Shawnee High School for his high school education. However, he studied there for only a year as he got accepted into Philadelphia Union's YSC Academy.
Hence, he played high school soccer and completed his high school education at YSC Academy. Thereafter, he had committed to playing collegiate soccer for the Indiana Hoosiers.
Don't Forget To Check Out Central Midfielder Shawna Gordon's Bio: Shemar Moore, Soccer & Net Worth >>
Brenden Aaronson | Age, Height, And Weight
The soccer player was born on October 22, 2000. Hence, he is 22 years old. Being an athlete, Aaronson is very concerned about his health and diet.
He maintains a balanced diet and works out daily. As a result, the midfielder is quite fit and has a toned physique.
Furthermore, he is 5 feet 10 inches tall and weighs 150 lbs, i.e., 68 kg.
Brenden Aaronson | Soccer Career
Bethlehem Steel
The attacking midfielder started his professional and club career with Bethlehem Steel FC in 2017. He had signed an amateur deal with the club right after graduating high school from YSC Academy.
Besides that, Brenden made his first start for Bethlehem in October of 2017 in a game against the Tampa Bay Rowdies. Furthermore, he appeared in a total of 21 games for the club.
Moreover, he scored his first professional goal in a game against the Atlanta United 2. In September of 2018, the player announced that he was leaving Bethlehem Steel FC to play for Philadelphia Union.
Learn More About Legendary Soccer Player Cristiano Ronaldo: Children, Wife, Stats & Net Worth >>
Philadelphia Union
Aaronson joined the Union at the beginning of the 2019 season. Furthermore, he scored his first goal as a Philadelphia player in a game against Atlanta United.
Although he was a backup player for the Philadelphia team, he got boosted when his teammates got injured and suspended.
As a result, the midfielder got a chance to brush up on his skills, and he took full advantage of it.
In no time, Brenden became one of the best players in the club and was turning heads of prominent leagues and clubs. Moreover, he was also the recipient of the 2019 MLS Rookie of the year award.
Red Bull Salzburg
In October of 2020, Philadelphia Union revealed that they had sold Brenden for $9 million to the Austrian professional football club, Red Bull Salzburg.
Similarly, the deal was one of the highest transfer fees paid for a homegrown American player from Major League Soccer.
Before the announcement, there were a lot of speculations and rumors swirling around. He joined Salzburg at the beginning of 2021.
Furthermore, the athlete debuted as a Red Bull Salzburg on January 25, 2021, against Rheindorf Altach.
Besides that, he scored his first goal as a club member on February 10 in a victory against Austria-Wien. His contract with the team expires on Jun 30, 2025.
International Career
Aside from playing for clubs, Aaronson has also represented his country on an international level. He played in the Under-15 and Under-23 categories in 2015 and 2019, respectively.
Besides that, he was also a member of the United States men's national soccer team in the CONCACAF Nations League.
You Might Be Interested In Midfielder Francis Antetokounmpo Bio: Basketball, Soccer, Music & Brothers >>
Achievements And Highlights
Supporters' Shield in 2020
MLS was Back Tournament Best XI in 2020
2020 MLS Best XI: 2020
Brenden Aaronson | Relationship And Girlfriend
Aaronson is in a relationship with Milana Dambra. The two are currently in a long-distance relationship.
Dambra is attending Temple University, where she plays for the Women's soccer team. Although not sure, many sources claim that Brenden and Milana are high school sweethearts.
Nevertheless, the two share a common interest and really bonded over their love for soccer. Furthermore, they went to prom together.
On
Brenden Aaronson | Net Worth And Salary
The athlete has earned most of his wealth through his career as a professional soccer player who has played for multiple clubs.
Although his exact net worth is unknown, many claim it to be between $1 million – $5 million.
His salary details with the Red Bull Salzburg are not available to the public yet. However, he earned a base salary of $70,000 with a guaranteed compensation of $98,309.48 with the Philadelphia Union.
Not to mention, the Union sold the talented and hard-working player to the Red Bull Salzburg at $9 million. The deal was considered to be historic in many ways.
>> Kayla Varner, Wife of Bryce Harper- Early Life, Soccer, Child & Net Worth <<
Brenden Aaronson | Social Media Presence
The attacking midfielder is quite active on social media platforms. Hence, he has an Instagram account with 32.6 thousand followers.
The athlete mostly shares his life as a soccer player in the Austrian League through his social media handle. Likewise, he has a lot of pictures of him on the soccer field.
Besides that, the former Union player loves to flaunt his beautiful girlfriend on Instagram. Furthermore, he has also shared a few family photos and posed for pictures alongside his friends.
just DIRTY 😲#DOOP | @aaronsonbrenden pic.twitter.com/6gcO7X08PO

— PhilaUnion (@PhilaUnion) September 1, 2019
His account mostly sums up his life as a young football player. Moreover, Brenden is on Twitter with 2.9 thousand followers.
He is relatively less active on Twitter than on Instagram. Nevertheless, he usually shares soccer-related news, events, and highlights through his Twitter handle.
Brenden Aaronson | FAQs