Being an American professional competitor in strongman Brian Shaw is today in every American's heart with name and popularity worldwide.
Honored as World's Strongest Man in the year nearly 4 times to date, Shaw is a super talented athlete worldwide.
Apart from this, he's the winner of America's Strongest Man, Arnold Strongman, with many more championships, which will be discussed below.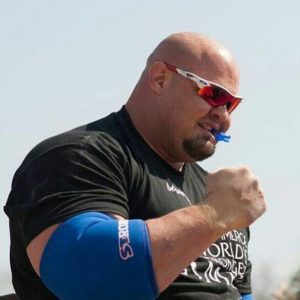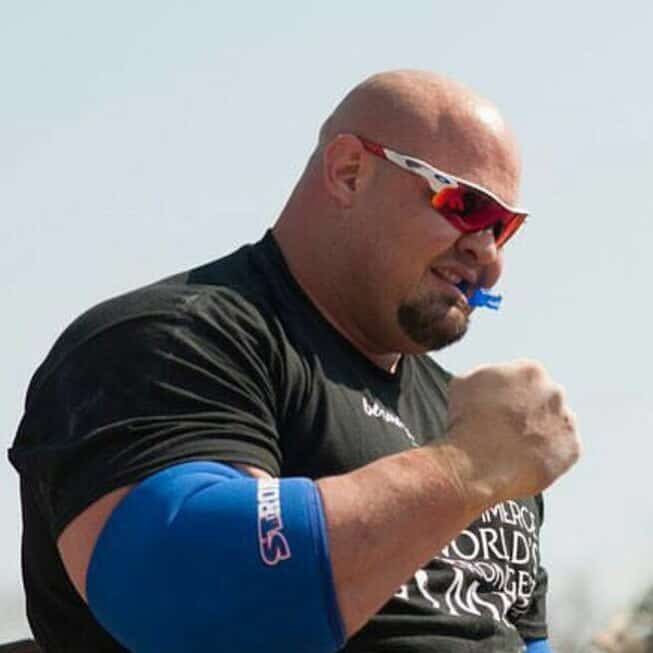 Suppose you have a keen interest in Brian Shaw stick with this article until the end to get huge information about this athlete. Before knowing about his career and personal life, let's move to know some quick facts about him.
Quick Facts
Full Name
Brian Shaw
Birth Date
February 26, 1982
Birth Place
Brighton, Colorado, United States
Known as
Gigantor
Religion
Christianity
Nationality
American
Ethnicity
Mixed
Education
Fort Lupton High School

Otero Junior College

Black Hills State University

Horoscope
Pisces
Father's Name
Jay Shaw
Mother's Name
Bonnie Shaw
Siblings
Julie shaw(sister)
Age
39 Years Old
Height
6'8″(203 cm)
Weight
190-200Kg (419-440Ib)
Build
Athletic
Body Measurements
NA
Hair color
Bald
Eye color
Brown
Profession
Strongman Competitor
Active Years
2005-present
Marital Status
Married
Spouse
Keri Jenkins
Children
2
Net Worth
$15 Million
Social Media
Instagram, Facebook, YouTube
Merch
Paperback
Last Update
November, 2021
Brian Shaw: Early Life, Family, and Education
Brian Shaw was born on February 26, 1982, somewhere in Fort Lupton, Colorado. He is the only son of his parent's other being sister.
Going through his family background, he is the son of Bonnie Shaw and Jay Shaw. Similarly, Juli Shaw is the sister of Brian.
Surprisingly, both of his parents are taller than their average height. Moreover, it has been recorded that his mother is 5ft 11 inch (1.80m) tall and his father is 6ft 1inch(1.85m) tall.
Shaw spent his childhood in the small town of Fort Lupton and joined Fort Lupton High School to achieve his high school degree and started playing basketball.
After that, to pursue his college degree, the basketball player attended Otero Junior College in La Junta, Colorado.
There, he collaborated with renowned coach Bob Austin (current Louisiana State University-Alexandria Head) and became one of the team members' best players.
Upon receiving a full basketball scholarship, Shaw attended Black Hills State University in Spearfish, South Dakota.
Similarly, he graduated successfully with a degree in wellness management from the university.
Furthermore, the American has not revealed anything related to his early childhood days. Born and grew up in a small town, Brain was dominated by sports activities.
Brian Shaw: Career
Talking about his career life, Shaw started playing basketball at the university level but later on basketball; he showed his passion for lifting weights.
In 2005, without any form of training, he won the Denver Strongest Man contest. Later on, after joining various professional training centers in 2006, he gained a lot of success in the field.
This is how the university basketball player turned into a weight lifter. Further, in the year 2008, he was only qualified in World's strongest man competition.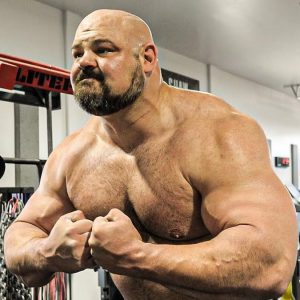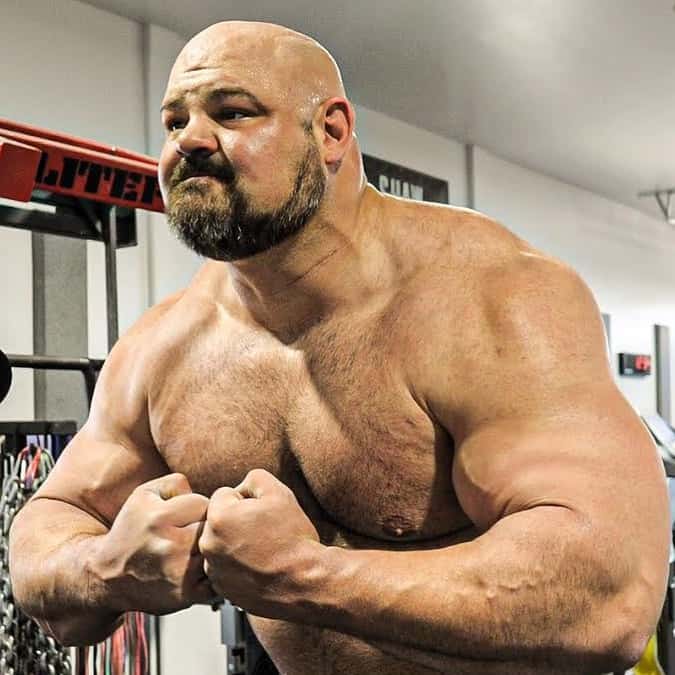 Similarly, after entering Fortissimus in the year, Brian became the single individual to lift six Atlas stones weighing from 136–193 kg (300-425)lb.
Same year Shaw competed in Valletta for his second World's Strongest Man contest, where he made glorious history by ranking in 3rd position.
The year 2010 became very wonderful for Brian. At the starting of the year, he qualified for the finals of the World's strongest Man Competition standing out in 2nd position.
Moreover, the same year he won the inaugural Jon Pall Sigmarsson Classic competition. In December 2010, Brian became Strongman Super Series winner for the second time.
Furthermore, in 2011 and 2013, Brian again participated in the World's Strongest Man competition. He beat Savickas standing 1st in both years. Again, in 2015 and 2016, Shaw became the winner in the World's Strongest Man competition.
The strongman competed in the World's Ultimate Strongman competition and Arnold Strongman Classic in 2017. He stands out to be in the first position in Arnold Strongman Classic.
Following the year in 2018, shaw competed in Dubai for World's Ultimate Strongman competition. His overall performance as well; however, he ranked up in the second position.
Moreover, Brian competed in the 2018 Arnold Strongman Classic and was placed in different positions in different events i.e
Event1 (The Bag Over Bar)=2nd position.
Event2(The Stone Shoulder)=4th position
Event3 (The Timber Carry) =2nd position.
Event4 (The Rogue Elephant Bar Deadlift)=3rd position.
Event 5 (Apollon's Wheel leaving Shaw)=1st position.
Apart from his regular career, he has been part of the History Channel Series named, The Strongest Man in History," which was released on July 10, 2019.
This is the fact that he has been making America proud by winning different International Championships and Competition.
Brian Shaw: Awards and Achievements
With a long career success of more than 15 years, Brian Shaw has earned many titles and awards with his strongman career life.
Here we present the Awards and Achievement of Brian throughout his career till today.
2005 – won the first Strongest Man contest
2008 – Qualified for his first World's Strongest Man competition.
2013 – Young Alumni Achievement Award.
2011, 2013, 2015,2016 – Won the title 'World Strongest Man.'
2011, 2015, 2017 – Won the 'Arnold Strongman Classic' competition
Brian Shaw: Wife and Kids
Being a professional strongman, Brian is found to keep his private life secret. But we still managed to share some of the interesting facts about Brian. Brian is happily married to the love of his life Keri Jenkins.
After dating for a long time, the couple tied the knot on July 4, 2015. For the first time, these couples met at a fundraiser event where Shaw appeared as the celebrity guest.
His wife, Keri Jenkins, is the owner of Fit Mommy Academy and runs her own fitness business. With that, she is also a teacher of mathematics.
Both the couples are blessed with two children, Braxton and Kellen.
Brian Shaw: Age, Height, Body Stats and Diet
As of now, Brian is 38 years old and born under the sun sign Pisces. According to the astrologers, Pisces are loyal, honest, and selfless kind of people.
Additionally, with American nationality, the mixed ethnicitalian follows Christianity Religion.
In the same way, he stands at an astounding height of 6'8″(203 cm) and weighing around 200kg(440 lb) that further boosts his dominant presence. Similarly, his looks are incomplete with bald head and brown eyes.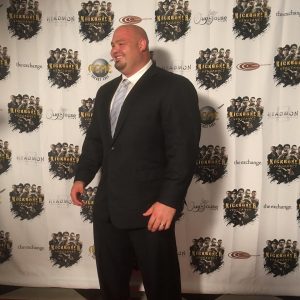 With a large-size body, short limbs, and three-layer strong muscles, this strongman has a strict routine for maintaining his dietary regime.
However, while building muscles, he has gained a lot of weight and is currently working hard to reduce body fat and weight.
Diet Plans
Being Strongman is a very dynamic sport that includes strength, speed, agility, and endurance. It is imperative to apply strength quickly and in an unconventional way. So it's vital to focus on diet.
Moreover, Brian has consulted with many dieticians and nutritionists to prepare his body to take 12,000 calories per day. Every part of his meal is composed of a huge amount of protein and carbs.
Shaw usually takes 8 eggs, a full spoon of peanut butter, along with 2-3 slices of cheesecake as his compulsory meal. Here's the detail of his one-day diet chart.
Meal 1 – Cinnamon Toast Crunch,8 eggs, a tablespoon of peanut butter
Protein=68g Carbs=74g Fat=68g Calories=1,180
Meal 2 – A protein shake,2 granola bars, peanut butter
Protein= 115g Carbs= 92g Fats=25g Calories=1,053
Meal 3 – 1 pound of organic beef meat, pasta with red sauce
Protein= 172g Carbs= 191g Fats=82g Calories=2,190
Meal 4 – Protein shake consisting of unsweetened almond milk and organic blueberries
Protein=112g Carbs= 89g Fats=22g Calories=1,002
Meal 5 – Organic ground turkey meat, rice as well as broccoli
Protein=117g Carbs= 145g Fats=41g Calories=1,417
Meal 6 – Pasta from pizzeria a pound of beef meat, potatoes, and Asparagus
Calories=3,400
Meal 7 – 2-3 slices of cheesecake and more protein powder
Protein=105g Carbs=107g Fats=89g
Calories=1,649
It seems a weirdo routine, right? Nonetheless, it gets the job done as a result is standing right in front of us.
Brian Shaw: Net Worth and Salary
Due to intense hard work and dedication, Shaw had won a lot of competitions. He had made a huge income from his professional career as a strongman.
Similarly, his presence on different social media sites has created a source for him to increase his net worth.
According to the reports of the year 2021, the strongman networth is estimated around $15 million.
This impressive wealth is all from his strongman career. Besides that, Brian has an excellent collaboration with many sponsorship deals from brands such as Redcon1, Mark Bell, Sling Shot, Rogue Fitness, etc.
So these are also the sources through which the American makes a good amount of money.
Moreover, Brian runs his own youtube channel, which earns around $1300 per day, i.e., $480,000 in a year from various ads that appear on his videos.
Also appeared in several movies and television series has helped him earn a high fortune and lavish life.
Not to mention, both Shaw couples are engaged with their professional career, which has generated a good income source for the family. This has led Shaw's family living with a luxurious life.
Brian Shaw Social Media Presence
The strongman has created millions of fans all over the world. Moreover, his popularity is equally seen on the internet and social platforms like that compared to his popularity in the real world.
He makes interesting posts and updates on fitness and career highlights, which have helped him assemble plenty of followers.
On Instagram, the strong man is available as shawstrength with 1.3 million followers. His account is well organized and looks clean.
Similarly, he mostly shares stuff related to fitness and weight lifting activities. One can also see Brian posting pictures along with his wife and children.
As mentioned earlier, Shaw owns a YouTube channel with more than 1.45 million subscribers. His Youtube videos are filled with training footage, fitness and strength challenges, as well as training videos, etc.
Furthermore, On Facebook, his page has gained more than 21K likes and followings.