It is not unusual for a celebrity wife to be under the media's radar. In fact, many have made their career because of it.
Brittany Brees caught the media attention right after she married the National Football League(NFL) quarterback, Drew Brees.
Considering how huge football is in America, it did not come as a surprise how famed Brittany got. However, rather than hogging the limelight and splurging on fame, she mostly stays out of media.
What does she do? And how much does she earn? Everything will be discussed in detail right here. We will also include information on her life, being a mother, and many other details.
Brittany Brees: Quick Facts
| | |
| --- | --- |
| Full Name | Brittany Middleton Dudhchenko |
| Birth Date | September 18, 1976 |
| Birth Place | Syracuse, Indiana, US |
| Alias | Brittany Brees, Mrs. Brees |
| Religion | Christianity |
| Nationality | American |
| Ethnicity | White |
| University | Purdue University |
| School | Updating Soon |
| Horoscope | Virgo |
| Father's Name | Pete Dudchenko |
| Mother's Name | Kathleen Dudchenko |
| Siblings | N/A |
| Age | 45 Years Old |
| Height | 5 feet 9 inches (175 cm) |
| Weight | 60 kgs(132 lbs) |
| Build | Slender |
| Profession | Philanthropist, Celebrity |
| Active years | 2003- present |
| Famous As | Wife of Drew Brees |
| Net Worth | Under Review |
| Marital Status | Married |
| Husband | Drew Brees |
| Children | Four |
| Affiliation | Brees Dream Foundation |
| Merch of Drew Brees | Jersey, T-Shirt |
| Last Update | August,2022 |
Who is Brittany Brees?
A supportive wife, and loving mother of four children, Brittany Brees is a well-recognized face in the NFL world. She is the wife of NFL quarterback Drew Brees and has been there for her family all the time.
Also, Brees is engaged in philanthropic work and is happy with her charity works.
How old is Brittany Brees?- Age and Body Measurements
The gorgeous wife of Drew Brees, Brittany has caught every NFL fans' attention. We have witnessed how gracefully she carries herself around the media and people.
For starters, Brittany has got attractive features like her long blonde hair and vivid blue eyes. On top of that, she is always cheerful and with a radiating smile.
Upon a glance, many would hardly believe that she is already 45–years old.
Yes, Brittany was born in 1976 and celebrates her birthday every year on the 18th of September.
Moreover, even her physique is slender and toned like in her prime years. She is 5 feet 9 inches(175 cm) tall.
Likewise, with a proper diet and workouts, she weighs around 60 kgs(132 lbs). But any secret behind her slender physique is still unknown to the public.
Childhood, Parents, and Early Life
Commonly known as Brittany Brees, she was born as Brittany Middleton Dudchenko in Syracuse, Indiana, the United States of America. She is the daughter of Peter Dudchenko and Kathleen Dudchenko. ANy further details on them are unknown at the moment.
You might also like Gillian Turner Age, Height, Parents, Ballet, Fox News, Fiance, Net Worth, Instagram >>
Likewise, Brees is an American citizen and belongs to white ethnic background. As for her religion, she was raised as a Christian.
Besides this basic information, Brittany has not revealed much about her family; it includes details on her siblings and so on.
Brittany Brees Education
A highly known and loved wife, Brittany grew up in Indiana and spent most of her childhood there. She graduated from Wawasee High School and later graduated in 1994.
After that, she relocated to West Lafayette, Indiana, and enrolled at Purdue University. As for her education, young Brees majored in industrial management and was even a member of the Sigma Chi Fraternity of Purdue.
Professional Career- What does she do?
From what we know, Brittany is a degree holder and has majored in industrial management. But we barely know her work and career before she married Drew Brees.
Likewise, we have found that Brees is working with her husband as a philanthropist and various charity works.
Together, Brittany and Drew are involved with a charity called 'The Brees Dream Foundation,' a charity organization that aims to help people suffering from cancer and underprivileged children.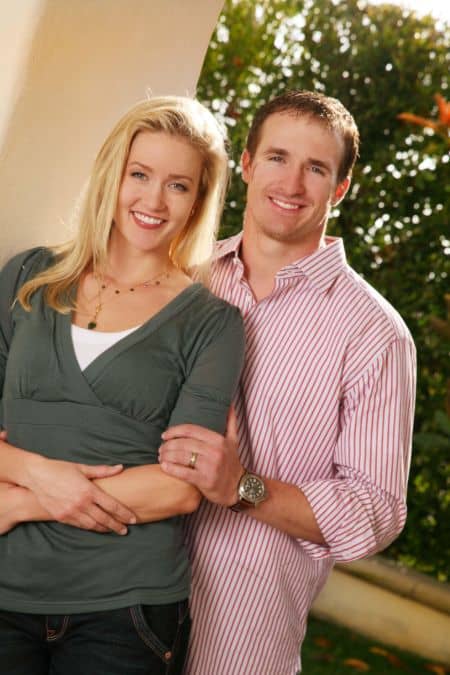 The lovely couple established the organization in 2003. Until now, they have donated $2 million to Purdue University's athletic department and another $1 million to the department's football program.
Moreover, the Brees duo helped the local community recover from the horrific damage caused by "Hurricane Katrina' that happened in August 2005.
In December 2017, she along with her husband and four children cooperated with the Audubon Nature Institute to build a play area for special and different children in New Orleans, Louisiana.
Many offered help for their generous act. Even the New Orleans-based chain of museums and parks offered a portion of their institute's courtyard for the cause.
Nonetheless, Brees's couple funded the whole operation. And also, their charity partner 'Operation Kids,' a Utah-based non-profit organization, helped them in this noble cause.
Advocare and Gatekeeper
From what we have seen and talked about before, Brittany is a total beaut. She is not only beautiful but has a heart full of gold as well.
And not to mention, Brittany and Drew have been getting a lot of support for their philanthropic works.
Sure, the organization that they have established is under both of their names. However, Brittany is the one who is looking after the activities and inside work of the charity fund.
You might also be interested in Amy Askren Age, Net Worth, Work, Married, Husband, Son, Instagram >>
With her leadership and desire to help others, Brittany has been making a difference in society. Likewise, many have deemed her a 'gatekeeper.'
But this does not mean Brittany is unsupportive of her husband. Other than the charity work, she also shows support for Advocare, the nutrition products.
Likewise, she was on stage for advocate success school where they revealed the new fit line.
Who is Brittany Brees's husband?- Wedding
It is no secret that we got to know about Brittany because of her relationship with NFL star, Drew Brees.
After their relationship got out, many have been curious about their relationship and how they started.
Well, their relationship is an old one and started ever since their university days. From what we know, the two met for the first time while studying at Purdue University in the early 2000s.
In fact, Drew was still in his sophomore year when they developed feeling for each other. Soon the lovely two started dating, and eventually, their relationship turned into something more.
Likewise, Brittany and Drew exchanged the vows on February 8, 2003, in front of their friends and family.
In 2006, the newly married couple relocated to Louisiana after Drew joined the 'New Orleans Saints.'
After being together for six years, the two finally welcomed their first child, a son named Baylen Robert Brees in 2009.
A year later, their second child, this time also a son named Bowen Cristopher Brees joined the family.
Other couples would have stopped after the two kids but Brees did not. In 2012, Brittany gave birth to her third son, Callen Christian Brees.
Similarly, two years later, Mrs. Brees finally gave birth to their fourth child, this time a daughter named Rylen Judith Brees in August 2014, counting the family numbers to six.
Net Worth and Income
As we have mentioned already, Brittany has no definite career and instead helps her husband with his philanthropic work.
Rather than having a massive social following and running a business, Brees helps run the charity organization that she founded with her husband.
Since her job is unknown, the same is the case when it comes to her net worth and wealth.
However, we do know that at the moment, she shares the fortune with her husband. Since Mrs.Brees is not involved in any commercial projects of her own, we can say that she shares her loving husband's income
At the moment, Drew's net worth amounts to $130 million where his annual salary is estimated to be around $22 million per year.
Just after Hurricane Katrina,' the couple bought a 100-year-old mansion located in New Orleans. According to the current real-estate value, the house is worth $1.5 million.
Check out Orlando Arcia Age, Stats, Jersey, Wife, Twins, Net Worth, Instagram >>
Moreover, Drew makes additional income from his brand and endorsements work as well. But their total assets and income as of now are still unknown in the media.
Social Media Presence
Despite being the wife of an FL player and celebrity of her own, she is not active in any social media at the moment.
Some FAQs
Is Brittany Brees Pregnant?
Brees is not pregnant as of 2022.
What Happened to Brittany Bress?
Bress's husband Drew was highlighted in the limelight after he made an interview regarding his opposition to Colin Kaepernick's kneeling during the national anthem.
After that, he apologized for the comments he had made. Also, Brittany released a lengthy statement to support her husband.