What comes to our mind when we hear or think of the word "Harvard"? Of course, the thought is always about something to do with corporate sectors.
However, Cameron Brate has defied the odds for us by becoming one of the top NFL tight ends as a Harvard University graduate.
At present, Brate is playing for the Tampa Bay Buccaneers of the National Football League as a tight end. The Buccaneers selected him before he graduated from Harvard.
There was a time where he shortly played for the New Orleans Saints but was called back by the Buccaneers.
Let us discover more about the Harvard graduate professional American football player. But before we go any further, let's briefly look at the table of quick facts for a superficial understanding.
Cameron Brate | Quick Facts
| | |
| --- | --- |
| Full Name | Cameron Brate |
| Birth Date | July 3, 1991 |
| Birth Place | Naperville, Illinois, USA |
| Nick Name | Cam, Brate, Harvard |
| Religion | Unknown |
| Nationality | American |
| Ethnicity | White |
| Education | Naperville Central High School, Harvard University |
| Horoscope | Cancer |
| Father's Name | Phil Brate |
| Mother's Name | Patricia Brate |
| Siblings | Unknown |
| Age | 32 Years Old |
| Height | 6 feet 5 inches (196 cm) |
| Weight | 111 kg (245 lbs) |
| Hair Color | Dark Brown |
| Eye Color | Sterling Grey |
| Build | Athletic |
| Relationship Status | Engaged |
| Partner | Brooke Ellen Skelley |
| Profession | Professional American football player |
| League | National Football League |
| Jersey Number | 84 |
| Position | Tight end |
| Team | Tampa Bay Buccaneers (current), New Orleans Saints (former) |
| Active Since | 2014 – present |
| Net Worth | Estimated $5 million |
| Social Media | Instagram |
| Merch | Autographed Items |
| Last Update | November, 2023 |
Cameron Brate | Early Life, Family, and Education
Born on July 3, 1991, to parents Phil and Patricia, both retired school teachers, Cameron Brate was born and brought up in Naperville, Illinois, USA.
Whether he was an only child or had siblings is not known yet.
Brate attended Naperville Central High School and started his early football career. Not only did Cameron play football in his high school, but he received five letters in basketball and baseball too.
Also, he received the National Honor Society, the Academic all-conference in football and basket, and many other awards in his high school.
In addition, he was the caption of his high school football team during his senior year.
Later, he enrolled at Harvard University and graduated with an economics degree while playing for the Buccaneers.
During his college football, he received many awards. For instance, he received the College Football Performance Awards National Tight End of the Week on one occasion.
Likewise, there were several times where he was named an honorable tight end by Beyond Sports Network, College Sports Madness, and others.
Cameron Brate | Professional Career
Tampa Bay Buccaneers
2014
After his college football at Harvard was over, Cameron Brate signed a three-year contract with the Tampa Bay Buccaneers as a free agent on May 21, 2014.
The contract was worth $1.53 million, including a signing bonus of $3 thousand.
Brate had to compete for a roster spot as a backup tight end all through his training camp.
The Tampa Bay Buccaneers finally promoted Brate to their active roster on November 25, 2014.
Following the roster's joining, Brate received the fifth rank on tight-end on the depth chart with the decision made by Lovie Smith, the then-head coach.
Further, on November 30, 2014, Brate scored his first 17-yard pass during a 14-13 defeat against the Cincinnati Bengals in Week 13, which was also his first professional appearance in a regular season.
Similarly, Brate had his first career start after his teammates, Austin Seferian-Jenkins, Luke Stocker, and Brandon Myers, were injured and put on the disabled list.
He eventually finished his 2014 rookie season, recording one reception for 17-yards in five games and one start.
2015
Even after his professional appearance, Brate competed against Tim Wright and Evan Rodriguez for a roster spot.
Bearing in mind that Brate entered training camp for 2015 as a backup tight end
However, the Tampa Bay Buccaneers passed up on Brate for their final roster cuts. Nevertheless, they signed him to their practice squad two days after that.
But still, the Tampa Bay Buccaneers officially released Brate from their practice team on September 15, 2015.
You might be interested in Booger McFarland – College, Career, Marriage, NFL & Net Worth.
New Orleans Saints
After the dispensation from the Buccaneers, the New Orleans Saints signed Brate to their practice team on September 16, 2015.
However, the Saints could not keep Brate for more than a week as the Buccaneers took him back for their active 53 -man roster.
The Buccaneers' general manager, Jason Licht, told ESPN that sending Cam Brate was the worst decision he made.
Also read Michael Thomas: Early Life, Age, Career & Social Media.
Return to Tampa Bay Buccaneers
In addition, the Tampa Bay Buccaneers re-signed Brate from the New Orleans Saints on September 22, 2015. It was a one-year contract worth $510,000.
Besides, Brate received a spot in the Buccaneer's active roster after one of his teammates suffered from a shoulder injury.
Likewise, the Head Coach, Lovie Smith, named Brate the third tight end on the depth chart.
Furthermore, in a Week – 8 game on November 1, 2015, Brate scored his first career touchdown and caught two passes for 48in a 23–20 win at the 2015 Atlanta Falcons seasons.
His touchdown reception was on a 20-yard pass by Jamies Winston.
Also, in Week 12 against the Indianapolis Colts, he scored a season-high five passes for 53 receiving yards and a touchdown.
Brate finished the season with fourteen games and four starts, where he recorded 23 receptions for 288 receiving yards and three touchdown receptions.
2016
Moreover, the Tampa Bay Buccaneers fired head coach Lovie Smith on January 6, 2016, and announced the promotion of Dirk Koetter to head coach.
As a backup tight end, Cameron competed against Austin Seferian-Jenkins for the starting role.
Additionally, the new head coach, Dirk Koetter, put Brate and Luke Stocker as one of the prominent starting tight ends to begin the regular season.
Impressively, Brate caught five passes for 56-yards and two touchdowns in a 37–32 defeat against the Los Angeles Rams.
Similarly, in Week 10, he earned a season-high seven receptions for 84 receiving yards and a touchdown as the Buccaneers got a victory over the Chicago Bears.
What's more is that Brate scored six catches for a season-high 86 receiving yards and a touchdown on December 4, 2016, in a victory against the San Diego Chargers.
The Tampa Bay Buccaneers assigned Brate on injured reserve due to a back injury on December 27, 2016.
Brate finished the 2016 NFL season playing 15 games and ten starts, recording 57 receptions for 660 receiving yards and eight touchdowns.
Apart from that, Brate was one of the NFL's tight ends to have converted the highest percentage of red-zone targets into touchdowns.
2017
Furthermore, the Tampa Bay Buccaneers signed a one-year extended contract worth $690,000 with Brate on February 28, 2017.
Like always, Brate competed for the primary starting tight end spot against rookie first-round pick O. J. Howard.
However, Dirk Koetter placed Brate behind O.J. Howard is the second starting tight end for the regular season.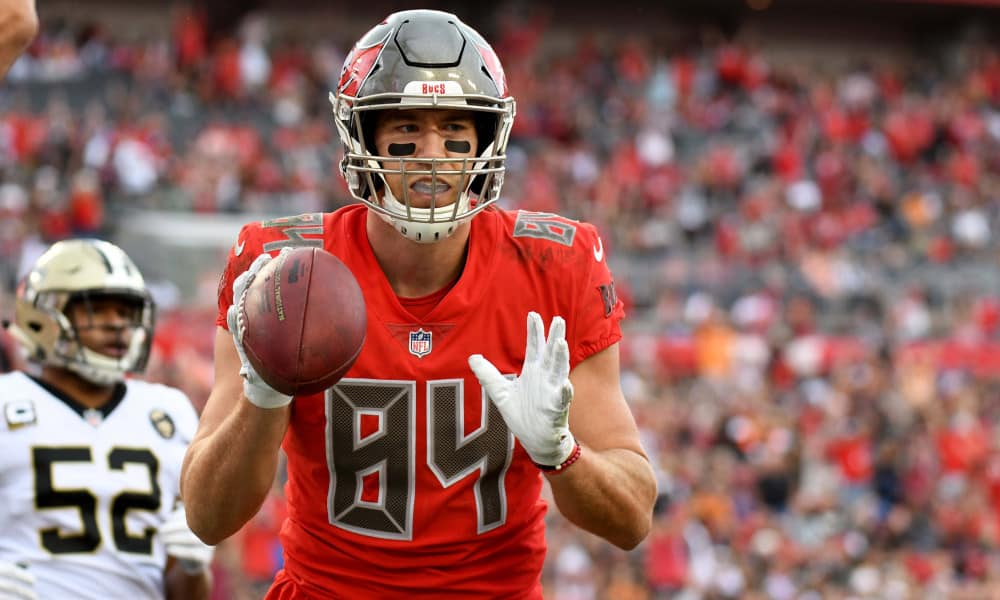 Similarly, Brate caught four passes for a season-high 80-yards and caught a 14-yard pass by Jameis Winston in a 25–23 victory against the New York Giants in Week 4 on October 1, 2017.
In the same way, Brate made a season-high six catches for 76 receiving yards and caught one touchdown reception in a 38–33 loss at the Arizona Cardinals in Week 6.
Not to mention, Brate finished the season with 16 games and five starts while recording 48 receptions in 591 receiving yards and six touchdowns.
134 Inspiring Tom Brady Quotes
2018
Further, on March 12, 2018, Brate signed a six-year contract worth $40.8 million, including a guaranteed amount of $18 million with the Tampa Bay Buccaneers.
This time Brate did not have to compete for the position of starting tight end. Head coach Dirk Koetter decided to keep Brate and O.J. Howard is the starting tight ends to begin the regular season.
In Week 13, the Buccaneers won against the Carolina Panthers. Moreover, Brate recorded three receptions for a season-high 36 receiving yards.
All in all, Brate finished the 2018 season recording 30 receptions for 289 receiving yards and six receiving touchdowns.
2019 – 2020
After a successful season, Brate received the opportunity to appear in all sixteen games in the 2019 season. Out of the sixteen games, Brate appeared in six games as a starting tight end.
Besides, Brate recorded a career-high ten receptions for 73 receiving yards; however, losing the game against the New Orleans Saints in Week 11
Cameron Brate finished the season with 36 receptions for 311 receiving yards and four receiving touchdowns, the lowest touchdowns since 2015.
He finished the 2020 season with 8 receptions for 282 receiving yards and two receiving touchdowns in all the 16 games he played for.
In a game played against Green Bay Packers, he recorded three catches for 19 yards and a touchdown during the 31–26 win.
Likewise, in a Super Bowl LV played against the Kansas City Chiefs, the tight end player recorded three catches for 26 yards with a 31–9 win.
Saquon Barkley Bio: Age, Career, Girlfriend, and Net Worth
Cameron Brate | Career Stats
You can also Cameron Scouting Report From here.
Cameron Brate | Net Worth and Salary
An NFL tight end averagely earns at least $5 million approximately per year. Adding to that, Cameron Brate is one of the highest-paid tight ends in the NFL.
And for your information, the number one highest paid NFL tight end is George Kittie, with $15 million as his average salary per season.
Likewise, Brate earns $5 million to $7 million as his basic salary per season, excluding bonuses.
Similarly, his net worth is estimated to be around $5 million.
His assets have not been mentioned elsewhere, and neither has he shared them on his social media.
But, it is reported that he bought a $920,000 gorgeous house with a sizable front porch in Tampa, Florida, in 2018.
Also, read Rob Gronkowski Bio: Girlfriend, Endorsements & Net Worth.
Net Worth of Cameron Brate in Different Currencies
Here is a quick look at Cameron Brate's net worth in different currencies, including the cryptocurrency BitCoin.
Currency
Net Worth
Euro
€

4,233,523

Pound Sterling
£

3,626,875

Australian Dollar
A$

6,748,875

Canadian Dollar
C$

6,292,775

Indian Rupee
₹

373,012,500

BitCoin

฿156
Cameron Brate | Personal Life
The NFL tight-end recently proposed to his girlfriend Brooke Skelley in June 2020 at Pass-a-Grille Beach. It was a pleasingly unexpected event for Brooke in the presence of her beloved dog.
Cameron does not usually share his personal life on his social media accounts. On the contrary, he introduced his girlfriend-turned-fiancé via Instagram.
His fiancé is associated with the NFL, working as the Director of Marketing and Communications for the Tampa Bay Super Bowl LV Host Committee.
Brooke graduated from Clemson University with a degree in Communication Studies.
Before working for the Tampa Bay Super Bowl, she was a member of the Carolina Panthers' public relations previously, followed by her fiancé's team, the Tampa Bay Buccaneers.
Apart from her NFL teams' roles, she is also a real estate adviser at Coastal Properties Group and Christie's International Real Estate.
Not only that, but Brooke is also a cycling instructor at the CAMP Tampa.
Furthermore, there are no rumors regarding their past affairs or any conflicts between themselves.
The couple seems to be in a perfectly healthy relationship and presumably planning for a future together.
To add to his personal life, Brate recently recovered from COVID-19 and made a public announcement on July 29, 2020.
Cameron Brate | Social Media Presence
Cameron is not very active on social media platforms compared to his colleagues. However, he is somewhat active on Instagram with 43.7k followers.
Some FAQs
Has Brate Ever Recorded a Song?
Before joining the Tampa Bay, the tight end player was in the Kenny Chesney's 'The Boys of Fall' music video.
Has Cameron Appeared in the Bar Rescue Episode?
Yes, Cameron, along with Beau Allen and Ali Marpet, appeared on the top hit show in June 2019.
Is Brate a Married Man?
No, he has not married yet. He is engaged with Brooke Ellen Skelley, but the couples are not married yet.