Lionel Messi is one of the greatest players in soccer history and arguably the best to ever play this beautiful sport. In August 2021, he made a headline by leaving FC Barcelona, his childhood club, and joining the French team Paris Saint-Germain.
Lionel Andrés Messi is an Argentine player who is one of the names which will be mentioned for years to come. He is often referred to as a G.O.A.T (Greatest of All Time) by football fans.
Truly, Messi is a legend, and there's still more to see about him. A biography page may not summarize all about him, but Messi is making people what footballers are.
Besides his fans and the opponent team's players, the coach also feels pleasure to see him play.
Despite being a renowned player, Messi is also a fair player having exceptional passing vision and ability. He is often compared with another famous player, 'Cristiano Ronaldo,' but both have their own playing styles.
In 2022, Forbes listed Lionel Messi as #1 on the highest-paid athletes list.
Scratching more about this athlete, here are some quick facts about him:
Lionel Messi | Quick Facts
Full Name
Lionel Andre Messi Cuccuttini
Known as
Lionel Messi
Nickname
Leo, Atomic Flea, Messina
Birth Date
24th June 1987
Birth Place
Santa Fe Province, Rosario, Argentina
Residence
Neuilly-Sur-Seine, Paris
Religion
Roman Catholic
Nationality
Argentine
Ethnicity
Hispanic
Education
N/A
Horoscope
Cancer
Father's Name
Jorge Messi
Mother's Name
Celia Maria Cuccittini
Siblings
3 (Matias Messi, Maria Sol Messi, and Rodrigo Messi)
Age
35 Years Old
Height
5'5″/1.70 m/170 cm
Weight
72 kg/158.73 lbs.
Eye Color
Black
Hair Color
Dark Brown
Body type
Athletic
Profession
Soccer Player
Marital Status
Married
Spouse
Antonella Roccuzzo
Children
3
Name of Children
Thiago Messi Roccuzzo, Ciro Messi Roccuzzo and Mateo Messi Roccuzzo
Beginning of Professional Career
International (2005) and Club (2004)
Retirement
N/A
Playing style
Left-Footed
Sports team
Previously: Barcelona till 30 July 2021
Currently: PSG
Coach
Salvador Aparicio, Frank Rijkaard, Pep Guardiola
Honors
FIFA World Player of the Year (2009), FIFA Ballon d'Or (2009-12,2015,2019), FIFA World Cup Golden Ball (2014), European Golden Boot (2010,2012,2013,2017,2018), La Liga Best Player (2008-15), UEFA Men's Player of the Year Award (2011,2015), FIFA Club World Cup Final Most Valuable Player (2009,2011), FIFA Club World Cup Golden Ball (2009,2011), UEFA Goal of the Season (2006,2007,2014-16)
Net Worth
$600 million
Salary
$807k per week
Position
Forward
Agent
Jorge Horacio Messi
Sponsors
Adidas, Gatorade, Huawei, Mastercard, Pepsi, Lays, Hawkers, Ooredoo
Social Media
Facebook, Instagram, Twitter
Merch
Paperbacks and paperback, Book
Last Update
June, 2023
Lionel Messi | Early Life
The Argentine football player Messi was born on the 24th of June 1987 in Santa Fe Province, Rosario, Argentina.
He was born with the name Lionel Andre Messi Cuccittini. His father, Jorge Messi, was a factory steelworker, and his mom Celia Maria Cuccittini, was a cleaner.
Meanwhile, he was raised with his two brothers playing soccer from an early age. Earlier, at the age of 8, Messi suffered from a hormone deficiency restricting his growth.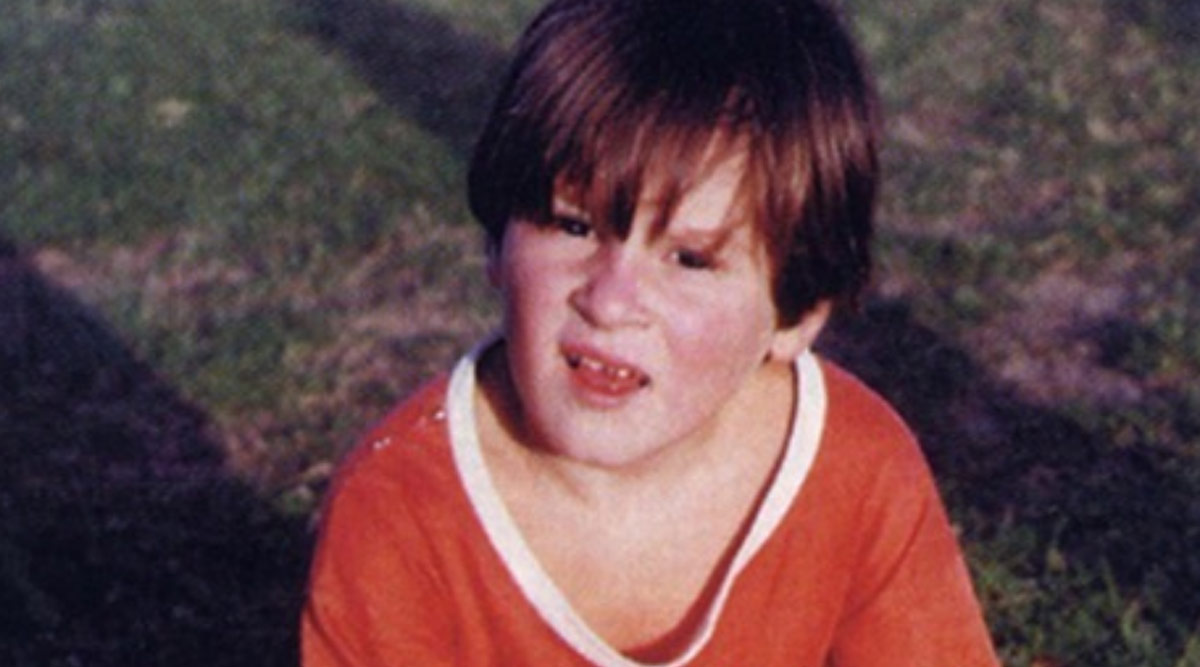 Later, his parents decided to inject him with a nightly growth hormone. Eventually, it became impossible for them to pay hundreds of dollars per month for the medication.
Despite this complication, Messi went on to become the only player with 7 Ballon d'Or, the GOAT.
Lionel Messi | Career
Starting
Keeping aside his illness, from the age of 8, Messi started playing for the Argentine club Newell's Old Boys. Later, Spanish club FC Barcelona scouted him with a contract. And after completing his treatment, he played for the club's youth teams at 14.
From there, Messi excelled in the youth playing from team B. The way Messi played impressed the team manager Frank Rijkaard. And he was the one who urged him to move to the first team.
Eventually, Messi became the club's youngest-ever player to play an official match, debuting against Espanyol.
Accordingly, on 1st May 2005, Messi scored his first-ever goal against Albacete at the age of 17, becoming the youngest Liga scorer ever.
Moving on, Messi constantly kept on giving amazing performances in the Champions League matches.
Messi played a total of 17 league games, 6 Champions League, and 2 Copa del Rey scoring eight goals in the same season.
In the 2008-09 season, another legendary player Ronaldinho retired, and Messi got a chance to shine. Eventually, he scored in the Copa del Rey and Champions League finals. In the same season, Barca won their first Club World Cup.
One Of The Idol And Team-mate Of Lionel Messi And The Legendary Soccer Player, Learn About Ronaldinho And His Career>>
Prime Messi
Though he still played and still plays top-class football. But, unarguably, his prime years were during the MSN (Messi, Suarez, Neymar) era.
In the 2011-12 season, Messi maintained the Spanish Super Cup, the UEFA Super Cup, the FIFA Club World Cup, and the Copa del Rey.
Similarly, in the next season, Messi ranked as the club's leading goal-scorer of all-time with 369 goals, beating Paulino Alcantara.
He suffered from hamstring injuries during the 2014-15 season but regained his record-breaking performances. At the end of 2014, he became the all-time leading scorer in LaLiga and the Champions League.
Eventually, this season became the most remarkable one as he surpassed Telmo Zarra's 251 career goals becoming the leading scorer in league history. Similarly, he surpassed Raul's 71 career goals to become the all-time leading scorer in Champions League history.
In fact, in 2018, Messi became the captain just after Andres Iniesta departed.
More importantly, in 2019, Messi was declared the most decorated footballer in FC Barcelona history as he had 34 trophies to his name. In addition, he was further declared as World's highest-paid athlete in the world.
One Of The Barcelona And Spanish National Team Legends, Andres Iniesta. Learn About His Life And Professional Career>>
Lionel Messi | PSG Career
After the departure of Lionel Messi from Barcelona due to the financial issues of the club. FC Barcelona was unable to extend his contract and was forced to release this legend.
He was signed by Paris Saint-Germain on August 10, 2021. His first season with the Saint-Germain was not to be proud of since he only found the net 11 times in 34 appearances for the club.
His 22/23 season is going well as he has scored 12 goals and made 14 assists in all competitions for PSG in 19 appearances.
Lionel Messi | Argentina Career
As Barcelona is a Spanish club, Messi often stays in his country. For the first time, in 2005, he played for his country, Argentina, wearing his jersey. Unfortunately, he got to play only for two minutes as he came on elbowing an opponent.
Eventually, he made appearances at the 2006 World Cup in Germany.
There was a recognition among a few faultfinders that Messi failed to meet expectations at the 2010 World Cup as Argentina lost in the quarter-finals.
Consequently, he did not score but illustrated his excellent moves against Nigeria and South Korea in the group-stage games.
For instance, he may not have been at his exceptional best, but the 2010 World Cup was by no implies a write-off for Messi, who frequently shone in his position behind the strikers.
However, Messi showed his better version at the 2014 World Cup guiding Argentina to the finals. But, again, Argentina lost against Germany despite having extra time.
In the 2018 World Cup, unfortunately, Argentina's road to the cup was halted by France in the Round of 16, where Argentina lost 3:4 to France.
In 2022, he won THE CONMEBOL – UEFA CUP OF CHAMPIONS WINNER with the Argentina National Team.
The Qatar World Cup 2022 could possibly be Messi's last World Cup. So he will put all his sweat and blood into winning this competition and add another achievement to his collection.
Lionel Messi | Retirement
Messi announced a shocking news to retire from international football in June 2016.
He was disappointed after losing against Chile in the Copa America final in penalty shoot-out. The results were 4-2; only Aguero and Mascherano were able to score for Argentina while the players of Chile missed only once.
This was his forth major loss in International Tournament.
But later returned to the international duty after two months of retirement.
Lionel Messi | Philanthropy
As mentioned earlier, Messi suffered from a syndrome. And for the betterment of today's generation, he established the Leo Messi Foundation in 2007.
To summarize, the foundation is to support access to education and health care for vulnerable children. Also, funds cover the transport, hospital, and recuperation costs.
In 2010, he became the goodwill ambassador for UNICEF to support children's rights.
In February 2020, he was awarded the Laureus World Sportsman of the Year.
During the pandemic, he reportedly donated around $1.1 million to be split between a Hospital Clinic in Catalunya and Health Centre in Argentina.
Lionel Messi | Awards And Achievements
Messi had the top of the top starting from a very young age, breaking top records. And for those, he has been honored with numerous awards and achievements.
Messi won the prestigious Ballon d'Or seven times-2009, 2010, 2011, 2012, 2015,2019, and 2021.
Besides winning the award as a young player of the year category, there are countless other prestigious awards, including World Soccer Young Player, FIFA Pro World Young Player, and Copa America Young Player of the Tournament.
On the other hand, he has been titled FIFA World Player of the Year, World Soccer Player, Goal.com Player, and UEFA Best Player in Europe Awards.
Also, there were UEFA Club Footballer, FIFA U-20 World Cup Player of the Tournament, La Liga Player, La Liga Foreign Player, and La Liga Ibero-American Player of the Year.
Messi has been awarded as the top goal scorer.
His other awards include IFFHS World's Best Top Division Goal Scorer, IFFHS World's Top Goal Scorer, UEFA Champions League Top Goal-scorer, FIFA U-20 World Cup Top Goal-scorer, and Copa del Rey Top Goal-scorer.
By the year 2005, Messi was tagged with the name of European Golden Boy. Besides, in 2010-12, Messi won the European Golden Shoe thrice.
Similarly, he was honored with the FIDA Club World Cup Golden Ball twice in 2009 and 2011. Also, participating in Summer Olympics, he won the gold medal for the Argentine football national team.
Lionel Messi | Compared to Cristiano Ronaldo
No true football fan will compare these two legends of this game. Both are greatest on their own. We are lucky to experience these two legends playing in the same era.
Though these two players are often compared with each other. Being a pro player, Messi is also compared to other players like Neymar, Rooney, and Ronaldinho.
Knowing more about these two players, Ronaldo was involved with renowned teams, Manchester United F.C and later Real Madrid, Juventus, and now back to Manchester United, while Messi kept his continuity to Barcelona F.C until June 30, 2021. Later, Messi got transferred to PSG.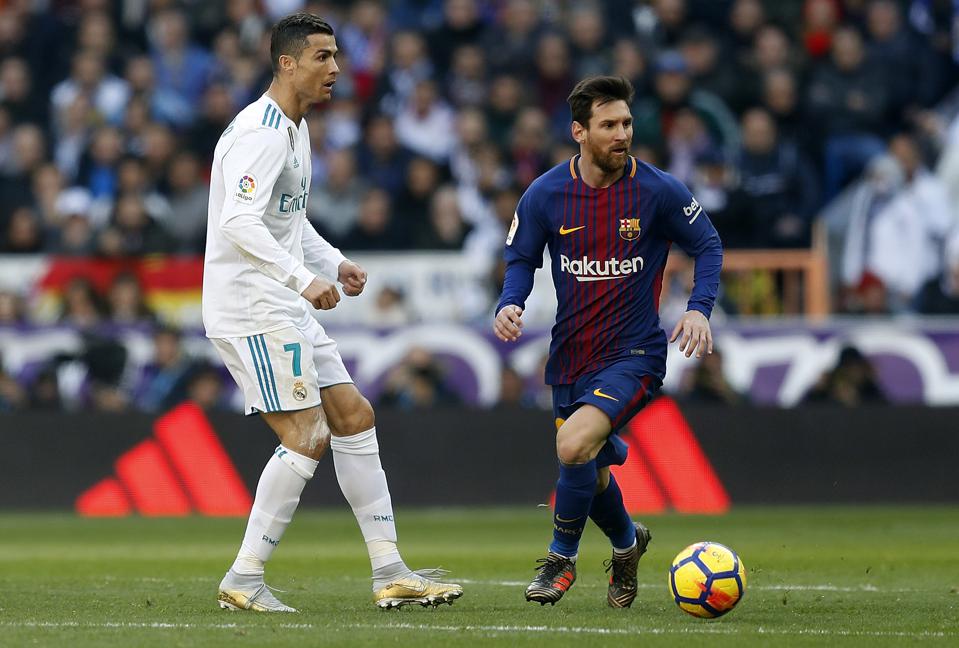 Despite playing hundreds of more games than Messi, Ronaldo's average score is slightly lower than Messi's. Meanwhile, comparing more about stats, Messi has given 109 more assists than him.
Abilities And Ratings
Before anything, these two players, Messi and Ronaldo, are comparable because they both are over the top. Both have their own methods to show their thoughts, talent, tricks, and moves on the ground.
Likewise, these two have won numerous prestigious awards and achievements. That's why Messi and Ronaldo are comparably comparable.
From domestic games, leagues, internationals to all-time careers, all scores of stats and goals get competitive from small marks of difference. Similarly, here's a table of the same honors and achievements they have all over their lifetime career:
| | | |
| --- | --- | --- |
| Lionel Messi | Awards | Cristiano Ronaldo |
| 7 | Ballon d'Or | 5 |
| 2 | The Best FIFA Men's Player | 2 |
| 6 | European Golden Shoe | 4 |
| 1 | World Cup Golden Ball | 0 |
| 3 | UEFA Player of the Year | 4 |
| 10 | Player of the Year | 6 |
| 15 | FIFA Pro World XI | 15 |
The data mentioned above are as of 2022.
Apart from these, Cristiano and Messi have a huge fan following who have closely read them and seen their speed and style of playing.
Ronaldo has more brand endorsements, Instagram followers, and young fans than Messi.
Despite all these comparisons, the players have mutual respect for each other. And often, they mentioned that they both pushed each other to perform at the top of their game.
Lionel Messi | Family
It is obvious to link such a renowned player's name with so many. But, Messi was in relation with his long-time girlfriend, Antonella Roccuzzo.
Antonella is eventually from Rosario. Thus, after having long years of relationship, Messi and Roccuzzo married on 30th June 2017. They got married at a luxury hotel named Hotel City Center in Rosario.
Messi's fans adore the couple. Before the grand marriage, they had two children, Thiago and Mateo, in 2012 and 2015.
After their marriage, they welcomed their third child Ciro Messi Roccuzzo in 2018.
Lionel Messi | Net Worth
Constantly listed as the top-most-paid athlete, Messi is likely to be the wealthiest player in the world. Messi's net worth is estimated to be $600 million.
He garnered his wealth from his soccer career and endorsement with different brands.
In 2020, Messi became THE second footballer ever to pocket $1 Billion in his career earnings.
Lionel Messi | Stats
Messi played for two clubs; Barcelona and Paris Saint-Germain.
For Barcelona, he played a total of 778 games scoring 672 goals and providing 303 assists while receiving only 1 red card in all competitions.
For PSG, he has played 53 games till now and scored 23 goals while making assists 29 times.
Lionel Messi | Social Media Presence
Unlike other players' athletic body structures, Messi's personality is more than enough to have several followers. Overviewing the top chart list, Messi is among the Top 10 celebrities with a maximum number of Instagram followers.
Besides brand endorsement, Messi shares his family moments and photos on his Facebook @Leo Messi and Instagram @leomessi. While on Twitter, Adidas runs an account under the handle @TeamMessi. There, they share game updates and history with Messi.
Instagram: 373m followers
View this post on Instagram
Facebook: 106m followers
Twitter: 3.1m followers
Lionel Messi | Popularity
Lionel Messi falls on the list of athletes who are famous among their fans as well as among people who do not follow the sports they play.
The above image illustrates the undying fandom that Lionel has all over the World.
Lionel Messi | FAQs
Who is Number 1, Messi or Ronaldo?
Messi is the all-time top goal-scorer and assist provider in LaLiga, whereas Ronaldo is the all-time top goal-scorer and assist provider in UEFA Champions League.
Is Messi a Billionaire?
Aside from being a player and celebrity, Messi is football's second billionaire (in terms of career earnings) after Cristiano Ronaldo. He has a net worth of $600 million.
How many Guinness World record does Messi has?
The exact number of Guinness World records that Messi has is not certain, though we can assure you that he has few numbers of records to his name.
One of the records to his name is "Most assists in LaLiga by a soccer player".
What kind of a relation does Messi have with Adiddas?
It is reported that Messi signed a lifetime deal with Adiddas in 2017. Addidas also runs TeamMessi's Twitter account.