Cassie Campbell played ice hockey from 1990–2006 and, as a post-career, pursued broadcasting for Sportsnet and ESPN.
On January 19th, 2023, Sportsnet's Cassie Campbell-Pascall discussed Hockey Day in Canada on The Sam Laprade Show.
"Success is not final, failure is not fatal, and it is the courage to continue that count." It is quite a famous quote by Winston S. Churchill that got precisely applied in Cassie Campbell's life.
Cassie is a two times Olympic Gold medalist, an HNIC broadcaster, RMHC National Ambassador, a Scotiabank teammate, and an HHOF Selection Committee member.
All this accomplishment didn't come easily to Campbell. She faced serval failures in her career, but every time it happened, she didn't give up and came out more vital than ever.
Cassie earned herself 21 honors as a captain of Canada's National Women's teams, counting 17 gold and four silver medals.
Cassie has two major achievements; First was when she led team Canada to a 129-26-2 record, and the second was her six-time gold medal win at the IIHF Women's World Championship.
She is an example and an inspiration to all women around the world.
We will now dwell on Campbell's life and explore her net worth, retirement, and social media platforms.
Here are some quick facts that you should know about Cassie Campbell.
Cassis Campbell
Full Name
Cassie Dawn Campbell Pascall
Date Of Birth
November 22, 1973
Place Of Birth
Richmond Hill, Ontario
Nick/Pet Name
Unknown
Religion
Unknown
Nationality
Canadian
Ethnic Belonging
Caucasian
Father's Name
Donald Campbell
Mother's Name
Eunice Campbell
Number Of Siblings
2
Education
University Of Guelph
Zodiac Sign
Saggitarius
Age
49 Years Old
Height
5'6/168cm/1.68m
Weight
134 lb/61 kg
Eye Color
Brown
Hair Color
Brown
Position
Left-Wing
Body Measurement
Unknown
Shot
Left
Marital Status
Married (Brad Pascall)
Boyfriend
No
Children
1
Occupation

Former Ice Hockey Player
Sports Broadcaster
Motivational Speaker
Author

Net worth
$1-$5 Million
Salary
Unknown
Active Years

2002-2006 (Playing Years)
Calgary Oval X-Treme
Toronto Aeros
Mississauga Chiefs

Pets
Tassis
Current Works
Motivational Speaker & Author
Social Media
Merch
Book (H.E.A.R.T)
Last Update

June 2023
Early Life, Parents, & Education
Cassie Campbell was born on November 22, 1973, in Richmond Hill, Ontario, to Donald Cambell (father) and a professional football player, mom Eunice Campbell.
Her mother played nine games as a skilled football player in 1969 for the Canadian Belles, a professional women's football team based in Toronto.
She has two brothers, namely Jeff and Rick. They all went to the same high school named North Park Secondary School.
Cassie is a Canadian citizen and belongs to the caucasian ethnicity. As a November born, she is a Sagittarian female according to her zodiac sign.
With her energy, passion, curiosity, and activeness, we can all see a true Sagittarian shining.
While she is an inspiration for many, careerwise, it seems that her mom is cassie's biggest inspiration as she was a professional player herself.
Campbell was inclined towards modeling at 16; she took a modeling class and did some modeling for Toronto fashion week.
She was equally outstanding in her studies and received an honors degree in sociology from the University of Guelph On June 16, 2011.
Age, Height, & Body Type
Cassie is 49 as of June 2023; she loves reading, watching sports, and actively engages in various recreational activities to appreciate the beauty of life.
Additionally, Cassie is a definition of power and perseveres. She is rebellious, intense, and equally grounded. In addition to that, she is a beautiful spokesperson and writer.
She is intelligent with her expressions and wants people to know it. But it wasn't always like that; she was a tomboy in her childhood who managed to step out of her comfort zone.
Standing at the height of 1.68 m and a hair that compliments her cute smile, this Canadian athlete is gene-wise gifted.
Our Canadian brunette has a sharp nose, a defined jawline, and a warm personality that captivates people immediately.
But without relying on it, she built herself as a skilled individual and continued polishing her skills.
Career
Campbell earned two Olympic gold medals (2002- Salt Lake City and 2006 – Turin, Italy), Followed by one Olympic silver medal in 1998, held in Nagano, Japan.
Similarly, in 1994, 1997, 1999, 2000, 2001, and 2004 Cassie won gold in Canada's World Women's Championships.
Cassie Campbell played as a defenseman from 1994 to 1998 with Canada's National Women's Team.
At the 1997 IIHF World Women's Championship, she was named to the All-Star Team as a defenseman. Campbell swapped forward, previous to the 1999 World Championship.
Then, she was the captain of Canada's National Women's Team from 2001 to 2006 and ended up as the longest-serving captain in the history of Canadian Ice hockey.
She was also the substitute captain of Canada's National Women's Team from 1997 to 2001.
In her 157 total career games, Cassie scored 32 goals, 68 assists, and 100 points, which ranked her 8th all-time with Team Canada's National Women's program.
Career In Broadcasting
She was a TV forecaster for TSN's women's hockey coverage and CBC's Hockey Night in Canada. She delivered guest radio work for Calgary Flames sports on the FAN 960.
Cassie Campbell became the first female to do the color commentary when she broadcast the match between Toronto Maple Leafs vs. Calgary Flames on CBC's Hockey Night on Oct. 14, 2006.
Cassie worked as a TV analyst for CTV's 2010 Olympic women's hockey coverage from Vancouver and was the first female to work on the NHL Network in Canada.
In 2021, Campbell won Best Sports Analysis or Commentary at the 9th Canadian Screen Awards.
Campbell later joined the NHL on ESPN as part of their new broadcast team for the 2021–22 season. She broadcast games for the first time in 17 years and had a career change into broadcasting like Bob McKenzie.
Moreover, Sportsnet's Cassie Campbell-Pascall appeared for The Sam Laprade Show on January 19th, 2023, in which she discussed Hockey Day in Canada.
Net Worth, Salary & Income
Campbell's estimated net worth is about $1 -$5 million for a sportsperson with such a glorious history as of 2023.
She made most of her money during her active playing days.
Our research suggests that a Canadian national hockey player earns $2.78 million annually on average, which might also be the case with Cassie.
Likewise, On average, a sports announcer earns a range of $30,144 to $181,825 annually, so as a post-career, she must be earning that much.
Yet, we sense that there is an inconsistency in women's salaries, not just in sports but also in other professions.
Optimistically, brilliant women like Campbell will earn suggestively higher remunerations.
Retirement
On August 30, 2006, Campbell retired from competitive hockey. At that point, she amalgamated with Hockey Night as a rinkside reporter in Canada, leading to being the first woman to do color commentary on a Hockey Night broadcast in Canada.
She established her specific website in 2008 and is also a motivational speaker for Scotiabank. She looked at commercial proceedings for Scotiabank and underwrote a blog on its website.
Achievements
In Vancouver's 2010 Olympic Torch relay on November 22, 2009, Campbell ran a leg on Prince Edward Island and merged with Sports net's broadcast crew.
Cassie delivered color commentary for women's hockey throughout 2010, the 2014 Winter Olympics, and the 2018 Winter Olympics.
She was inducted into the Ontario Sports Hall of Fame in 2012.
Above all, before the 2018 Clarkson Cup finals, Mrs. Pascal resigned from her part as a CWHL Governor.
She stated that she voluntarily wanted to leave the association in 2016 but remained on at the association's appeal.
Throughout the two years, her significant participation secured aid for the association.
Personal Life
Even though Cassie was born in Richmond Hill, Ontario, she grew up in Brampton; as of 2023, Campbell Resides in Calgary, AB, with her husband, Brad Pascall, an assistant general manager with the Calgary Flames of the NHL.
They married in 2005 and have a daughter named Brooke Violet Pascall.
Mrs. Pascall is a motivational speaker for Speakers Spotlight, The Lavin Agency, and The Sweeney Agency.
In October 2007, Cassie co-wrote and released a book titled H.E.A.R.T with Lorna Schultz Nicholson.
In 2007, the Canada Sports Hall of Fame welcomed Campbell, and Chatelaine magazine featured her on its cover for the second time in June 2007.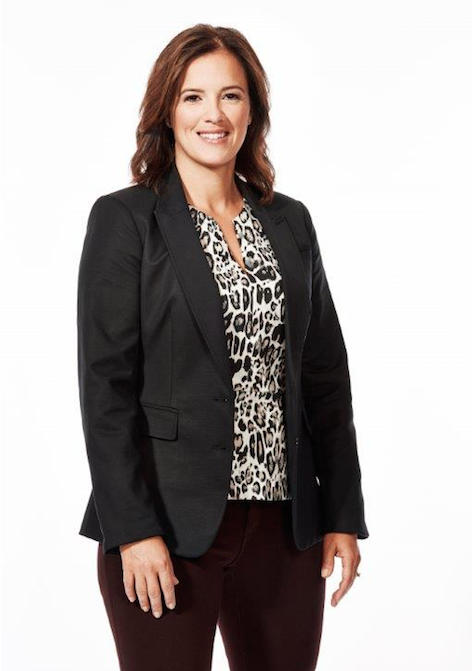 She also received the Order of Hockey in Canada and was honored with the Canadian Women's Hockey League Humanitarian of the Year Award by Canadian Prime minister Stephen Harper in 2012.
On June 30, 2016, Campbell was elected as a member of the Order of Canada by Governor General David Johnston for "contributions to Canadian women's hockey as a player, broadcaster, and role model."
In her honor city of Brampton celebrated the opening of a world-class community center and named it after their hometown hero, a three-time Olympian, Cassie Campbell.
In May 2018, Campbell-Pascall was among four female athletes, including Fran Rider, Jen Kish, and Kerrin Lee-Gartner, who pledged to donate their brains posthumously to a Canadian research Centre.
She pledges to Toronto Western Hospital's Canadian Concussion Centre for additional investigation on the result of trauma in women's minds.
Besides, for her personal interests, Cassie is a big-time foodie and loves Sushi, Pizza with pepperoni, green peppers, feta, and McDonald's cheeseburgers without pickles or onions.
Controversy
Cassie Campbell Pascall criticized the 29th premier of Nova Scotia, Iain Rankin, for canceling the Women's World Hockey Championship in 2021, and she asked him to apologize to the players.
According to her, it happened due to Iain Rankin's medical ignorance. However, cassie received a backlash for this criticism.
Social Media
Mrs. Pascall is active on her verified Twitter and Instagram. She often shares her favorite music, friends, family, and outdoor destinations on her social media.
Similarly, we can see all the sports-related updates and opinions on her Twitter, and she gives shoutouts to players, mentors, and friends.
She also has her website, where she has mentioned different things about herself, like her biography, award, and fun FAQs.
Instagram– Cassie Campbell – 14k followers
Twitter – Cassie Campbell-Pascall – 63.8k Followers
View this post on Instagram
In January, Cassie uploaded a eulogy for Hazel McCallion, a Canadian politician and the fifth mayor of Mississauga.
She was elected from 1978 until 2014, making her the longest-serving mayor in the city's history.
Cassie posted it to Instagram on the remorseful day of Hazel's death, January 29, 2023.
Search Graph
Cassie Campbell is a former Canadian ice hockey player who started her career in 1990 and has been shining ever since.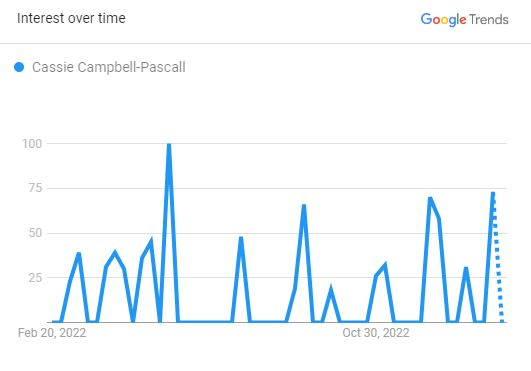 The graph shows Campbell's popularity over the past 12 months.
Frequently Asked Questions (FAQS)
Is Cassie Campbell Pascall pregnant?
Cassie is not pregnant in 2023; her last pregnancy was in 2010 when she welcomed her daughter, Brooke Violet Pascall.
Why did Cassie Campbell criticize Nova Scotia's Premier?
Cassie wanted Iain Rankin, a 29th premier of Nova Scotia, to apologize for the cancellation of the women's world hockey championship. According to her, it was due to Iain's medical protocol ignorance.