Caster Semenya is a professional middle-distance runner who has competed in the Olympics and World Championships.
She won two gold medals at the 2012 and 2016 Olympics. Besides that, she is the recipient of several gold medals.
The athlete is from South Africa and has represented her country in the Olympics and Continental Cup. Furthermore, she has participated in Commonwealth Games.
Likewise, she also ran in African Championship And Games. Semenya has managed to garner huge success in all of the competitions.
Moreover, Caster is one of the best runners, and she was deemed too fast to be a woman.
The doubts about her sex rose when she beat her previous record and made quick improvements. Hence, the IAAF ordered a sex verification test.
The test request came right after she won gold at the 2009 World Championship. Although the request was confidential, some sources leaked the information.
As a result, Caster received an overwhelming amount of media and public attention.
Before getting into details about the gold medalist runner's life and career, here are some quick facts about her.
Quick Facts:
| | |
| --- | --- |
| Full Name | Mokgadi Caster Semenya |
| Birth Date | January 7, 1991 |
| Birth Place | Pietersburg, South Africa |
| Nick Name | Cobra |
| Religion | Christian |
| Nationality | South African |
| Ethnicity | African |
| Education | North-West University |
| Horoscope | Capricorn |
| Father's Name | Dorcus Semenya |
| Mother's Name | Jacob Semenya |
| Siblings | Five |
| Age | Years Old |
| Height | 5 feet 10 inches |
| Weight | 154 lb. (70 kg) |
| Hair Color | Black |
| Eye Color | Brown |
| Build | Athletic |
| Profession | Middle-distance runner |
| Country Representation | South Africa |
| Events | 800 meters, 1500 meters |
| Sexual Orientation | Intersex Cisgender Woman |
| Marital Status | Married |
| Wife | Violet Raseboya |
| Kids | One |
| Net Worth | $2 million |
| Social Media | Instagram, Twitter |
| Merch | The Gentlewoman Magazine Issue 21, The Run For Life – Kindle Edition |
| Last Update | November, 2022 |
Caster Semenya | Early Life, Family, And Education
Caster Semenya, the Olympic gold medalist, was born in Pietersburg, South Africa. Her parents are Dorcus Semenya and Jacob Semenya.
Furthermore, she grew up in a huge and loving family with five siblings. Her parents were very supportive of her career choice since the start.
Moreover, they encouraged her to participate and be involved in sports. The athlete was very active and energetic as a kid.
Hence, she channeled her energy into soccer and other activities. Cobra attended Nthema Secondary School, where she played soccer.
The runner was the only girl on the school's soccer team. Nevertheless, it didn't stop her from playing and doing as her heart said.
Besides that, kids in the school often teased her for her muscular physique. Many people in the school, including the headmaster, thought that she was a boy.
However, she didn't let the negativity get to her and kept exploring her potential. The gold medalist often describes herself as a fearless kid.
After completing her high school education, Caster joined a public college, the University of North West, to pursue sports science.
You Might Be Interested In Track And Field Sprinter:<<Christian Coleman Bio: Net Worth, Speed, Nike & Olympics >>
Caster Semenya | Age, Height, And Weight
The distance runner recently turned 31 years old on January 7, 2022.
As an athlete, she is very energetic and quite conscious about her diet and health.
Caster is widely believed to be an intersex athlete meaning having both the sex. She is born as a female having XY chromosomes and naturally has higher testosterone levels.
Hence, she works out and trains daily. As a result, the athlete leads a healthy life. Furthermore, she is 5 feet 10 inches tall and weighs 154 lbs, i.e., 70 kgs.
Caster Semenya | Track And Field Career
Initial Career
The athlete started her career when she was 17 years old. She competed in the 2008 World Junior Championships.
However, the runner failed to qualify for the event. Nevertheless, she won a gold medal at the 2008 Commonwealth Youth Games.
The following year, the gold medalist improved her time and became faster than ever.
She won several events and broke records at the African Junior Championships. Besides that, Caster won a gold medal at the World Championships.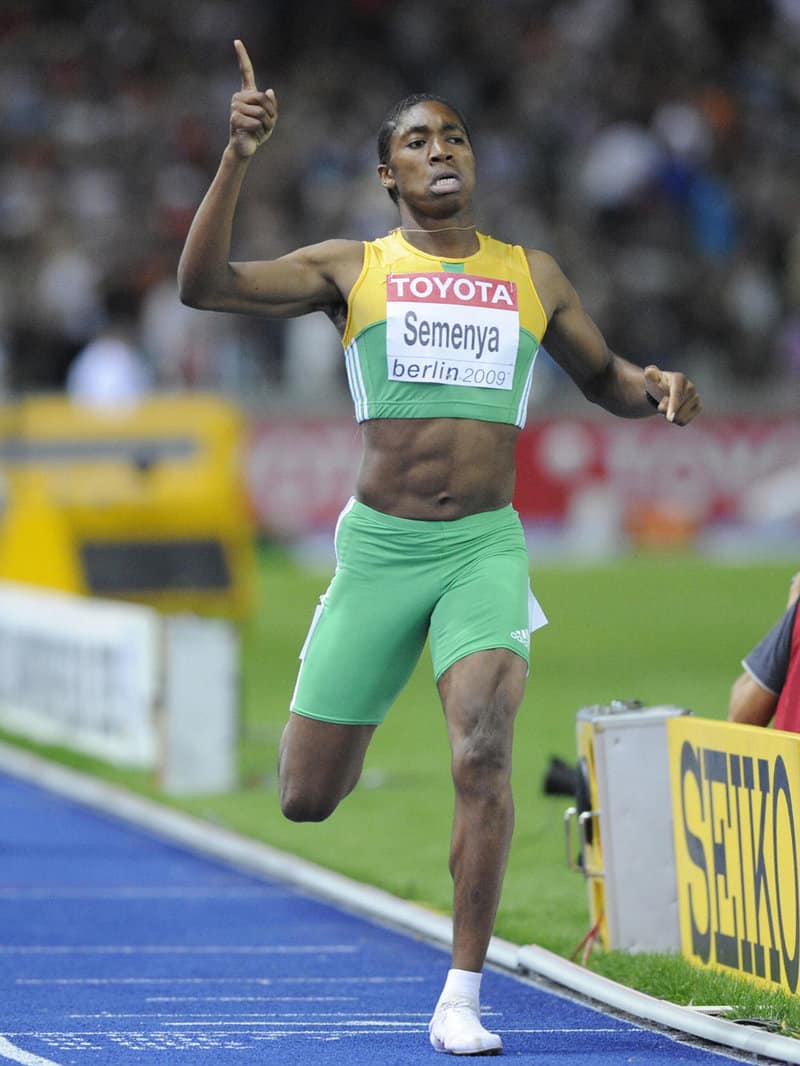 With the win, the South African had the fastest time in the 800m race. Furthermore, a popular sports magazine voted Semenya the Number One Women's800-metre runner.
Her quick improvements led officials to do a drug test. Nonetheless, when the drug test came negative, IAAF requested the runner to do a sex verification test.
As a result, she had a slow start in 2010. She also missed the Commonwealth Games due to injuries.
Correspondingly, Semenya maintained a low profile in the 2011 World Championships.
She finished second in the finals. But the officials banned the winner Mariya Savinova for doping and handed her gold medal to Cobra.
Don't Forget To Check Out, Top 35 Allyson Felix Quotes Gold Medalist Sprinter.
Olympic Win And Gold Medals
The runner represented her country in the 2012 Summer Olympics. Initially, she won a silver medal for her country after losing to Savinova.
But as the CAS disqualified the Russian athlete for drug violations, Semenya was awarded the gold medal. The athlete came back stronger and better in the 2016 season.
Moreover, Cobra became the only person to win the 400 m, 800 m, and 1500 m races at the South African National Championships.
She also won the gold for her country in the 2016 Rio Olympics. Furthermore, she won gold and bronze in the 2017 World Championship.
Her progress led officials to believe her wins weren't fair. She had high testosterone levels, so many thought it played a factor in her victories.
Caster returned to the 2018 World Championship following some ongoing legal battles. The runner won gold at both the 800 m and 1500 m races.
Correspondingly she also won gold medals at the African Championship and the Continental Cup.
As per IAAF's new rules, she wasn't allowed to compete with her high testosterone levels. Hence, she joined the South African SAFA Sasol Women's League.
Semenya competed in the 200 m race at the 2020 Tokyo Olympics after being banned from the 400 m to one-mile race.
Caster Semenya | Gender Testing
In 2009, the elite player won the 800m race in the World Championship. She beat her personal best by four seconds in a month.
Due to her quick improvements, doubts regarding her sex surfaced. Amidst all the rumors and speculations, the IAAF demanded a sex verification test.
On top of that, the runner's physical attributes didn't help her. The test request was supposed to be confidential.
However, a leak led the public to have access to some of her results and medical records.
Furthermore, the breach of confidentiality resulted in several inconsiderate reactions and comments.
Moreover, the Athletics South Africa president admitted to keeping Semenya in the dark.
She had no idea about the motive behind the tests. Besides that, many people called out the IAAF on its racist and sexist behavior.
The test wouldn't have been conducted on a male athlete who had made rapid improvements. To explain themselves, the IAAF said it didn't speculate Caster of cheating.
Instead, they wanted to check whether she had a "rare medical condition" that gave her an "unfair advantage."
Under the sports minister's counsel, the gold medalist received free legal advice from the Dewey & LeBoeuf law firm.
Learn More About Olympic Winning Athlete: <<Mary Lou Retton Bio: Olympics, Gold Medal, Net Worth & Kids>>
Caster Semenya | Controversy, Testosterone Rules, And Legal Battle
In 2014, the IAAF suspended an Indian athlete Dutee Chand. They stated that her hyperandrogenism condition made her ineligible to compete as a female athlete.
Likewise, they also suggested to lower the testosterone levels with birth control pills, hormone shots, or surgery.
Nevertheless, Chand appealed to the Court of Arbitration for Sport. As a result, CAS allowed her to compete, citing a lack of evidence.
They also suspended IAAF's hyperandrogenism or high natural levels of testosterone policy.
Besides that, they gave IAAF 2 years to provide evidence that testosterone increased female athletic performance.
In 2018, the organization announced "differences of sex development." The rule would mandate women with hyperandrogenism or high testosterone levels to take medications to lower it.
There were very few athletes to whom the rule affected. So, there were talks that the IAAF made the rule to attack Semenya.
The gold medalist appealed the decision in CAS and the Federal Supreme Court of Switzerland.
However, they favored IAAF's policy despite acknowledging that it's discriminatory.
Nonetheless, Caster hasn't given up hope and announced that she would appeal to the European Court of Human Rights.
Upon IAAF's instruction, she had taken birth control pills to lower her testosterone level. But the pills made her sick and caused fevers.
Furthermore, she elaborated on how it affected her confidence and self-esteem.
Cobra also stated that she would walk away if she has to. Moreover, the athlete reflected upon the bigotry and sexism.
She explained how when a man performs higher, he is praised, but a woman is considered a problem.
Caster Semenya | Marriage, Wife, And Child
Cobra is married to Violet Raseboya. She is an athlete and runner like her wife. Besides that, she is also from South Africa.
Initially, the couple had their first interaction in 2007 at a restroom. Semenya was being escorted by doping officials when Raseboya mistook her for a boy.
Moreover, she questioned the officials why is a boy in a female restroom. The gold medalist immediately took offense and replied that she was not a boy.
Their short and heated argument turned into love pretty quickly. However, Violet was not ready to accept that she was attracted to women.
She was confused as she had previously dated a boy. Despite the confusion, she couldn't hide the fact that she had feelings for Caster.
Hence, as love is love and sees no gender, the two emerged as a couple. They received a lot of criticism and scrutiny for their relationship.
Nevertheless, they continued to cross every hurdle hand in hand. Finally, the pair got married in a beautiful ceremony in 2015.
The couple also had a luxurious second wedding in 2017. Furthermore, the two-time gold medalist and her wife have been pretty open about having children.
Semenya grew up in a large family with four siblings. So, at the very least, she wants to have three children.
The athlete has also expressed how she'd love to have twins as Raseboya is a twin.
Eventually, the two announced their pregnancy through social media. Currently, they are the parents of an adorable little girl.
Caster Semenya | Net Worth And Salary
The gold medalist has earned most of her wealth by participating in events. Although her net worth estimation is $2 million, many sources claim it to be higher.
Besides that, the queen of 800m races is trendy and is well-sponsored by reputed companies. Popular sports apparel brand Adidas used to sponsor her.
Currently, Nike endorses the dominant face of the track and field world. Moreover, Wiphold Investment Trust proudly sponsors Semenya.
She is also powered by the Bridgestone & Discovery company. Furthermore, she is the founder of the Caster Semenya Foundation.
Not to mention, in 2009, the Limpopo government awarded Semenya and her family a house to honor her achievements.
>> Top 63 Caster Semenya Quotes <<
Social Media Presence:
The runner is active on various social media platforms. Being one of the most elite faces in the sports world, she has a huge fan base.
Hence, she has an Instagram account with 215k followers. She usually posts about running and track. Moreover, the runner has several photos in her running apparel.
Furthermore, the athlete blesses her fans with a lot of inspirational messages.
She recently celebrated her sixth anniversary with her wife, Violet Raseboya. Cobra also shares adorable photos with her wife and beautiful daughter.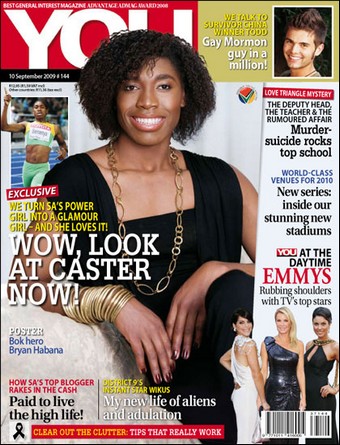 Besides that, the gold medalist is on Twitter with 407.6k followers. She is relatively more active on her Twitter account.
Caster mostly tweets sports and running-related news through her platform. She also promotes Nike and her other sponsors.
She is a very dominant figure in track and field. Hence, she is photographed at several functions and events.
On top of that, many celebrities and well-known athletes follow her. Some of them are NBA player LeBron James and singer Justin Beiber following her.
Some FAQs:
Is Caster Semenya still running?
Yes, the athlete is still running. However, as she refuses to take medications to lower her natural testosterone levels, she can't compete in the 400m to one-mile race.
Recently, she ran in the 200 m race at the Tokyo Olympics. However, Semenya is currently fighting against the IAAF's 2018 testosterone rule and isn't running as much as usual.
Is Caster Semenya's documentary available on Youtube?
Yes, you can find the athlete's documentary on Youtube.
Does Caster Semenya have a child?
Yes, the runner welcomed a daughter with her wife Violet earlier in 2020. The couple hasn't revealed their daughter's name and face for privacy reasons.
Is Caster Semenya's wife pregnant?
Yes, Caster Semenya's wife, Violet Raseboya, is pregnant with baby number two. The couple shared the exciting news on social media, saying.
"Ten little fingers, ten little toes. With love and grace, our family grows. This precious soul that God decided to bless us with. We all can't wait to meet YOU!"
How many times did Caster Semenya win gold?
Caster Semenya is a two-time women's 800m Olympic champion, a three-time 800m world champion, and a double Commonwealth Games middle distance gold medallist.
When did Caster Semenya have her make-over?
In 2009, Catster Semenya had her makeover as a cover girl for a photoshoot for You magazine which is a popular South African magazine.