Chance Rencountre is a 35-year-old professional mixed martial artist. With seven years of experience at present, he fights in the Ultimate Fighting Championship in the welterweight division.
In the past, he also competed in different MMA promotion companies before making his way to UFC. Likewise, as of 2021, Chance's MMA record is 18-4-0.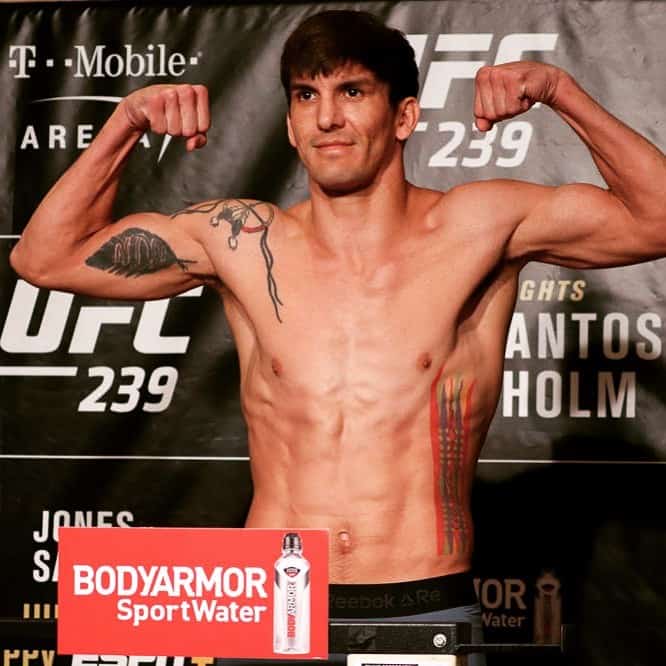 Not to mention, Chance is the first and only member of the Osage tribe to fight in UFC. So, he is always doing his best to make the tribe proud at the highest level.
Before going on his professional MMA journey, let's look at some quick facts.
Quicks Facts
| | |
| --- | --- |
| Name | Chance Eugene Duke Rencountre |
| Date of Birth | December 31, 1986 |
| Birth Place | Pawhuska, Oklahoma, USA |
| Nick Name | Black Eagle |
| Age | 36 Years Old |
| Gender | Male |
| Religion | Unknown |
| Nationality | American |
| Ethnicity | White |
| Horoscope | Capricon |
| Education | Pawhuska High School (High School) |
| Body Measurement | Unknown |
| Height | 6'2″ (1.88 m) |
| Weight | 77 kgs (170 lbs) |
| Body Mass Index (BMI) | 21.8 |
| Build | Athletic |
| Reach | 74 inches (188 cm) |
| Shoe size | Unavailable |
| Hair Colour | Black |
| Eye Colour | Black |
| Tattoo | Yes |
| Father Name | Unknown |
| Mother Name | Connie Rencountre |
| Siblings | Alexis Rencountre (Sister) |
| Girlfriend | Katie Marie |
| Children | Daughter (Suri) |
| Profession | Mixed martial artist (MMA) |
| Category | Welterweight |
| Ranking | Unknown |
| Awards and achievement | unavailable |
| Team | Alliance MMA |
| Fighting Style | Striker |
| Stance | South Paw |
| UFC Merch | Gloves, Shorts, Hoodie |
| Professional debut | 2016 |
| UFC debut | July 1, 2018 |
| MMA record | 16-4-0 (Wins- Loss- No Contest) |
| Association | Ultimate Fighting Championship |
| Net worth | Unknown |
| Social media | Instagram, Twitter |
| Last Update | November, 2023 |
Chance Rencountre | Early Life & Family
Chance Rencountre was born on December 31, 1986, in Pawhuska, Oklahoma. A single mom, Connie Rencountre, raised him.
Likewise, Chance's mom used to work three jobs to support her children. Aside from his mother, Rencountre has a sister named Alexis Rencountre. She is now the election supervisor of Osage Nation.
As for his love life, the UFc fighter has a girlfriend named Katie Marie. They have a daughter named Suri Marie, who is eight years old.
Indeed, the apple of his eyes, Chance always says his daughter is his biggest motivation to fight well. The reason is the desire to provide her with the opportunities that he couldn't get in his childhood.
Chance Rencountre | Age, Horoscope, and Body Measurement
As we know, Rencountre is in the late stage of his MMA career. He is [calculate years datestring="12/31/1986″] Years Old with an amazing built-up body. According to the horoscope chart, Chance is Libra.
The American-born has a tall height standing at 6 feet 2 inches (1.88 m). Similarly, his weight is 77 kgs (170 lbs). Because of his size, Chance has an outstanding reach of 75 inches.
Read Also: Daron Cruickshank: Family, MMA, Eye Injury & Net Worth >>
Chance Rencountre | Nickname and Flag
Many might not know this, but Chance Rencountre has native American background. He came from the small reservation town of Osage Nation.
In an interview, Chance stated that his nickname came from his native name. Also, his tribal name 'Wah-Zhi-Zha-Pe,' roughly translates to the black part of the eagle.
So, his elder suggested he be named 'Black Eagle' and carry warrior spirit as per the name.
To pay homage to the Osage Nation, Chance carries their flag during fights. In every UFC fight, he took the Osage flag wrapped around his shoulder while entering the ring.
Moreover, Chance says that he wants to influence his nation's youths and make the Osage nation proud in the biggest stages.
As expected, the people of the Osage nation are Chance's biggest supporters.
They always reach out to Chance after returning home after a fight, whether he wins, loses, or draws. He also believes fighting in UFC has given him respect and praise from everybody in town.
Chance Rencountre | Education and Wrestling
In his childhood, Chance used to compete in wrestling. Chance mentions he got his work ethic from his mom. In 2005 he completed his high school at Pawhuska High School.
Later from 2005 to 2008, he attended Labette Community College. In 2008, Chance was named the 2008 Wrestling All-American and also Academic National Champion. He is the first and only native American to receive that honor.
In 2009 Chance took a year off and, later on a wrestling scholarship, joined Fort Hays State University. He ranked 8th in the country and 1st in Mid American Intercollegiate Athletic Association in his final year.
Unfortunately, then he got into a legal problem in defending his friend. So, he left college to fight professionally in MMA.
Bubba Jenkins Bio: Early Career, Bellator MMA & Net Worth >>
Chance Rencountre | MMA Career
Amateur Career
In 2011 Chance did training with the best UFC fighters before his professional debut. In his early career, he struggled with money.
To make it worse, Rencontre was not getting any sponsorship deals. Thankfully, Chance was helped by his aunt and the Osage Nation Executive Branch to fund his training in California.
7-0 Winning Start
For his professional debut, Chance signed with Rhino Fighting Championship. On March 8, he faced Wesley Sullivan. There, he won his first-ever fight by unanimous decision.
Later on August 30, 2013, he met Jason Witt in Titan Fighting Championship. Rencontre won the contest by TKO in the second round.
Chance fought his next two fights and got C3 FIghts. Firstly, on October 12, 2013, Chance faced Rashid Abdullah in C3 Fights.
He won the fight by KO in the first round only. Next, on February 8, 2014, Chance defeated Joe Brewer by KO in the first round.
Now a bonafide fighter, Chance later faced Zack Kelly in Oklahoma Fighting Championship on November 22, 2014. He defeated Kelly in the second round by TKO.
For his next fight, on January 24, 2015, he faced Mike Jackson. This was also his first main event fight. He won the fight by unanimous decision.
Later on, in Legend Fights, he fought Andrew Parker on July 24, 2015. he won the fight in the first round by TKO. The win against Andrew was the last win of his impressive 7-0 run since his debut.
First Defeat
Chance suffered his first defeat on September 24, 2015, against James Nakashima in Ressurection Fighting Alliance (RFA). He lost the fight by unanimous decision.
However, in the next fight on December 5, 2015, Chance defeated Joe Heiland. He won the fight by unanimous decision.
First Bellator MMA Contract
For his impressive performance, Chance drew the attention of Bellator MMA. Later, on January 22, 2016, Chance signed his first promotional contract with Bellator MMA to feature in Bellator 151.
In his promotional debut fight, he faced Justin Patterson on March 4, 2016. He lost the fight by a split decision.
However, Chance won his second fight on January 27, 2017. He faced Jake Lindsley and defeated him by a split decision.
First Title
On April 1, 2017, Chance won his first-ever title. He defeated Brain Monaghan in DCS33: Spring Brawl 2017 main event by TKO to crown DCS Welterweight Championship.
In the next fight, he fought in Bellator 184 against Justin Patterson on October 6, 2017. It was his rematch, and this time he won by submission in the first round.
In the next fight, he got another title shot against Chris Harris on February 10, 2018, for the C3 Fights Welterweight Championship. He won the fight by rear-naked choke submission in the first round.
UFC Career
Chance made his UFC debut on June 1, 2018, at UFC Fight Night: Riveria vs. Moraes. He faced Belal Muhammad coming as a late substitute replacing Niko Price. Unfortunately, he lost the match by unanimous decision.
On UFC Fight Night: Cejudo Vs. Dillashaw Chance was expected to fight against Randy Brown.
But Randy pulled out a few weeks before the event. Dwight Grant was soon announced as a replacement, but an eye issue made him unclear for a fight.
Later, on January 19, 2018, he faced newcomer Kyle Stewart. He won the fight in the first round by a rear-naked choke.
In UFC 239 preliminary action on July 6, 2019, two welterweight prospects, Chance Rencountre and Ismail Naurdeiv, faced off. Chance was coming from his first win and had a good opportunity to show his potential.
Sure enough, he won the fight by unanimous decision. Chance's win over Ismail moved him up 47 rankings in a welterweight division.
No More Part-Time Jobs
It's sad but true that low-paid professional MMA fighters have to work a second job to support their family and livelihood. Until UFC 244, even Chance had an additional job. He used to work in the day and train at night.
Before, he worked in strength and conditioning work in Alliance MMA (home gym) while working in the sandwich shop, making meat during the morning.
On November 2, 2019, Chance faced Lyman Good at UFC 244. He lost the fight by TKO in the third round. This was his last appearance in UFC.
Release
On March 19, 2020, Chance was released from UFC. In the interview, Chance stated that he talked for a contract extension, but UFC didn't renew his contract despite winning two of his last three fights.
Furthermore, the fighter also mentioned how he wants to make UFC return in the future. Overall, Chance has a record of 2-2 in his UFC career.
Chance Rencountre | Social Media and Net Worth
Despite the fame, Chance Rencountre does not have a huge following on his social media. But he is active on these platforms.
On Instagram, he has around 3.8k followers. He usually posts photos and videos of fighting and workout on his social media.
The exact salary and net worth of Chance Rencountre are not known. The salary contract in UFC changes according to the event. However, in 2019, he earned $43,000 from his UFC fight contract.
His highest-earning in one fight came from his fight against Ismail Naurdeiv. After a fight, he earned $28,000, including a $14000 bonus for the win.
Rencontre also receives a prize amount for every fight from UFC, and in UFC 244 event, he earned his highest $4,000.
After his UFC career rise, many brands have sponsored him. He currently represents Alliance MMA and is endorsed by Coin Construction and Iridium Sports Agency.
Lena Ovchynnikova Bio: Husband, Kickboxing & Next Fight >>
Frequently Asked Questions
When did Chance Rencountre make his UFC debut?
Chance Rencountre made his UFC debut on June 1, 2018, against Belal Muhammad. Unfortunately, Chance lost the fight by unanimous decision.
When is Chance Rencountre's next fight?
At the moment, Chance Rencountre is a free agent. He is yet to sign a contract with the MMA promotion company. He made his last fight appearance against Ismail Naurdeiv at UFC 239.
What is Chance Rencountre's MMA record?
Chance Rencountre has played a total of twenty games on the MMA ring. Among them, he has had sixteen wins (six by knockout, five by submission, and five by decision) and four losses (one by knockout and three by decisions).