Bubba Jenkins, aka Bad Man, is 34 years old professional Mixed Martial Artist. In college, he competed in wrestling before making the transition to wrestling.
At present, Jenkins competes in Professional Fighters League under the Featherweight division. He has already fought in Bellator MMA, Absolute Championship Berkut, and Brave Combat Federation.
As of 2021, his MMA record stands 14-4-0. To know more about Jenkins's journey from wrestling to MMA, stay with us.
Quick Facts
Name
Bubba Jenkins
Date of Birth
February 5, 1988
Birth Place
Frankfurt, Germany
Nick Name
Bad Man
Age
35 Years Old
Gender
Male
Religion
Unknown
Nationality
American
Ethnicity
Unknown
Horoscope
Aquarius
Education
High School: Cox High School, First Colonial High School, and College: Pennsylvania State University, Arizona State University
Body Measurement
Unknown
Height
5 ft 7 inches (1.70 m)
Weight
66 kgs (145 lbs)
Body Mass Index (BMI)
22.7
Build
Muscular
Reach
70 inches
Shoe size
Unavailable
Hair Colour
Black
Eye Colour
Black
Tattoo
Yes
Father Name
Carmelo Jenkins
Mother Name
Teresa Otero
Siblings
Brother (Eric Brown) and Sister (Unique Jenkins)
Marital Status
Married
Wife
Jesse Jenkins
Children
Jream Jenkins (son) & Jade Jenkins (daughter)
Profession
Mixed martial artist (MMA)
Category
Feather Weight / Light Weight
Ranking
Unknown
Team
Kings MMA & Blackhouse MMA
Style
Wrestling
Stance
South Paw
Professional debut
2011
MMA record
14-4-0(Wins- Loss- No Contest)
Association
Professional Fighters League
Salary
Under review
Net worth
$600,000
Social media
Instagram @bubba_jenkins
Twitter @Bubba Jenkins
MMA Merch
Shin Guards, Shorts
Last Update
June, 2023
Bubba Jenkins | Family and Personal Life
Bubba Jenkins was born on February 5, 1988, in Frankfurt, Germany. He was born to a father, Carmelo Jenkins, and mother, Teresa Otero. He also has two siblings, Eric Brown, his brother, and Unique Jenkins, his sister.
Likewise, Jenkins started wrestling at the age of 9. He always engaged in fights, so his mother joined him in wrestling practice.
It came as no surprise as his father, uncles, and cousins also used to wrestle. Hence, Jenkins was inspired and motivated by his family members to be a better wrestler.
As for his personal life, Jenkins is married now. The stellar MMA fighter is married to his beautiful wife, Jesse Jenkins. Similarly, the lovely couple has two children together. They are named Jream and Jade.
Bubba Jenkins | Body Measurement
Being an MMA fighter, Jenkins has a fantastic muscular body. He trains hard to maintain his body ready for a fight.
Similarly, Bubba stands at 5 ft 7 inches (1.70m) and weighs around 66 kgs (145 lbs). Also, he has an amazing reach of 70 inches.
However, anything apart from this, like his biceps and body measurements, is unknown as of now.
Read Also: Daron Cruickshank: Family, MMA, Eye Injury & Net Worth >>
Bubba Jenkins | Wrestling Career
High School
Talking about his early school life, Bubba Jenkins transferred to First Colonial High School in his senior year from Cox High School.
Amateur Wrestling News and Intermat ranked Jenkins top at the 145-pound wrestling category. During his senior year, Jenkins won many awards and accomplishments.
Jenkins was also voted Outstanding Wrestler in the 2005 Beast of the East Championship. Likewise, he also won VSH and NHSCA championships, where Bubba dominated the whole tournament.
College
After his graduation in 2006, Jenkins committed to Pennsylvania State University. Similarly, he joined their wrestling program Penn State Nittany Lions.
Freshman Year
In Jenkin's freshman season, he competed in the 157lbs category. During the regular season, he went 23-12.
Later, in the Big Ten Championship, he recorded 3-3 and secured 6th seed. In his first attempt, only he went to Nationals.
During the NCCA championship, Jenkins ended the tournament with a 1-2 record. In the first match, he defeated Michael chandler of Missouri with a 15-3 major. But in the next two matches, he lost against James Strouse and Seth Martin.
Junior World Championship
In 2007 Jenkins won a gold medal for the USA in Junior World Championship held in Beijing under the 66kg category.
Sophomore Season
During the sophomore season, Jenkins competed in the 149 lbs category. At the Big Ten championship, he recorded 2-2 as 5th seed. He defeated Ohio State Lance Plamer twice before losing to Brent Metcalf and Josh Churella.
In the NCAA championship, Jenkin's 6th seed became the second-lowest seed to compete in the final. On the way to the last, he defeated No.11, No.3, and No seven before losing to No.1 Brent Metcalf.
In Jenkins's new category, he went 4-1 in nationals and became the 2008 NCAA runner-up.
Injury
During Jenkins's junior season, the German-born went undefeated in the regular season. He concluded the season with 22-0.
At Big Ten Tournament, Jenkins won two matches against Nick Walpole and Andrew Nadhir to reach the finals.
But sadly, in the finals, he got injured and forfeited, securing runner-up place. Jenkin's back problem also kept him out of the 2009-10 season too.
NCAA Champion
Following his rocky season, Jenkins, in his final year, transferred to Arizona State University.
The teaching style of the new head coach Sanderson was stated as his reason behind the transfer. After that, he competed in 157 lbs.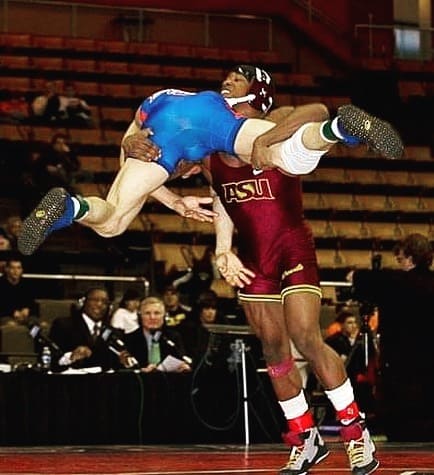 Finally, in Jenkins's senior season, he won the NCAA title. On-road to the championship Jenkins defeated unbeaten Nittany Lion by pinning.
Likewise, in the finals, he defeated future World Champion David Taylor, Pennsylvania State University. Overall, Jenkins ended his college career with a 73-21 record and 2 ALL-American Honor.
Bubba Jenkins | MMA Career
Professional Debut
It is a fact that Bubba is a strong contender when it comes to MMA. However, Jenkins transitioned to MMA from wrestling only after college.
In 2011 he signed the first professional contract with Tachai Palace Fight. Later, Jenkins revealed the reason why he chose MMA. He said,
"I chose MMA because MMA makes me the athlete that I am."
Similarly, on December 2, 2011, Bubba Jenkins made his professional debut against Josh Williams in Tachai Palace fights. He defeated Josh in the first round by submission.
Resurrection Fighting Alliance
Later Jenkins signed six-fight deals with the Resurrection Fighting Federation. On June 20, 2012, he made his debut RFA debut against Jesus Adame.
Moreover, Bubba defeated Adams in the first round through submission. Also, he only competed in a single fight for RFA.
Bellator MMA
On May 31, 2013, Jenkins signed a long-term deal with Bellator MMA. During his debut on July 31, 2013, he faced Mike Barreras. In the second round, he won the fight by submission.
First Professional Defeat
On September 20, 2013, Jenkins suffered his first-ever professional MMA defeat. There he lost against Burley in the third round by TKO.
Later he bounced back from his first defeat and won against Ian Rammel on November 22, 2013. He defeated Ian in the third round by TKO.
Likewise, in the next fight, he faced Sean Powers on March 28, 2014. Jenkins won the contest by unanimous decision.
On July 25, 2015, the German fighter won against Poppies Martinez by TKO in the first round. Later, on September 26, 2014, he defeated Thiago Meller by unanimous decision.
Feather Weight
For the next fight, Jenkins decided to compete in the featherweight division. On January 16, 2015, in Jenkins's first fight as a featherweight, he faced WSOF Feather Weight Champion Georgi Karakhanyan.
But sadly, Bubba lost the fight in the first round by submission. His four-fight winning streak also ended.
Later, Jenkins started his three-fight winning streak. For his first win, Jenkins defeated Joe Wilk on July 26, 2015, by TKO. Next, on November 27, 2015, he defeated Jordan Parsons by a split decision.
Likewise, in the last win of his streak, Jenkins defeated Goiti Yamauchi on March 4, 2016. He won the fight by unanimous decision.
On August 26, 2016, Jenkins got his rematch against Georgi Karakhanyan. During weigh-ins, Georgi failed to make 150lbs, so later, Jenkins decided to increase his weight. But he lost the fight through knockout in the first round only.
Release from Bellator MMA
There was news circulating that the new management of Scott Coker didn't like Jenkins's wrestling style.
Jenkins, in an interview, stated his relationship with Bellator went wrong after new management. He further mentioned he was facing problems in the process of matchmaking also in public presentations.
On February 14, 2017, Jenkins was released by Bellator MMA. Just like that, his career in Bellator ended with an 8-3 record.
Watch the match between Bubba Jenkins and Darrion Caldwell. Click to follow!
Absolute Championship Berkut
Bubba Jenkins signed with Russian MMA promotion company Absolute Championship Berkut (ACB) after being a free agent.
In his debut, he fought Ali Bagov on March 11, 2017. He lost his debut fight by submission in the second round.
Later, on September 23, 2017, he registered his first win in ACB with a victory over Diego Maron. he won the fight in the third round by knockout.
Brave Combat Federation
On July 27, 2018, Jenkins signed a multi-fight contract with the rising global promotion company Brave Combat Federation (BCF).
First Title
In his BCF debut, he got a title shot against reigning featherweight champion Elias Boudegzdame on September 21, 2018. He won the fight by unanimous decision and became the new BCF Champion.
On July 25, 2019, Jenkins faced Lucas Martins. His first title defense was a main-event fight held in London. Likewise, Bubba won the contest by TKO in the first round and successfully defended his title.
Professional Fighters League
In March 2020, Jenkins agreed with Professional Fighters League. Jenkins will feature in the new season of PFL, which is set to return in April 2021.
Bobby Jenkins mentioned he is excited for the opportunity to fight in America again. He competed in a foreign land after leaving Bellator MMA.
Read Also: Miyuu Yamamoto: Early Life, Husband & MMA >>
Bubba Jenkins | Social Media and Net Worth
Bubba Jenkins is quite active on social media platforms. He has already gained 21k and 9.4k followers on Instagram and Twitter, respectively.
On social media, he usually posts photos and videos of his lifestyle, having fun with children, and workouts.
The salary details of Bubba Jenkins in PFL are not revealed to the public. But it is estimated that in Bellator MMA, he used to earn a base salary of $14000 excluding bonuses.
According to various sources, Jenkins has a net worth of around $6,00,000.
Jenkins also has endorsement deals with many brands. His main sponsor is Athletic BD. Likewise, some of the other sponsors are brave energy drink, Turtle Beach, etc.
Additionally, he had also conducted Bubba Jenkins Super Duck Sunkist Kids Camp back in 2010. Well, he had portrayed a step-by-step process regarding fights.
Frequently Asked Questions
Who won the match between Bubba Jenkins and Bobby Moffett? Who won between Bubba Jenkins and Lance Palmer?
Well, Bubba Jenkins won the match against Bobby Moffett in June 2021 through unanimous decision.
As for his June match in 2021, Bubba Jenkins defeated Lance Palmer during their match in Atlantic City, New Jersey, USA, via unanimous decision.
What is the match between Bubba Jenkins and Jason Nolf?
Well, the featured match between NCAA champion Bubba Jenkins and three-time NCAA champion Jason Nolf capped another excellent night of wrestling. During their match, Nolf scored an early takedown to lead 2-0 with a pair of takedowns.
What is the net worth of Bubba Jenkins?
The estimated net worth of Bubba Jenkins is around $6,00,000.