Daron Cruickshank, aka The Detroit Superstar, is a 36 years old American Professional Mixed martial artist (MMA) fighter. At present, Daron competes in RIZIN Fighting Federation under the lightweight category.
Daron debuted in 2008 and has already contested for the Ultimate Fighting Championship (UFC), King of the cage, and The Ultimate Fighter. Since 2013 Daron started to represent his own owned team known as Michigan Top Team.
Likewise, along with fighting, Daron is also a dog and gun lover who like to hang out with dogs and do some shooting training as part of daily life.
Stick to know more about Daron's life and incredible professional journey. But first, let's look at his quick facts.
Quick Facts
Name
Daron Jae Cruickshank
Date of Birth
11/06/1985
Birth Place
Westland, Michigan, USA
Nick Name
The Detroit Superstar
Age
37 Years Old
Gender
Male
Religion
Un known
Nationality
American
Ethnicity
White
Horoscope
Gemini
Education
Olivet College (Bachelor in Fitness Management)
Body Measurement
Unknown
Height
5 ft 8 inches (176cm)
Weight
71 kgs (156 lbs)
Body Mass Index (BMI)
23.7
Build
Athletic
Reach
72 inches
Shoe size
Unavailable
Hair Colour
Light brown
Eye Colour
Gray
Tattoo
No
Father Name
Dean Cruickshank
Mother Name
Deborah Hamblen
Siblings
Sister (name not revealed)
Marital Status
Married
Wife
Malky Cruickshank
Children
Daughter (Nova Cruickshank)
Profession
Mixed martial artist (MMA)
Category
Welterweight (2008-2011) / Light Weight (2011- present)
Ranking
Unknown
Awards and achievement
Unavailable
Team
Michigan Top Team
Style
Taekwondo & Wrestling
Stance
Switch
Professional debut
2008
UFC debut
2012
MMA record
23-13-1 (Wins- Loss- No Contest)
Association
RIZIN Fighting Federation
Net worth
$ 700k – $1 million
Social media
Instagram @daroncruickshank
Twitter @Cruickshank155
YouTube @daron Cruickshank
Last Update
March, 2023
Daron Cruickshank | Early Life and Family
Daron Cruickshank was born on 11 June 1985 in Westland, Michigan, USA. Cruickshank is American by nationality; as of 2021, he is 36 years old.
Cruickshank's Father, Dean Cruickshank (Taekwondo/fourth-degree black belt), and mother, Deborah Hamblen (Kickboxing and boxing), were successful in their respective combat sports.
Likewise, Daron's parents had a dojo, so looking up to his parents, he started his combat sports training at a young age.
"Fighting is a Family business"

Daron Cruickshank
Daron is also a second-degree black belt in Taekwondo. Since eighth grade, he was already competing in swimming and wrestling. Daron also continued wrestling when he went to college.
Education & Wrestling
The name of the middle and high school Daron went to is still unknown, but Daron went to Olivet College for college. There he completed his bachelor's degree in fitness management.
Daron competed in wrestling under 165 weight class and was two times NCAA Division III national qualifier. During his time at college, Daron's overall wrestling record was 25-13.
Daron Cruickshank | Body Measurement
Although at the late stage of his career, Daron has maintained a fine athletic body structure as an MMA fighter. He stands 5ft 8 inches (176 cm) and weighs around 71 kg (156 pounds).
To maintain his impressive physique, Daron trains hard every day. Daron had black colored hair and hazel-colored eye once his mustache was famous all over MMA.
Furthermore, he also has an unparalleled reach of 72 inches.
Read also: Israel Adesanya Bio: Career, Net Worth, Girlfriend & UFC >>
Daron Cruickshank | MMA Career
Amateur
In August 2008, Daron started his MMA journey. He made his debut against Tom Grisham and defeated him through knockout.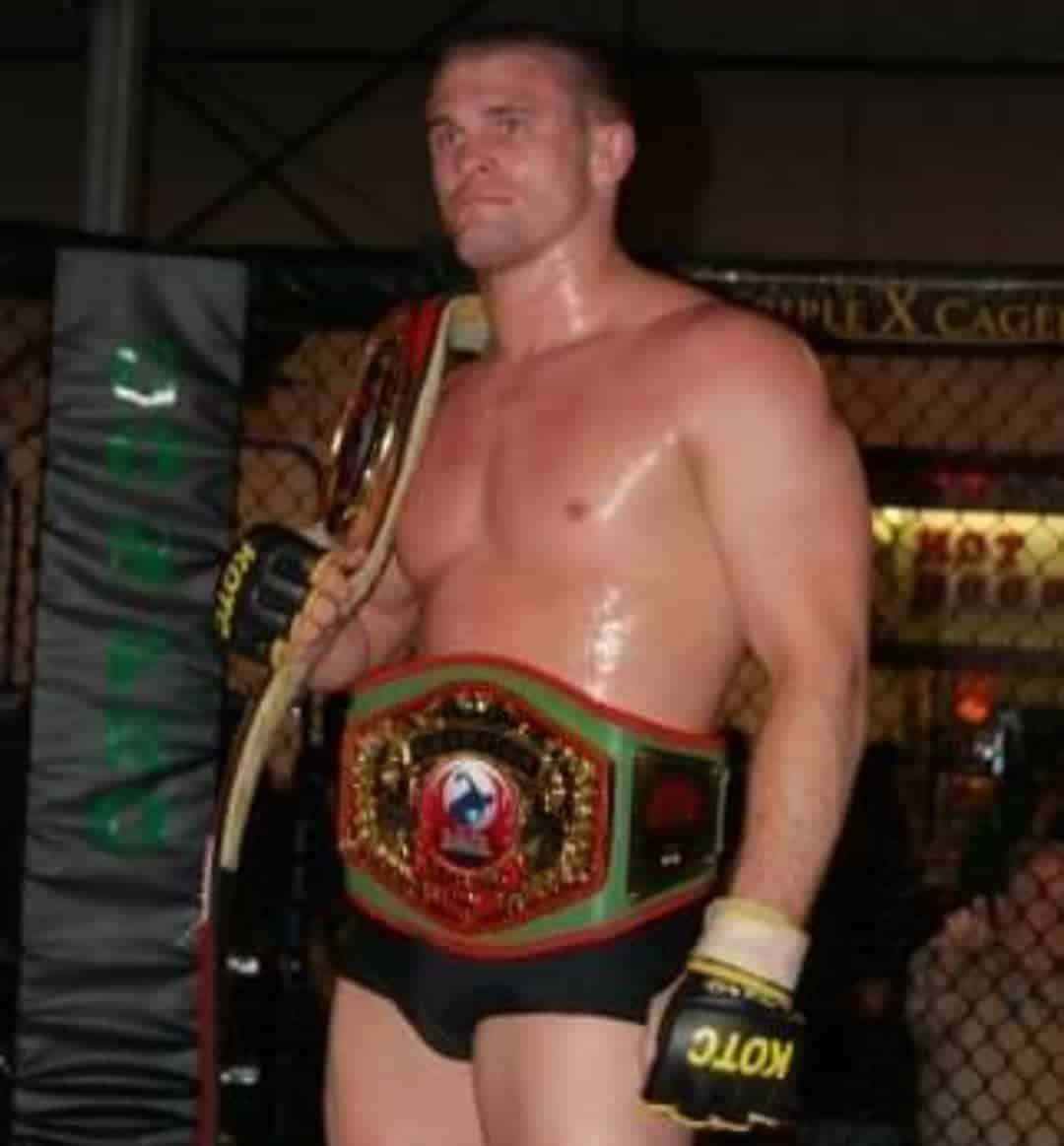 Daron won two titles throughout his amateur career and set an amateur record of 8 wins and 1 loss.
King Of The Cage (KOTC)
Daron made his professional debut in King of the Cage: Strike Point. In his debut, he fought against Rickey Settner and defeated him in the first round via Knockout.
Daron then won his next 5 fights in KOTC and was awarded a title shot. Later at King of the Cage: Imminent Danger, Daron fought against Bobby Green for Junior Welterweight Championship.
But unfortunately, he lost in the second round by guillotine choke. In his last fight at KOTC, Daron won against Anthony Smith via TKO.
Bellator Fighting Championship
Daron announced on July 12, 2011, that he had signed a contract with Bellator Fighting Championship.
Daron was signed to fight in their Summer Series card, which was about to be held on July 23, 2011.
Cruickshank was set to fight against Lithuanian Fighter Sergej Juskevic. However, at the last minute, his fight was scrapped.
The Ultimate Fighter
In March 2012, Daron competed in reality TV series produced by UFC, The Ultimate Fighter: Live. In an elimination fight, Daron fought against Drew Dober and won unanimously.
After that win, Daron could get into The Ultimate Fighter House. Later Urijah Faber picked him as the sixth overall pick for the team.
Although having control of most of the fight, Daron lost to James Vick by knockout in the first match. Later in The Ultimate Fighter 15 finale, he fought against Chris Tickle. Daron defeated Chris with a unanimous decision.
Ultimate Fighting Championship (UFC)
On September 1, 2012, Daron anticipated fighting Henry Martinez at UFC 151. But UFC 151 was canceled, and his match was rescheduled to UFC on Fox on December 8, 2012. He won the fight in the second round with a knockout (Head Kick).
First Injury
At UFC 158 on March 16, 2013, Daron faced John Makdessi and lost by unanimous decision.
In this fight, he badly injured his nose. Daron did surgery in May 2013, and the doctor explained the wound was the worst he had ever seen.
On 27 July 2013, at UFC on Fox 8, Daron fought against Yves Edwards. He was a replacement for injured Spencer Fisher, and in a closely contested fight, Daron won by split decision.
On November 9, 2013, Daron fought against Martins and was defeated by submission in the second round.
However, in the next fight at UFC Fight Night 40, Daron won against Mike Rio by KO on Jan 25, 2014.
Later on, on May 10, 2014, Daron faced Erik Koch at UFC Fight Night 40.
He was considered an underdog in this fight, but Daron beat him in the first round only by TKO after a head kick and punches.
In the next fight on July 26, 2014, Daron fought against Jorge Masvidal at UFC on Fox 12. Daron dropped Jorge by a punch in the first round, but Jorge made a good recovery and won the unanimous decision.
However, in the next fight on October 4, 2014, Daro won against Anthony Njokuani by unanimous decision at UFC Fight Night.
Controversial fight against K.J Noons and Second Injury
Daron fought K.J Noons at The Ultimate Fighter 20 Finale on December 12, 2014. After a closely contested first round, a second-round fight was stopped when Noons poked in the eyes of Cruickshank.
Daron was winning and didn't want to end the fight. But referee John McCarthy ruled out the bout and declared the match No Contest.
It's the only match that ended No Contest throughout his UFC career. After the battle UFC doctor examined him, and Daron did surgery the next day to repair torn duct.
"Such injury is normally seen in dog attacks and auto accidents"

Daron CruickShank in AN Interview
A downfall in UFC Career
At UFC 185, Daron fought against Beneil Driaush on March 12, 2015.
On the first weigh-ins attempt, he missed the weight coming around 157.5 lb. Even after additional time, he could not cut the weight—this time, weighing around 157lb.
Later, Dariush was awarded a fair amount of 20 percent of Daron's purse. In the second round, he lost the fight from submission.
Daron later faced James Krause at UFC on Fox 16 on July 25, 2015, and lost in the first round by submission.
In the next fight at UFC Fight Night 81, he again lost by submission against Paul Felder on January 17, 2016.
Read also: Alexander Volkavonski Bio: Family, MMA, UFC & Net Worth >>
Release from UFC
On March 1, 2016, Daron's UFC contract was terminated after he lost 3 consecutive fights. After 13 overall fights in UFC, his record was 6-6-1 (Wins- Loss- NO).
RIZIN Fighting Federation
After being a free agent in March 2016, it was reported that Daron had signed with RIZIN Fighting Federation.
Then, on April 17, 2016, Daron faced Shinji Sasaki in his debut, winning by TKO via soccer kick in the first round.
For the second fight on September 25, 2016, Daron fought a kickboxer from the Netherlands, Andy Souwer. He registered consecutive victories in the first round via submission from the rear-naked choke.
Daron then lost consecutive matches against Satoru Kitaoka on Dec 29, 2016, and later to Yusuke Yachi on April 16, 2017.
Then Daron made an incredible comeback-setting streak of 4 wins. In his first of four wins, Daron defeated fellow American fighter Alexander Trevino on September 30, 2017. He won the fight through TKO.
He was then followed by wins over Koshi Matsumoto and Tom Santos. For his last victory in RIZIN Fighting Federation on Sep 30, 2018, Daron won against Brazilian Diego Brandao from KO (flying knee).
In Daron's last fight before his initial contract expired, Daron fought against ex-UFC lightweight Damien Brown on Dec 31, 2018.
He lost the fight in the first round via submission, and his winning streak was over.
But later, in May 2019, the RIZIN fighting federation announced that Daron would fight in a Japanese promotion held on June 2.
In this event, Daron fought against Tofiq Musayev and lost the fight unanimously.
Later in his last appearance in RIZIN Fighting Federation, Daron lost against Goiti Yamauchi on Dec 29, 2019. In the first round, he was defeated by submission (rear-naked choke).
Taura MMA
Although Daron was under the RIZIN contract, he could not enter Japan because of the COVID-19 pandemic.
Later Daron signed one fight contract with Taura MMA. On October 30, 2020, Daron made his debut against Deivison Ribeiro and won the fight unanimously.
Controversy
In 2019, Daron struck a controversy when he made a racist comment during his April visit to Japan.
Before his fight in Japan, he had stated in a video that Japanese people eat dogs. Later, after he lost the battle on the weekend, many people got drawn to his particular comment, and they stated his loss to be instant karma of his words.
Daron's comment was inaccurate, as eating dogs is not a part of Japanese culture.
Yet his follow-up posts didn't showcase any sense of regret in his words too.
"Ok, I recently learned that it's not the Japanese that eat dogs. It's the Chinese…" – Daron Cruickshank on Twitter.
Daron Cruickshank | Personal Life
Daron married her long-time girlfriend and former MMA fighter Malky Berlin on 21st June 2018. She has been in every high and low of Daron's fighting career.
Malky holds an amateur record of 2 wins out of 2 and fought last time back in 2015. Like Daron, she also represented team Michigan's Top Team.
Malky is an athletic woman, and her Instagram posts display how amazing Malky is.
Daron and Malky have a one-year-old daughter named Nova. She was born on November 14, 2019. He has shared many pictures with her on Instagram.
Cruickshank also calls himself the German shepherd Father and has given her the same surname, named Banshee Cruickshank.
Daron Cruickshank | Social Media & Net Worth
Daron posts photos and videos of his lifestyle, like gun shooting drills, traveling, and MMA training, on his social media platforms.
He is pretty active on his Instagram than other social media and has already gained over 17.8 k followers.
MMA is not only a combat sport; it's also a money-making sport. Daron's salary contract with RIZIN Fighting Federation is not disclosed yet.
But as per MMA weekly, Daron earned $1,25,000 during his UFC career.
According to several sources, his estimated net worth is between $700k – $1 million.
Most of his income is from his MMA career. Apart from MMA, Daron also owns Michigan Top Team.
Cruickshank also makes money from endorsement deals and sponsorship from brands like Post Guard, Trijicon, Viktos, and many others.
Frequently Asked Questions
What is Daron Cruickshank's net worth?
Daron's exact net worth is not disclosed yet. But according to several online sources, his net worth is expected to be between $700k – $1 million.
What is the MMA record of Daron Cruickshank?
As of 2022, Daron Cruickshank's MMA record is 23 wins (14 by knockouts, two by submission, and seven by decision), 14 losses (two by knockouts, eight by recommendations, and four by decision), and 1 Not Counted.