An American football kicker for the Pittsburgh Steelers, Chris Boswell's gameplay is undeniably captivating. Well, the NFL star's relationship profile is no exception; he is now engaged to his girlfriend, Havana Fox.
Havana is a well-known and successful real estate agent, representing the widely successful Engel and Volkers.
They confirmed their engagement in the 2022 fall, a month after Boswell bagged a four-year contract extension with the Steelers.
And so far, the lovely duo has been able to make time for one another despite their jam-packed schedule.
Currently, Havana's NFL star boyfriend went from an undrafted free agent to a notable football kicker. Chris Boswell is considered among the most accurate kickers in NFL history.
Given the era of social media, the couple often posts adorable family moments with their son on Instagram. Want to know more about Chris' girlfriend, Havana Fox & detail on her relationship? Here we go!
Quick Facts
Full Name
Havana Fox
Birthday
October 3
Birthplace
Atlanta, Georgia
Age
In her late 20s
Father's Name
N/A
Mother's Name
N/A
Siblings
One (sister Hailee Fox)
Height
N/A
Education

Manhattan College
Georgia State University

Famous As
Fiancee Of NFL star Chris Boswell
Profession
Real Estate Agent
Works For
Engel & Völkers Atlanta
Net Worth
$300K (approx.)
Social Media
Instagram
Merch (Of Boyfriend Chris Boswell)
Trading Card
Update
June 2023
Havana Fox (Chris Boswell's Girlfriend) | Age, Height & Early Life
Havana Fox was born & raised in Atlanta before she made her move to Pittsburgh, Pennsylvania, to be with her fiance Chris Boswell.
She was born on October 3, but the exact year of her birth is unknown. Allegedly, she is in her late 20s.
The exact figure of her height is not known, but she could be around 5 feet 5 inches (1.65 m) to 5 feet 7 inches (1.7 m). Her fiance Boswell stands 6 feet 2 inches (1.88 m) tall.
Also, further insights about her parents & family background remain under wraps, except Havana has a sister named Hailee Fox.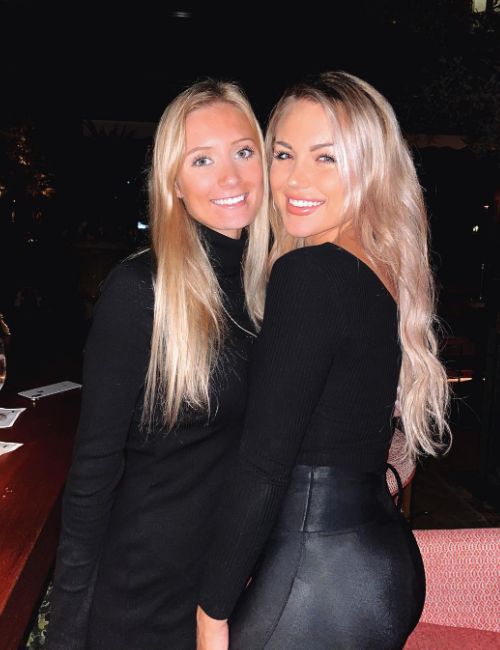 Her sister Hailee, a 2021 graduate of Colorado State University with a degree in Biology, currently works as a junior sales representative at CrossLink Life Sciences (August 2021- Now).
And as for Havana, she briefly attended Manhatten College before enrolling at Georgia State University & graduated with a degree in Marketing in 2018.
Career Of Havana Fox | What Does She Do?
Havana started out her real estate career shortly after graduation. Being a native of Atlanta, her innate understanding and knowledge of the landscape made her a go-to choice for clients.
While still a college student, Havana Fox garnered needed experience with AboveAtlanta.com (August 2017- May 2018).
Then, she joined Creative Office Solutions as its account manager for two years (August 2019- 2022).
Her talents were soon recognized by the German Giants Engle & Völkers, for whom Havana has been working since May 2018.
View this post on Instagram
But, since she moved in with her soon-to-be husband and the current Pittsburgh Steelers kicker Chris Boswell, Havana has been operating from the Main Line branch of Engle & Völkers Malvern (July 2022- Now) in Pittsburgh.
However, she does frequently visit Atlanta to meet with her clients and keep up to date on their satisfaction with the purchase.
Similarly, she is also the co-owner of Salt Watersports Cayman in Balboa Beach, Cayman Islands. The business provides watersports equipment rental services and tours in the Cayman Islands.
Brief About Chris Boswell | Early Life & Career
Boswell was born Christopher Lynn Boswell on March 16, 1991, in Fort Worth, Texas, to Rick Boswell and Dawn Boswell. He has a brother named Stephen Boswell.
A bright Fossil Ridge High School student, Chris chose Rice University for collegiate football.
He scored 358 career points, the second all-time high for Rice, finishing behind ex-NFL wide receiver Jarett Dillard. Though, he went undrafted in the 2014 NFL Draft.
Some top-notch picks in that draft were Jadeveon Clowney, Greg Robinson, Blake Bortles, Sammy Watkins, Khalil Mack, Mike Evans, and Jake Matthews.
He was signed by the NFL team Houston Texans as an undrafted free agent (UFA) to compete with Randy Bullock, just to be waived off a year later.
After that, Boswell would be briefly associated with the New York Giants in 2015 but didn't make the final cut for the 53-man roster.
The Pittsburgh Steelers signed him as their fourth-place kicker in October 2015, where he would make his NFL Debut.
Throughout eight seasons, including the 2022 season with the Steelers, the American footballer played in 116 games (not started in any).
Some of his notable records include a 59-yard long field goal (the longest field of the Steelers) in 2020 & then in 2022 again.
His career record totals 200 field goals, 306 touchbacks & 86.2% field goal percentage.
According to Pro Football Reference, Boswell ranks as the 11th most accurate kicker in NFL history (as of January 17, 2023).
Engagement Of Havana Fox And Chris Boswell | Do They Have A Kid?
With adorable & romantic posts of appreciation, fans consider Fox and Boswell among the young power couples in the NFL.
The two are low-key regarding their dating profile, but sources claim their relationship began around 2021. Now, they are engaged.
In an Instagram post of September 3, 2022, Havana Fox and Chris Boswell went official about their engagement. She captioned "yes yes && yes," featuring her engagement ring.
The NFL player's girlfriend-turned-fiance Havana is mother to a son named Channing Newell Fox, born on December 29, 2017. Though the detail about the baby-father is not out.
Chris loves to spend time with Channing & often features him on his Instagram posts.
The couple is yet to marry or disclose any plans for the wedding.
Boswell Was Engaged Earlier But Broke Up
Before Fox, the NFL kicker has been relationships with Morgan Denise Kauffmann & Riley Redding.
Boswell's ex-girlfriend Morgan Denise Kauffmann of Arlington, Texas, is the daughter of Misty and Michael Anthony Kauffmann. She graduated from Kennedale High School.
The NFL player was also in a relationship with Atlanta-based realtor Riley Redding. In 2019, Chris & Riley took a trip to Paris, where he proposed to her in front of the Eiffel tower.
However, their relationship didn't remain long. Fans assumed that the two broke up after Boswell removed posts featuring Riley from his Instagram.
Well, on a wedding registry website, The Knot, there has been a mention of Chris Boswell's wedding to Riley Redding on April 11, 2020, in Atlanta, Georgia.
Though it is not yet confirmed officially if the NFL placekicker & his realtor fiancee ever got married.
Net Worth Of Havana Fox
A real estate agent, Havana Fox works for Engel & Völkers in its Pittsburgh branch, beginning in July 2022. It was before her transfer from Engel & Völkers Atlanta.
Professional since 2018, her expertise in client dealing & satisfaction earned her name and bank balance. Havana has an estimated net worth of $300,000.
The Atlanta native's NFL star boyfriend (now fiance) Chris Boswell has a $5 million net worth as of June 2023.
All of his earnings are thanks to NFL contracts with the Steelers that sum his career earnings at $27.85 million up to the 2022-23 season.
His first two contracts were a two-year $1.1 million contract (in 2015) and a one-year $615,000 deal (in 2017). Then, on March 12, 2018, the football kicker signed a two-year $2.914 million.
It followed Chris Boswell's four-year $16.8 million extension deal with the Steelers.
On August 1, 2022, he penned a $20 million contract for four years, inclusive of $8 million in signing bonus with $12.5 million as a guaranteed amount.
For the 2022-23 season, Boswell's annual income from NFL was $9.8 million, which included a base salary of $1.76 million.
The deal keeps him with the Steelers through the 2026-27 season earning $3.2 million in base salary & $1.6 million in signing bonus.
FAQs
How many seasons has Chris Boswell been with the Steelers?
After waiver from NY Giants in 2015, the Pittsburgh Steelers signed Chris Boswell & currently plays there. The 2022-23 season was his ninth NFL season but 8th eighth season playing for the Steelers.
Is Chris Boswell married to Havana Fox?
No, Chris Boswell and Havana Fox are not married yet. They got engaged in September 2022.