We achieve stuff when we master ourselves. Likewise, for an athlete alongside his skill, they have to have a soul of an artist (master) as they color their inner strength with their capabilities in the white canvas of field and records.
Here I present such a footballer, Jadeveon Clowney (pronounced as jə-DEV-ee-on), who is a defensive end in the National Football League (NFL) at present.
To date, Clowney has featured in matches for the teams like Houston Texans, Seattle Seahawks, and Tennessee Titans ever since his commencement in the field from his college days.
Additionally, Clowney has been rocking as the defensive end since back in the days as ESPN described him as "one of those rare game-changers on defense."
As the most search for players who can drive them to their best with best, the, yes, he is one of them.
Clowney is the one who keeps things chill yet has celebrated every bit of his steps. Maybe, the saying below will drop you a hint.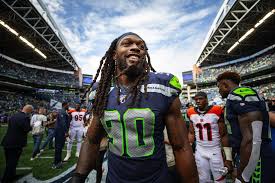 "The Heisman's not a big deal to me. Winning the SEC championship's a big deal to me. Getting drafted high's a big deal."
-Jadeveon Clowney
Here, let me give a push-up to you about his bunch of facts.
Quick Facts
Full Name
Jadeveon Davarus Clowney
Date of Birth
February 14, 1993
Birth Place
Rock Hill, South Carolina
Nick Name
Doo Doo, Seven, Dr. Clowney, J, and JD
Religion
Christianity
Nationality
American
Ethnicity
Black
Zodiac Sign
Aquarius
Age
30 Years Old
Height
1.96 m (6 feet 5 inches)
Weight
255 lb (116 kg)
Hair Color
Black
Eye Color
Black
Build
Athletic
Father's Name
David Morgan
Mother's Name
Josenna Clowney
Siblings
No
Education
South Pointe High School
University of South Carolina
Marital Status
Unmarried
Girlfriend
Najah Re Martin
Kids
A son, Jahlil​ Clowney (born in 2015)
Profession
Football player
Position
Defensive end
Affiliations
Houston Texans (2014–2018)
Seattle Seahawks (2019)
Tennessee Titans (2020–present)
Active Years
2011-present
Net Worth
$13 million ($5million salary)
Social Media
Instagram, Twitter
Merch
Jersey, Football Cards
Last Update
November, 2023
Body Measurements
Javedeon Clowney is a man of athletic build, chocolate brown complexion with ripped muscles. We can see him flaunt his black dreadlocks with eyes of the same color as we look closer.
Furthermore, he stands at a medium height of 1.96 m (6 feet 5 inches) and weighs 255 lb (116 kg). More into his physical, he has a wingspan of 34.5 inches as his hand measures 10 inches.
Jadeveon Clowney | Early Life
Clowney was born under the Aquarius' star sign to his parents Josenna Clowney and David Morgan. He grew up in Rock Hill, South Carolina, as the father figure was missing from most of his childhood memories.
Therewith, his single mother Josenna worked a double shift at the Frito-Lay plant in Charlotte, North Carolina, to make ends meet.
If we talk about his father, he was in prison for robbing a check-cashing business since Clowney was a two-year-old.
If you are interested in buying Football jerseys, click here>>
Hence, during his childhood memories, Clowney filled his cousin Jemel as a guiding figure who later went to prison. However, he kept on making his own way in sports as he was always interested in it.
Clowney's Childhood House
Growing up in Carolina, Clowney was always in the hardscrabble streets of Rock Hill. Besides, he grew up in a single-story house no.764, which was dark gray colored.
Alongside, the house's window had a "Beware of Dogs" sign with specks of dirt lying around. As in the inside, the walls were full of newspaper articles serving as wallpaper. Additionally, the walls were decorated with his jerseys, trophies, and so on.
Clowney and his Mother
When the times were hard, they were harder as Clowney had a small but healthy relationship with his mother. His mother chose Clowney's name as she went to give him an extra nickname.
Indeed, our athlete Clowney is nicknamed "Doo Doo" by his mother after her favorite song from back in the 90s. Josenna was a fan of 2 Live Crew members Luke who wrote the song titled, "I Wanna Rock (Doo Doo Brown)."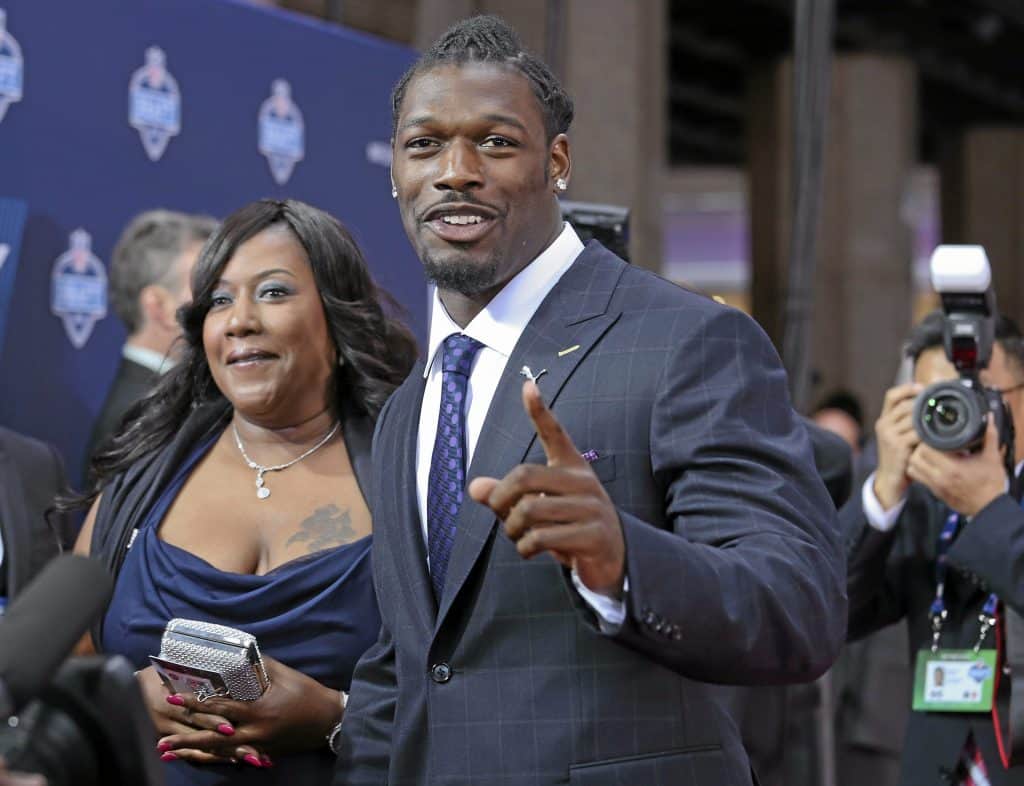 All in all, Clowney was close to his maternal grandparents (John Clowney and Josephine Clowney). Growing up, his mother's boyfriend, Christopher Jones, also made a bit of a contribution to his life.
Clowney's Father
After serving in prison for almost all of Clowney's childhood, David returned from prison, but it did not take long to get into another situation. He was charged with attempted murder and weapons charges.
During that time, David was at Rock Hill strip club, where he went on the stage and was called out by an employee.
However, his rage took over him to confront the employee, and later, in the parking lot, they had a series of a gunfight. As per the sources, David was shot in the shoulder hence, getting on his way to jail again.
"Of course, I was disappointed, sad for him because that's my dad, for one, and you don't want anything like that to happen to nobody in your family."
-Jadeveon Clowney
Jadeveon Clowney | Education and Early Career
Track & Field
Apart from his football, Clowney has tried his hand at track and field during his high school days. Back then, he starred as a sprinter, shot putter, and discus thrower.
For his track record, Clowney has featured in the 2011 York County Championships, where he stood ninth. Following it, he also partook in the 2011 State Championships as he finished the event standing third.
South Pointe High School
Clowney had attended South Pointe High School, where he first started to play football for his high school's team.
As he was on the Stallions team, he foremost commenced as a defensive end and running back in the junior varsity team.
Furthermore, during his sophomore years, he could move along with seniors as Stephon Gilmore and DeVonte Holloman as he had a successful day. With several matches, he earned the title of South Carolina's 2010 Mr. Football.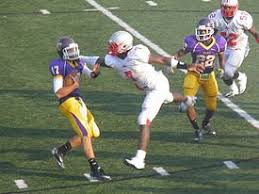 Advancing to his senior years, Clowney was already a football elite often looked after by his teammates and others.
Back then, Clowney was already unblockable with the size and speed he had acquired. Often cited as a freak, Clowney closed the season with a photoshoot for ESPN the Magazine.
According to ESPN's Ron Jaworski, "He's LeBron James with a football helmet on. The guy can absolutely dominate a football game."
University of South Carolina (2011-2013)
With the accomplishment of high school education, Clowney had stood as the top prospect in high school days. Rivals.com and Scout.com had titled him as the five-star recruit as well as the No. 1 overall prospect of the 2011 class.
If you are interested in buying Football boots, click here>>
To that day, Clowney had garnered every attention towards him, gaining a scholarship from every organization. By his eighteenth birthday, Cloney announced his decision to be a part of the University of South Carolina.
Consequently, Clowney's foremost debut was in the year 2011, as he became a member of the South Carolina Gamecocks football team. During it, he was coached by head coach Steve Spurrier.
College's highlights
only freshman in top ten of SEC (eighth)
SEC Freshman of the Year
SEC Defensive Lineman of the Week (2012)
Ted Hendricks Award
Chuck Bednarik Award, Bronko Nagurski Trophy, and Lombardi Award (finalist)
2012 AT&T All-America Player of the Year (voted by fans)
ESPY Award (2013)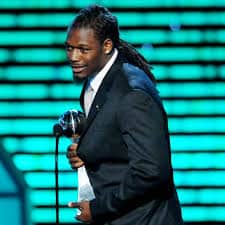 Jadeveon Clowney | Professional Career
With a senior year left in his college, Clowney forgoes it and thus, entered the 2014 NFL Draft as a top-three selection. Later, Houston Texans selected Clowney as the first overall pick.
Some of the appreciations to him;
"by far the most freakish physical specimen in this draft."
-USA Today
"Clowney's a rare talent, basically to the defensive end spot what Andrew Luck and RG3 were to the quarterback position."
-ESPN analyst Mel Kiper, Jr.
Houston Texans
With the draft, the Texans signed a four-year contract with Clowney, which was worth $22.272 million with a $14.518 million signing bonus. Simultaneously, Clowney made his professional debut on August 9, 2014, against the Arizona Cardinals.
However, due to his injury, Clowney's regular season's debut only came on September 7 against the Washington Redskins. The same year, Clowney also underwent microfracture surgery.
In 2016, Clowney was named to his first Pro Bowl as he earned First-Team All-Pro. Similarly, his first NFL touchdown came from Tom Brady's fumble in 2017 as he was named to his second Pro Bowl.
Moving on, he also had his first fine of $40,110 in 2018 as he sacked Philadelphia Eagles quarterback Nick Foles.
Seattle Seahawks
The Texans traded Clowney to Seahawks on August 31, 2019, in exchange for Jacob Martin and Barkevious Mingo.
By the end of the seahawks, Clowney had 3 sacks, one interception, 83 goals, and four touchdowns. In the following 2020 year, Clowney was named as the 2020 Pro Bowl alternative in January.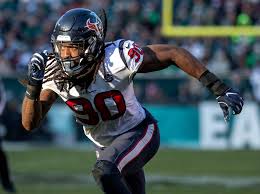 Tennessee Titans
Clowney dealt a $12 million contract with the Titans on September 8, 2020. As he played for the Titans until November, Clowney was placed on the injured list due to his knee injury.
The Interest of the Cleveland Browns in Clowney
Currently, the Cleveland Browns are showcasing a huge interest in signing Jadeveon Clowney. Additionally, they are trying their best effort to have him on his defensive line.
Apparently, it had people asking Mary Kay Cabot why the Brown were so obsessed with Clowney. To which she had replied, it more like the search for talent rather than an obsession.
Also, after Clowney's successful healing from his injury, he has become an unrestricted free agent. Not to mention, Browns has been on end for him, while the New York Giants have shown a lack of interest in him.
If you are interested in buying Jadeveon Clowney's autographed items like jersey, pictures, cards, and many more, click the link to follow>>>
Jadeveon Clowney | Career Awards and 2020 Stats
Second-team All-Pro (2016)
3× Pro Bowl (2016–2018)
2× First-team All-American (2012, 2013)
2× First-team All-SEC (2012, 2013)
SEC Defensive Player of the Year (2012)
Ted Hendricks Award (2012)
Second-team All-SEC (2011)
USA Today High School All-American (2010)
| | | | | | | |
| --- | --- | --- | --- | --- | --- | --- |
| Total tackles | Sacks | Forced fumbles | Fumble recoveries | Pass Deflections | Interception | Defensive touchdowns |
| 255 | 32 | 9 | 8 | 18 | 1 | 4 |
Jadeveon Clowney | Injury History
Up until today, Clowney has been suffering through various injuries ever since 2014, when he first struggled with an inguinal groin sports hernia. Thus, he underwent surgery to cure it.
Two months into it, Clowney faced ahead cranial concussion of grade 1, due to which he missed the spring training.
In a few day's intervals, he had torn his knee meniscus as he missed the five games in the final of the season.
Likewise, in the interval of 2015 and 2016, he had been through an ankle sprain, lisfranc sprain, and arm elbow sprain.
After the end of the 2016 season, Clowney had arthroscopic knee surgery. By the end of 2020, he also had a hip injury and muscle injury.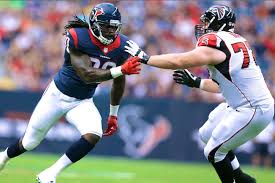 Net Worth
As of 2023, Jadeveon Clowney is a free agent, and he has a net worth of $13 million with a $ 5 million salary. Additionally, Clowney is reported to endorse brands such as Puma, Gillette, Champs Sports, and Wilson Sporting Goods.
Additionally, Clowney has a cozy home in Strongsville, which is his first gift to his mother. Besides, Clowney is involved in charity works as he supports foundations as Make-A-Wish Foundation and David Clowney Foundation.
You might be interested in Ufomba Kamalu Bio: Age, Early Life, NFL, Girlfriend, Net Worth>>>
Jadeveon Clowney | Love Life and Social Media
Clowney is a committed man to his longtime girlfriend, Najah Re Martin, who is currently a makeup artist. The duo first met in their college days and has been dating since 2012 and has been Clowney's caring sweetheart.
Although the couple hasn't had their wedding as per the sources, the lovely duo shares a baby boy named Jahlil Clowney. They had him on October 31, 2015, in Pearland, Texas.
Jadeveon Clowney | Common Questions
How many times has Clowney been fined?
Clowney has been fined at least 5 times to date for roughing the passer. The recent fine of his cost him $35,000.
How good is Jadeveon Clowney?
Jadeveon Clowney has been shining ever since the 2014 NFL Draft as he was the No.1 Prospect. Following it in 2017, he had a win rate of 24.2% and has been maintaining it.
Where is Jadeveon Clowney now?
Jadeveon Clowney is now with the Tennessee Titans as player number 99.
Who did Jadeveon Clowney hit during college?
As a matter of fact, it was during the Outback Bowl back in South Carolina University. As they had a match against Michigan, he had a bone-cr28 years oldushing hit over Vincent smith, which made both the ball and Smith's helmet fly.