Only a handful of baseball players get the privilege to win the World Series once. Even fewer get the opportunity to win it multiple times. And Chuck Knoblauch falls into the latter category as he won the World Series an astonishing four times during his 12 years in the MLB.
From winning the World Series in his first year as a professional to clinching three consecutive titles with the New York Yankees, Knoblauch has been a serial winner ever since he entered the league. As a result, the 51-year-old is one of the most well-known and wealthy retired baseball players out there.
Thus, we have written this article to inform you guys about the Texas native's early years, college days, and eventually his time in the MLB. So let's start on this eventful trophy-laden career of Chuck.
Quick Facts
| | |
| --- | --- |
| Full Name | Edward Charles Knoblauch |
| Birth Date | 7 July 1968 |
| Birth Place | Houston, Texas, U.S.A |
| Nick Name | Not available |
| Religion | Not available |
| Nationality | American |
| Ethnicity | White |
| Education |  Texas A&M University |
| Horoscope | Cancer |
| Father's Name | Ray Knoblauch |
| Mother's Name | Linda Knoblauch |
| Siblings | Not available |
| Age | 51 years old |
| Height | 5'9″ (1.80 m) |
| Weight | Not available |
| Shoe Size | Not available |
| Hair Color | White |
| Eye Color | Black |
| Body Measurement | Not available |
| Build | Muscular |
| Married | No |
| Girlfriends | No |
| Former Spouses | Lisa Johnson, Stacey Victoria Stelmach, Cheri Lynn |
| Profession | Major League Baseball (MLB), Retired |
| Position | Second Baseman |
| Net Worth | $5 million |
| Franchises | Minnesota Twins (1991-1997), New York Yankees (1998-2001), Kansas City Royals (2002) |
| Jersey Number | 11 (New York Yankees, Minnesota Twins, Kansas City Royals) |
| World Series | 1991, 1998, 1999, 2000 |
| Social Media | Twitter |
| Merch | Autographed Items, Baseball Gears |
Chuck Knoblauch: Early Life
Edward Charles Knoblauch, aka Chuck, was born to his parents, Ray Knoblauch and Linda Knoblauch, on 7 July 1968 in Houston, Texas. Ever since Chuck was a young boy, all he ever wanted to become was a professional baseball player. The reason being, he came from a baseball family where his father, Ray, and his uncle, Eddie, managed and played in the minor leagues.
Thus, intending to become a professional, Knoblauch joined the Bellaire High School baseball team to impress the eagle-eyed scouts of the MLB. And that is precisely what Chuck did as he became one of the more important players of his side.
Added to that, young Chuck helped his team win the state championship even though he was on the sidelines due to injury. Therefore, when the time came for the 1986 MLB Draft, hopes were high for the Texas native.
Chuck Knoblauch: Career (College & MLB)
Everyone expected Chuck to become one of the best players for the Philadelphia Phillies when he got drafted by the franchise in the 18th round of the 1986 MLB Draft. Contrarily, the 5 feet 9 athletes declined the opportunity in favor of playing college baseball. The reason being, Knoblauch felt that he needed more time to develop and gain experience before moving to the MLB.
Consequently, the Texas native enrolled at Texas A&M University, where he earned a lot of fame and recognition. To explain, Chuck became a second-team All-American along with winning Cape Cod Baseball League's (CCBL) Outstanding Pro Prospect award in 1988.
Subsequently, the Texas native decided that it was time for him to take a step up into the daunting world of MLB. As a result, having had a wonderful four years with the Aggies, almost all the franchises were interested in the talented Texas A&M graduate services.
MLB Career
Chuck's MLB career would have started in 1986 had not declined the opportunity to play for the Philadelphia Phillies. Nonetheless, his professional career began with the Minnesota Twins as they drafted Knoblauch in the 1st round of the 1989 MLB Draft.
Subsequently, his first season with the Twins was nothing short of extraordinary. To illustrate, Knoblauch won the American League Rookie of the Year and the World Series in just his first season as a professional.
After that, the Texas native spent another six years with the Minnesota based franchise, during which he won the Gold Glove award in 1997. Added to that, Chuck stole over 40 bases in three consecutive seasons. All in all, the Twins fans revered 5 feet 9 second-baseman during his nine years of stay.
However, after the conclusion of the 1997 season, Knoblauch asked the organization to trade him as he felt that he could not win another world series with the Minnesota Twins. As soon as the news broke, fans got enraged at Chuck as they thought that he had broken the trust and love shown to him by them.
Nonetheless, the Texas native decided to follow his heart and got traded to the world-renowned New York Yankees. Whenever big trades are made, there is always one side that loses and the other that wins.
However, in this case, both Minnesota Twins and Chuck benefitted from the trade because the Twins got two future All-Stars in Eric Milton and Cristian Guzman. At the same time, Knoblauch won the three consecutive world series in four years with the Yankees.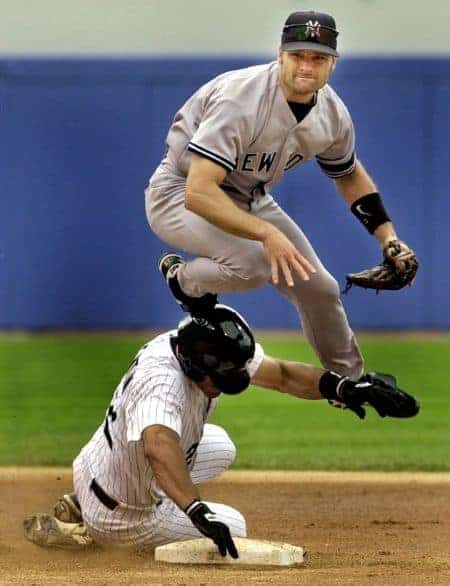 Furthermore, during Game 3 of the 1999 World Series, the Texas native scored the first run. Later that match, Chuck scored a dramatic two-run home run to tie the game in the eighth inning. Subsequently, the Yankees would go on to win the game and the series.
Similarly, Knoblauch played a vital role in the 2001 World Series as he scored the winning run in Game 5, which put the Yankees 3-2 up in the seven-game decider. Unfortunately, the Yankees lost the World Series that year as the Arizona Diamondbacks defeated them 4-3 to deny them a fourth consecutive World Series title.
In addition to the loss, Chuck got benched in Game 7, the most crucial game of the series, which left him extremely disappointed. As a result, the four-time All-Star felt that a change was needed to get more playing time.
Subsequently, Knoblauch got traded to the Kansas City Royals, where he spent the final season of his career. Even though he could not manage a fairy tale ending, everyone involved in baseball heaped praises of the man's performances inside the baseball arena after his retirement.
At the time of Chuck's retirement, only a very few had achieved the success he enjoyed. In fact, Knoblauch is one of very few to have won the World Series multiple times. Besides, he won several other individual and team awards, which are highlighted below:
 Career Achievements
1992, 1994, 1996, 1997 All-Star (four times)
1991, 1998, 1999, 2000 World Series Champion (four times)
1991 AL Rookie of the Year
1995, 1997 Silver Slugger Award (two times)
1997 Gold Glove Award
Chuck Knoblauch: Age, Height & Body Measurements
Chuck was born in the year 1968, which makes his age 51 years currently. The 51-year-old made his debut in the MLB at the young age of 23 back in 1991. After that, he spent the next 12 years as one of the best players and one of the most controversial.
Furthermore, the Texas native stands at 5 feet 9 inches tall, quite small for an American athlete. Nevertheless, baseball is one of those few sports where height is not such a significant factor. As a result, his diminutive figure did not stop him from becoming a four-time All-Star during his playing career in the MLB.
Chuck Knoblauch: Net Worth & Salary
As of 2020, Chuck has a staggering net worth of $24 million accrued mainly through his MLB baseball career. Although it may seem an excessive amount of money, players in the MLB earn an average of $4 million, which is extraordinary. As a result, the 51-year-old has made a massive fortune throughout his playing career.
Furthermore, the Texas native used to make an average of $4.5 million as he was one of his generation's best players. During his best years between 1997-2001, Chuck earned over $6 million in each of those seasons. All in all, by the time Knoblauch retired from the sport in 2002, he had received an eye-watering $42.2 million just from salaries.
Chuck Knoblauch: Wife & Kids
Chuck's personal life is as eventful as his professional life. To illustrate, the 21-year-old has been married and divorced three times. Firstly, Knoblauch married Lisa Johnson back in 1995, but sadly they got divorced after just four years of marriage in 1999.
Then, the four-time All-Star tied the knot with Stacey Victoria Stelmach in the year 2002. But, just like before, Chuck divorced his wife in 2010 after eight long years of relationship.
And finally, Knoblauch married his third and final wife to date, Cheri Lynn, soon after leaving Stacey. However, it seems like the man is not meant to be married as he separated from Cheri after just two years of marriage.
However, as they say, "there will always be light at the end of the tunnel." Similarly, we would like to end the article positively by informing you about his children. Chuck has two children named Charleigh Knoblauch and Jake Knoblauch with his ex-wife Cheri. Unfortunately, we don't have further information regarding this subject.
Social Media Presence
Twitter: 50k followers