Chess is a strategic form of mind sport that every one of us has played at some point. Be it at school, home, or work, this indoor sport is loved and cherished by many. Not to forget the beauty of the classy chess set it comes with.
With that being said, in today's article, we will be focusing on ranking the top ten most beautiful classy chess sets in the world. Similarly, we have also mentioned some of the pros and cons of these awesome chess sets.
Some chess sets mentioned here are so beautiful that they will catch you off guard. Who would have thought that a chess set could be that beautiful? So, don't miss out on any.
Top 10 Beautiful Classy Chess Sets for Ultimate Fun
The chess sets on the list have been ranked based on looks and details.
10. The Library Collector Series Chess Set
We have the Library Collector Series, straight out from the box, ranked as the 10th best classy chess set.
Besides the simple appearance of this classy chess set, each piece of this set is hand-carved by master artisans out of rosewood and boxwood.
Besides, the Kings are heavily weighted by gold embossed English Leather base pads, followed by luxurious billiard cloth base pads on other chess pieces.
The Library Collector Series represents the perfect combination of beauty with functionality aspect. In addition, this chess set boasts its durability with elegance ethics.
Similarly, each set is provided with a personalized Certificate of Authenticity and an original manufacturer's plaque indicating the production number.
Pros
Elegant design
Durable
Premium finishing
Cons
Design is not extra
Pricy
9. The Leningrad Series Chess Set
Another elegant and straightforward classy chess set on the list we have the Leningrad Series Chess set.
Moreover, this classy chess set is hand-carved out of the highest graded woods from the hands of the master-level artisans. Besides, these luxurious pieces are weighted with luxurious billiard cloth base pads.
Moving on to the durability side, the Leningrad Series doesn't comply when it comes to durability. However, just like the Library Collector series, this one also focuses on beauty with functionality.
Nothing comes close to this one considering the price in terms of built quality.
Pros
Contains a Classic storage box
Durability
Very good built quality
Elegant design
Cons
8. 19″ English Chess Set
Okay, the final one with the simple, elegant style design on the list, ranking as number 8, we have the 19″ English Chess Set.
Most importantly, this chess set is better than the two chess sets mentioned above because the 19″ English chess set's chess board has a Pull-Out Drawer for storing the chess pieces.
Similarly, focusing on the building of the chess set, this classy chess set has been carefully crafted in English style from black-stained wood. Plus, each chess piece is skillfully handcrafted by professional artisans using top-quality wood.
This classy chess set might not have 'The' charm, but it is for you to decide when you see one for yourself.
Pros
Contains onboard storage
Slick and straightforward board design
Quality set
Cons
Simple chess piece design
7. The Grandmaster Chess Set
So, from among the simple, elegant ones mentioned above, did you find the one you've been looking for? If not, then this one might catch your eye.
Ranked 7th, we have the Grandmaster chess set with a simple but elegant design. That is to say, this classy chess set comes with a 4″ King, with each piece carefully hand-carved by a master artisan from high-grade wood.
Not to mention, this chess set has one of the best luxurious billiards felt base in its price range.
Similarly, this chess set is durable, with no delicate sides to worry about. Plus, it comes with two extra bonus queens as a spare one.
Pros
Very good built quality
Comes with two spare queens
Durability
Classy design
Cons
The simple, classy design might not match everyone's taste
6. 23″ Large Gladiator Chess Set
So, now coming to the special design section, straight from Poland, we have the 23″ Large Gladiator chess set. Not only that, but this uniquely built classy chess set ranks 6th on today's listing.
Likewise, this awesome Polish masterpiece comes with a board and a box. Not to mention, the height of the King for this set reaches 5.75 inches, with the base being 2 inches. The base padding is done from a green felt cloth.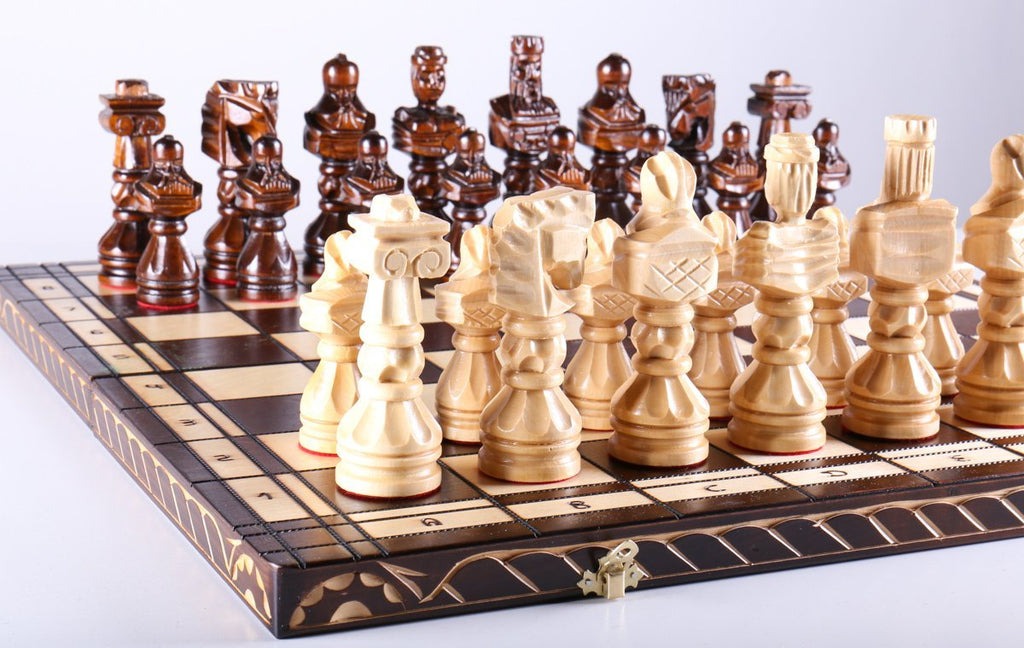 Similarly, the chess set's board size is 23.25 inches sq, with the height being 0.75 inches.
Pros
Unique design
Very good built quality
Value for money
Cons
Not for the people looking for a simple chess set
<12 Best Steel Tip Darts Available in the Market>
5. Heirloom Burnt Finish Grandmaster Chess Set
Now, moving on to the upper section, we have the Heirloom Burnt Finish Grandmaster set. Also ranking as the 5th best classy chess set on the list, this piece of art brings an entirely new sense of design and sophistication to the chessboard.
Moreover, this chessboard is handcrafted with walnut and maple hardwood as its material. Given the use of premium material and design, the chess pieces are heavily weighted, giving them a superior feel and confidence.
But, most importantly, the chess set is designed in such a way that its luxurious design does not have to compromise with its durability. On the contrary, it is built to last long.
Pros
High-quality product
Maximum durability
Unique design
Cons
The design might not be appealing to everyone
4. Man Ray Chess Set
Unlike any other on the list, Man Ray Chess Set one has a unique history behind its creation. Being designed and made by the Philadelphia-born, Dada-Surrealist artist Man Ray, this piece of art does deserve a space in the museum.
Not to forget, Man Ray was said to create artworks and designs that were far ahead of that era. So, just like the other unique artworks, he had designed and made this unique-looking chessboard too.
However, very few of the original sets remain; there are still some available to be purchased. To clarify, the purchases are mostly from auction sales.
Pros
The first and most unique design comprising of all geometrical shapes
It is a piece of art holding history
Rarity
Cons
For beginners harder to understand the pieces at first glance
Not for people who are into classy sets
Pricy
<Top 12 Best Chess Players in the World>
3. Burnt Golden Rosewood Grandmaster Set
Moving on to the 3rd spot on the list, straight from the House of Staunton, we have the Burnt Golden Rosewood Grandmaster Series Chess set. This set falls on the chess set that has taken the classy board to the next level by going with the Burnt theme.
This set has been following the standard introduced by The House of Staunton in 1993. With each set consisting of 34 Chessmen and four Queens.
Talking about the pieces, its King is 4.0″ with a diameter base of 1.625″. Not to forget, master artisans carefully handcraft each piece out of the highest grade of Golden Rosewood and Boxwood.
Also, each piece is based with luxurious billiard cloth pads. The product it offers for the money is undoubtedly the best-looking and most durable classy chess set on the market.
Pros
Luxurious product
Superior design and quality
Durability
Reasonable price
Cons
Battle theme-seeking players would not vouch for this one.
2. Gold & Silver Egyptian Chess Set
Now, the Egyptian Chess Set is a design unlike any other. Unlike the ones mentioned above, this one isn't made of wood.
To clarify, the chess pieces are made of Polystone, where each piece is carefully hand-painted. Additionally, this beautiful Egyptian Chess set features Scarabs and Egyptian Hieroglyphics with a storage box built underneath the board itself.
The most iconic part about this set is that its four corners feature golden Sphinxes. Also, each chess piece gets its own separate compartments in the storage space.
Pros
Unique design
Superior built quality
Cons
Compared to normal sets, it might not be as durable
Heavy and fragile to carry around
1. Roman Gladiators 3D Chess Set
If you're more into the Roman Empire and the Gladiator theme, then this might be the chess set you've been looking for. Ranking number one as the top classy chess set, the Roman Gladiators 3D Chess set.
Moreover, this chess set is the only chess set with metal chess pieces. Finally, this unique board itself is a piece of art, with each corner and piece highly detailed.
This chess set gives the player the feel of the history of the Roman Gladiator era. Similarly, the board is 16L x 16W inches with a stunning Roman architecture coliseum theme. Plus, unlike any other set, this one has a glass board surface.
Pros
Work of art
Superior quality
Unique
Cons
Fragile board
Heavy
Might not be for everyone
Conclusion
The chess sets mentioned above are all unique in its own way. Everyone has their unique taste and preference.
Also, some chess pieces were expensive but didn't make it to the top spot. We can learn that being expensive doesn't mean being the best.
<12 Hot Chess Players to Look for This Year>
So, did you find the chess set you had been looking for? If you did, then which one was it? Make sure to mention it down below.