A step-by-step guide.
While playing a decent amount of golf, one is bound to have golf equipment that ends up getting a little grimy.
Overtime use and other forces of nature can lead them to look old and unsightly. It is pretty easy to clean your golf shoes or golf club, even golf cart.
However, cleaning your golf bag (which usually does not get much attention) can be quite a project.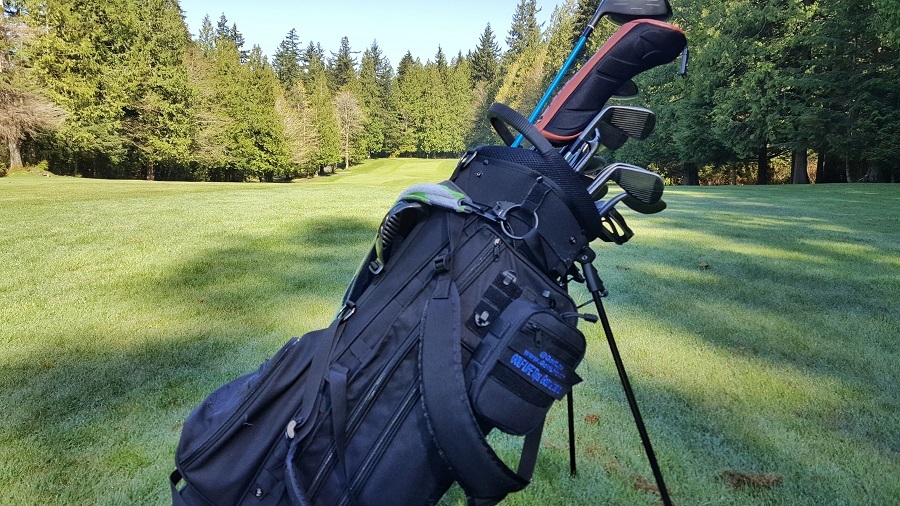 There are various types of golf bags. And the cleaning process may differ depending on the style of your golf bag.
But don't worry, this general guide will show you how to clean your golf bag clean and keep it on top of its condition.
Here's What You Need
Source of water (Hose recommended)
Detergent/ Mild soap (Dish soap works)
Stain remover (in case you have stains)
Washcloth/ Rags (Soft bristle brush optional)
Vacuum (optional)
Steps to clean your golf bag – Exterior
To prepare the bag for cleaning, you need to empty all the contents of your bag. Make sure that everything is out, especially your valuables. Don't forget to check all the pockets.
If you plan on doing deep cleaning, you can use a vacuum to suck out all the dirt and debris from every nook and corner of the bag. Make sure to vacuum thoroughly. If you don't feel like doing this, skip to the next step.
With the help of a water hose, or if you don't have one, stick to a classic bucket and mug and dampen our bag. You don't want your bag to be completely soaked.
Mix mild soap or detergent with warm water to make a solution. Soak the washcloth or rag in the soap mixture and gently start scrubbing your bag.
If the stubborn stains refuse to come out using a soft bristle brush to scrub off the stains delicately.
Ensure to clean meticulously the top (where the clubs are constantly coming in and out of the bag), the stand area, straps, and handles.
After this intense scrubbing and cleaning, it's time to rinse. Again, if possible, keep soaking your bag to a minimum even while rinsing.
If you have stubborn stains that did not come off, use the stain remover safe for the bag's material. Spray the stain remover over the stain, sit for a minute, and use the washcloth/soft rag to clean it.
The final step is to dry the bag. Remember to let it air dry and not expose it to direct sunlight or high heat dryers because it could result in the faded color of the bag. Also, leave it to dry overnight or in a shaded area.
Since we are talking about golf bags, it is no brainer that we avoid mentioning one of the greatest golf players, Tiger Woods.
Don't forget to clean the interior.
The inside of our golf bag can be as dirty as the outside, but as much to clean. After emptying the contents, get your vacuum and start vacuuming the inside of your bag.
Try to flip the pockets inside out to make sure you are getting all dirt and grit out.
If the vacuum nozzle fits down to the bottom, it's great; if not, flip the bag bottom top, try and make sure to shake, and empty the bag.
Once you are done vacuuming the insides and the pockets, take a wipe and wipe down all the places you just vacuumed to ensure you got all the dirt and filth out.
Did your bag lose its shape?
After a lot of wear and tear due to terrain on the course, your golf bag might lose its shape over time, and now is a good time to restore it.
A great way to restore the shape is to fill the bag and its pockets with towels, socks, or similar clothing materials to their capacity.
Nonetheless, be careful not to overstuff as this can damage the zippers. Leave it be overnight or for few days, and it is now as good as new.
Aside from the Woods, another golf player we should mention has to be Jeff Maggert.
Reorganizing your bag
Now that you have intensely cleaned the exterior and interior, it got back its shape and looks good as new; it's time to stuff the bag again.
But it's such a waste to fill your golf bag again with clubs that have over time collected dirt from the golf course.
To prevent your bag from getting dirty immediately, clean your golf clubs with a wipe before stuffing it in. Make sure to clean the clubhead and the grip properly.
How to keep your golf bag cleaner?
Since you just cleaned your bag, it is too much of a hassle to clean it often. So, here are some pro tips to keep your golf bags cleaner.
First and foremost, always clean your clubs before putting them in your bag.
Even if you, at minimum, wipe the dirt and sand off before you store it in your bag, it will prevent you from a bit of mess.
And always carry a clean towel in your bag. This will relatively protect your golf bag, and you can use it to wipe some excess dirt or spots off your bag.
Another amazing tip for golfers to keep their club on their cart is to blow the bag after a round at the course.
When you get back to your garage in your cart, you can use a smaller battery-operated dust blower to blow dirt off of your bag, cart, and club.
Keeping dirt off the bag will help it last longer, and blowing off dirt will keep your garage clean as well.
Why do you need to choose a dark-colored golf bag?
No one likes to have to go through the nuisance of cleaning their golf bag after every other use.
If you hate having to clean your bag, you might want to consider this before buying your new golf bag.
Choose a dark-colored golf bag; it is going to help your bag last for a longer time.
Washing and scrubbing your bag constantly can wear it down sooner; if you have a dark-colored bag, it will reduce the number of washing and scrubbing, giving your golf bag a longer life.
While we are at it, make sure to check an article on Kurt Kitayama, another well-known golfer in the world.
If you prefer lighter colors to darker ones, don't worry; try and choose something that is at least darker at the bottom and back as those parts are most vulnerable to getting dirty.
Now that your golf bag is cleaned, good as new, and organized, you are all set for your next golf adventure.