The versatile ice hockey player of the Buffalo Sabres, Cody Eakin, is a Canadian native who is best known for his two-way savvy.
As we go on to learn about the athlete, he is a forward player for the National Hockey League (NHL), capable of playing both as a center and a wing.
Additionally, he started to shine since his 2009 NHL Entry Draft as 85th overall by Washington Capitals' general manager, George McPhee.
Furthermore, often cited as a fierce competitor, Eakin is a clutch performer who has featured for the Washington Capitals, Dallas Stars, Vegas Golden Knights, and Winnipeg Jets.
Playing with all these teams to date, Eakin has moe milestones to cover and has once earned East Second All-Star Team. Herewith, before plunging way too deep into him, a few must-know facts are tabled below.
Quick Facts
Full Name
Cody Eakin
Date of Birth
May 24, 1991
Birth Place
Winnipeg, Manitoba, Canada
Nick Name
Pumpkin Patch, Squeaks, Eaks
Religion
Christianity
Nationality
Canadian
Ethnicity
White
Zodiac Sign
Gemini
Age
31 Years Old
Height
6 ft 0 in (183 cm)
Weight
183 lb (83 kg; 13 st 1 lb)
Hair Color
Ginger red
Eye Color
Light grey
Build
Athletic
Father's Name
Grant Eakin
Mother's Name
Myrna Eakin
Siblings
Two older sisters, Cassidy Eakin and Chelsea Eakin
Education
Shaftesbury High School
Oak Park High School
Marital Status
Married
Wife
Hanna Stafford
Kids
No
Profession
Ice hockey player
Position
Forward
Affiliations
Buffalo Sabres
Washington Capitals
Dallas Stars
Vegas Golden Knights
Winnipeg Jets
Active Years
2006-present
Net Worth
$2.5 million
Social Media
Instagram, Twitter
Merch
Autographed Items, Jersey
Last Update
March, 2023
Body Measurements
Cody Eakin is a red-headed man with ginger shade, standing at a medium height of 6 ft 0 in (183 cm) while weighing 183 lb (83 kg; 13 st 1 lb).
The player has an athletic body with a rectangle-shaped face and light greyish eyes with a fair skin tone.
Cody Eakin | Early Life
Eakin was born on May 24, 1991, under Gemini's star sign to his parents Myrna Eakin and Grant Eakin. Back then, his father used to be a police officer; hence, he had strict parenting while growing up.
Cody grew up along with his two older sisters Cassidy and Chelsea, who used to be competitive hockey players.
As we dig deeper into his family roots, he comes from an athletic background as his uncle also used to be a hockey player.
Uncle Bruce Eakin featured for the Calgary Flames from 1981-85 and for the Detroit Red Wings in 1985-86.
Even with these, his sisters played in Robert Morris College in Chicago for a whole season, and at present, they play in a Rec League.
During all his childhood days, the siblings would partake in competitions all-around instead of going on for a vacation.
Cody Eakin | Career
Major Junior
The Swift Current Broncos first selected Cody in the 2006 WHL Bantam Draft as the sixth overall pick in the very first round.
Hence, he was featured as the Winnepeg Monarchs' member at the age of fourteen. Later for his debut in the team, he had appeared in the Manitoba Midget Hockey, and for his WHL debut, he played in a total of three games.
Season 2007-08
As for his rookie season, Eakin appeared in 55 games where he had 11 goals with 6 assists.
During the playoff season, Eakin struggled with a concussion; however, he managed to post 3 goals with 4 assists in a total of 12 playoff games.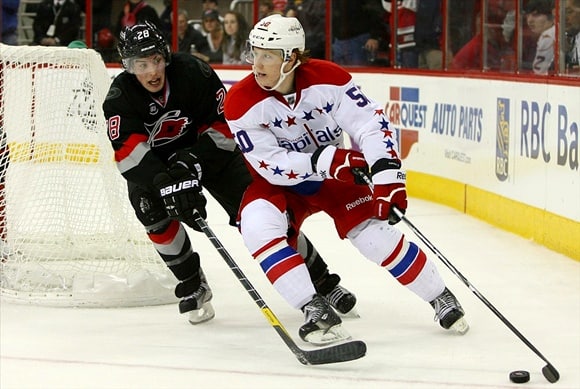 Season 2008-09
With a new season, Eakin showed an improvised version of himself in the game as his offense grew, and by the end, he had played in 54 games where he had 24 goals with 24 assists.
Furthermore, he was also named the Player of the Game for Team Orr and led the team to gain the 2009 CHL Top Prospects Game.
Season 2009-10
Before returning to Swift, Eakin signed a three-year, entry-level contract with the Capitals. Following it, he made his debut for the game with Washington's AHL affiliate Hershey and had his (5-2) victory over Syracuse.
Later, Eakin was eliminated from Canada's WJC U-20 team, and by the end of the season, he had recorded 47 goals with 44 assists.
Season 2010-11
During the mid-season of 2011, Washington traded Eakin to the Kootenay Ice in exchange for Christian Magnus, Ryan Bloom, Jarett Zentner, Colby Cave, and Steven Maryland.
In just a few times with them, he led the team to the 2011 U20 World Junior Championship as they bagged the silver medal. Furthermore, Eakin was also named to the WHL (East) Second All-Star Team.
Overall, by the end of the season, Eakin played 28 games where he had 18 goals with 26 assists.
Additionally, during the playoff games, Eakin was one of the four players to have 27 points as he marked 11 goals with 16 assists with a total of 19 games.
Professional
The Year 2011
As the season started, Eakin played with the Washington Capitals' American Hockey League (AHL) affiliate, the Hershey Bears.
Nearing the end of 2011 in November, the Capitals called him to the roster, where he made his debut the next day against the Anaheim Ducks.
The match came as a victory with 5-4; however, Eakin did not post any points during the game.
In a few day's intervals on November 4, Eakin posted his first goal of the season against Cam Ward of the Carolina Hurricanes.
The Year 2012-2017
Right with the 2012 NHL Entry Draft, the Capitals traded Eakin to the Dallas Stars in exchange for Mike Ribeiro.
Besides, Cody had his major breakthrough as he won the first career Stanley Cup playoff goal on April 23, 2014.
The team faced against the Anaheim Ducks while Cody had his goal over Frederik Andersen, which bought them to an end with 4-2.
Moving along the edges of his milestones, his first scandal broke out when he charged against the New York Rangers goaltender Henrik Lundqvist.
Back then, Eakin was suspended for four games for his behavior, and as the year continued, his injury and lack of gameplay made it the worst season in his career.
By the end of the season, Eakin could only record 3 goals and 9 assists with 12 points as he featured in 60 games altogether.
Likewise, for the 2017 NHL Expansion Draft, Vegas Golden Knights signed Eakin on June 21, after the Stars left him.
For the records of the first season with Vegas, Eakin maintained 11 goals and 27 points as he played in 80 games.
The Year 2018-present
As they featured in the 2018 Stanley Cups, Cody's former team Capitals, took them over.
Likewise, in the season's playoffs, Eakin featured in 30 games as he posted 3 goals. Advancing to the 2019 playoffs, for the first round, they faced San Jose Sharks.
Furthermore, Eakin had first game misconduct during Game 7 as Joe Pavelski landed in his head after gaining a cross-checked in the chest from Eakin.
As a result, Eakin went through a five-minute major penalty, and by the time in the penalty, Sharks led the game, and finally, the game came as a 5-4 loss.
Altogether, Vegas got eliminated from the game.
Having said these, in just a few days, League made an apology for their elimination from the game; hence, referees Eric Furlatt and Dan O'Halloran were banned for the rest of the games in the 2019 playoffs.
Eakin had a not-so-good time for the following season as he posted 10 points in 41 games. Simultaneously, the Golden Knights traded Eakin to Winnipeg Jets in exchange for a 2021 conditional fourth-round pick.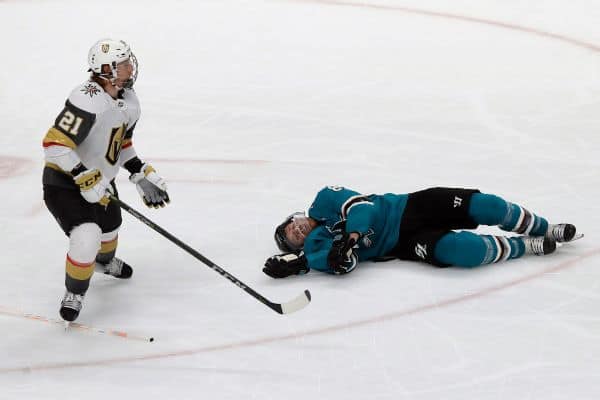 His first goal also came as a winning goal over the Arizona Coyotes as they ended with 4-2.
Later on October 10, Eakin was drafted by the Buffalo Sabres with a two-year, $4.5 million contract.
During that time, Eakin had accomplished the time as a free agent leaving the Jets.
2019 Playoff Illustration
The 2019 playoff came with a storm as it took media with shock and left Cody Eakin with disturbing thoughts.
Back then, only ten minutes were left for the end of the match as Eakin faced a five minutes penalty for the game misconduct, which ended the night as the Golden Knights failed to win.
As Eakin was called out, there were no heated arguments or disagreements, while Eakin was just clueless about the situation.
The San Jose member was lying on the ice-cold ground with blood as referees concluded it as Eakin's face-off though it was not.
As he was out of the match, Eakin went straight to the room, watched and re-watched the incidental contact, returned to the locker, and sat there for the rest of the games.
"It's tough. Things are happening so fast, and you want to be out there to try and change it. "-Eakin
Conclusion
In a few day's intervals, the accident came out as a standard cross-check following a faceoff as the San Jose member lost his balance and had incidental contact with Paul Stastny.
As a result, he fell hard on the ice and hit his head, but it was good enough that NHL apologized for that time, admitting to having the call incorrect.
Cody Eakin | 2020 Stats
To date, Eakin has achieved some milestones; however, he has yet to make a mark in the field.
Eakin has once been featured in the 2015 World Championships as the winning member if we look into the national contribution.
During that time, they achieved the gold medal having a perfect win of 10-0. Following it, for the awards, Cody has claimed the East Second All-Star Team two times in 2010 and 2011.
| | | | | | |
| --- | --- | --- | --- | --- | --- |
| Goals | Assists | Points | Plus / Minus | PIM. | Shoot % |
| 5 / 103 | 10 / 134 | 15 / 237 | -3 / -1 | 16 / 242 | 8.2 / 11.41 |
You can find Cody's Advances Stats and scouting report Here.
Net Worth
Cody Eakin is reported to have a net worth of $2.5 million, and at present, his reported salary is $2,250,000.
Not to mention, Eakin also signed a deal with the Buffalo Sabres for $4.5 million.
Besides, Eakin had purchased a house in Summerlin for $819,000, which is one of the models in the gated Oluna neighborhood.
You might be interested in Evgeny Svechnikov Bio: Ice Hockey Player, Career, Net Worth & Wiki>>>
Net Worth of Cody Eakin in Different Currencies
Let's have a look into Cody Eakin's net worth in different currencies, including the Euro and Pound
Currency
Net Worth
Euro
€

2,548,571

Pound Sterling
£

2,182,056

Australian Dollar
A$

4,073,319

Canadian Dollar
C$

3,769,350

Indian Rupee
₹

223,282,500

BitCoin

฿88
Cody Eakin | Love Life and Social Media
Eakin is a married guy who shares a healthy relationship with his longtime girlfriend, Hanna Stafford.
The duo dated for several years until Eakin proposed to Hanna after the regular season in 2018 and tied the knot on February 5, 2019.
The couple had an intimate lavish wedding ceremony on Big Tree Island, Ontario, Canada.
Their whole plan included a yacht party, reception on an island followed by an after-party at Smith Restaurant in Winnipeg in front of whole friends and family.
Cody Eakin FAQs
What is the Jersey Number is Cody Eakin?
Cody's Jersey number is 20.
How Many Kids does Cody Have?
Cody and his wife Hanna do not have a kid. They are focusing more on their careers rather than setting up their family.