Cody Miller is an American swimmer who holds many titles and achievements in his career. He is also the one we can learn how to make an obstacle a strength in achieving goals.
Well, if you go on scrolling down the article, then, trust us, you will be able to relate to the statement above.
The swimmer, Cody, has come a long way. From swimming to overcome his disease to compete in the Olympics, isn't it fascinating?
As being said that, Cody has competed in other international championships, including World Championships (LC), World Championships (SC), and Pan American Games.
Similarly, Cody holds seven medals, including three golds, two bronzes, and two silvers as of 2021.
Also, he is a YouTube personality. So now, without wasting time, why not jump into the article below?
Quick Facts: Cody Miller
Starting with the quick facts about the swimmer, Cody Miller.
Full Name
Cody miller
Nick Name
Cody
Age
30 Years Old
Gender
Male
Sexual Orientation
Straight
Height
6 feet and 1 inch (1.84 meters)
Weight
80 kgs (176.2 lbs.)
Horoscope
Capricorn
Date of Birth
9th January 1992
Birth Place
Billings, Montana
Religion
Christianity
Nationality
American
Ethnicity
White
Hair Colour
Light brown
Eye Colour
Blue
Skin Colour
Fair
Tattoos
Yes
Marital Status
Married
Wife
Ali DeWitt
Kids
One son – Axel Zeke Miller
Father's Name
Craig Miller
Mother's Name
Debra Miller
Siblings
One sister- Catie Miller
High School
Palo Verde High School
University Name
Indiana University
Profession
Professional Swimmer and YouTube Star
Active from
2008
Club
DC Trident and Sandpipers of Nevada (Former)
Coach
Ray Looze
Event
Breaststrokes
Medals And Achievements

One Time Olympic Champion -2016
Two Times World Championships (LC) -2015 and 2017
Bronze Medal At 2016 Olympic Champion
Silver Medal At 2016 World Championships (SC)
Bronze Medal At 2014 World Championship (SC)
Silver Medal At Pan American Games (2019)

Net Worth
$2 Million
Salary
Under Review
Endorsements
TYR, Speedo, and DC Trident
Social Media
Instagram, YouTube, Twitter, and Facebook
Merch
Sports Action Photo
Last Update
August, 2022
Cody Miller: Early Childhood and Education
Cody was born in 1992 in Billings, Montana. And he lights his birthday candle every 9th of January. So, as for now, the swimmer is 30 years old.
Similarly, Cody secures Capricorn as his star sign.
Miller was brought up in his birthplace for the time being. Later, his family moved to Las Vegas, Nevada, so he spent his life in Vegas.
The swimmer went to the Palo Verde High School in Nevada while growing up. After graduating high school, Cody enrolled at Indiana University, where he also polished his swimming skills under coach Ray Looze.
<<Khalil Mack's Wife, Relationships, Girlfriends & Affairs>>
And Miller earned an undergraduate degree in Business Management from the Indiana.
Who Are Cody Miller Parents? Names, Jobs, And Siblings
Cody is the son of his late father, Craig Miller, and his mother, Debra Miller. Craig had very advanced knowledge about the car as he served at one of the car dealerships in California.
Also, as per the trusted sources, the swimmer's birth father even worked as the general manager for the company.
In contrast, Cody's birth mother used to do several works, so there was no rigid occupation while the swimmer was growing up.
In the meantime, Debra, Cody's mother, had to struggle financially due to Craig's alcoholic habits. However, the mother never gave up on providing needed facilities to her swimmer son and daughter.
And in return, Cody made his mother, Debra, proud by making history in every swimming competition he competed on.
The Olympian swimmer Cody spent his childhood with his younger sister, Catie. They have every memory of their past.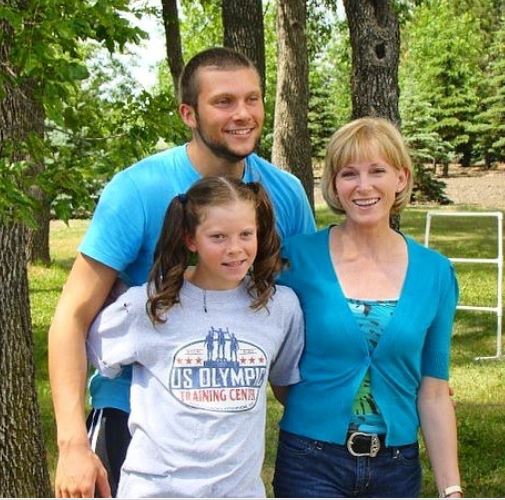 Also, Cody and Catie acted as the parents in many conditions, as their mother, Debra, was always busy with multiple jobs. And, both siblings never complain about this as they were mature from such an early age.
Hence, Cody has a strong bond with his only sister, Catie.
Detail On Cody Miller Disturbing Early Life | Financial Crisis And Father's Death
The swimmer, Cody, had a disturbing childhood. And was it not for swimming, he would have been a different person.
Initially, Cody didn't have a rough childhood as his parents were doing well on their jobs. However, the real trouble started when his father, Craig, was left without a job, as his work at a car dealership disappeared.
Soon, the family faced a financial crisis; also, bill collectors began coming. All this situation only hinted at some big trouble; however, Cody believed that his father had a real job for sure.
But, within time, nothing seemed to be summing up. So, one day, the swimmer followed his late father while the former was on his way to work.
Then, Cody couldn't believe it when he saw his departed father walking to the casino, Red Rock Casino, with the styrofoam cup, which had alcohol on it.
Eventually, then-young boy Cody confronted his father, Craig, in the given situation. But then, Craig couldn't utter a word as his son caught up on his lies.
<<Another Swimmer: Adam Peaty Bio: Olympics, Net Worth & Girlfriend>>
However, the incident didn't collapse the family as Cody and his mother moved on with it. But, Craig was the same; also, his drinking habit began worsening.
Besides drinking, Craig was also into drugs. And one day, Debra found all of this. So, she ended the marriage with him.
Craig Miller Real Situation And Death
But, there is a saying that blood is thicker than water; everyone used to care about each other silently. For instance, Craig used to leave a voicemail often. Also, Debra was ready to support him in any situation.
And Craig was a person who never asked for help from anyone. So, he did the same at his last moment as well. Whenever asked, he used to say that he is living under the sky and has a well-paid job.
In reality, Craig was living in the street for the past two years. And on the day of Christmas, Cody received a call of his sudden demise. And the news broke down Debra into pieces.
As per police, Craig was found dead on the street without a slipper. The reality added more pain to the Cody and his family members.
Though Craig became addicted to gambling and alcohol, he never missed an opportunity to teach politeness and discipline to his son and a daughter, says Sports.yahoo.com.
Cody Miller Physical Exterior and Ethnicity
As said earlier, Cody was born in the United States of America. Therefore, he holds American citizenship.
Similarly, the swimmer is categorized as a white American in terms of ethnic groups.
Anyway, keeping these things aside, to swim perfectly and have a balanced stretching strength, every swimmer's first requirement is their perfectly structured body. Luckily, Cody possesses the same body.
Miller stands tall at a measuring height of 6 feet and 1 inch (1.8 meters). The tallness he has is the main plus point for his career.
Likewise, Cody's listed weight is 80 kgs (176.2 lbs.).
Besides Cody's height and physique, he has a contagious smile, which he always keeps on his beautiful face.
Also, the swimmer has blueish eyes. On top of that, Miller has light brown, neck-length hair.
Likewise, Cody has inked an Olympic logo on his right arm. And, he often keeps a clean-shaved beard. In other words, the swimmer keeps french-beard most of the time, which is another unique appearance.
Cody Miller Career – Olympics and More
Going back to Cody's early life, he never intended to swim until his doctor advised him to do so. You might be searching for the reason for this.
Well, the answer is that Cody came to know that he has a Pectus Excavatum (caved-in or sunken appearance of the chest) during his younger days. As a result, swimming was the best treatment for his medical condition.
Eventually, Cody took swimming as his professional career. While Miller was in college, he left a remarkable impact by competing in various events. For example, the swimmer made an appearance at the 2011 Big Ten Championships, NCAA Championships (2011 and 2012), etc.
Then, in 2014, Cody's career took a turn-over when he won silver and bronze at the Short Course World Championships in Doha, Qatar. But, again, this event made him rose to fame.
Next, Cody began his journey by making numerous records in many championships. Cody has competed at the 2014 U.S. Nationals, 2015 World Aquatics Championships, 2016 United States Olympic Trials, and more.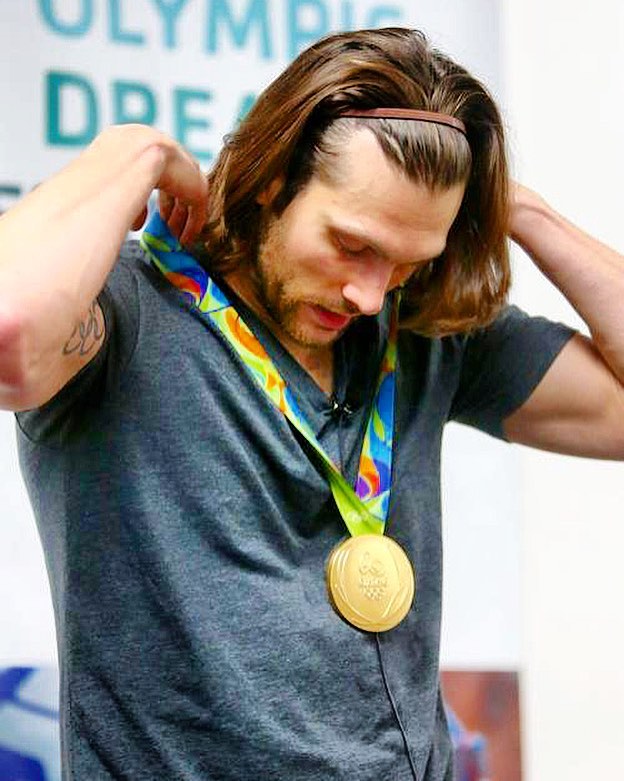 Also, Miller has competed in the 2016 Summer Olympics, where he bagged a bronze medal in the men's 100-meter breaststroke. Also, during the time, he won his first Olympic gold medal in the men's four × 100-meter medley relay.
Similarly, in the coming years, we might see Cody swimming in other championships.
Cody Miller Net Worth | Salary, and Endorsements
Cody, the swimmer by profession, has accumulated a huge fortune to date. He has competed and won many competitions, so Miller might have made millions of dollars to win prizes only so far.
Similarly, Cody Miller has a net worth of $2 Million as per the Celebrity Net Worth.
Besides swimming, Cody also earns a good income from his self-titled YouTube channel, which he created on 16th April 2011. His channel has 164K followers as of 27th August 2021.
In addition, Miller receives a hefty amount from various sponsorship, including Speedo, DC Trident, and more. Also, he was an ambassador for the TYR for almost six years.
Is Cody Miller Married? Info on his Romantic Life
For several years, the swimmer, Cody, is living a blissful married life with his girlfriend-turned-wife, Ali DeWitt.
As per sources, Cody got down on a knee and proposed to Ali on 22nd November 2015. Most likely, they were in a relationship for a couple of years.
Next, Cody and Ali promised to be forever together at their wedding ceremony on 9th September 2017. Since then, the husband and wife have been sharing the same roof.
Additionally, the couple is blessed with a beautiful son named Axel Zeke Miller since 2020. The swimmer welcomed his first child on 16th November 2020 with his wife, Ali.
Also, the exciting fact about Axel's birth is, he arrived in the world just after a day of Cody's event at the US Open in Indianapolis.
Similarly, Cody took his Instagram to announce the birth of his precious kid. At the time, he had no bound of happiness.
So, as of now, Cody and his wife, Ali, are raising an only child.
<<You May Want To Explore –Cameron Van Der Burgh Bio: Net Worth & Olympics>>
Social Media Presence
Well, well, our swimmer, Cody, is super active on social media. His passion for blogging is incredible. So yes, he is a YouTube star as well.
If you are willing to follow Cody Miller on his social platforms, click the link below.
Instagram: 137K followers
YouTube: 164K subscribers
Facebook:9.9K followers
Twitter:30.2K followers
Interesting Facts About Cody Miller:
Cody is a puppy enthusiast. So naturally, therefore, he has an adorable white dog called Lego.
He couldn't compete at the 2020 Tokyo Olympics as he was unable to qualify for the games.
Cody is a film buff, which means he is very interested and has great knowledge about movies.
Frequently Asked Questions About Cody Miller
How much money does Cody Miller make?
Cody makes a considerable amount from his profession. But, most probably, he makes money in million figures in maximum from his games.
Likewise, as of now, Cody had made $2 million of net worth.
Why did Cody Miller sign with Speedo?
After breaking up with his first sponsorship, TYR, Cody signed with Speedo in early 2021.
As per Cody's statement, he agreed to a deal with the Team TYR because of its unique racing suit, dopest products, and the gears. Also, the swimmer stated that the hard-working and wise people behind the company made him accept the TYR's sponsorship.