Colleen Wolfe is an American sports commentator currently serving as an on-air talent for the NFL Network. In 2022, she bashed NFL teams and players for being bad at taking criticism.
The sports industry is one of the growing industries, but how would the sports industry be in the absence of reporters like Colleen Wolfe?
Philadelphia's native Colleen Wolfe has been working for the NFL (National Football League) network for a long time.
She successfully and fantastically hosts many American football-based shows like Thursday Night Football Kickoff and Good Morning Football, to name a few.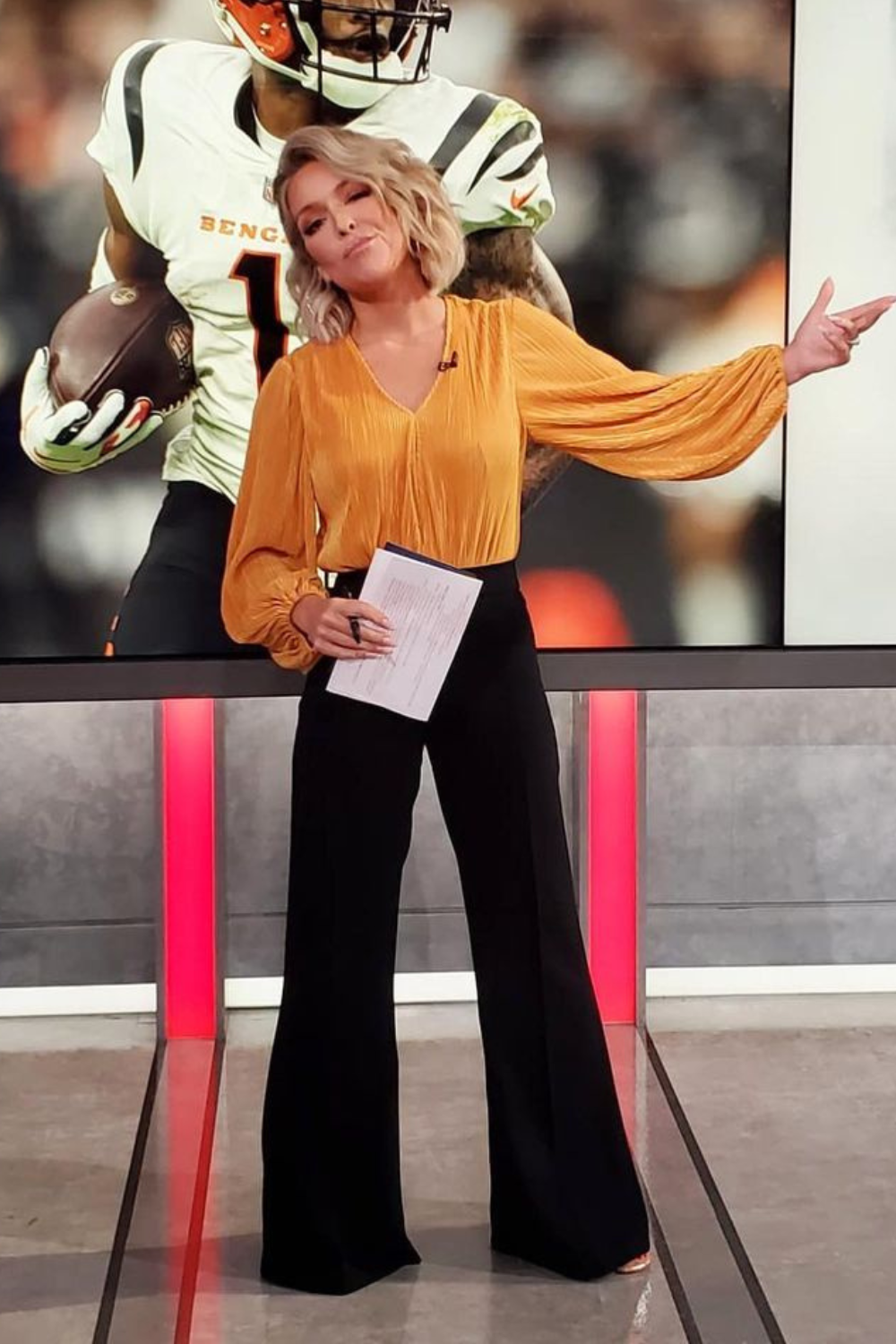 Due to Colleen's fascinating sense of humor and charming personality, it was not hard for her to rule over football fans' hearts worldwide.
The sports commentator has had a memorable journey from the beginning of her career until today.
As of 2023, Colleen is estimated to have a net worth of well above $500k.
Let's dig into Wolfe's further details, including her early life, personal life, net worth, and current career endeavor.
First and foremost, let's have a look at some quick facts regarding Colleen Wolfe:
Quick Facts
| | |
| --- | --- |
| Full Name | Colleen Wolfe |
| Birth Place | Philadelphia, Pennsylvania, United States |
| Birth Date | January 2, 1985 |
| Nick Name | Sports Guru, Connie Fox |
| Nationality | American |
| Education | Dresel University (Degree in communications) |
| Horoscope | Capricon |
| Age | 37 Years Old |
| Height | 5'9″/1.75 m/175 cm |
| Weight | 60 kg/132 lb. |
| Father's name | Ed Wolfe |
| Mother's name | Not Available |
| Siblings | Not Available |
| Hair Color | Blonde |
| Eye Color | Blue |
| Shows | Good Morning Football, Thursday Night Football Kickoff, Phillies Postgame Show, NFL Gameday kickoff, NFL Total Access |
| Marital Status | Married |
| Children | Not Available |
| Profession | Sports news anchor, television presenter, production assistant, associate producer, booking producer, line producer, show producer, writer, analyst, photographer, and editor. |
| Net Worth | Above $500,000 |
| Current Work | NFL's host and commentator |
| Spouse | John Gonzalez |
| Joined NFL Media in | 2014 |
| Married in | 2011 |
| Hobbies | Music, Fishing |
| Social Media | Instagram, Twitter, Facebook |
| Viral videos of Colleen | Colleen sings Cardi B's Bodak Yellow, Colleen's interview with Marshawn Lynch. |
| Last Update | June,2023 |
Early Life, Education, And Parents
The super-talented NFL host Wolfe was born on January 2, 1985, to her parents in Philadelphia, Pennsylvania. Her father, Ed Wolfe, was a fight instructor, and her mother was a homemaker.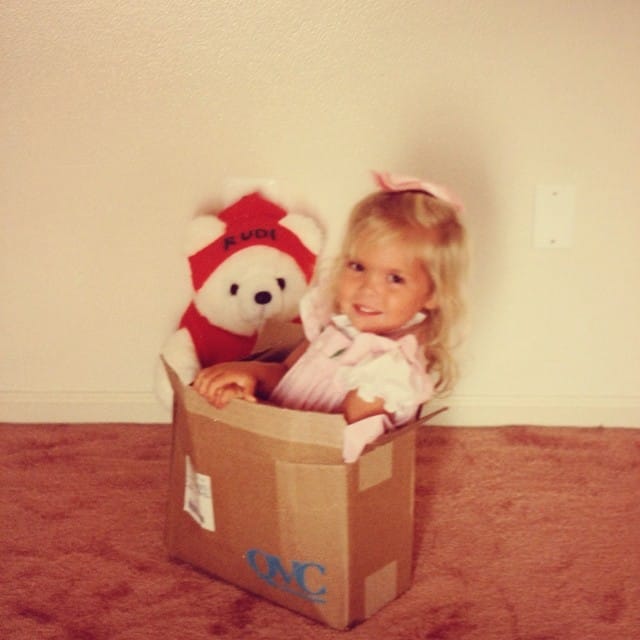 Colleen's parents divorced when she was young, and she was raised by her mother. The American television presenter completed her high school at Hatboro-Horsham Senior High School.
And, later she joined Drexel University, where she gained a degree in communications.
Measurements, Age, And Personality
Colleen was born in 1985, making her 37 years old as of 2023.
She celebrates her birthday on January 2, and her zodiac sign is Capricorn. People belonging to this sign are believed to have traits like being ambitious, pessimistic, and sensitive.
With lots of talent and intelligence, the anchor stands tall at 5 feet 9 inches (1.75 meters) and weighs around 60 kg (132 pounds).
Her blue eyes, blonde hair, and charming smile complement her personality.
Besides, the sports journalist is a very kind-hearted human who admires animals. She is truly an animal lover, rescues animals in danger, and brings them home to her husband.
Married Life And Husband
Colleen and John started dating in 2006 and the gorgeous host got engaged to the man of her dreams in 2010.
A year later, on 4th September 2011, Wolfe married John Gonzalez, taking their relationship to the next level.
Wolfe was seen in a long white dress during her wedding and John Gonzalez appeared in a black suit.
Colleen And Her Husband's Anniversary Photoshoot (Source: Instagram)
Wolfe's husband was a columnist for the Philadelphia Inquirer and an analyst for NBCSportsPhilly.
Considering both of their profession in the sports industry, it's safe to say that the power couple is highly interested in sports, and their shared interest reflects their high compatibility.
On the other hand, this fantastic match is not yet blessed with a child. Maybe they have no intention of being parents right now.
However, this duo owns two pets, a dog named Ernest Hemingway and a cat named Blitzen, and they love these pets.
Colleen and her husband are undoubtedly enjoying their marital life as they are often seen enjoying their life vacationing on the beach and sharing pictures on their socials.
Moreover, they never miss out on being thankful for each other's existence through their captions.
Let's pray this ardent love between them will never disappear, and they will stick together till the end.
Professional Career And Achievements
Career Before Joining The NFL Network
After completing her education, she began to watch out for opportunities to pursue her career as a TV presenter.
Initially, she started to work for Fox 29 as a part of the newscast team in 2007. The TV station was associated with local sports events, so colleen began to work for the sports team around the city.
Later, Colleen shifted to the NBC sports channel, where she was handed more authority in sports content.
During her time at NBC, Colleen was covering the stories of the Philadelphia Phillies (MLB), Philadelphia 76ers (NBA), and Philadelphia Flyers (NHL).
Besides, Wolfe worked for a home-based radio station named WIP in their morning shows and covered sports.
The sports commentator also worked for a Golf show, which aired on the CSN channel. Colleen has also experienced a producer's journey in a Phillies Postgame program that aired on WPHL17.
Eventually, in 2012 Colleen joined Fox 29 as a sports reporter.
Career After Joining The NFL Network
Colleen's career started going uphill after working as a host for the NFL network's shows. The NFL recruited her in 2014, which was only possible due to her hard work and dedication.
At the NFL Network, she hosts various shows like NFL GameDay Kickoff, Power Rankings, Good Morning Football, NFL Access, etc., and interviews many celebrities.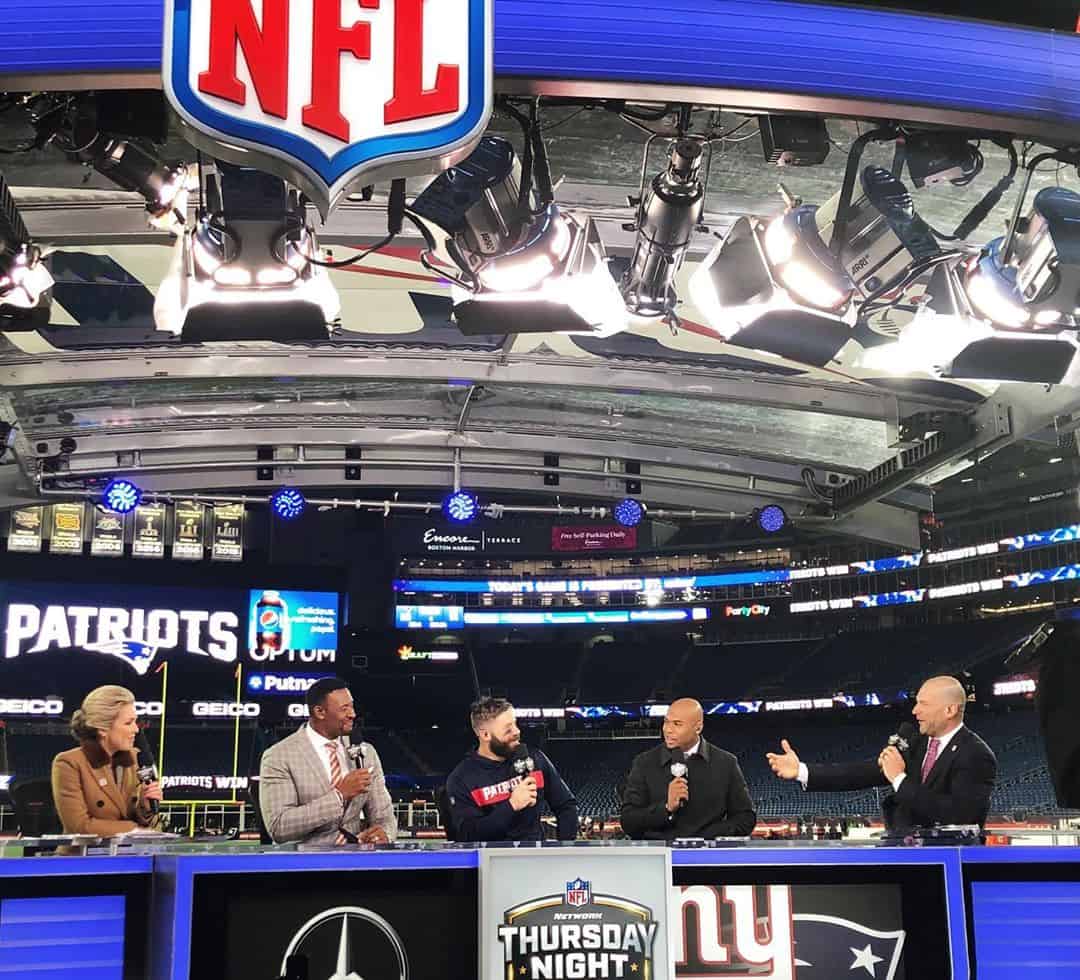 The show Good Morning Football airs from 7 AM to 10 AM. The broadcaster also hosts Thursday Night Football Kickoff.
In the same program, she provides insights about the exciting matches of the day.
Colleen and Dan Hanzus host NFL Power Rankings each week during the regular season and provide an in-depth look at Hanzus' weekly ranking of all 32 NFL teams.
Achievements
The broadcaster has had quite a few experiences as a production assistant, booking producer, reporter, host, writer, analyst, photographer, editor, and many more.
Wolfe was also associated with production companies, regional and national sports networks, and other broadcasting platforms.
Due to her immense dedication and impact, Colleen Wolfe was #33 on the Big Lead's 40 under 40 Sports Media Talent list in 2019.
Hence undoubtedly, the American sportscaster is one of the best presenters and anchors of today's era.
Net Worth And Salary
Since the starting phase of her career, the sportscaster has worked in several fields and networks. So, we can assume she must have accumulated an impressive amount of money.
In the same way, authoritative sources reveal Colleen's net worth to be well above $500,000.
Colleen's wealth will grow more in the upcoming days as she is a shining star, and knows what she wants and what she needs to do. She signed a multi-year extension, certainly with an increased salary, with the NFL Network in 2019.
Similarly, she is leading a very luxurious lifestyle. The sports journalist might have some estates and investments under her name, however, these details are not available to the public.
Net Worth of Colleen Wolfe In Different Currencies
Here is the net worth of Colleen Wolfe in different currencies, including the Euro and Pound.
Currency
Net Worth
Euro
€

459,825

Pound Sterling

£403,810.4

Australian Dollar

A$702,543.5

Canadian Dollar
C$

666,747.5

Indian Rupee

₹4,07,72,750

BitCoin

฿21.70
Controversies Related To Colleen Wolfe
Philadephia's native is not linked to a lot of controversies, but a few controversies have surrounded her to date. On July 29, 2017, the NFL player Marshawn Lynch awkwardly flirted with her in one of her interviews.
In the middle of the interview, out of nowhere, Marshall asked her for an impromptu date. And this interview became one of the most viewed videos on the internet.
The popular video was a plus point in colleen's career because it boosted her popularity. As the saying goes, 'every publicity is good publicity.'
In January 2022, Colleen admitted to being called to the principal's office a few times for irking teams and players. She rebuked NFL teams and players for being too sensitive to criticism.
There is also conjecture and rumors like Colleen might be seen in Hollywood movies as an actress. But, we have no idea about how truthful this news is.
Did You Know Colleen Wolfe Also Rap?
The sports anchor went viral on Twitter on February 8, 2018, after rapping Cardi B's Bodak Yellow. She rapped this song during a break; astonishingly, this clip crossed over 600,000 views on Twitter.
Let's hope to see her rapping more in the upcoming years. Further, let's move toward the sports anchors' social media presence.
Social Media Presence
The sports commentator for NFL Network is quite active on her socials. She is frequently seen posting throwback pictures, some video clips of her TV shows, and a lot of still images with her husband.
Colleen is available on Instagram under the handle @colleenwolfe, Facebook @ColeeenWolfeNFL, and Twitter @ColleenWolfe.
Instagram: 117k followers
View this post on Instagram
Facebook: 10k followers
Twitter: 148.1k followers
Popularity
After working for different networks before joining NFL, Colleen's popularity has grown consistently.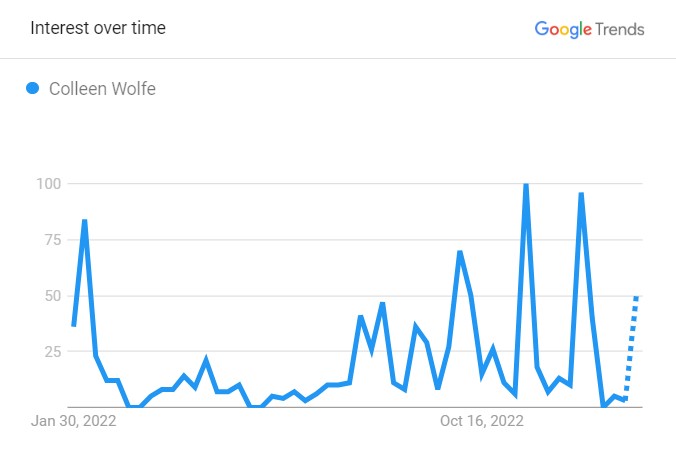 The above graph gives brief information about the popularity of Colleen based on Google searches in the United States over a year.
Frequently Asked Questions