Multi-talented! A word that describes Colt Cabana perfectly as he is well-versed in several professional sections. Besides being a professional wrestler, he has worked as a color commentator and podcaster.
One of the most influential wrestlers signed to All Elite Wrestling; Cabana is also known for his social communication and media sites.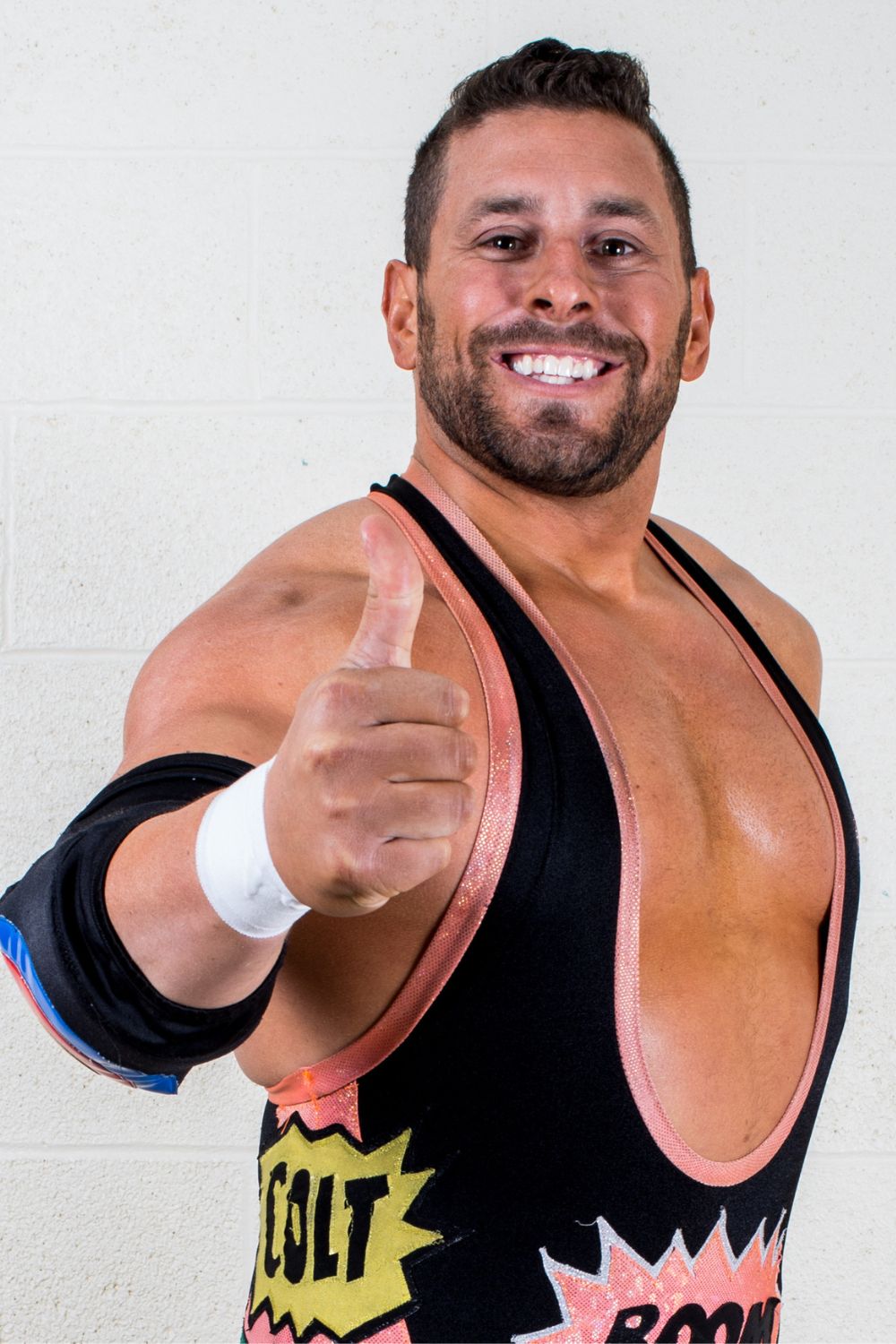 Here, we will talk about the details of Colt Cabana's career and the crevices of his life.
Before we start this discussion, let us first get through a quick dose of general facts about him.
Colt Cabana | Quick Facts
Birth Name
Scott Colton
Date of Birth
May 6, 1980
Birth Place
Deerfield, Illinois, U.S.
Ring Name
Chris Guy
Colt Cabana
Colt Nevada
Goon #1
Matt Classic
Masked Fipper #7
Officer Colt Cabana
Officer Jack Offerson
Punchline
Scott Colton
Scotty Goldman
Religion
Unknown
Nationality
American
Ethnicity
Jewish
Zodiac Sign
Taurus
Age
47 Years Old
Height
6 feet 1 inch/1.85 meters/185 cm
Weight
233 lbs./106 kg
Hair Color
Dark Brown
Eye Color
Dark Brown
Build
Athletic
Father's Name
Name Unknown
Mother's Name
Marcia Colton
Siblings
Greg Colton
Education
Deerfield High School,
Western Michigan University
Marital Status
Unmarried
Wife
None
Kids
None
Profession
Wrestler, Color Commentator, and Podcaster
Billed From
Chicago, Illinois
Maxwell Street in Chicago, Illinois
Trained By
Ace Steel
Danny Dominion
Kevin Quinn
Professional Debut
June 19, 1999
Net Worth
$3 Million (£2.53 Million)
Social Media
Instagram, Twitter, YouTube, Website
Last Update
March 2023
Colt Cabana | Body Measurements
Colt Cabana is a man with firm muscles, not to mention he has an athletically toned body structure.
He stands tall at the towering height of 6 feet 1 inch (1.85 meters) while weighing 233 lb (106 kg).
Likewise, Colt maintains a waist size of 0.81 meters (31 inches) and a biceps size of 0.4 meters (15 inches).
As for his appearance, he maintains tan skin and neatly trimmed dark brown hair. Additionally, Colt has eyes of similar color to his hair.
You Might Also Be Interested About C.B. Dollaway Bio: MMA, Accident, Fight & Net Worth >>
Colt Cabana | Early Life
Scott Colton, famous by his ring name Colt Cabana was born on May 6, 1980, under the star sign Taurus.
He was born in Deerfield, Illinois, U.S., to his mother, Marcia Colton. His father's name and information are unknown. He has an elder brother named Greg Colton.
According to the sources, he first watched professional wrestling at the age of three and became obsessed with it.
Throughout his childhood days, Colt Cabana was interested in wrestling and often indulged in sports activities.
Colt Cabana | Education
As a Deerfield native, Colt Cabana initially joined Deerfield High School for his early education.
During his high school days, he played baseball, football, and basketball. Back then, he attended the Deerfield Youth Baseball and Softball Association through high school and into college.
While deciding which college to choose, he was inclined more towards wrestling than football.
After his high school days, Colt had improved to such an extent that he could opt for collegiate football, but something else was waiting for him.
He then chose Western Michigan University because it was the strongest among the programs making him an offer.
During his university days, Colt graduated with a degree in Business Marketing. He graduated with the degree in 2002.
Colt Cabana | Career
Right after his first year of college in the summer, Colt Cabana began his wrestling school.
Before he graduated from college in 2002, he had already performed in several wrestling matches.
During the same year, Colt also worked as a teaching assistant at Shepard Middle School in Deerfield.
Slowly, he moved to Ring of Honor (ROH) as CM Punk's rival, where he became a tag team champion.
From 2004 to 2007, Colt Cabana played in an international arena as he took on extensive tours of Europe, competing in Scotland, Germany, and France.
During his tenure, he also made a debut in the Japanese arena for Zero 1 Max.
In November 2006, he wrestled for the Wrestling Society X (WSX) under the ring name Matt Classic.
Not long after it, Colt Cabana joined World Wrestling Entertainment (WWE), and soon, he signed a contract with them. He was with the WWE for two years before returning to the independent circuit.
After wrestling at the Pro Wrestling Guerrilla, Colt Cabana was back at ROHDURINGen. DURING his tenure at ROH, he also wrestled for New Japan Pro-Wrestling from 2019 to 2020.
Furthermore, he was also a member of the All Elite Wrestling.
With All Elite Wrestling, Colt Cabana also made his guest commentator debut alongside play-by-play commentator Tony Schiavone. Similarly, he was also a part of the Dark Order.
Other Career Choices
During Colt Cabana's wrestling journey, he started using his entrepreneurial skills to build his brand.
In 2020, he started a podcast named "The Art Of Wrestling." As of November 17, 2022, the podcast has 403 episodes.
In addition, Colt Cabana also stood as a commentator for RetroSoft Studios in 2019 alongside Riccaboni.
During his tenure, he made a commentary for the sequel to the 1991 arcade game WWF WrestleFest RetroMania Wrestling on PlayStation 4, Nintendo Switch, Xbox One, and PC.
Besides, Colt also authored a book named "Wrestling Dreams" alongside Erica Weisz (author and illustrator of children's literature).
Injuries
During his wrestling journey, Colt Cabana has had multiple injuries. Some of his injuries are minor, while some of them are quite major.
In 2006, Colt faced an auto accident with his fellow stars, Adam Pearce and Dave Prazak.
It was after their ROH event in Dayton, Ohio, that he had lost his control due to the weather conditions.
Fortunately, they were wearing seat belts and survived, but sadly, Cabana had to amputate a toe.
Even though injured, he wrestled in Chicago Ridge, Illinois the next night.
in 2012, Colt Cabana faced an injury while in a match in Australia where he almost lost an entire arm.
Back then, he had cut one of his right-hand fingers; however, Cabana had not given it much thought.
But not long after, his finger started swelling, and he had to see the doctor. The doctor then suggested him to either get an immediate surgery or bear the risk of amputation.
Because of his injury, Colt Cabana was out of the ROH's Best in the World pay-per-view in 2019.
During his tenure, he faced a hematoma on his thigh. In 2021, Cabana was also out of the AEW TV for weeks.
You Might Want To Know About Canelo Alvarez's Net Worth: Cars, Endorsement & Career >>
Colt Cabana | Highlights And Awards
All American Wrestling Heritage Championship (One Time)
APW Worldwide Internet Championship (One Time)
ACW/NWA Wisconsin Heavyweight Championship (One Time)
ASW People's Championship (One Time)
cOw Manager of Champions Championship (One Time)
CWA Heavyweight Championship (One Time)
Ironman Heavymetalweight Championship (Two Times)
IWA Mid-South Heavyweight Championship (One Time)
ICW/ICWA Tex-Arkana Television Championship (Four Times)
Insane Champion Wrestling (Three Times)
IWF Heavyweight Championship (One Time)
JCW Heavyweight Championship (One Time)
IWC Super Indy Championship Tournament (2003)
LWF Heavyweight Championship (One Time)
LCW Heavyweight Championship (One Time)
MAW Heavyweight Championship (One Time)
National Wrestling Alliance Championship (Three Times)
NCW World Heavyweight Championship (One Time)
Ohio Valley Wrestling Championship (Four Times)
Global Tag League Award (Four Times)
Pro Wrestling World-1 Great Lakes Championship (Two Times)
Colt Cabana | Lawsuit Controversies
In February 2015, WWE Dr. Christopher Amann filed a lawsuit against Colton and Phillip Brooks (CM Punk).
During that tenure, Cabana did a podcast and in one of its episodes, CM Punk was invited to discuss his career.
In their discussion, CM Punk revealed his reasons for leaving WWE. One of the reasons mentioned was the medical staff who handled his injuries. Punk stated how badly the staffs treated the wrestlers.
Therewith, ringside physician Dr. Christopher Amann filed a defamation lawsuit because of their comments on the podcast.
The lawsuit stated that the podcast was streamed over 1 million times on YouTube and more than 10,000 times on SoundCloud and that wide reach had defamed him reputation.
Amann claimed a compensation of roughly $4 million (£3.38 million) plus an undisclosed amount for punitive damages.
Later in 2018, this lawsuit was taken to the jury, and Cabana and Punk won the case as the jury ruled in their favor.
The same year in 2018, Colt Cabana filed a lawsuit alleging breach of contract and fraud against his former best friend CM Punk.
Cabana claimed that Punk had refused to pay his share of legal fees for the Amann suit.
Cabana claimed Punk to give him $200,000 ( £168,862) in damages and an additional $1 million (£844,310) in punitive damages. Punk then filed a counterclaim seeking $600,000 (£506,586) and additional fees.
Altogether, their lawsuit got dismissed in 2019 and no financial compensation was awarded to either of them.
Colt Cabana | Net Worth
According to the sources, Colt Cabana maintains a net worth of $3 million (£3.55 million).
However, we have no detailed information on his career earnings, salary, and property.
Colt Cabana | Personal Life & Girlfriend
As of this writing, Colt Cabana is single and not dating anyone. He is also not linked with any affairs or scandals.
Additionally, he is not married and does not have any children.
Cabana is quite secretive about his personal life and love life, like many celebrities.
If we receive any information about his personal life and love life, we will make an update.
Social Media
As a matter of fact, Colt Cabana is a master of social media. He has used the power of social media to multiply his sales.
If you are interested in following Colt Cabana's sites and uploads, check out his following social media sites.
Instagram– 98.4k Followers
View this post on Instagram
Twitter– 66.7k Followers
YouTube– 63.7k Subscribers
You can also check out his website.
Colt Cabana has an amazing personality. His dedication to learn, grow, and be more than a wrestler is so motivating. It is highly suggested to check him out.
2022 Update
Wrestling Legend Colt Cabana joined The Dark Order, a wrestling stable currently performing in All Elite Wrestling (AEW). He was one of the strongest members of the stable.
However, in 2022, Cabana left the Dark Order. After him, several other members like Stu Grayson and Alan Angels also left the company.
Popularity Graph
Frequently Asked Questions (FAQS)
Is Colt Cabana in AEW?
Colt Cabana was gone from AEW and was assigned to the ROH after his best friend turned foe, CM Punk debuted in AEW in 2021 and became a two-time AEW Champion and won almost all matches.
Was Colt Cabana in the WWE?
Yes. He had signed contract with the WWE on April, 2007 and stayed there for 2 years.
Colt Cabana's Popularity Over The Past Twelve Months (Source: Google)Read About David Goggins Bio: Career, Athlete, Wife & Net Worth >>