Curren Caples is a professional skateboarder from California, the USA, who has been skateboarding for more than ten years.
Caples started his professional career for the first time by participating in the 2013 Tampa pro contest.
The skater started when he was just four years old, and now he had already participated in big skating events.
Meanwhile, Caples has gained tremendous success in earning medals, name, and fame in his skating career.
Curren's overwhelming performance has attracted lots of fans and the attention of sponsors. He won his first gold medals in just his first X games in Skateboard Park in 2013.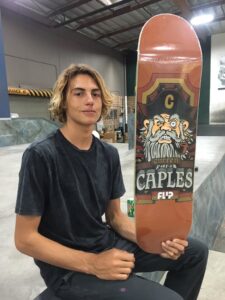 Current received tremendous family support in the initial phase of his career, which gave him inspiration and strength to focus on his career.
"Curren was named after renowned surfing icon Tom Curren."
Before checking the details about Curren Caples's career and life, let's check some quick details about him.
Quick Facts
| | |
| --- | --- |
| Full Name | Curren Caples |
| Birth Date | January 10, 1996 |
| Birth Place | Akron, Ohio, USA |
| Religion | Christian |
| Nationality | American |
| Sexuality | Straight |
| Ethnicity | American |
| Education | Homeschooled |
| Horoscope | Capricorn |
| Father's Name | Evan Caples |
| Mother's Name | Shelly Caples |
| Siblings | Peyton Caples(Sister) |
| Age | 27 Years Old |
| Height | 1.78m |
| Weight | 62 Kg |
| Hair Color | Blonde |
| Eye Color | Unknown |
| Married | Unmarried |
| Girlfriend | Single |
| Profession | Skateboarder |
| Net Worth | $1.2 Million |
| Social Media/ Followers | Instagram:447k, Facebook:259K,& Twitter:33.9k |
| Career History | Summer X Games |
| Accomplishment | Gold-2013 Munich, Gold-2015 Austin, Silver-2013 Barcelona, Silver-2016 Austin |
| Last Updated | March, 2023 |
Curren Caples | Early Life, Parents, and Education
Curren Caples was born on January 10, 1996, in Akron, Ohio, USA. He later moved to Ventura, California, and engaged in skateboarding sports at just 4.
Likewise, Caples has a sister named Peyton Caples, who was diagnosed with Toxic Shock Syndrome (TSS) at 15.
Curren's father, Evan Caples, was a professional surfer who currently owns Momentum Ride Shop and a Surf & Skate store, whereas his mother, Shelley Caples, is a housewife.
As he flourished in skateboarding, Caples' mom gave him an education at home as he couldn't attend school. Later, Curren did not continue his high school career but instead focused on skateboarding.
In his early 14s, Curren participated in his first X Games park event and ended up being 4th. Likewise, he started boosting his skills and started doing difficult tricks that professional barely does.
His parents had a sense of Curren's skills when they signed him up at Ventura's skating camp. As a result, his instructor realized Curren had enough skills and needed bigger platforms.
According to his parents, he was a miracle boy as he learned to walk even before he would crawl. Furthermore, he holds amazing talent and skateboarding skills, which look like a miracle to the world.
Curren possesses a fearless skating style influenced by surfing, a hereditary gift and second favorite after skateboarding. Thus, he also started surfing with his dad when he was just ten years old.
Curren Caples | Age & Body Measurement
Curren was born on January 10, 1996, and he is currently 25 years old. Also, according to his birth chart, his horoscope is Capricorn.
Capricorns are believed to be resourceful, ambitious, hardworking, as well as career-oriented. People with the horoscope Capricorn are believed to be powerful.
Curren Caples has slim body measurements with average height and weight. His height is 1.78 meters, and he weighs around 62 Kilograms.
Curren Caples | Skateboarding Career
Junior Career
Curren Caples has been established as a successful and skilled skateboarder, ranking 32nd all over the world.
Since the early age of just four years, he has been skating, and to date, he has 19 years of great experience in skateboarding.
At just the age of 4, Caples' skills in skateboarding attracted lots of people's attention. One of them was his neighbor, Carl.
Carl approached Shelley and explained Curren's possibility and capability to perform at a higher stage.
As a result, Curren was signed up for a skateboard camp near his hometown. He showed and performed such tricks that his instructor wouldn't.
His X Games tournament journey started in 2010 in a skateboard park, where he ranked 4th.
Again, in 2012 he took participation in the Los Angeles skateboard park and ended up ranking 9th.
Professional Career
As he became a professional skater in March 2013, at the age of 17, his first skateboard event was Tampa Pro, where he stood 15th.
In the same year, he participated in the X Games in skate Board Park in Barcelona, and there he was able to book the first Silver in his name.
Again, in 2013 he presented participation at the X Games in Munich Skateboard Park, where he won his first gold against Pedro Barros.
Likewise, in the same year, he also reached the final in VQS Surf Contest at Kauai as he is also fond of surfing like his dad.
Similarly, he won the Dew tour Chicago street style contest and Red bull Hartline contest in 2015. As a result of his victory, he won $35000 as a prize.
In 2015, he won another gold medal in Skateboard Park in the X Games and qualified for Pedro Barros. Meanwhile, he failed to qualify for street skateboarding even as Ryan Sheckler knocked him.
Furthermore, in 2016, the skater reached the final at the Austin X Games, winning a silver medal. In 2019 he finished 18th at the 2019 CBDMD Peahi Championship, a surfing tournament in Maui.
Hence, in short, he has an impressive career at his young age, looking for more victories and success in Skateboarding, winning lots of achievements, Fans, and sponsors' attention.
Also, Know about Travis Pastrana >>
Curren Caples | Personal Life
Curren grew up and lived in Ventura, California, with his family. He is inspired by English professional Skateboarder Geoff Rowley the most, as he also loves to get inspired by many other people.
There are two sections of X Games events, Street Skateboarding and Park Skating events. Curren admits he is better at park skating, but he prefers to skate in the street to do freestyle there.
Curren Caples is also featured in the professional Toni Hawk's videos, where he shares his skills with many other professionals.
He's also been filming street skateboarding for Berrics' "The Push series," which is available on youtube.
Curren is not only limited to Skateboarding and surfing, but he is also fond of photography and has a collection of cameras. He also loves to spend time playing E-Sports like Call Of Duty.
He is also in mini-movie like: Extremely sorry, released in 2009, and Weight of the world was, released in 2012.
When Curren was 16, he sustained a hip injury; the doctor warned him to avoid injury again.
Later, he also suffered from a wrist injury and foot injury; furthermore, he says he wants to be involved in skateboarding for as long as possible.
"I love what I do, and I am hoping to make enough money off skating to live off forever."
Curren Caples | Net Worth and Endorsements
According to different sources, Caples has an estimated Net Worth of around $1.2 million. His primary source of income is his skateboarding career, whereas he also earns through sponsors and brands.
Different popular brands like Flip Skateboards, Oakley, Ace trucks, Ricta Wheels, RVCA Clothing, Independent; Vans, Mob Grip, Bones Swiss bearings, and Momentum Ride Shop is his sponsors and associated with him.
Furthermore, Skate Mental skateboarding has featured the pro rider on their skateboards. In July of 2021, he leaves Flip deck to join Skate Mental.
Curren rides the unique and classiest 1969 VW Fastback car, which is truly impeccable, spotless, and flawless after retro restoration.
The young skater is also the brand ambassador of popular beverage brands like Mountain Dew, Red bull energy, and Monster energy. He is also the face of his father's Mountain ride shop in Ventura, California.
Thus, Curren has lots of opportunities and skills ahead of him. Surely, he will gain a mass of fortune if he progresses as now in the future.
Also, Know the Net Worth of Frank Nitty >>
Curren Caples | Personal Life and Dating
Curren Caples loves to keep his personal and love life as private as most celebrities do. There are no rumors regarding his love affairs and love life.
According to different sources, it is believed that Curren is currently single and not dating anyone. However, some sources claim that he had at least one relationship before, but it's not verified.
Social Media Presence
Curren is a very popular celebrity skateboarder and has massive followers all over the world. He is active on different social media like Instagram, Facebook, and Twitter.
He has a huge amount of fan following and posts lots of his skateboarding videos over there.
Curren's videos are also available to watch on social media like youtube and are made in collaboration with different channels.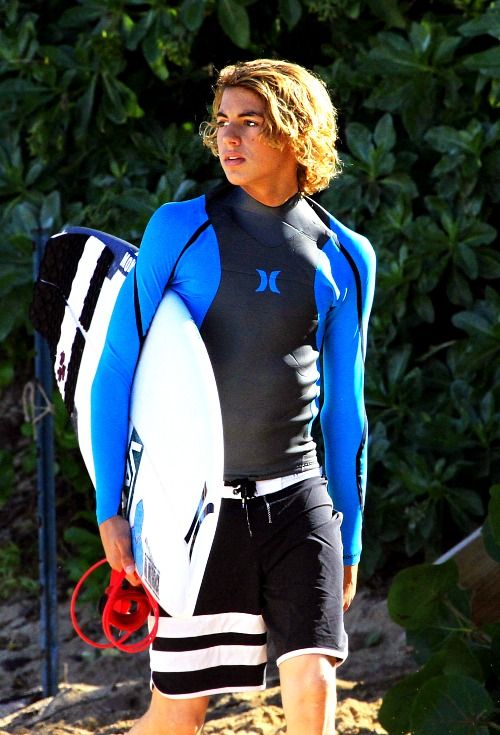 Curren keeps his fans and followers updated about his professional life as well as his personal life. Caples also posts about different brands and products as those brands sponsor him.
Curren is available on Instagram as Curren Caples, along with massive 447k followers with 958 posts. You can surely check his Instagram to get updates about his skills and videos.
Similarly, he is also present on Facebook with a follower count of 249k. Also, he is available on Twitter as @CurrenCaples count of 39.9k.
Curren Caples | FAQs
What happened to Curren Caples?
When he was 15, he suffered from Hip Injury, and later, he also suffered from wrist and foot injuries.
What is Curren Caples ranking?
He ranks 32nd in the Boardr Global Ranking.
How does Curren Caples do his board setup?
You can watch the pro skateboarder do his board setup on Youtube.
Is Curren Caples also a surfer?
Yes, he has already participated in different Surfboarding events like the 2019 CBDMD Peahi Championship and VQS Surf Contest at Kauai.
"Make sure to comment down below if any information goes missing," or anything that conveys we are ready to update in case of useful information.