Dameon Pierce is an American professional football player in the United States' top-most football league, NFL. He plays as a running back for Houston, Texas.
The Texans selected Pierce in the recent 2022 NFL Draft in the fourth round.
Even though Dameon's college career for the Florida Gators was not so great and had average stats, the Texans' management went after him in the draft.
Perhaps, his indomitable physique, speed, and deep knowledge of the game, despite his age, were indicators of the fact that he was heading straight to the success he deserved.
However, Pierce has already proved he was the right pick, as his preseason performance was one of the best this year.
Only time will tell if he will continue his stellar performance even in the season games and live up to the expectations his new fans have from him.
The article below discusses this new sensational player's life, career, family, earnings, and everything that matters. Let's begin with the quick facts first.
Dameon Pierce | Quick Facts
Full Name
Dameon Pierce
Date of Birth
February 19, 2000
Birth Place
Bainbridge, Georgia, the USA
Nick Name
Tough Guy, Brain
Religion
Christianity
Nationality
American
Zodiac Sign
Pisces
Age

23

Years Old
Height
1.78 m/5 feet 10 inches/178 cm
Weight
215 lbs./98 kg
Hair Color
Black
Eye Color
Black
Build
Athletic
Father's Name
Dontate Rogers
Mother's Name
Shameeka Rogers
Siblings
Two (Tavarius and Mysteria)
Education

Bainbridge High School (Bainbridge, Georgia)
University of Florida (Gainesville, Florida)

Marital Status
Unmarried
Sexual Orientation
Straight
Girlfriend's Name
Not available
Kid
None
Profession
Professional Football Player
NFL Draft
2022/Round: 4/107th pick
Position
Running Back
League
National Football League (NFL)
Active Years
(2022–Present)
Net Worth
$1-$1.5 Million
Currently Plays For
Houston Texans
Social Media
Instagram, Twitter
Last Update

November 2023
Dameon Pierce | Early Life, Family & Education
Dameon Pierce was born on February 19, 2000, in Bainbridge, Georgia, United States. He is the second child of his parents, Dontate and Shameeka Rogers.
He has an elder brother and a younger sister in the family.
Born and brought up in Bainbridge, Dameon attended Bainbridge High School in his town and spent much of his childhood and teenage years in Georgia before relocating to Florida.
Apart from course studies, Dameon has been fascinated with sports since childhood.
His father, Dontate, and his elder brother, Tavarius, were the first of all people who inspired him to play football and basketball.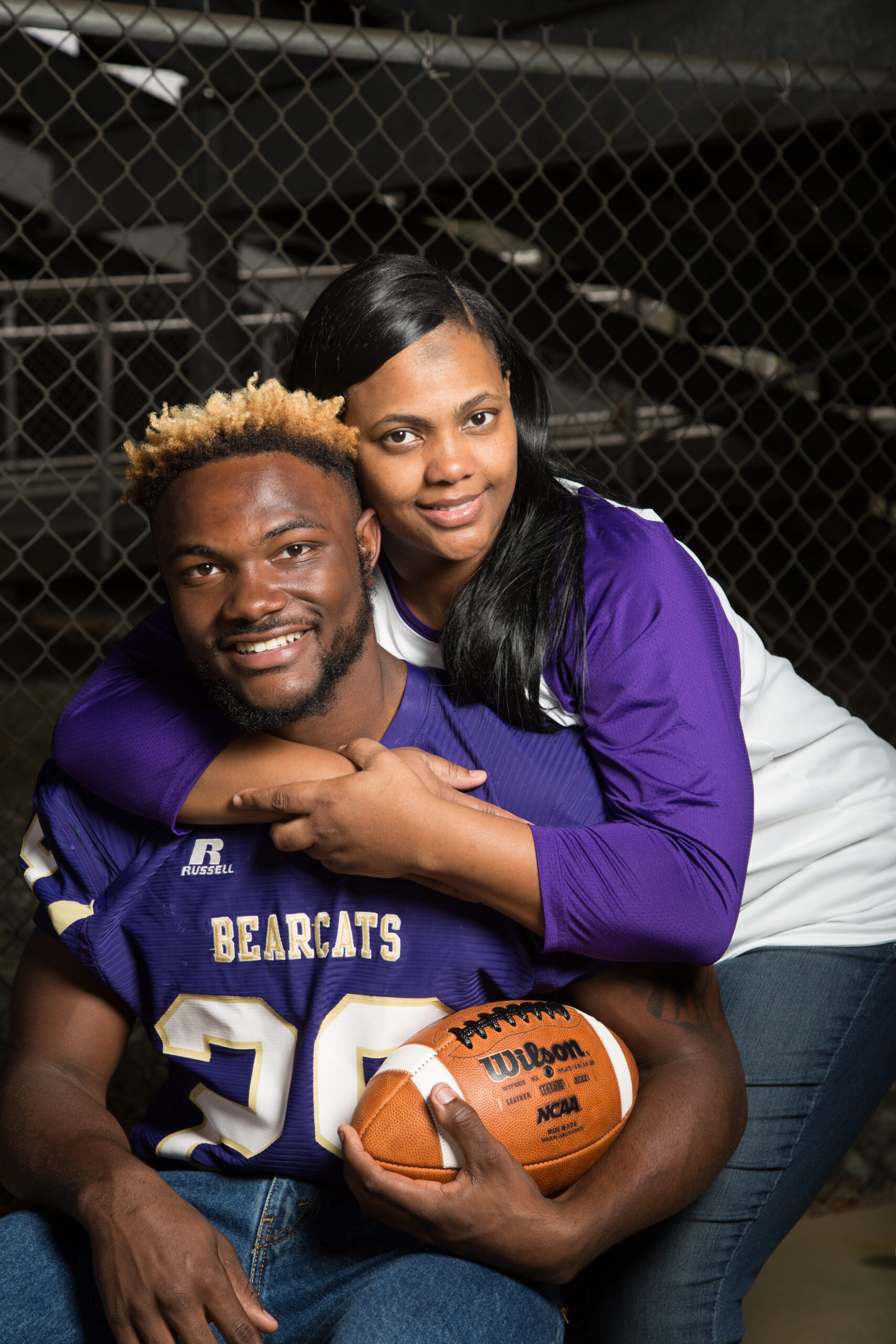 Pierce's father played football and basketball during high school and was a regular player in local sports events.
His brother played football and basketball during his school and college years and is proficient in basketball.
So, it was not hard for him to learn their ways and upgrade his skills.
However he had initially started playing for fun, but over time, it became an obsession, and he ultimately decided to make it his career.
After graduating high school, Pierce joined the University of Florida in Gainesville for his higher education.
While there, he played college basketball continuously for four years but had to struggle a lot later to convince people that he was one of the best RBs out there.
Click here to learn about Ben Cleveland, an American football offensive guard for the NFL club Baltimore Ravens!
Dameon Pierce | Career
High School & College Career
While at Bainbridge, Dameon was a highly accomplished running back.
He rushed for 2,123 yards and had 32 touchdowns in his senior year. He had 92 touchdowns and covered over 6,770 yards when he graduated in 2018.
Consequently, many teams from various universities, such as Alabama, Auburn, Georgia, South Carolina, etc., offered him to join and play for them, but he chose to go to the Florida Gators for his college career.
He was a four-star recruit at the time of his graduation.
Sadly, his overall performance in college was disappointing. He only had two touchdowns and covered 424 yards in his first season.
He improved his game in the following seasons, but it was nowhere near his potential.
In his senior season, Dameon appeared and started all thirteen games in which he had 13 touchdowns.
He earned only one notable accolade, SEC Freshman of the Week, for his performance during his entire stay at Florida in 2018.
Professional Career
Although Dameon's college career was disappointing, he worked hard and did enough to get into the NFL later.
His prospect grade was good at 6.19, and the report was optimistic about him developing into a starter if he continued playing with the attitude he displayed.
The Houston Texans believed in him and selected him in the 2022 NFL Draft as the 107th pick in the fourth round.
Although experts were surprised at Houston's decision, Pierce stunned them with his performance in the NFL preseason matches.
With the start of the 2022 NFL season, Pierce is already making a name for himself on the field.
After a quiet Week 1, Pierce has lived up to the preseason hype, leading all rookies with 412 rushing yards in 2022.
Dameon Pierce | Net Worth & Earnings
The NFL newcomer, Dameon Pierce, has an estimated net worth of between $1 and $1.5 million.
In 2022, Pierce signed a four-year contract worth $4.4 million with Houston Texans.
The deal featured about an $815k signing bonus. His base salary for this year is $705k.
Born in San Antonio, Texas, Kellen Mond is a talented football quarterback for the Minnesota Vikings of the National Football League (NFL). Click here to know him more!
Dameon Pierce | Age & External Appearance
As of 2023, Dameon Pierce is 23 years old.
Regarding his physical stats, Dameon has a short but stout body standing at the height of 1.78 meters (5 feet 10 inches). Likewise, he weighs around 215 lbs.
In addition, Pierce has black hair and beautiful black eyes. During his college years, the player was often seen with curly black hair with blonde highlights.
He also likes dreadlocking hair when it grows long.
However, he has short-trimmed hair at present. Besides, he has few tattoos on both his hands.
Dameon Pierce | Personal Life
Dameon Pierce is an emerging professional football player with a huge fan following.
His recent preseason performance earned him so many followers in a very short time, which he had never imagined.
At the start of his career, the young athlete has already started receiving proposals, but it seems he has not accepted anyone yet.
He does not think it is the right time to engage in matters other than his profession.
Pierce has decided to dedicate all his time to practice and workout sessions.
Social Media Presence
Instagram: @229irep
View this post on Instagram
Twitter: @IRep229
Popularity Graph
Frequently Asked Questions (FAQS)
What number is Dameon Pierce?
Dameon Pierce wears jersey number 31 for the Houston Texans. Before that, when he was with the Gators, he wore number 27.
How many draft picks did the Texans have in 2022?
The Houston Texans had 11 draft picks in the 2022 NFL Draft.
You may also like to learn about Ja'Marr Chase, a Louisiana-born wide receiver for the Cincinnati Bengals of the National Football League (NFL) since 2021!