Dan Constantine Marino Jr. is an American former football player who played in the National Football League (NFL) as a quarterback for Miami Dolphins. He currently works as a special advisor for Miami Dolphins.
Dan Marino, undeniably, is one of the most reputed names in the world of football. What's the main reason behind it? Would you like to know?
There are hundreds of football players worldwide, but only some players have left a remarkable footprint on the audience. Daniel is also one of them, with a huge fan and audience.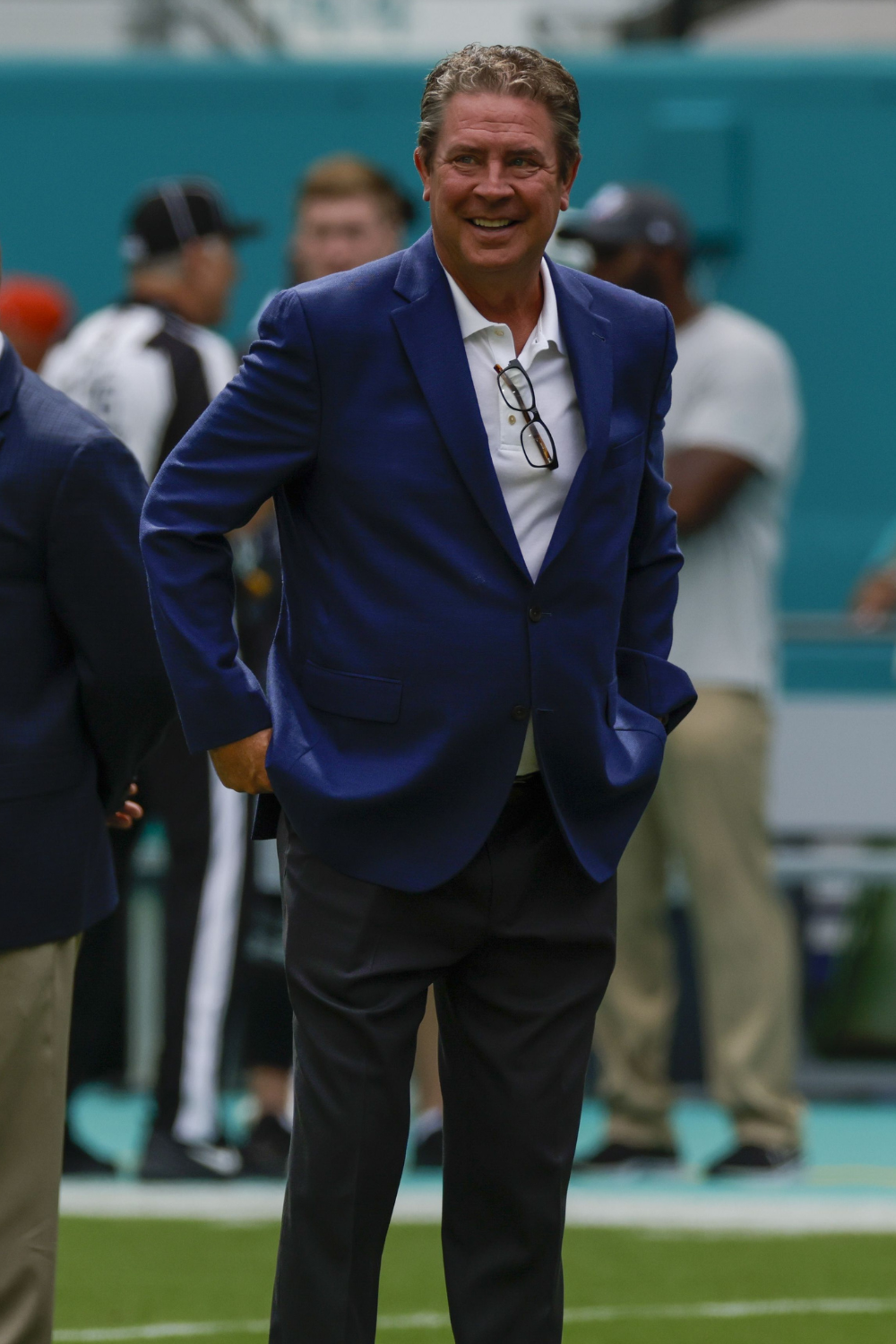 In December 2022, Tom Brady tied with Dan in most wins by QB on Monday Night Football.
Here, in this article, we're discussing a lot about Marino. Please connect with this article until the end to know his professional and personal career. Before that, check some quick facts about Daniel Marino.
Dan Marino | Quick Facts
Full Name
Daniel Constantine Marino Jr
Birth Date
September 15, 1961
Birth Place
Pittsburgh, Pennsylvania
Nick Name
Dan Marino

Dan the Man

Religion
Unknown
Nationality
American
Ethnicity
25% Italian
25% Slovak
50% of Polish
Education
St. Regis Catholic Elementary School

Central Catholic High School

University of Pittsburgh

Horoscope
Virgo
Father's Name
Daniel Marino
Mother's Name
Veronica Marino
Siblings
Yes (Sister-Cindi and Debbie)
Age
61 Years Old
Height
6'4″/1.93 m/193 cm
Weight
101 kg/224 lb.
Shoe Size
Unknown
Hair Color
Brown
Eye Color
Grey
Body Measurement
Unknown
Jersey
#13
Married
Yes
Spouse
Claire Marino
Children
6
Profession
Former Football Player

Special advisor (2004 – present)

Net Worth
$50 million
Awards
Football Hall of Fame
Currently Works At

Ownership in NASCAR,

Dan Marino Foundation, Miami Dolphins (Special Advisor)

Affiliations
NFL
Social Media
Instagram, Twitter
Merch
Jersey, Rookie Cards, Funko Pop
Last Update
June, 2023
Dan Marino | Early Life, Parents, & Education
Dan Mario was born in Pittsburgh, Pennsylvania, on September 15, 1961. He is the oldest of three children.
Going through Marino's family background, his parents are Daniel and Veronica Marino, and his two sisters, Cindi Marino and Debbie Marino.
Daniel used to deliver newspapers for Pittsburgh Post-Gazette, whereas Veronica worked as a school crossing guard.
Marino spent his childhood in South Oakland, which is the neighborhood of Pittsburgh. There he started his early education at St. Regis Catholic Elementary School. After that, he joined Central Catholic High School, located in Pittsburgh.
After high school was completed, Dan attended the University of Pittsburgh. There is no information about the degree under which he graduated. If found, we'll update it soon.
Dan Marino Career | Collegiate & Professional Career
Early Career
Marino started his career with Baseball at Central Catholic High School. There he won Parade All-American honors in football. Besides, Kansas City Royals drafted him in the 4th round of its amateur draft in 1979. But he decided to play college football continuously.
After that, Marino joined the University of Pittsburgh; he played on the college football team from 1979 to 1982. The university team 'Pittsburgh Panthers' won and he was named the freshman of the year 1979.
In the second year, 1980, his team secured 2nd position and he became the team's starting quarterback. Moreover, Dan became a part of the elite group in those two years.
Pitts' team ranked almost No.1 in most of the season. In the Sugar Bowl match in the year 1982, Marino's team stood victorious against Georgia Bulldogs. He created a memorable short pass just before the end of the game.
From 1979 to 1981, Pitts team had 33 wins and only three losses.
In the Cotton Bowl Classic, his team lost the match against Southern Methodist. Other than that, Dan completed his four-year university football with 7,905 passing yards, 74 touchdowns, and 64 interceptions.
Professional Career
Due to unsatisfactory performance in his senior season on the university football team and rumors of using drugs, he was dropped from the NFL Draft in 1983. Later on, the Miami Dolphins chose him with the 27th overall selection.
With that, he proved to be the best among all other players in Miami Dolphins. The Los Angeles Express drafted him to be a part of the United States Football League.
He didn't sign with that team and chose to stay with Miami Dolphins.
Marino threw 20 touchdowns in his first year and led the team with 12-4 records. He became the first rookie to start at QB in the Pro Bowl. Similarly, he is also known as 'NFL's Rookie of the Year.'
In his second year at Dolphin, Dan set a record for passing, most touchdown passes, and passing yards. And with that, he was considered as NFL's Most Valuable Player.
Further
During the Super Bowl XIX, the Dolphin team faced the San Francisco 49ers and Joe Montana in California. This time Marino's team lost the match 38–16.
In 1993, he led his team against New York Jets. In that match, he passed 4,453 yards and was named the NFL's Comeback Player of the Year.
Dan led Dolphins to the AFC Championship game in 1995.
Later, he recorded a throw of 4,137 yards and 30 touchdowns and became the first QB in NFL history to do so. With his, he recorded three consecutive seasons of 30 or more touchdown passes.
In his 17-years-football career, he set the NFL record with passing totals (61,361 yards), attempts (8,358), completions (4,967), and touchdowns (420).
In 2000, Dan decided to retire from football. At that time, he was offered by Minnesota Vikings, Tampa Bay Buccaneers, and Pittsburgh Steelers.
But he didn't accept any of the offers from these clubs. However, he didn't move out of football entirely and the former Miami Dolphins quarterback is equally involved in different football-related activities to this day.
Dan Marino | Awards And Achievements
Dan has been honored with many awards and achievements from a very early age. Let's have a look at awards and achievements of Mario:
Honored with

Parade magazine All-America in 1979.
Named as Sugar Bowl's most valuable player in 1981.
Rookie of the year in 1983.
NFL's most valuable player in 1984.
NFL All-Pro Team in 1984-1986.
Reached 20,000 yards in 1988.
Named as AFC Pro Bowl team starting quarterback from 1994-95.
Set NFL record for most career complete passes with 3,687th passes on October 8, 1995.
Named as the first quarterback in NFL to pass more than 50,000 yards in the year 1996.
Named as the first quarterback in NFL to complete more than 400 touchdowns in the year 1998.
Recognized as NFL Man of the Year for his charitable work in 1999.
NFL's first quarterback to reach 60,000 yards in 1999.
Dan Marino | Foundation
After massive success as a football player, Marino's contribution as a humanitarian is equally impeccable. He is remembered as a great player and a philanthropist as he is serving humanity with his different healthcare foundations.
Dan Marino and his wife Claire established 'The Dan Marino Foundation' in 1992 after their son, Michael, was diagnosed with autism. This foundation was established to research and provide services to children with neurodevelopment disabilities.
In 1995, The Dan Marino center was opened in collaboration with the Miami Children Hospital. It's a neurodevelopmental center that helps diagnose and treat children with physical and psychological problems.
Moreover, this center serves more than 48,000 children per year. Along with his team, Marino also raised different awareness programs on autistic spectrum disorders.
With his extensive charitable work to humankind, he was honored by the NBA on November 7, 2005.
So after this success, on March 23, 2010, the Dan foundation held its first walk with the slogan 'Walkabout Autism.' More than 6000 walkers participated and 420 volunteers. Isn't it amazing!
Dan Marino | Movies And TV Shows
Besides football, Dan appeared in a comedy movie name 'Ace Ventura: Pet Detective' in 1994 and also acted in the movie 'Little Nicky.'
Marion also played a small cameo role in 'Holy Man and Bad Boys II.' After that, he worked as a project consultant in a drama film named 'Any Given Sunday.'
One interesting fact is Marion's original house was used in the film as a fictional quarterback's house.
Moreover, Marion is also seen in a music video for the song 'Only Wanna Be With You' in 1995. Not only movies, but he was also featured in different advertisements for Hooters, NutriSystem, Maroone, Papa John's, and Nutrasource.com.
Former football player Marion also became AARP's "Men's Life Ambassador." He shares his views regarding men's interest in sports, lifestyle, health, physical fitness, entrepreneurship, community service, and many more from this platform.
With this information, we can predict that Dan's life is quite exciting and is mixed up with varieties of work and professions.
Dan Marino | Books
The former American football player is not only excellent in his career but also is an impressive author. Yes, it's true.
Marino has published a book 'Marino: On the Record.' In this book, he has explained the 13 years journey with the Miami Dolphins. This book was published in the year 1986.
He also wrote a 'First & Goal' biography explaining his lifestyle.
The retired NFL star has clearly described his early childhood days, family, and overall experience in his football career.
Dan Marino | Career Besides Football
As An Analyst
Marino worked as an analyst from 2002-2013 for CBS's Sunday pregame show The NFL Today. On February 18, 2014, Marino and Shannon Sharpe were removed from their duties as commentators on the show and replaced by Tony Gonzalez and Bart Scott.
Later on August 24, 2014, Dan declared that he would return as a special adviser to the Dolphins.
Ownership In NASCAR
Dan started getting involved in a marketing role with Team Cheever of the Indy Racing League in 1997. After a year, Dan co-owned a NASCAR Winston Cup Series racing team with Bill Elliott, as the driver.
The team's car number was #13; the number Marino wore during his football career.
Dan Marino | Age, Height, And Body Measurement
The former football player Dan stands 6 feet 4 inches (1.93 meters) and weighs 103 kg (228 pounds). His body measurements are still missing from media sources. Dan's hair color is brown, whereas his eye color is grey.
Currently, he's 61 years old.
Dan's parent's ethnicity was of mixed type. Dan's father's ancestry was half Italian and half Slovak. His mother is of Polish descent.
Hairstyle
Dan Marino is popular for the mullets that he had in the 80s/90s. Here's a picture of him with his mullet hairstyle:
Dan Marino | Family And Children
Marino married Claire in 1985 at St. Regis Roman Catholic Church. They are blessed with six children. He has six kids, including three sons and three daughters from China. Out of which, two daughters were adopted from China.
The two share six children, namely Michael Joseph Marino (son), Daniel Charles Marino (son), Joseph Donald Marino (son), Alexandra Claire Marino (Daughter), Niki Lin Marino (Daughter), Lia Marino (Daughter). He has a healthy family and now lives in Weston, Florida.
The ex-Miami Dolphin quarterback had an affair with a CBS production assistant, Donna Savattere, in 2005. The couple gave birth to a daughter Chloe in June 2005. Nonetheless, he financially supports Savattere and Chloe regardless of his extra-marital affair.
Dan Marino | Net Worth And Salary
Marino's primary income source is his football career. It comes as no question that the retired Hall of Famer was the well-sought quarterback of his time. So, from this, we can assume that Dan is quite a wealthy person.
We have uncovered that the former Miami Dolphins man has a staggering net worth of around $50 million as of 2023.
In 1991, Dan became the highest-paid NFL player. According to different sources, the retired quarterback bagged $51 million in 17 seasons with Miami Dolphins.
Dan Marino | Injuries
Marino suffered from an Achilles injury in the October of 1993. It was a torn Achilles tendon. It was the most difficult injury of his career, which is very hard to recover from.
However, he came back with the same fire he left before.
He recalls the injury as devastating. It was time-consuming and tedious and caused a great loss to Marino's career. Nonetheless, he touched the height that he had always dreamt of.
Dan Marino | Quotes
Here are some of the popular quotes by football fame Dan Marino:
I just try to be myself, whatever that is. I don't think about how I'll be remembered, and I just want to be consistent over a long period of time. That's what the great players do.
Sure, the home-field is an advantage – but so is having a lot of talent.

My parents would always say, 'It doesn't matter if it's a guy picking up the garbage or the President of the United States, treat everybody as you would want to be treated.

It's really nice and exciting for me to break the records, but it's more exciting for me to be on a winning team.
I'm getting married because I'm in love with a girl and want to spend my life with her. You can't live your life doing what other people want you to, or you'll be miserable. At some point, you just have to be yourself.
I think it's more and more important to spend time with your children because it seems to be harder and harder for them to succeed as their parents have succeeded.
Dan Marino | Social Media Presence
Dan Mario is active on Social Media. Most of the time, he shares his personal and professional life through Instagram and Twitter.
With a huge fan following on both of these social media platforms, he keeps fans updated about his life.
Instagram: 135K followers
View this post on Instagram
Twitter: 203.2K followers
Dan Marino | Popularity
Dan is one of the NFL's best players to have never won a Super Bowl.
The above graph shows the fluctuating popularity of Dan Marino in the United States over a year based on Google searches.
Dan Marino | FAQs
Did Dan Marino ever win a Super Bowl?
No, Dan Marino never won a super bowl despite having astonishing numbers.
He had a 147-93 (W-L) record as a starting quarterback in 17 seasons with the Dolphins. He contributed to depositing the stats for the team, making 61,361 total passing yards while tossing 420 touchdowns, and he ended his career with an impressive 86.4 quarterback rating.
However, the Super Bowl fame never collided with Marino.
What is Dan Marino's nickname?
Daniel Constantine Marino Jr. is popularly known by his nickname Dan or Dan Marino. He is also referred to as Dan the Man.