When he is playing on a court, it's as if you're watching a magician work his magic. Dante Exum is a professional basketball player from Australia who now plays for FC Barcelona.
He chose to abandon college and was selected with the fifth overall pick in the 2014 NBA draft by the Utah Jazz.
Exum was a member of the Australian men's basketball squad that competed in the 2020 Tokyo Olympics.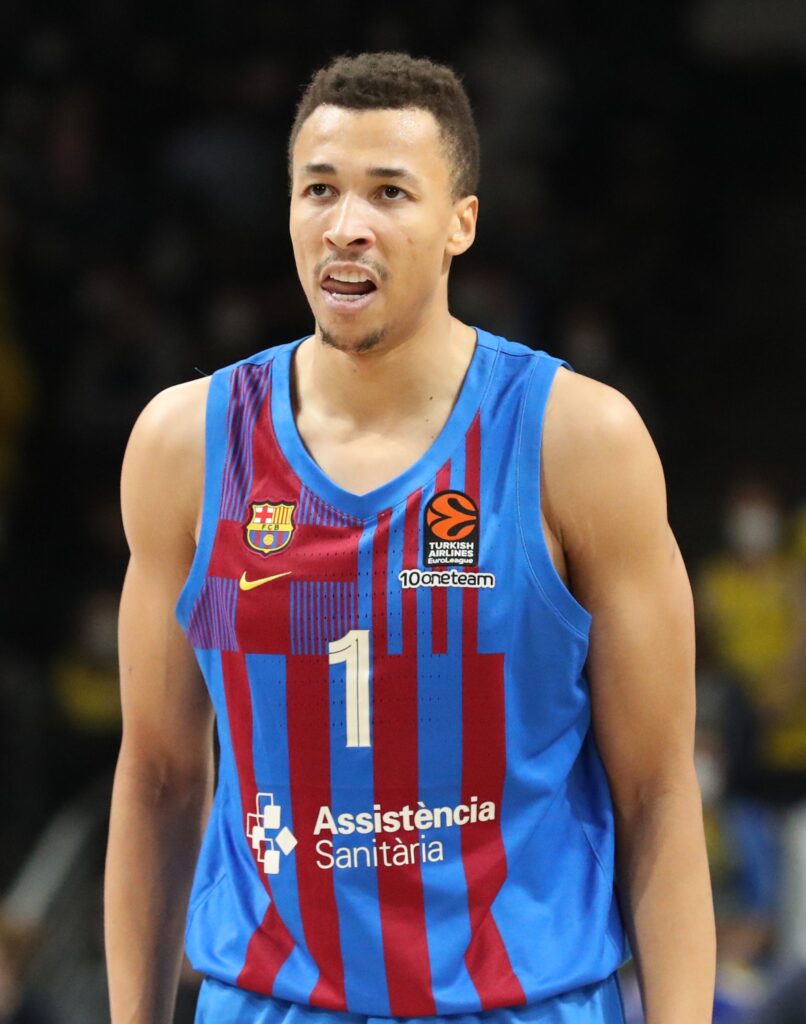 Exum was born to American parents in Melbourne, Victoria. He was also a fan of Australian rules football as a kid.
Before graduating from high school in 2013, he was regarded as one of the most significant prospects for the 2014 NBA draft.
Quick Facts
Here are some facts about Dante Exum before we get started.
Full Name
Dante Exum
Birth Date
July 13, 1995
Birth Place
Melbourne, Victoria
Residence
Not Available
Religion
Christianity
Nationality
Australian
Education

Thomas Carr College
(Melbourne, Victoria)
Lake Ginninderra
(Canberra, ACT)

Zodiac Sign
Cancer
Father's Name
Cecil Exum
Mother's Name
Desiree Exum
Siblings
Jamaar Exum, Tierra Exum
Age
27 years old
Height
6 feet 5 inches (1.98m)
Weight
214lb (97kg)
Eye Color
Not Available
Hair Color
Not Available
Body type
Not Available
Profession
Basketball Player
Marital Status
Single
Girlfriend
Not Available
Children
None
Active since
Not Available
Teams

Utah Jazz (2014-2019)
Cleveland Cavaliers (2019-2021)
FC Barcelona (2022)

Endorsements
Not Available
Net Worth
$19 million
NBA Draft
Utah Jazz (2014)
Position
Guard
League

NBA G League
Liga ACB
Euro League

Social Media
Last Update
March 2023
Dante Exum: Family
Apart, Dante Exum credits his exceptional athletic ability to his parents, Cecil and Desiree Exum. Desiree was a standout athlete in high school and went to the University of North Carolina.
Cecil, his father, was a professional basketball player. He initially played collegiate basketball under legendary North Carolina Tar Heels head coach Dean Smith and alongside Basketball Hall of Famers Michael Jordan and James Worthy.
He was a member of the 1982 NCAA championship team. Jamaar, Exum's older brother, and Tierra, his twin sister, are his siblings.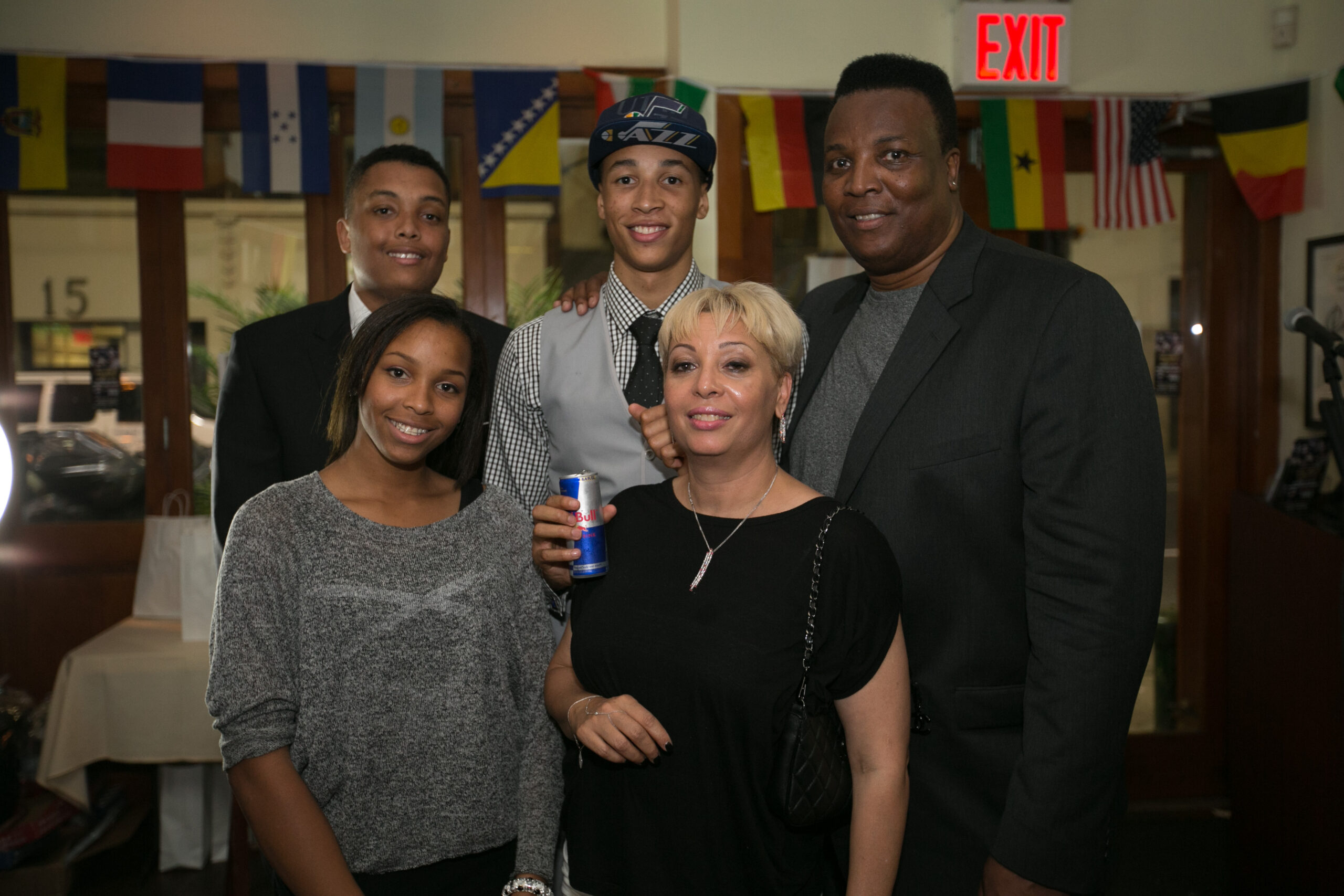 Cecil was recruited by the Denver Nuggets in 1984 and eventually settled in Australia, where he played for the North Melbourne Giants, Melbourne Tigers, and Geelong Supercats in the National Basketball League.
Exum is a die-hard Essendon Football Club supporter who competes in the Australian Football League. During the 2017 NBA All-Star Weekend's Rising Stars Challenge, Exum wore Essendon-inspired shoes.
Both parents are now close advisors to their son, who want the family name, Exum, to be remembered worldwide. Tierra, Dante's twin sister, and an international gymnast, is another member of the family who undertakes the same task.
Dante Exum: Height & Weight
Exum stands 6 feet 5 inches or 1.98 meters tall, making him one of the NBA's tallest point guards.
Moreover, he weighs around 214 lb (97 kg).
Dante Exum: Basketball Career
Amateur Career
As a junior, he was a member of the Keilor Basketball Association, which Karish coached.
Exum represented the World Select Team at the Nike Hoop Summit in April 2013, scoring 16 points, three rebounds, and two assists in a 112–98 triumph over the USA Junior Select Team.
He graduated from Lake Ginninderra in October 2013 and had the option of enrolling in college during the 2013–14 season, but he declined.
In December 2013, Exum competed for his high school in the Australian National High School Basketball Championships and helped them win the championship.
Exum signed with Landmark Sports on January 28, 2014, and announced that he would declare for the 2014 NBA draft.
Professional Career
Utah Jazz
The Utah Jazz took Exum with the fifth overall pick in the 2014 NBA draft.
He made his NBA debut in the Jazz's season opener against the Houston Rockets, scoring five points in 912 minutes off the bench in a 104–93 loss.
As a starter, he led the Jazz to a 24–17 record and was chosen to compete in the 2015 NBA Rising Stars Challenge in New York during All-Star Weekend.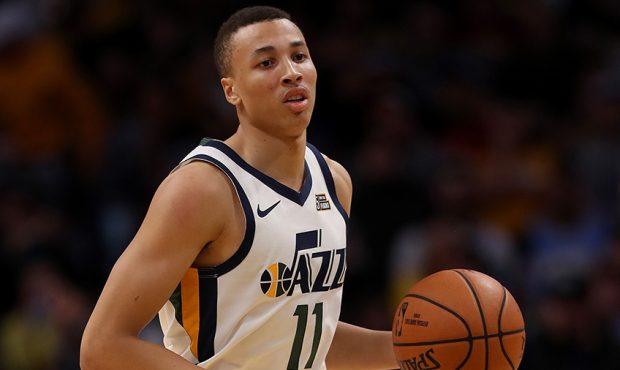 Exum tore his anterior cruciate ligament (ACL) in his left knee while playing for Australia in Slovenia in August 2015.
He had surgery and missed the entire 2015–16 season.
In October 2017, Exum underwent shoulder surgery. On March 15, 2018, he made his first appearance of the season, scoring 10 points in a 116–88 win over the Phoenix Suns.
Cleveland Cavaliers
Exum was traded to the Cleveland Cavaliers on December 24, 2019, along with two second-round choices, for Jordan Clarkson.
Exum was traded to the Houston Rockets in a multi-player, four-team transaction with the Cleveland Cavaliers on January 16, 2021, in which James Harden was moved to the Brooklyn Nets.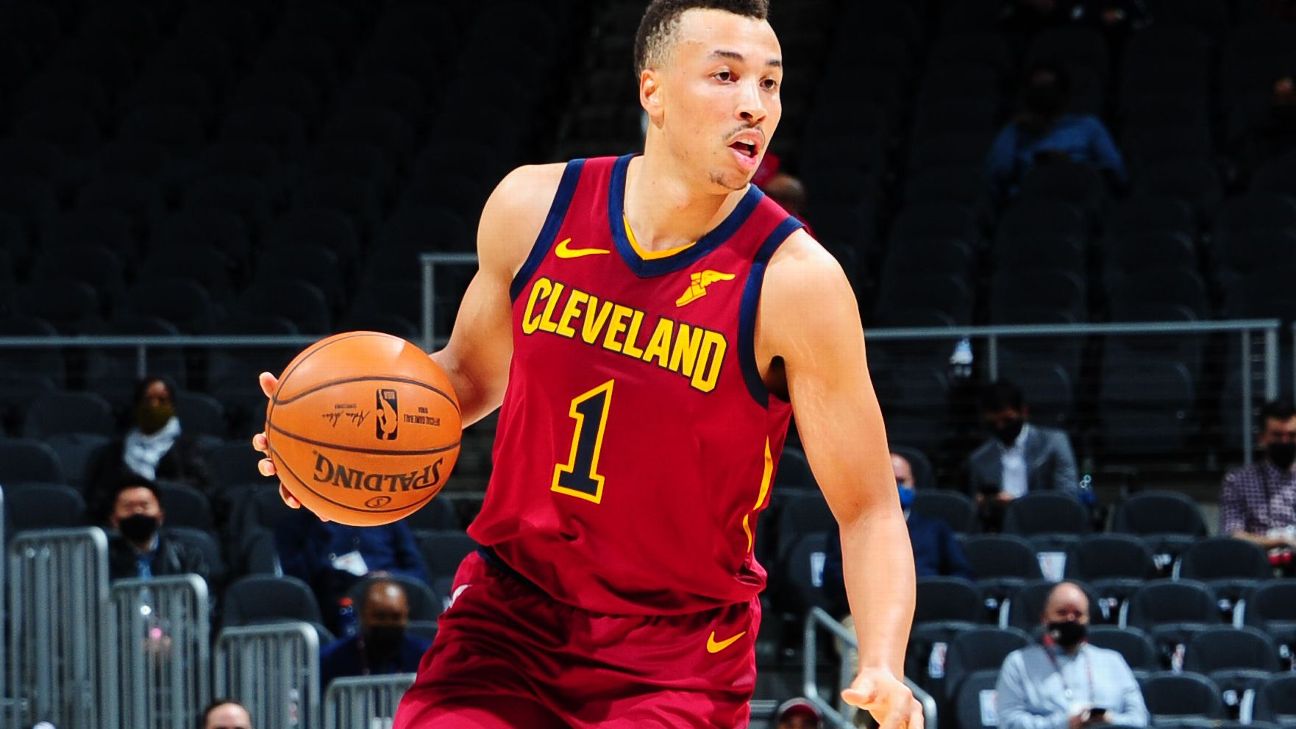 Due to injuries, he did not play in any games for Houston during his debut season. Exum re-signed with the Rockets on September 17, 2021.
Barcelona
Exum signed with FC Barcelona of the Liga ACB and the Euro League on December 7, 2021.
Barça and Dante Exum have agreed to extend the Australian defender's contract until June 30, 2022. Exum's current contract expired on February 28th.
Exum has appeared in 17 games since his debut in December 2021, 11 in the Euro league, three in the Endesa League, and three in the Copa del Rey.
National Career
Dante Exum played basketball with the Keilor Basketball Association in the city's northern suburbs before relocating to Canberra.
When he was 15, he was the youngest player to be called up to the Boomers national team and helped Australia win a silver medal at the 2012 FIBA U17 World Championships, earning him a spot on the tournament's All-Star Five team.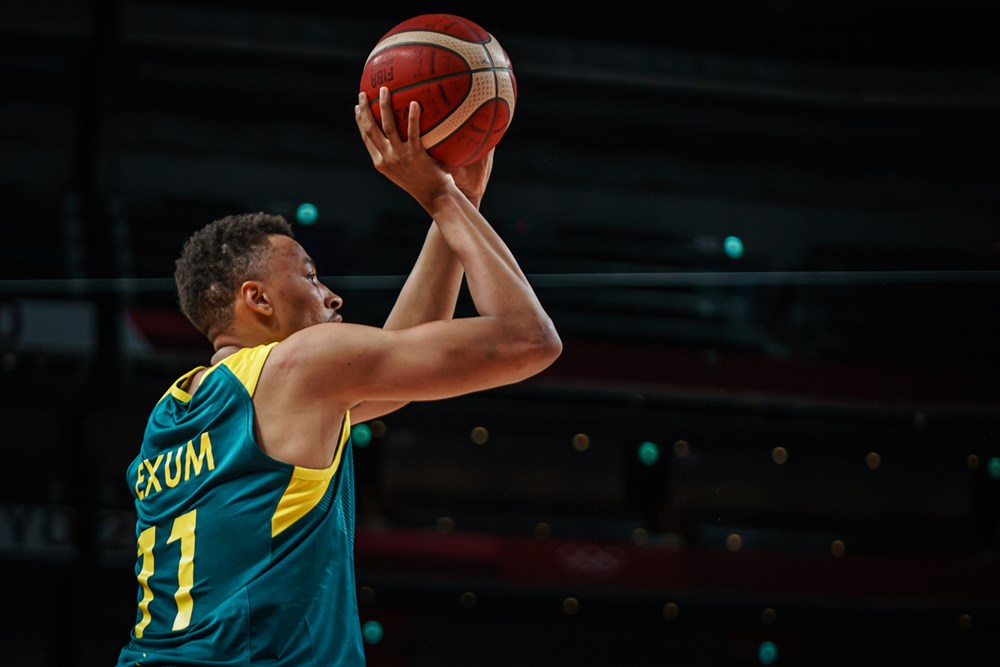 He competed in the FIBA U19 World Championships in 2013 with the Australian team, reaching the semi-finals.
Get to know the story of undisputed player Robbie Hummel! He is an American-born former professional basketball player who played overseas and in NBA.
Dante Exum: Relationship
Exum's admirers are eager to learn more about his personal life, including his wife, girlfriend, dating, and relationship.
However, because he has not provided any details, the 27 years old is thought to be single and unmarried.
He appears to be more concerned with his basketball career than a personal relationship. There are no rumors or recordings of his previous girlfriends or love adventures.
Even though the heartthrob is active on social media sites like Facebook, Instagram, and Twitter, he has not published a single photo of himself with a woman presumed to be his future girlfriend or wife.
Dante Exum: Net Worth
According to sources, Exum's net worth is predicted to be $19 million as of 2022. His salary and several endorsements provide the majority of his net worth.
There is currently no information about Exum's pay available.
According to reports, Exum had an Adidas sponsorship agreement even before joining NBA.
Dante Exum: Recognitions
Despite his challenges, Dante Exum was able to gain international recognition through his basketball career.
Dante has yet to win an award, but he is one of Australia's best professional basketball players.
In the NBA, he became the 10th rookie in Jazz history to appear in all 82 games, scoring in double figures 13 times and leading the team in assists 11 times.
As a starter, he led the Jazz to a 24–17 record and was chosen to compete in the 2015 NBA Rising Stars Challenge in New York during All-Star Weekend.
Social Media Presence
Dante Exum appears to be pretty active on social media, with 66.6k followers on Twitter and 158k followers on Instagram.
FAQs
Is Dante Exum still in the NBA?
Exum does not play in the NBA because he has been a member of FC Barcelona. He plays in Euro League as a point guard and shooting guard.
Which high school did Dante Exum go to?
He studied at Canberra's Lake Ginninderra Secondary College, affiliated with the Australian Institute of Sport.
He had the opinion to enroll in college, but he chose to drop that and go with the NBA.