Daryl Macon is an American professional basketball player for UNICS Kazan of the VTB United League, who won the 2021 Greek Super Cup with Panathinaikos.
Leaving your home country to play in a foreign land is a big move in life. Daryl Macon is one such player who plays for the Russian League after leaving his NBA journey.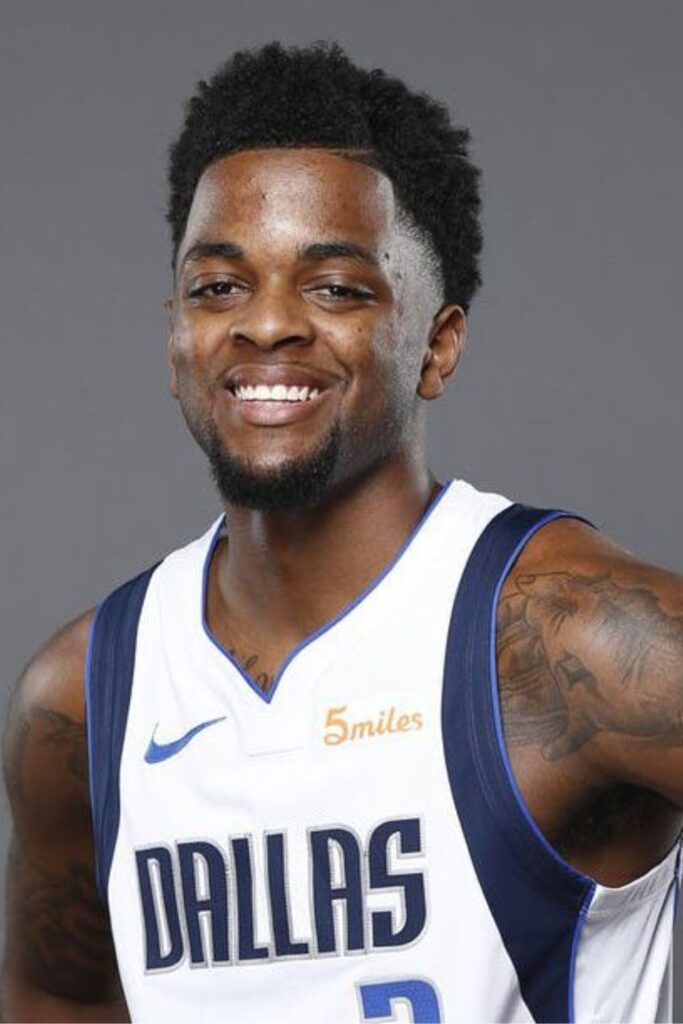 On March 6, 2023, with UNICS, Daryl scored 20 points, 2 rebounds & 2 assists against Novgorod but lost by a 10-point deficit.
According to the sources, Daryl is among the top 10 Euroleague-scoring players.
As we learn more about Daryl Macon, let's look at some quick facts about him.
Quick Fact
Full Name
Daryl Douglas Macon Jr.
Birth Date
November 29, 1995
Birth Place
Little Rock, Arkansas
Zodiac Sign
Sagittarius
Nick Name
D-Mac, D4
Religion
Unknown
Nationality
American
Ethnicity
African Descent
Father's Name
Daryl Macon Sr.
Mother's Name
Deloise Macon
Siblings
Two Sisters: Tiffany Macon & Tierra Macon
Education

Parkview High School
Holmes Community College (2014–2016)
University Of Arkansas (2016–2018)

Age
27 Years Old
Height
6'2″/188 cm/1.88 m
Weight
185 lb./ 84 kg
Body Build
Lean & Athletic
Hair Colour
Black
Eye Colour
Black
Married
No
Partner
None
Children
No
Profession
Basketball Player
Position In team
Point Guard/Shooting Guard
Teams

Dallas Mavericks (2018–2019)
Miami Heat (2019-2020)
Sioux Falls Skyforce (2020)
Galatasaray (2020-2021)
AEK Athens (2021)
Panathinaikos (2021-2022)
UNICS Kazan (2022-Present)

Jersey Number
#4
Affiliations
NBA, Greek Basket League & Russian Basketball League
Net Worth
Estimated $1 Million
Social Media
Instagram, Twitter
Last Update
March 2023
Early Life, Education & Family
Daryl Macon Jr., aka D-Mac, was born to Deloise Macon (mother) and Daryl Macon Sr. (father). However, his father, Daryl Macon Sr., passed away when Daryl was only two years old due to heart disease.
Daryl has two beautiful sisters, Tiffany Macon and Tierra Macon.
His mother has played a substantial role in her children's life.
Daryl was frequently inspired and grateful by his single mother's hardships. Therefore, Macon names his mother as the person who made the ultimate difference in his life.
Daryl grew up with his grandfather Robert Lee Harrison, an influential father figure. After his father's departure, his grandfather raised him and supported the family.
Education
Daryl Macon attended Parkview Arts and Science Magnet High School and graduated in 2014.
Macon was a prolific player from a very young age; after high school graduation, Macon attended Holmes Community College and started playing basketball there.
After spending two years in the community college, Macon was packed with several scholarship offers from the University of Mississippi, Memphis State University, the University of Memphis, and the University of Massachusetts.
However, Macon enrolled at the University of Arkansas with a Sociology major despite attractive offers. He played for the Arkansas Razorbacks for his college basketball.
Age, Height & Physical Appearance
Daryl Macon was born on November 29, 1995, and is 27 years old as of 2023.
As a November born, his zodiac sign is Sagittarius, known for his love for freedom and honesty.
So, Daryl Macon stands at an impressive height of 1.88 m. Likewise, his size is ideal for a point guard or shooting guard position. Similarly, he weighs around 185 lb, and his black-colored hair and eyes complement his looks.
Career
Macon's basketball career began at a very young age, as he played for Parkview High School. Later at the collegiate level, he played for Holmes CC for two seasons.
In his first year, Macon averaged 23 points, 4.1 rebounds, and 3.1 assists per game as a freshman and was named junior All-American.
Furthermore, during his sophomore year, Macon was named to the NJCAA Division I Men's Basketball Third Team All-America.
Arkansas Razorbacks
After spending two years at Holmes CC, Macon transferred to the University of Arkansas.
The Arkansas-born accepted a basketball scholarship to play for the Arkansas Razorbacks and played with the team for two years averaging 13.4 points as a junior and 17.1 points as a senior.
Macon was named to the All-SEC Tournament team due to his impressive stats. Likewise, he was awarded the SEC Player of the week after scoring an immense 30 points against Ole Miss (University of Mississippi.)
He enlisted himself in the 2017 NBA Draft after his junior season. However, he didn't involve an agent and returned to the Razorbacks.
Macon reached a career milestone when he crossed the 1,000-point achievement and became the sixth player in Arkansas to accomplish that feat in two seasons.
NBA Career
The point guard didn't get drafted in the 2018 NBA Draft. However, he went on to play in the NBA Summer League with Miami Heat.
Dallas Mavericks signed him for a two-way contract on July 30, 2018, which included splitting his playing time between Dallas Mavericks and G-League affiliate Texas Legends.
Dallas Mavericks & Texas Legends
In 2018, Daryl scored 35 points in a victory against Austin Spurs (126–120) in his debut game for Texas Legends.
The Dallas Mavericks waived Daryl Macon from the team on July 26, 2019. But, while with the Mavericks, he became good friends with Luka Doncic.
Other Teams
After his release from the Mavericks in 2019, Miami Heat signed Macon in an Exhibit 10 contract, which later was converted to a two-way contract with their G League affiliate, the Sioux Falls Skyforce.
Macon also played for the Sioux Falls Skyforce, averaging 17.0 points and 4.7 assists per game.
Consequently, the Heat released Macon. After that, he signed up for the Turkish Basketball team, Galatasaray, on July 24, 2020.
Macon was released from his contract with Galatasaray and signed as a free agent for AEK Athens of the Greek Basket League on January 29, 2021.
Similarly, he debuted for the Greek team on February 6, 2021, against Peristeri, in which he scored 18 points in 28:09 minutes, with 3 assists, 3 rebounds, and 2 steals.
In 2022, after leaving Panathinaikos of the Greek Basket League, Macon signed a two-year (1+1) contract with Russian team UNICS Kazan of the VTB United League.
In the 2022-23 season, Macon scored his season-high 31 points in a 78-68 win against N. Novgorod on January 30, 2023.
NBA Stats
Dallas (2018-2019) | Miami (2019-2020)
| | | | | | | | | | | | |
| --- | --- | --- | --- | --- | --- | --- | --- | --- | --- | --- | --- |
| Year | GP | GS | MPG | FG% | 3P% | FT% | RPG | APG | SPG | BPG | PPG |
| Career | 12 | 0 | 8.7 | .367 | .462 | .571 | 1.0 | .7 | .1 | .0 | 2.7 |
VTB League Stats
| | | | | | |
| --- | --- | --- | --- | --- | --- |
| Year | GP | GS | eFG% | AST% | Total S% |
| Career | 19 | 17 | 1.04 | 26.01 | 181.60 |
Relationship & Girlfriend
According to the reports, Macon is currently not dating anyone. However, his tweet about missing his girlfriend a few years ago indicates that he has had at least one significant relationship.
Daryl Macon hasn't publicly shared his romantic life. Thus, we can respect the privacy he wishes to keep.
Personal Life
Most Prized Possession Is His Father's Picture
Macon's father, Daryl Macon Sr., passed away when Macon Jr. was only two years old. His mom, Deloise, raised the family after that.
Macon has no living memory of his father, as he was too young to remember anything. As a result, Macon's most prized possession is the picture of his father, Daryl.
Bought A House For His Mother
There is no doubt that Daryl Macon loves his mother very much. So, to express his love in action, Macon brought his mother a beautiful house as a Christmas gift.
Macon posted a heartwarming video on Twitter as he surprised his mother with the house.
Loves Video Games & Movies
The shooting guard for UNICS Kazan is a big gaming fan. Macon has revealed that he loves to play different games on his gaming consoles during his free time.
He is also an avid movie watcher and loves spending time watching movies.
Future Career Coach Or Motivational Speaker
Every basketball player's playing career comes to a stop at some point. Usually, many players are confused about what they want to do after retirement.
However, Daryl Macon has made some plans for his future career. When Macon retires, he wants to become an NBA coach. Likewise, he also has a goal to become a motivational speaker.
Net Worth & Salary
Macon has accumulated his career earnings and net worth through his basketball career. He has played for the Dallas Mavericks, Miami Heat, Galatasaray, and several other teams throughout his career.
Currently, he plays for UNICS Kazan. According to several sources, Daryl Macon has a net worth of $1 million as of 2023.
Quotes
"Be patient; we about to be good, Ma!"
"Keep dream chasing. It gets hard sometimes but don't give up!"
Social Media Presence
The shooting guard is active on several social media platforms, which lets him connect with his admirers.
He has an Instagram handle with over 36k followers. Similarly, Macon loves posting pictures of his in-game highlights and pictures of his family, friends, and trips.
Macon has a Twitter profile of over 14.2k followers. Due to his Mavericks affiliation in the past, he is followed by Dallas Mavericks and Luka Doncic.
His Twitter feed is mainly related to basketball. He also tweets about his views, opinions, and feelings about different topics and issues.
Search Graph
The search graph of Daryl is high mobility due to his achievements throughout his career.
Daryl's league change from the NBA to the Russian league intrigued his fans, which resulted in more Google searches.
Frequently Asked Questions (FAQS)
Where is Daryl Macon?
Daryl Macon is playing for UNICS Kazan in the Russian Basketball League.
What is Daryl Macon's contract? What is his Euroleague stat like?
On July 9, 2022, Macon signed a two-year (1+1) contract with the Russian team UNICS Kazan for the 2022/23 season. Macon has played 31 games and started in eighteen games. Currently, he stands with an average all-time statistic of 13.1 points, 2.2 rebounds, 3.6 assists, and 0.7 steals.
What is Daryl Macon's international stats?
Daryl Macon's international stats show 91 games played, 1,324 points scored, 377 assists, 198 rebounds, and 77 steals.