Luka Doncic is a Slovenian professional basketball player for the Slovenian National Team and the Dallas Mavericks of the NBA. Named the ACB Most Valuable Player, Luka is the Mavericks' franchise leader in career triple-doubles.
Slovenian-born Doncic trained for Union Olimpija before joining Real Madrid's youth academy.
He has broken several NBA and Euro League champion history records and has been named NBA All-Star, All-NBA First Team, and NBA Rookie of the Year.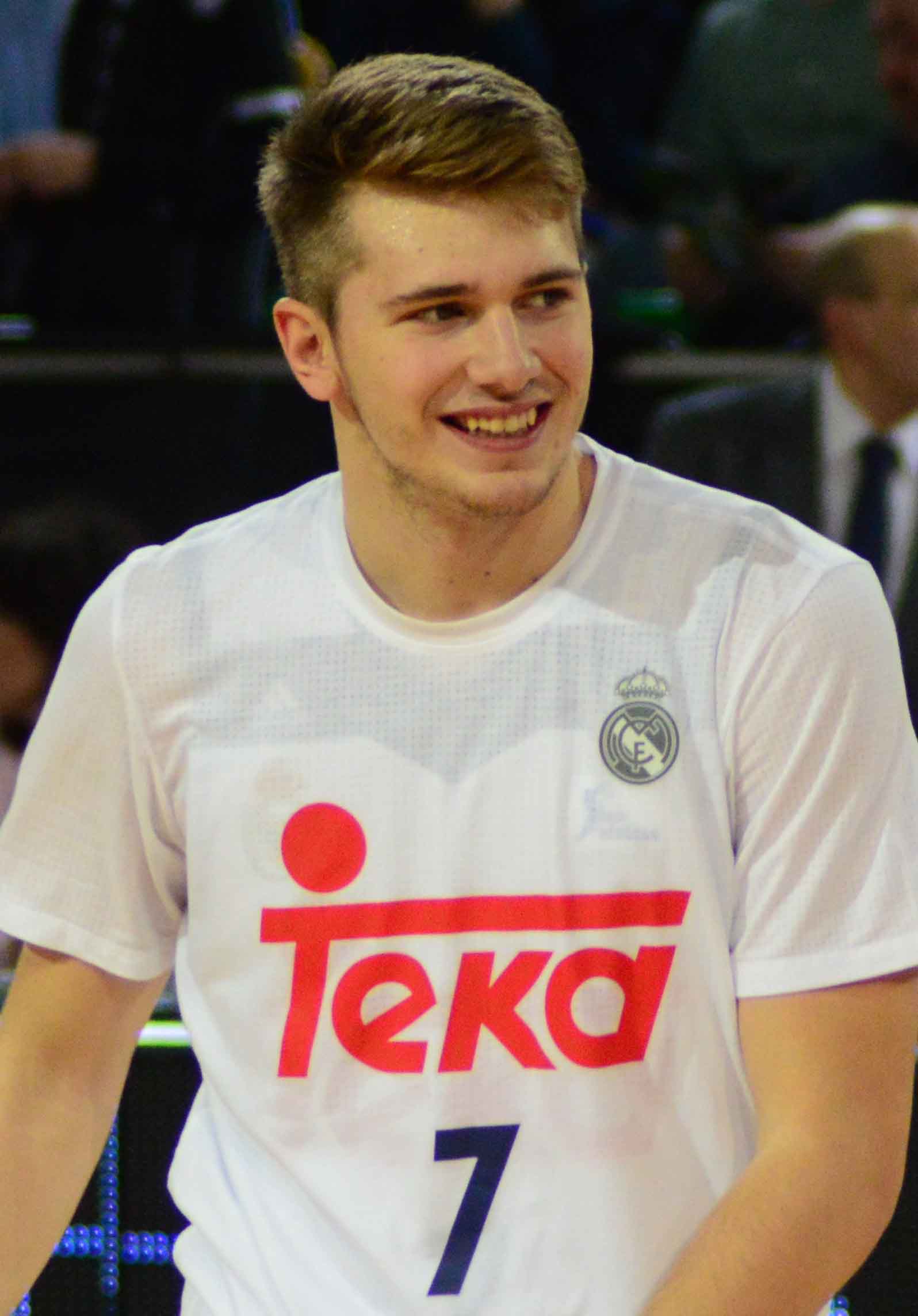 With his basketball IQ, intangibles, and skills, he helped his country, Slovenia, win the EuroBasket title in 2017
Before we disclose his personal and professional life, here are some quick facts about Luka Doncic.
Quick Facts
Full Name

Luka Doncic

Birth Date

February 28, 1999

Birth Place

Ljubljana, Slovenia

Zodiac Sign

Pisces

Nick Name

The Matador, El Matador, Cool Hand, The Don, Wonder Boy, El Niño Maravilla, Swaggy L, Luka Legend, Too Easy

Religion

Christianity

Nationality

Slovenian

Ethnicity

White

Father's Name

Sasa Doncic

Mother's Name

Mirjam Poterbin

Siblings

Unknown

Education

Osnovna Sola Mirana Jarca

Age
22 years old (as of June 2021)
Height

6 feet 7 Inches (or 201 cm)

Weight

230 pounds (or 104 kg)

Body Build

Athletic

Hair Colour

Light Brown

Eye Colour

Green

Married

No

Partner

Anamaria Goltes

Children

None

Profession

Basketball Player

Position in team

Point Guard and Shooting Guard

Shoots

Right

Jersey Number

#77

Affiliations
Union Olimpija, Real Madrid, Dallas Mavericks (Current)
Net Worth
$25 million
Salary
$37,096,500
Social Media
Twitter: @luka7doncic
Instagram: @lukadoncic
Facebook: @LukaDoncic
Last Update
November, 2023
Early Childhood and Education
Luka was born on February 28, 1999, in Ljubljana, Slovenia. He is Sasa Doncic (father), the son of a basketball coach and former player, and Mirjam Poterbin (mother), an owner of beauty salons.
It is unknown whether he has any siblings or not. When his parents divorced in 2008, his mother got custody and legal guardianship.
He is a Slovenian national of White Ethnicity. His mother is Slovenian, and his father is a Slovenian of Serbian descent from Kosovo.
Luka touched his first basketball at seven months and played with a miniature hoop by age one.
He began playing basketball at primary school in Ljubljana when he was seven years old, and his opponents would be up to ten years old.
Growing up, he played various sports but later quit after growing too tall. He finished high school at Osnovna Sola Mirana Jarka.
Age, Height, and Physical Appearance
As of 2021, Luka is 22 years old, and since he was born on February 28, his zodiac sign is Pisces.
He stands 6 ft and 7 inches (or 201 cm) tall and weighs approximately 230 pounds (or 104 kg).
His green eyes and brown hair complement his smooth skin, not to mention his athletic body structure.
Career
Amateur Career
Union Olimpija
Luka started practicing with 11 years old players when he was just eight at the invitation of Olimpija Basketball School coach Grega Brezovec.
In the following season, he would practice with the under-14 team but could only play for Olimpija's under-12 team per the league rules.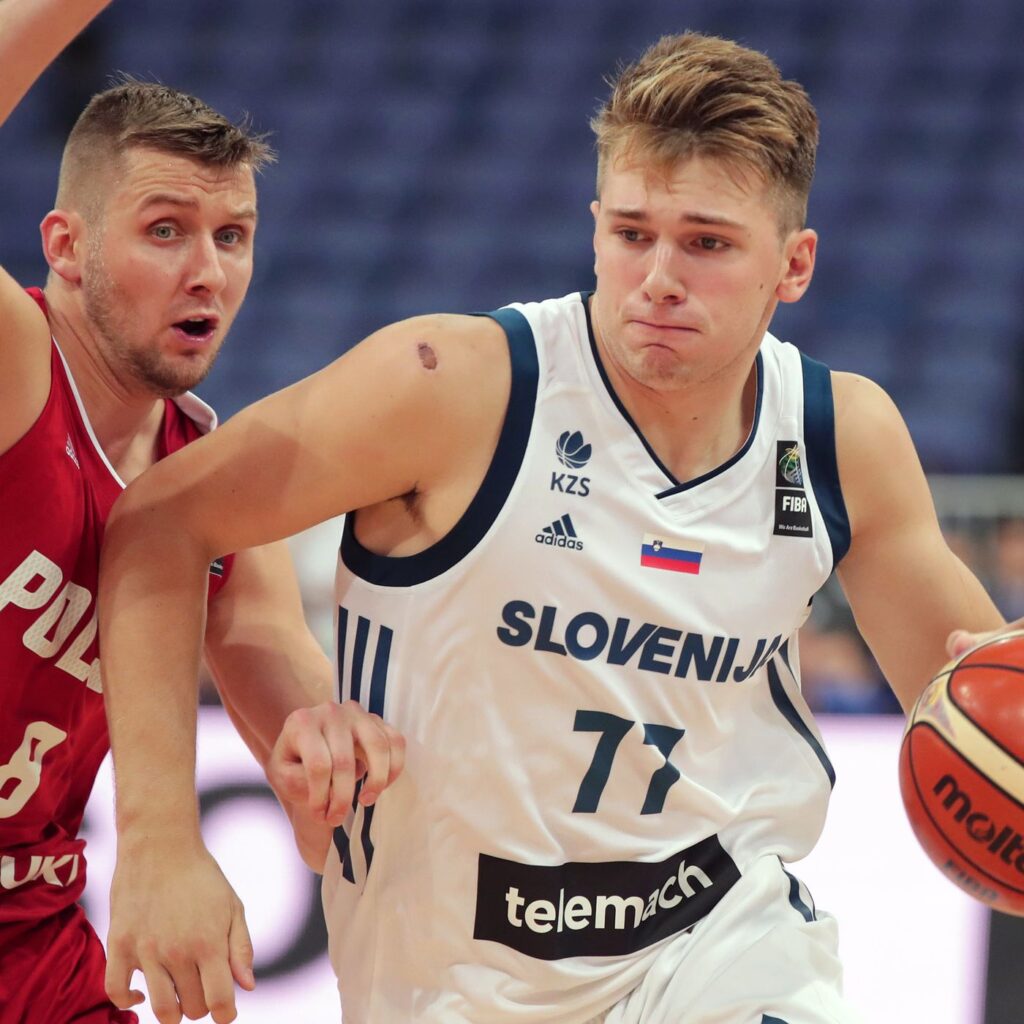 He played for the under-14 Vasas Intesa Sanpaolo Cup in Budapest in September 2011 and was named the Most Valuable Player (MVP) despite finishing as runners-up to FC Barcelona.
Luka was loaned to the club Real Madrid in February 2012 for the under-14 Spanish club competition Minicopa Endesa.
He averaged 13.0 points, 4.0 rebounds, 2.8 assists, and 3.3 steals per game, leading Real Madrid to second place.
In April 2012, he played in the under-13 Lido do Roma Tournament for Olimpija and was the leading scorer with 34.5 points per game. He was named the MVP.
Real Madrid
In September 2012, when he was 13 years old, Luka signed a five-year contract with Real Madrid.
He helped Madrid win the Minicopa Endesa and averaged 24.5 points, 13 rebounds, 4 assists, and 6 steals per game in February 2013.
In the final game, he aided the team with 25 points, 16 rebounds, and 5 steals to defeat FC Barcelona.
In March, he scored 25 points in a game against the Gran Canaria youth team and helped win the championship games.
Luke mostly played in the under-18 and reserve teams in the 2014-15 season.
He assisted in the Group B of the Liga EBA win with the reserve team, the amateur fourth-division of Spanish basketball. He averaged 13.5 points, 5.9 rebounds, and 3.1 assists.
Although he was two years younger than the rest of the team, in January 2015, he won the under-18 Ciutat de L'Hospitalet Tournament and was selected to the All-Tournament Team.
In May 2015, he defeated defending champions Crvena Zvezda Belgrade in the final and won the under-18 Next Generation Tournament.
Professional Career
2015-2016
Luka made his professional debut for Real Madrid on April 30, 2015. He was in the Liga ACB against Unicaja.
He became the youngest player to ever play for Real Madrid at 16 years, two months, and two days.
Luka was also the third-youngest debutant in league history, the other two being Ricky Rubio and Angel Rebolo.
In the 2014-15 ACB season, he played five games and averaged 1.6 points and 1.2 rebounds in 4.8 minutes per game.
Luka became a regular member of the 2015-16 season for Real Madrid's senior team.
On October 8, 2015, he played in an NBA preseason game against the Boston Celtics and collected 4 rebounds, 1 assist, and 1 block.
At 16 years old, on October 16, he debuted in the EuroLeague.
He was the 21st player ever to debut in the EuroLeague before the age of 17.
On November 29, he scored a season-high 15 points, 6 rebounds, and 4 assists against Bilbao and set a new ACB record for most points and highest Performance Index Rating (PIR) in an under-17 game.
In the 2015-16 ACB season, he played 39 games and averaged 4.5 points, 2.6 rebounds, and 1.7 assists.
He played in 12 EuroLeague games and averaged 3.5 points, 2.3 rebounds, and 2 assists per game.
2016-2017
Luka made this season's debut against Unicaja and scored 6 points and 4 assists in 19 minutes.
He also played in an NBA preseason on October 3, 2016, and scored 3 points, 5 rebounds, and 4 assists against Oklahoma City Thunder.
On December 4, he posted a double-double of 23 points and 11 assists, both season-highs, in a 92–76 win over Montakit Fuenlabrada.
Besides, he got his first ACB player of the week honors due to this game.
On December 8, 2016, Luka scored a team-high 17 points against Žalgiris Kaunas in a EuroLeague victory.
He became the youngest player to be named MVP of the Round on December 22 after a 95-72 win over Brose Bamberg, where he scored 16 points, 6 rebounds, 5 assists, and 3 steals.
On February 18, Luka scored 23 points in the Spanish King's Cup against Baskonia.
In the 2017 EuroLeague Playoffs, he recorded 11 points, 5 rebounds, and 7 assists, leading Real Madrid to a EuroLeague Final Four berth.
Besides, he won the MVP of the Round.
He played 42 ACB games in the season and averaged 7.5 points, 4.4 rebounds, and 3 assists per game.
Besides, he played 35 EuroLeague contests and averaged 7.8 points, 4.5 rebounds, and 4.2 assists per game.
Luka was named EuroLeague Rising Star and won the ACB Best Young Player Award.
2017-2018
Luka made his season debut against MoraBanc Andorra, recorded 8 points, 6 rebounds, and 4 assists, and won by 94-88. On October 12, he scored 27 points in his first EuroLeague game.
On October 24, he was named EuroLeague MVP of the Round after erupting for 27 points, 8 rebounds, 5 assists, and 3 steals.
Two days later, he again renamed the same with his career-best 28 points in an 87-66 win over Zalgiris Kaunas.
Luka became the youngest player to win the EuroLeague MVP of the Month honors. He scored a career-high 33 points, 6 rebounds, and 4 assists against Olympiacos Piraeus on December 8.
Real Madrid won over Fenerbahce Dogus and had a 79-77 victory in the EuroLeague championship on December 28, where Luka got 20 points, 10 assists, and 8 rebounds.
He became the youngest recipient of the award ACB Player of the Month for December.
On May 20, 2018, Luka led Real Madrid to a EuroLeague Finals victory against Fenerbache Dogus.
After scoring 15 points, he was named EuroLeague Final Four MVP.
Also, he became the youngest winner of the EuroLeague MVP award and averaged 16 points, 4.9 rebounds, and 4.3 assists per game over 33 EuroLeague games, and he led the league in PIR.
He became the third back-to-back winner of EuroLeague Rising Star and earned ACB Best Young Player and MVP accolades.
Luka left Real Madrid on June 29, 2018.
2019-2020
In March 2020, Luka got selected for the 2010–20 All-Decade Team.
Dallas Mavericks
2018-2019
On June 21, 2018, Luka was drafted as the third overall pick by the Atlanta Hawks in the 2018 NBA draft.
He was later traded to the Dallas Mavericks. On July 9, 2018, he signed his rookie contract with the Dallas Mavericks.
Luka made his season debut on October 17, 2018, scoring 10 points, 8 rebounds, and 4 assists in a 121–100 loss to the Phoenix Suns.
In a game against the Minnesota Timberwolves on October 20, he became the youngest 20-point scorer in franchise history.
He was named NBA Rookie of the Month in the Western Conference for November 2018.
On December 28, Dončić scored 34 points and became the youngest NBA player to make seven three-pointers in a game.
Luka scored his first NBA triple-double with 18 points, 11 rebounds, and 10 assists against Milwaukee Bucks on January 21.
Besides, he became the second-youngest player in NBA history to do so, the first being Markelle Fultz.
He recorded a season-high 35 points and his second NBA triple-double against the Toronto Raptors on January 27.
He became the first teenager in NBA history with a 30-point triple-double and multiple triple-doubles.
Luka became the youngest player in NBA history to score three triple-doubles on February 6, in a game against Charlotte Hornets.
He recorded his fourth triple-double in a game against the Los Angeles Clippers.
He became the fifth player in NBA history to average at least 20 points, 5 rebounds, and 5 assists in his rookie year. In June, he received the NBA Rookie of the Year Award.
2019-2020
Luka recorded a career-high 38 points on November 8 against New York Knicks. Ten days later, he scored a career-high 42 points against San Antonio Spurs.
He also became the youngest player to have 35-point triple-doubles in succession.
Luka is also the youngest European player during the 2019-20 season to start in an NBA All-Star Game.
He recorded his 22nd career triple-double, the most in franchise history, on March 4.
On August 4, in a game against the Sacramento Kings, he became the youngest player to score 30+ points, 20+ rebounds, and 10+ assists.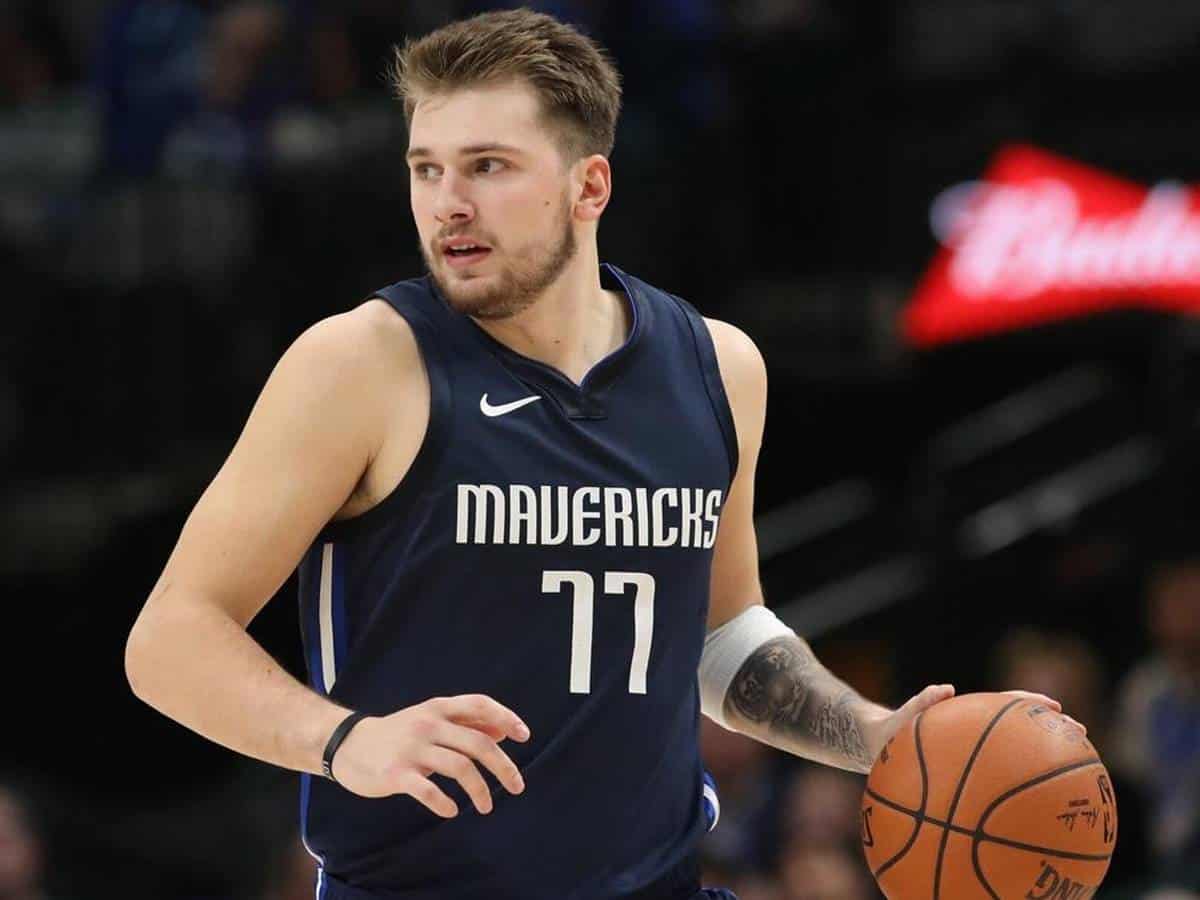 On August 8, Luka had a career-high 19 assists in a game against Milwaukee Bucks.
Besides, he scored his 17th triple-double for the season and became the youngest player to lead the NBA in triple-doubles.
He was selected to the NBA's All-Bubble First Team on August 15 and averaged 30.0 points, 10.1 rebounds, and 9.7 assists per game.
Luka played his first NBA Playoffs on August 17 and scored 42 points, which is the most in an NBA playoffs debut.
On August 23, he became the youngest player in NBA postseason history with a 40-point triple-double, scoring 43 points against the LA Clippers.
After Tim Duncan, he became the second player to be selected to an All-NBA First Team in a first or second season on September 16.
2021-2022
On August 10, 2021, he signed a five-year $207 million rookie extension, the largest in NBA history.
On May 20, during Game 2 of the Western Conference Finals, Dončić posted 42 points, 5 rebounds, 8 assists, and 3 steals in a 126–117 loss against the Golden State Warriors.
He became the third player since the merger of Tim Duncan and Larry Bird to make the first team of the All-NBA this season, after being selected to the team on May 24.
Luka's Ridiculous Buzzer Beater
In April 2021, during the match between Dallas Mavericks and Memphis Grizzlies, Luka shocked everyone in the NBA with his winning shot.
The Mavericks were trailing 113-111, while Memphis had two foul shots. Well, these two shots would have given an easy win for Memphis. However, they missed the shot.
Also, Mavericks had only 1.8 seconds to seal the game, and Luka gained that ball in his hand.
Anyways, he portrayed an off-balance, one-footed, buzzer-beating, 3-point floater.
That became the talk on Twitter right instant, and even LeBron James tweeted it.
Luka Doncic and Kristaps Porzingis
Both Luka and Kristaps have been the base for forwarding in Dallas Mavericks.
Even though they seemed pretty good, Mavericks owner Mark Cuban's comment made everyone suspicious of what was inside.
With loads of ongoing talks about the two, Tim MacMahon joined Zach Lowe on The Lowe Podcast to share what's between them.
As per him, Kristaps doesn't enjoy playing much for both Dallas and Luka. However, he has a problematic contract for a trade.
"Fouling in Love"
Luka Doncic is amusing in specific ways. Back in March 2021, Luka hilariously flirted with female referee Ashley Moyer-Gleich.
It was during Mavs' 105-89 win over Kawhi Leonard's Clippers. After making a free throw in the game, Luka talked with the referee.
Later, as the referee asked, "what foul?" twice, Luka gave a hilarious reply, "Fouling in love with you."
As far as the sources, they had some exchanged humor in between.
National Team Career
In December 2014, on the junior national team, Luka participated in a friendly tournament in Székesfehérvár, Hungary, and averaged 35.3 points and 7.6 rebounds per game while shooting 81 percent on two-pointers and 57 percent on three-pointers.
Luka announced that he would be in the senior men's Slovenian national team for the rest of his career on September 22, 2016.
He was a Slovenian squad member for EuroBasket 2017, where Slovenia won its first gold medal. Again Luka was named to the competition's All-Tournament Team.
He also played a crucial role for Slovenia in the Tokyo 2020 Olympics. But the team lost it to France.
Net Worth
Luka signed a two-year deal with Nike in 2017. He had also signed a multi-year endorsement deal with Air Jordan in December 2019.
As of 2023, Luka's estimated net worth is $25 million.
With this Jordan deal, Luka wears shoes, including the Air Jordan 35 and the Jordan React Elevation.
Recently, to honor his game, the brand also created the Air Jordan XXXV Low, Jordan Max 200, and Jordan Slide.
Personal Life
Luka is currently dating Anamaria Goltes, a Slovenian model, and doesn't have any kids with her.
Radoslav Nesterovic, a former NBA player, is Luka's godfather. He has a Pomeranian dog named Hugo.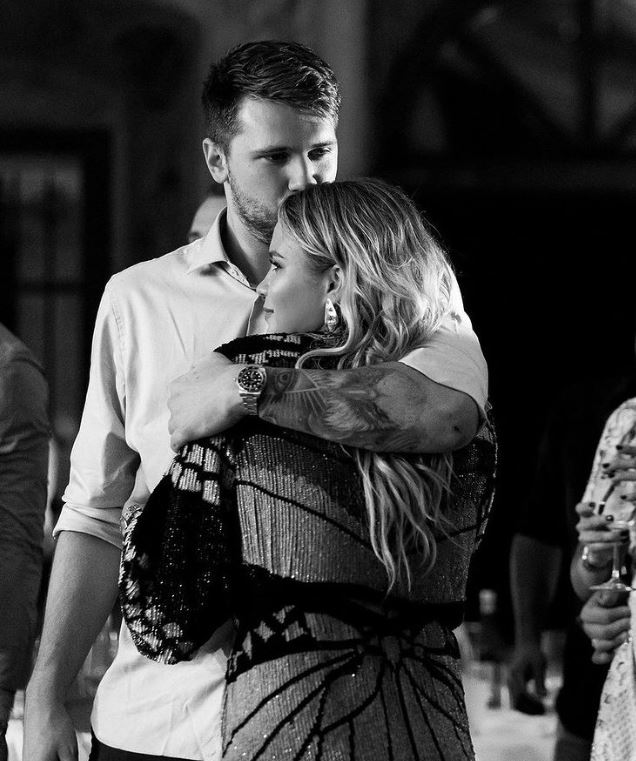 Luka can speak four languages: Slovenian, Serbian, English, and Spanish.
He has four tattoos: a tiger on his left forearm, EuroBasket 2017 cup on his right hip, the Latin phrase "Nondesigns, nonexperts," and his jersey number 7.
Popularity
In the world of the NBA, Luca is a prevalent and promising name. Many believe he will win the title of NBA's MVP title.
The above graph demonstrates the Google Search Volume results for the past three months.
Common Queries
Why does Luka Doncic wear 77?
It originated from his playing days with the Slovenian national team. He wears Jersey as a tribute to his idol, a Greek professional basketball player, Vassilis Spanoulis.
What is Luka Doncic's salary?
In 2020-21, he earned an annual base salary of $8,049,360. On August 10, 2021, Luka signed a five-year, $207 million rookie extension with the Mavs.
His extension kicks in after the 2021-2022 season. He earned $10,174,391 through the 2021-2022 season and made $37,096,500 in 2022.
What are Luka Doncic's career statistics?
To date, Luka Doncic has played 264 games. He has maintained 26.4 points, 8.5 rebounds, and eight assists throughout his rounds.
Also, he has a free throw percentage of 45.7%. Currently, Luka has a defensive rating of 109.1.