Retired Baseballer David Bell married his wife Kristi Kimener in November 1999. As they have been together for two decades, their ultimate couple goal is to be together forever.
Former professional baseball player David Bell is the manager of the Cincinnati Reds of Major League Baseball (MLB).
During his 12-year MLB playing career, David played for six different MLB teams. In 1995, he debuted in the MLB with the Cleveland Indians and ended his career with the Brewers in 2006.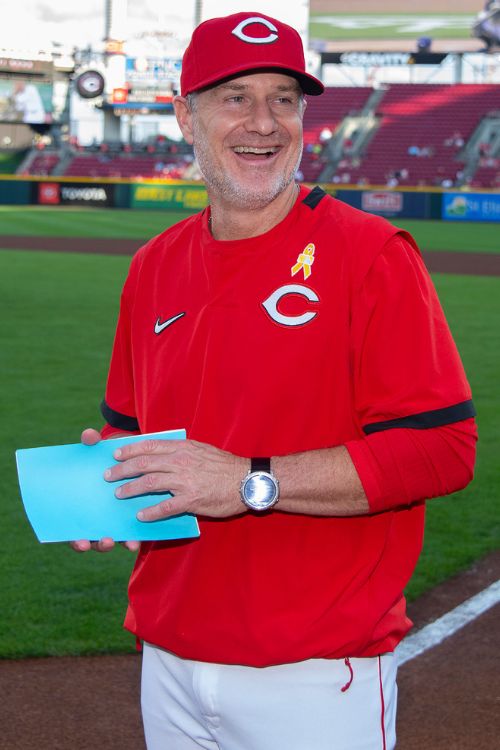 While playing with San Francisco Giants, he attained the peak point of his career. In the 2002 NLCS, David scored the winning run, leading the team toward victory. Moreover, the athlete even received the 2002 Willie Mac Award for his spirit and leadership.
The 51-year-old player wrapped up his baseball career with a .257 batting average, 123 home runs, and 598 RBIs.
After his retirement, David set his eye to become a coach and a manager of the MLB team.
David Bell Wife
Family man David Bell is living a happy married life with his better half, Kristi Kimener.
David and Kristi exchanged vows on November 27, 1999, in a private ceremony.
As the couple has kept their privacy, it is unknown when and where the couple originally met. Leading a very private life, the couple do not even use any social media platforms.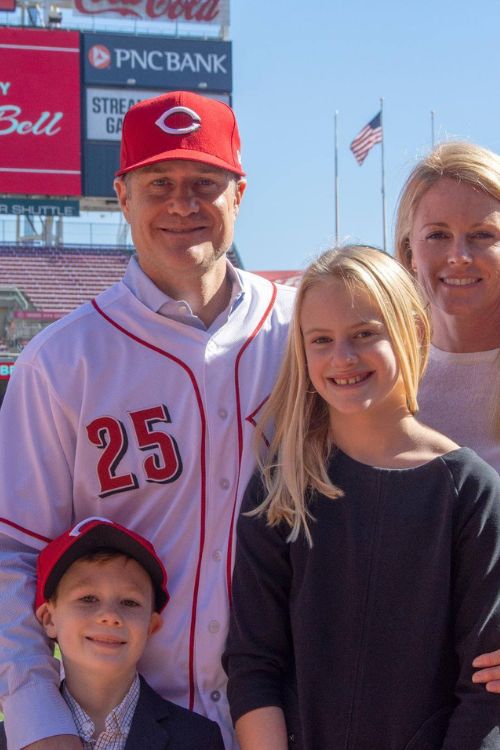 His wife, Kristi, grew up in Madeira with her family. Hardly any further details are available about her personal life.
Apart from being a supportive wife, Kristi is also a proud mother. The duo are raising two kids together- Brogan Bell (born 2007) and David Gus Bell (born 2012).
The one who inspires and motivates David after each setback is his wife, Kristi. Even after two decades of marriage, their relationship is still as strong as before.
David Bell Family
David Bell's family is one of the five families to have three generations play in the Major League.
A former American baseballer and manager, David Gus " Buddy" Bell is the father of David Bell. Born on August 27, 1951, Gus made his first and last appearance in MLB in 1972 and 1989, respectively. Now, he is the Cincinnati Reds' vice president and senior advisor to the general managers.
Likewise, David Bell was born to his mother, Gloria Eysoltdt, about whom who is less well-known.
Moreover, the player grew up alongside his two younger siblings- Mike Bell and Ricky Bradley Bell. Sadly, his brother Mike Bell, a third baseman and coach, passed on March 26, 2021.
In addition, his grandfather, David Russell Bell, was a professional baseball outfielder. He played in MLB from 1950 till 1964.
Belonging to an athletic family, David inherited his family member's passion for the sport.
David Bell Post Retirement
Despite a stellar career, David Bell retired as an active player with a motive to serve as a manager.
After his retirement, he worked for Double-A Carolina Mudcats and Triple-A Louisville Bats. Later, he served as a coach for Chicago Cubs and St. Louis Cardinals.
The Cincinnati Reds hired David as the 63rd manager on October 21, 2018. Bell remained dismissed from a game on April 7, 2019, against the Pittsburgh Pirates because of his involvement in a bench-clearing incident.
Likewise, from August 1, 2019, he remained suspended for six games without the option of appealing.
Afterward, in September 2021, David signed a two-year contract extension with the Reds.