David Fizdale is a former head coach for the New York Knicks, who got fired after finishing his one season with the team.
Not to mention, he has also coached other teams like the Memphis Grizzlies, Miami Heat, and San Diego in the past.
Considering his ability to connect with the players and strong work ethic, many still believe David has the potential to the best head coach.
Moreover, many are predicting his return to the court with the Pelicans. Will it happen for sure? Only time can tell.
Aside from his career, we will also focus on his personal life and his gorgeous wife. Who is she? And what does she do? Read the articles to find out more.
David Fizdale : Quick Facts
| | |
| --- | --- |
| Full Name | David Sean Fizdale |
| Birth Date | June 16, 1974 |
| Birth Place | Loa Angeles, California, US |
| Known as | David Fizdale |
| Religion | Unknown |
| Nationality | American |
| Ethnicity | African-American |
| Education | University of San Diego |
| Horoscope | Gemini |
| Father's Name | Unknown |
| Mother's Name | Helen Hamilton |
| Siblings | Unknown |
| Age | 48 Years Old |
| Height | 6 feet 5 inches (196 cm) |
| Weight | Updating Soon |
| Build | Athletic |
| Eye color | Brown |
| Profession | Professional Basketball Coach |
| Active years | 1998-present |
| Team | New York Knicks(2018-2019) |
| Marital Status | Married |
| Spouse | Natasha Sen |
| Children | One |
| Salary | $10.2 million |
| Net Worth | $20 million |
| Social Media | None |
| Merch | Autographed Items, Poster |
| Last Update | March, 2023 |
What is David Fizdale Ethnicity?- Early Life and Education
The former coach of the Knicks, David Fizdale, was born in Loa Angeles, California, the United States of America.
With his father's departure, David, whose middle name is Sean, was raised by his single mother, Helen Hamilton.
Together with his mother, Fizdale's grandparents have also been a part of his life. The support proved inevitable considering his exposure to the violence of LA streets.
Over the years, young Fizdale lost several of his family and friends, including his maternal grandfather, to gun violence.
More so, David was racially profiled and pulled over by the police on numerous occasions.
Likewise, David is American by nationality, while his ethnicity is African-American. You see, his mother is black while his father is white.
As for his siblings, there is no information on that topic. Moving on to his education, Fizdale attended Fremont High School in Los Angeles. He played as a point guard for the school basketball team.
After graduation, Fizdale enrolled at the University of San Diego. From there, he received a B.A. degree in Communications with a minor in sociology.
How old is David Fizdale? Age and Height
Raised by his single mother, David Fizdale was born on June 16, 1974, making him 48 years old as of now.
His star sign is Gemini, which means he is free-spirited, smart, and out-going compared to others.
Likewise, David stands at 6 feet 5 inches(196 cm) and played basketball during his entire high school years. Thanks to his stature and agility, Fizdale was on the court all the time.
Other than that, his other measurements, like his weight, are still unknown for some reason. David has short black hair and brown eyes.
You might also want to read: <<Zion Williamson Parents: Bio, Age, Stepdad, Early Days, Duke, NBA Wiki >>
Who is Fizdale's wife? Marriage and Personal Life
Currently successful, David Fizdale has been a coach for many years now. In his 40s, Fizdale has also found a partner to spend the rest of his life together.
Yes, the former coach of the Knicks is a married man as of now. He tied the knot with Natasha Sen back in 2014.
Likewise, their grand wedding ceremony took place at the luxurious Hotel Del Coronado, located in San Diego of California.
Many celebrities attended the wedding, including the famous NBA star Dwyane Wade. Many might have no idea, but this is the second marriage for David.
Before this, he was married and even had a son named Kyle Jackso, but his former wife's name is still unknown.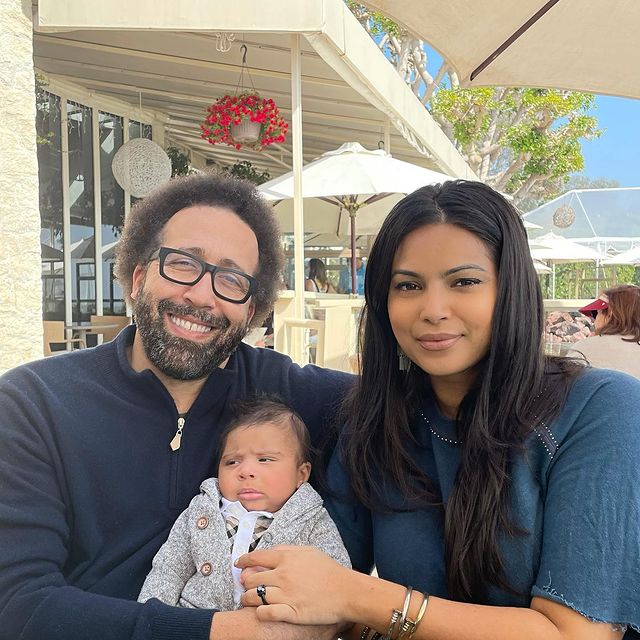 Moreover, he was also engaged to Gabrielle Union before fixing with Natasha. As for her, Natasha is the founder of her brand, The Creative Penny, a marketing and design agency.
Prior to having her own company, she worked as a marketing director of Majestic properties in South Florida, one of the largest boutique real estate firms. Also, the two are expecting the first child this year.
David Fizdale | Early years as a Coach
Having played basketball his entire high school and college, many thought, Fizdale would go professional and play for the NBA.
But to many's surprises, he took an internship in the Miami Heat video department. Later, David was hired as an assistant coach, also his first coaching job at San Diego.
Not to mention, Fizdale spent four seasons with the team from 1998 to 2002.
During his tenure there, David garnered success, and his co-worker, Kyle Smith, even praised him for his charisma and understanding of the game.
After that, in 2002, David departed from San Diego and joined Fresno State as an assistant coach. Later on, he accepted to work as an assistant coach for the Golden State Warriors in 2003.
David spent a year with the Warrior under head coach Eric Musselman then became a part of the Atlanta Hawks' coaching team for the four-season from 2004 to 2008.
Moreover, he spent eight seasons from 2008 to 2016 with the Miami Heat. During his time there, Fizdale worked with some of the best players and developed personal relationships with them.
Not to mention, he also helped them win two NBA Championships consecutively in 2012 and 2013.
David coached a squad selected by Shaquille O'Neal called "Team Shaq" at the 2013 Rising Stars Challenge.
Sadly, their team was defeated 163-135 by Charles Barkley's "Team Chuck." They were trained by then San Antonio Spurs assistant coach Mike Budenholzer.
Don't forget to check out: <<Shannon Sharpe Bio: Age, College, NFL, Controversies, Instagram Wiki >>
David Fizdale | Move to the Memphis Grizzlies
Nonetheless, David became an associated head coach after the reshuffle of the Heat's coaching staff.
He replaced Ron Rothstein, who retired that year, and also Bob McAdoo was assigned to the scouting team. Likewise, on May 29, 2016, Fizdale was announced as the head coach of the Memphis Grizzlies.
As Grizzlies head coach David won his first game by leading the Grizzlies summer league team to a 99-79 win over the NBA D-League Select Team in the Las Vegas Summer League.
In the 2016-17 season, he led his team to a 43-39 record, reaching the Western Conference playoffs. They won 43 games out of 82 but were eliminated in the first round of the playoffs.
Unfortunately, his days of glory with the Grizzlies did not stay long. After a slow start to the next season, including eight consecutive losses in 19 games, the team fired David on November 27, 2017.
His decision to bench Marc Gasol during the fourth quarter of a game was heavily criticized and, to this day, is considered one of the main reasons behind his firing.
New York Knicks (2018-2019)
Following his departure from the Grizzlies, Fizdale found a place at the New York Knicks. Moreover, a year later, on May 7, he was assigned the Knicks' head coach spot.
He also signed a four-year deal with the organization. During his tenure there, David coached players like Ron Baker, Lance Thomas, Joakim Noah, and many more.
But following their sloppy wins, 17 out of 82 games, and failure to qualify for the playoffs did not prove well for Fizdale. Fizdale's departure from the team happened then.
Statement from Fizdale
The New York Knicks fired David Fizdale as the partnership between him and the coach didn't lead to great outcomes. Fizdale's statement regarding the situation was released:
"Coaching the New York Knicks has been a great honor, and I appreciate Steve Mills, Scott Perry, and Jim Dolan for providing me with this opportunity. There are lessons we take with us from every life experience, and I am especially grateful for the lessons I have learned from the extraordinary group of people within the MSG family – from the players, coaches, development staff, and trainers to the arena crew, concession workers and users – who have all treated my family and me so well during our time with the team.
"Knicks fans' passion and commitment are remarkable, and while it is obviously disappointing that we couldn't deliver the wins we wanted on the court, I am very proud that we were able to establish a system that values accountability, respect, and hard work. Although the short-term results weren't what I hoped for, I'm confident the culture and values we prioritized will contribute to the growth and future success of the core young players who are already improving each and every day.
"I have been blessed with the chance to make a career around the game of basketball. I wish only the best to the entire Knicks organization and to the City of New York, and I am excited about the journey that lies ahead."
Will David Fizdale lead the New Orleans Pelicans?
Just on August 15, the New Orleans Pelicans announced the departure of head coach Alvin Gentry following the end of his tenure.
Following the news, vice president David Griffin made it clear that they are in no hurry to hire a successor, preaching patience in their process.
"We will not be quick with this at all. This is not a rush. We have a job that we believe is going to be the most attractive in the NBA, quite frankly. With all of the candidates still in the (Orlando bubble- and there are some that may not be- candidates you may want to talk to are still with teams, in many circumstances."
After the announcement, many were quick to make a list of their qualified candidates, potential to lead Zion Williamson, Brandon Ingram, and other players of the roster to the next level.
Likewise, many think David Fizdale fits the Pelicans' culture of toughness and accountability.
Considered one of the rising NBA stars in coaching, David has served an eight-season apprenticeship under Erik Spoelstra with the Miami Heats.
After replacing Dave Joerger, he took the role of the head coach and led the Grizzlies to 43 wins.
However, with the departure of players like Tony Allen and Zach Randolph, the Grizzlies "Grit N Grind" era came to a close. With this, Fizdale's coaching days also came to an end.
Following this, David joined the Knick, turning down offers from the Atlanta Hawks, Phoenix Suns, and Charlotte Hornets.
But the Knicks were a disaster from the outset. Hence, it came as no surprise when his tenure ended after one season.
Despite how things ended, Fizdale is still lauded for his skills and believes he can be a high-level head coach in the NBA.
Inside the NBA, Fizdale is known for his incredible passion and ability to communicate with players.
Vince Carter even characterized Fizdale as "very upfront and forward with everyone as far as what he expects of us."
"He just wants to win, and his approach is all about winning, period. He's been to the mountaintop, so he understands what it takes as a coach to put us in the position to win. Fizdale's all about making it easy as possible for players, whatever that entails."
David Fizdale | Coaching Stats (New York Knicks)
| | | | | | | | |
| --- | --- | --- | --- | --- | --- | --- | --- |
| YEAR | TEAM | Games | Wins | Loses | PCT (win percentage) | PLAYOFF W (postseason wins) | PLAYOFF L (postseason loses) |
| 2020 | New York Knicks | 22 | 4 | 18 | .182 | — | — |
| 2019 | New York Knicks | 82 | 17 | 65 | .207 | — | — |
| 2018 | Memphis Grizzlies | 19 | 7 | 12 | .368 | — | — |
| 2017 | Memphis Grizzlies | 82 | 43 | 39 | .524 | 2 | 4 |
| 2016 | Miami Heat | 3 | 3 | 0 | 1.000 | — | — |
| 2015 | Miami Heat | 2 | 1 | 1 | .500 | — | — |
| 2014 | Miami Heat | 5 | 4 | 1 | .800 | 0 | 1 |
Visit David Fizdale – ESPN to see more of his coaching records.
David Fizdale | Net Worth and Salary Estimation
As of 2023, the 46-year-old head former head coach of the New York Knicks has amassed a hefty net worth of $20 million.
For his four-year contract with the Grizzlies, Fizdale signed a deal worth $10.2 million. But after only two seasons, Fizdale was fired from the job.
Despite that, there has been no shortage of work for David. In fact, he has worked for many teams and molded them to his liking.
Also, his contract with the Knicks was believed to be around $22 million, where he was paid $5.5 million salaries on average annually.
However, to this date, Fizdale has not exposed his assets and income for the public to see.
Social Media Presence:
Sadly, David is not active on any social media as of now.
Some FAQs:
Is David Fizdale a good coach?
David Fizdale has a unique coaching style. He is also very good with the media.
He always has the right answer for the right situation, which makes him a good salesman.
It is an integral part of his job because, as a coach, he needs the players to buy into his system. Fizdale is not a bad coach either.
His track records are pretty decent, excluding a few seasons. He, in fact, modernize the team's gameplay with his mentorship.
Not everyone is perfect, and not every place is made for everyone. Fizdale and the New York Knicks could not have the synchronized relationship that their positions demanded. But that does not make Fizdale a bad coach.
Who did the New York Knicks bring as David Fizdale's replacement?
When the New York Knicks first fired David Fizdale, the team named assistant coach Mike Miller as the interim head coach.
Before joining the New York Knicks coaching staff, Miller worked for their NBA G League affiliate Westchester Knicks for four years.
The team then hired Thomas Joseph Thibodeau Jr. (Tom Thibodeau) as their current head coach.
How much did Fizdale receive as payout?
David Fizdale had a $22 million contract with the New York Knicks, which he signed in the summer of 2018.
When he departed from the team, he had already earned a big amount. It is believed that he earned more than one million per win while working for the Knicks.
Did Grizzlies giveaway David Fizdale's eyeglasses?
David Fizdale eyewear was very popular when he was the head coach in Memphis Grizzlies, so the Grizzlies staged a "Fizz Glasses" giveaway during his first season.