Joakim Simon Noah is a former French-American professional basketballer who was involved in the NBA for 13 seasons.
He made a name for himself in the NBA when he played for the Chicago Bulls.
Joakim, also known as Jo, won multiple NBA All-Star with the Bulls and was a phenomenal player to watch.
Jo has had a long career, starting in 2007, and he is still going strong in the NBA.
He was also featured for the French national basketball team in different tournaments worldwide.
Here are some quick facts about Joakim Noah you might want to know.
Quick Facts
| | |
| --- | --- |
| Full Name | Joakim Simon Noah |
| Date of Birth | February 25, 1985 |
| Age | 37 |
| Birth Place | New York City, New York |
| Nickname | Jo, Stick stickity |
| Religion | N/A |
| Nationality | American |
| Ethnicity | Mixed (French, Swedish, and Black) |
| Education | United Nations International School, Poly Prep Country Day School, the Lawrenceville School, and the University of Florida |
| Father's Name | Yannick Noah |
| Mother's Name | Cécilia Rodhe |
| Siblings | 3 (Jénayé Noah, Joalukas Noah, Yélena Noah) |
| Zodiac Sign | Pisces |
| Height | 6 feet 11 inches (211cm) |
| Weight | 232 lbs (105 kg) |
| Hair Color | Black |
| Eye Color | Black |
| Build | Athlete |
| Marital Status | Dating/Engaged |
| Girlfriend | Lais Riberio |
| Sexual Orientation | Straight |
| Profession | Basketball player |
| Professional Career Teams | Chicago Bulls, New York Knicks, Memphis Grizzlies, Los Angeles Clippers |
| Position | Team ambassador |
| Drafted In | 2007 / Round: 1 / Pick: 9th Overall |
| League | NBA |
| Playing Career | 2007 – 2021 |
| Net Worth | $50 million |
| Salary | $13.4 million |
| Merch | One of Basketball's Greatest Defensive centers (Paperback) |
| Social Media | Twitter, Instagram |
| Last Update | February, 2023 |
Joakim Noah | Early Life, Family, and Education
Joakim Simon Noah was born in New York City to a sporting family.
His mother, Cécilia Rodhe, was Miss Sweden in 1978 and became fourth runner-up at Miss Universe.
His Father was a former world no. 3 tennis player Yannick Noah, 1983 French Open winner, and singer.
Moving on, his grandfather, Zacharie Noah, was a Cameroonian professional football player who won the Coupe de France in 1961.
He grew up with his three siblings, a brother named Joalukas and two sisters named Yélena and Jénayé.
One of Noah's sisters, Yélena, became a modeling star after he shared a moment with his sister when the Bulls beat the Nets in the 2013 NBA Playoffs.
In 1988, Noah moved to Paris, France, with his family but returned to New York City at 13.
Noah did his schooling with three different high schools, United Nations International School, Poly Prep Country Day School, and Lawrenceville School.
Click here if you want to know about Andy Roddick's Bio: Career, Awards, Stats & Net Worth>>
Joakim Noah

| Age, Height, and Weight

Jo is 37, standing tall at 6 feet and 11 inches, and weighing 105 kg.

His Body Mass Index (BMI) is 23.7, which is healthy for him. Moreover, Markkanen's tall and lean body makes it easy for him to compete with the best players in the NBA.
Joakim Noah

| Basketball Career
College Career
Noach accepted an athletic scholarship in 2004 from the University of Florida and started his college basketball journey with the Florida Gators men's basketball team.
He played under coach Billy Donovan for the Gators.
In his first season as a freshman, Noah played 9.4 minutes per game, averaging 3.5 points and 2.5 rebounds per game.
He did not start his career well, but Noah replaced Al Horford during his sophomore season and immediately impacted that position. He got 14.2 points and 2.4 blocks per game.
Jo's form kept improving, and by the end of the NCAA Division I Men's Basketball Tournament, he declared himself for the 2006 NBA draft.
In the end, Noah stayed with his team for the junior season, which was a good season as the Florida Gators won the national championship in 2006-07.
Noah got 26 points, 15 rebounds, and five blocks against the top-seeded Villanova. His performance earned him the Most Outstanding Player in the tournament.
The Gators faced the UCLA Bruins for the NCAA basketball championship, where he scored 16 points, nine rebounds, and six blocks. Noah was named the Most Outstanding Player with record-breaking blocks and wonderful performance.
Rookie Season
In the 2007 NBA draft, Noah was the 9th overall pick for the Chicago Bulls. Noah and his teammates from Florida, Corey Brewer and Al Horford, were the highest-picked trios of the same college in NBA history.
Noah made his season debut by coming off the bench and scoring 2 points and four rebounds. Unfortunately, he was suspended by a unanimous vote from his teammates in January.
Noah notched 6.7 points and 7.6 rebounds per game in his first season.
Noah only played 64 games in his second season due to an injury. However, this season he averaged 10.7 points and 11.0 rebounds per game. In the playoffs, Noah averaged 14.8 points and 13.0 rebounds per game.
Unfortunately, Noah's playoff journey ended after his team's loss to the Cleveland Cavaliers.
Jo had two seasons with the Bulls, which saw him sign a five-year contract extension of $60 million.
The following season did not go well for Noah as he suffered ligament damage in his hand, which required surgery, and then stayed off the pitch for ten weeks.
However, in February, he returned for the Bulls and scored 7 points with 16 rebounds in the 24 minutes.
Noah achieved the first triple-double by a Bulls player since Artis Gilmore in 1977 against the Milwaukee Bucks. He scored 13 points, 13 rebounds, and ten assists.
Proceeding with Chicago Bulls
The 2012-13 season saw Noah achieve many things in the NBA as he recorded his career-high of 30 points and 23 rebounds against the Detroit Lions.
And got his second career double that included ten assists as they beat the Boston Celtics.
He was named in the 2012 NBA All-Star Game reserves, the first for a Bulls player since 1982.
Despite playing just 16 minutes, he scored 8 points with ten rebounds.
Jo became one of the few payers to secure a triple-double of 20-20-10 points, rebounds, and blocks among greats like Kareem Abdul-Jabbar, Shaquille O'Neal, and many more.
He achieved this record while shooting 65 percent from the field.
In the 2013-14 season, Noah had a streak of 18-games of 10 or more rebounds by averaging 13.9 rebounds.
Again, he was named in the NBA All-Star Game reserve this season. He helped the East win by playing the entire 4th quarter scoring 8 points, five rebounds, and five assists.
He broke the record for being the first player since Brad Miller to have 10+ assists in 3 games and the only player with 13 assists since Vlade Divac in 1996.
Noah got the most assists for the Bulls since 1986 with 16 assists against the Knicks. In addition, he got his 6th career triple-double against the Detroit Pistons.
In March 2014, Noah got a total of 120 assists.
For the first time in his career, Noah was awarded the NBA Defensive Player of the Year and became the second player since Michae Jordon to win the award for the Bulls. Noah was also the first Frenchman to be awarded this award.
After being in reserve for two years, Noah was named to the 2014 All-NBA first team.
Last Season with the Bulls
Noah's final season was not the best for him as he came off the bench in the first 12 games and lost his starting position to Nikola Mirotić.
However, when he got the chance to start, he scored a season-high 21 points and ten rebounds and became the career leader on the offensive board of the Bulls. He surpassed Horace Grant.
Click here if you want to know about Lauri Markkanen Bio: Career & Net Worth >>
Jo suffered multiple injuries this season and missed many games with a shoulder injury. With his shoulder not functioning properly, he required surgery to stabilize it.
New York Knicks
Noah joined his hometown team, the New York Knicks, in 2016 by signing a four-year contract worth $72 million.
He had high expectations, but later this became a difficult period in his life as it was labeled the worst signing in franchise history. First, the Frenchman had to undergo a knee arthroscopy to remove a loose body.
After his recovery, things got even tough for him as he was suspended for 20 games after violating the league's anti-drug policy.
During his suspension, he was still recovering from his knee injury, which was extended to next season's first ten games.
Noah barely played minutes in his first season with the Knicks and just three minutes against the Portland Trail Blazers.
Things kept going down the road for him as he was in exile from the Knicks after a verbal confrontation with their coach Jeff Hornacek.
Unfortunately for Noah, the Knicks released him via the stretch-provision waiver.
Memphis Grizzlies
Noah signed with the Memphis Grizzlies after being released by the Knicks. He helped the team win against the New Orlean Pelicans scoring 19 points and 19 rebounds.
Los Angeles Clippers
In the 2020 season, Jo signed for the Clippers with a 10-day contract that turned into a multi-year contract in June. But, only a few months after his contract, Clippers waived him.
In March 2021, Noah announced his retirement after horrendous final years.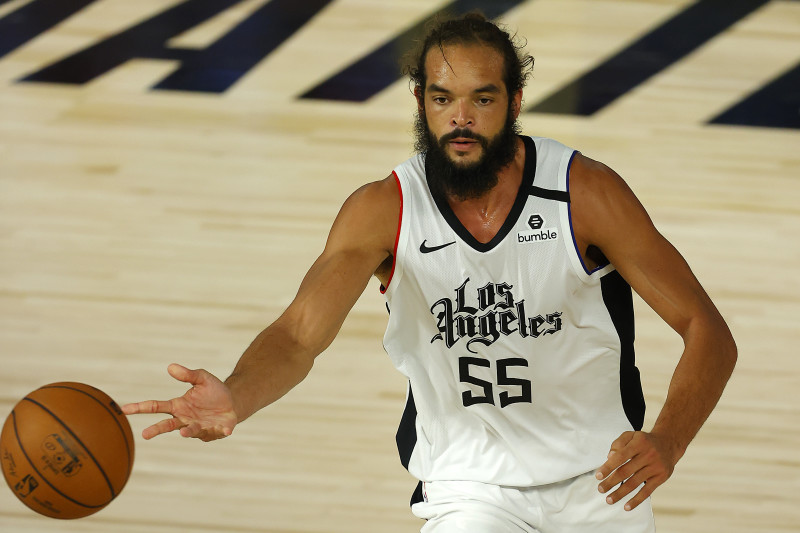 His first professional team, the Chicago Bulls, names him as an ambassador for the team by hosting a "Joakin Noah Night" in honor of Noah.
National Team
Noah had a long line of countries he could play for internationally, but he chose to play for the senior French national basketball team.
He played with the French team in the EuroBasket in 2011. But, unfortunately, he missed the London 2012 Summer Olympics due to an injury.
Click here if you want to know about Michael Jordan: Early Life, Career, Success & Net Worth>>
Joakim Noah
| Girlfriend
Joakim Noah has been dating Lais Riberio, a Brazillian model, since July 2018. The couple got engaged at Burning Man in September.
Lais Riberio was born in Sao Paulo, Brazil, on October 5, 1990. Riberio had been pursuing a career in nursing before she decided to become a model.
She has had a successful modeling career as she has been involved with Victoria's Secret for the past decade.
Lais has been featured annually in Victoria's Secret's annual shows since 2011.
She also has a son, Alexandre, with her previous partner.
Before being engaged to Lais, Noah reported having had two past relationships. He had a relationship with Kristen Ledlow and is rumored to have hooked up with Tatiana Golovin.
In 2010, Noah, with his artist mother, set up the Noah's Arc Foundation to help children feel evolved through arts and sports. The foundation has a sheer concern for at-risk youth in Chicago.
Fred VanVleet

| Net Worth

The American basketball player has had a reasonably successful career. He is currently 37 years old and an NBA All-Star.

He has an estimated net worth of $50 million as of 2022.

While playing in the NBA, his yearly salary was $13.4 million before retiring from professional basketball in 2021.
Social Media Presence
The 6 feet 11-inches player is active on social media with more than 501k followers on Instagram and 649.6k followers on Twitter. However, he is inactive on Facebook.
Noah mostly posts his basketball life on his social media pages and occasionally about his girlfriend and family.
Frequently Asked Questions (FAQs)
What happened to Joakim Noah?
Joakim Noah played 13 seasons in the NBA before retiring in 2021 after facing multiple injuries in the final seasons of his career and falling out with his coach.
Will the Bulls retire Joakim Noah's number?
Noah's jersey no. 13 is unlikely to be retired by the Bulls, but his hard work and dedication to the club have earned him a long and loud salute from the home fans during his return.
Does Joakim Noah have a ring?
Joakim was phenomenal in his playing days with the Chicago Bulls, following the footsteps of Michael Jordan, but unfortunately, he hasn't won an NBA Championship.