Debra Lynn Godfrey is known as the wife of former baseball pitcher Roger Clemens. He is a famous Major League Baseball (MLB) player who retired in 2007.
Debra Lynn Godfrey has been happily married life with her husband Roger Clemens for nearly 36 years now. Some sources have even put them as one of the best celebrity couples out there.
As a member of the Republic party, she had donated money to Texas congressman Ted Poe during his campaign in 2006.
During Roger's active years in MLB, Debra used to support her husband in his various games. The two even posed for the Sports Illustrated Pictorial in 2003.
Well, in a simple sense, Godfrey is a supporting wife. In addition, she defended her husband's legacy after he was accused of lying in a trial about steroid use.
This article will discuss Godfrey's marital status, relationship with Roger Clemens, her earnings, and many more.
Debra Lynn Godfrey: Quick Facts
Before digging into the article, let's take a look at some interesting quick facts.
Full name
Debra Lynn Godfrey
Other Name
Debbie Clemens
Birthdate
May 27, 1963
Birthplace
Houston, United States
Residence
Texas
Nationality
American
Ethnicity
White
Religion
Unknown
Horoscope
Gemini
Age
60 years old
Father's name
Unknown
Mother's name
Unknown
Sibling
One brother
Sibling Name
Unknown
High School
Spring Wood High School, Houston
College
Houston Community College
Height
5 feet 7 inches
Weight
66 kg
Hair Color
Blonde
Eye Color
Blue
Tattoo
Not Available
Sexual Orientation
Straight
Dating History
Dated Roger for 11 months before marriage
Marital Status
Married ( since 1984)
Husband
Roger Clemens
No of Children
Four Sons
Name of Children

Koby Aaron (December 4, 1986)
Kory Allen (May 31, 1988)
Kacy Austin (July 27, 1994)
Kody Alec (May 15, 1996)

Profession
Entrepreneur, Avid Golf Player, Former Actress
Known For
Work on 60 Minutes (1968), ESPN Sports Century(1999), The Tonight Show with Jay Leno (1992)
Husband's Profession
Professional Baseball Pitcher
Hobbies
Unknown
Favorite Food
Unknown
Salary
Not Available
Net Worth
$1- $5 Million
Social Media
Instagram
Roger Clemens Merch
Jerseys, Rookie Card, Autographed Items
Last Update
November, 2023
Debra Lynn Godfrey: Early Life & Education
Debra was born on May 27, 1963, in the United States. It is said that after her parent's divorce, she lived with her mother and brother in a small apartment.
But Debra had a tough upbringing by modest means. She attended Spring Wood High School in Houston and later enrolled at Houston Community College to get Bachelor's degree.
During her college days, Lynn used to work at days and attend college at night because of financial problems. Furthermore, Godfrey was a bright student and had given the best performances academically.
Since Godfrey is not famous as her husband Roger, her early life and family members' information are not disclosed much.
Magic Johnson Net Worth 2021 >>
Debra Lynn Godfrey: Height & Weight
Debra Lynn has a healthy body that stands at 5 foot 7 inches and weighs around 66 kg.
Although Godfrey is 60 years old, she looks young for her age.
Likewise, she has got beautiful brown eyes, and her short blonde hair makes her look fresh and lively.
Professional Career & Philantrophy Works
Debra is an entrepreneur and avid golf player. She launched her custom-designed denim jacket called 'JacketHappy' in 2004.
Also, because of her deep desire to lead a balanced life, she created a website, www. debbieclemens.com. This website helps to introduce women to unique and beautiful gift ideas.
Debra has also stepped into another venture, her jewelry line, which embodies her love of unique fashion and lifelong commitment to a healthy being.
Similarly, Debra is also a dedicated fundraiser for children's charity works with the Roger Clemen Foundation, a non-profit organization that she founded alongside her husband Roger Clemens in 1992.
The RC Foundation has been raising funds for various Houston-based and nationally known organizations working for the welfare of children.
Because of her service to the community, Debra was awarded the 2002 "Woman of Vision." She even graced the cover of Texas Family, Houston Woman Magazine, and Houston Lifestyles and Homes.
Married Life with Roger Clemens
Debra and Roger, the two sweethearts, tied the knot on May 27, 1963, and lived blissful life over the decades. They first met briefly at Houston's Spring Wood High School and reconnected after several years.
Debra's family stopped by Clemen's home to drop off a stray cat that made her allergic, leading them to rekindle their relationship. Later, both embarked on a special bond, and only after 11 months got married.
Moreover, the marriage was around Clemen's major league debut with the Boston Red Sox in 1984.
Children of Debra
Debra is a proud mother of four grown-up sons. She and Roger are blessed with sons, Koby Aaron Rodger (born on December 4, 1986), Kory Allen Rodgers (born on May 31, 1988), Kacy Austin Clemens (born on July 27, 1994), and Kody Alec Clemens (born on May 15, 1996).
Also, there is a reason for naming his all son's name with the letter 'K,' and the reason is because of Roger's likelihood to strike out batters.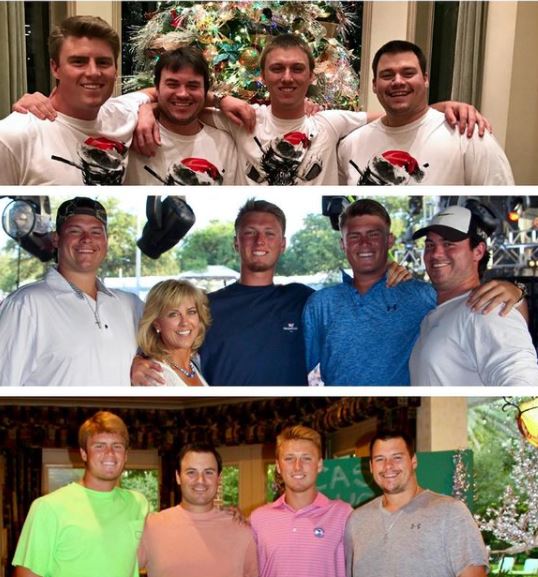 Moreover, Godfrey's eldest son Koby is a former professional baseball infielder and outfielder. Currently, he coaches for the Houston Astros baseball team.
Also, their third son Kacy used to play college baseball for the Texas Longhorns and was even drafted by the Blue Jays in the eighth round of the 2017 MLB draft.
Similarly, their youngest son, Kody, is also currently playing for the Detroit Tigers as the second baseman since the 2018 MLB draft.
Debra Lynn Godfrey: Husband Roger's Past Affairs
Debra's loving husband Roger was linked with American singer Mindy McCready. As The New York Daily News, in April 2008, Roger and Mindy had a possible long-term relationship.
She met Roger when she was only 15 years, and Roger was 28 years old already married to Debra.
But Rogers's lawyer denied the claim of Mindy that she and Roger were in a relationship and claimed Mindy was only a close friend to Roger Clemen's family.
Following this, Godfrey's husband was also linked with Paulette Dean from 1998 to 2006. But Roger denied the allegations and told them he hadn't had any extramarital affairs to the current date.
Who is Debra's husband, Roger Clemens?
Roger is a famous baseball pitcher who was born on August 4, 1962, in the USA. He is an 11-times All-Star and won a record seven Cy Young Awards in 1986 with the Boston Red Sox and also recorded 354 wins and 4,672 strikeouts in his 23-year career.
Roger Clemens was born in Dayton, Ohio, to parents Bill and Bess Clemens. Originally of German descent, his parents divorced when he was an infant. His mother married Woody Booher after divorce, and Roger considers him as his father.
But Woody died when Roger was only nine years old, and he had mentioned that the only time he was jealous of other players was when he saw them in the clubhouse with their dads.
Clemens attended Spring Wood High School and started playing baseball with head coach Charles Maiorana.
Besides baseball, he also used to play football and basketball when Roger began his college career pitching for San Jacinto College North in 1981.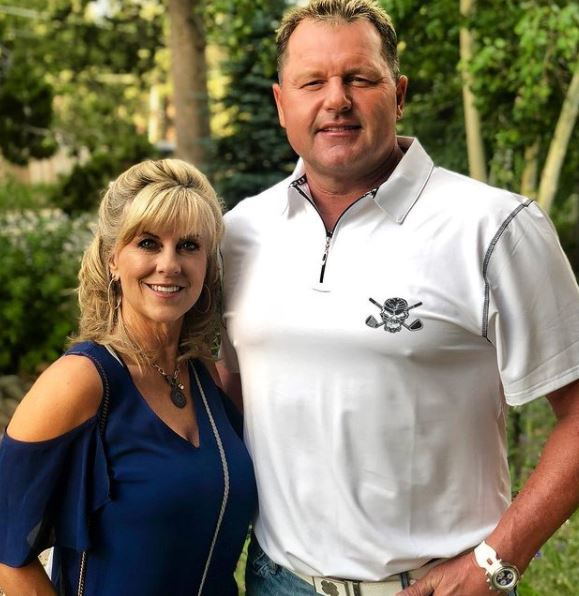 Then, New York Yankee selected him in the 1981 MLB draft, but he didn't sign to focus on study. Later, Roger attended the University of Texas at Austin and became the first player to retire his baseball uniform at the University of Texas.
Roger is also known as "Rocket," who has played 24seasons in Major League Baseball for four teams. The most notable teams are Boston Red Sox & New York Yankees.
Clemen was one of the most dominant pitchers in the league history, had 354 wins, a 3.12 ERA, and 4,672 strikeouts.
Top 28 Quotes by Roger Johnson >>
Scandals related to Debra
Roger Clemen was involved in a steroid scandal back in 2003. After a while, his wife Debra Godfrey was also mentioned in a similar scandal.
The personal trainer of Debra claimed that he had injected Clemen's wife, Debra, with HGH when she was preparing to pose for the 2003 Sports Illustrated Swimsuit Issue.
Further, Debra Lynn Godfrey claimed that the reason behind taking the Human Growth Hormones (HGH) was because she saw it as a "fountain of youth" and clarified Clemens was out of town during her injection.
Debbie Clemens was on IG today celebrating 15 years since Brian McNamee blasted her with HGH for the infamous Sports Illustrated bikini shoot w/the Rocket https://t.co/H18TnaF6J3 pic.twitter.com/NXWnkPgbWg

— Busted Coverage (@bustedcoverage) November 16, 2018
Because of Major League Baseball star's biggest scandal for the alleged use of HGH, Roger was testified in court for a long time.
In the end, Clemens was found not guilty of all charges of perjury after closing arguments.
Debra Lynn Godfrey: Net Worth
Debra's total net worth is estimated at around $1 Million as of 2021. She has a decent earning from golf contracts and reporting works, and her business.
On the other hand, Debra's husband also has a hefty fortune of nearly $60 million. In 2007, Roger received an annual earning of $28,000,022 from his cap hit with the New York Yankees.
Furthermore, she lives in a lavish house in Texas with her husband, which costs approximately $3.6 Million. The fully designated luxurious home extends over 4,522 square feet.
Also, the couple has a nice collection of cars, but the exact information about vehicles is not yet available.
Social Media Presence
Debra Lynn Godfrey is active on Instagram. In her Insta feed, she shares pictures of her family, friends, sons, vacation pictures, and many others.
Looking at her feed, Debra seems to be a family-oriented woman who immensely loves her family.
The six members beautiful family often spend quality time together and share lovely pictures on Instagram.
When Debra went to Universal Studios Theme Park with her husband and sons in Orlando, Florida, she shared beautiful images via Instagram.
Instagram: 2,827 followers
Make sure to check 13 Biggest MLB Contracts >>
Frequently Asked Questions (FAQs)
Is Roger Clemens's wife Debra Clemens an actress?
Debra, aka Debbie Clemens, was starred in a TV documentary 60 minutes from 2001 to 2003 in "The Rocket" as herself, Roger Clemen's wife.
She also appeared on ESPN SportsCentury as herself in 2002.
Had Debra Lynn Godfrey ever been sent to prison?
Debra was once accused of using illegal substances in 2003. However, she was not sent to prison as the case got closed in the perjury trial.