Dedric Lawson is a professional basketball player who is just two years old in the industry.
However, he has garnered his share of the spotlight, thanks to his undeniable determination and gameplay.
Well, basics are not a deal for Lawson; his basketball IQ is highly respectable for the field.
With two years of experience in the bag, Lawson currently plays for the Beşiktaş Icrypex of the Turkish Super League(TSL).
Before it, Lawson had played for the Austin Spurs of the NBA (National Basketball Association) G League and Goyang Orion Orions.
Furthermore, he used to feature for his college team, the Memphis Tigers, and the Kansas Jayhawks.
Quick Facts:
Full Name
Dedric Lawson
Date of Birth
October 1, 1997
Birth Place
Memphis, Tennessee
Nick Name
Smoove
Religion
Unknown
Nationality
American
Ethnicity
Unknown
Zodiac Sign
Libra
Age
25 years old
Height
6'9″ (2.06 meters)
Weight
235 lb (107 kg)
Hair Color
Black
Eye Color
Black
Build
Athletic
Father's Name
Keelon Lawson
Mother's Name
Dedra Lawson
Siblings
An older brother, Keelon Lawson III (K.J Lawson)
Two younger brothers, Chandler Lawson and Johnathan Lawson
Education
Hamilton High School (Memphis, Tennessee)
Memphis Tigers
Kansas Jayhawks
Marital Status
Unmarried
Girlfriend
Name Unknown
A baby daughter, Kennedy Lawson
Profession
Basketball player
Position
Power forward
NBA Draft
2019 / Undrafted
Affiliations
Austin Spurs
Goyang Orion Orions
Active Years
2019-present
Net Worth
$3 million
Social Media
Instagram, Twitter
Merch
Memphis Tigers' Merch, Kansas Apparel
Last Update
March, 2023
Dedric Lawson | Height, Weight & Body Measurements
Dedric Lawson is a big guy with an athletically toned body. Apparently, he is tan-skinned with dark black hair and eyes of the same color.
Furthermore, his hair is short and curly, and he also has a light presence of a beard.
Well, he is really tall, too, towering at the height of 6 feet 9 inches (2.06 meters) while weighing 235 lb (107 kg).
Furthermore, he has hours of rigorous training in his weight room that helps him maintain his shape.
Additionally, as he has opened up, Lawson has left the red meat for his own good.
Also, read: <<Jordan Cornette Bio: Brother, NBA, Broadcasting, Wife, Net Worth >>
Dedric Lawson | Early Life, Family & Education
Lawson was born on October 1, 1997, under Libra's sun sign in Memphis, Tennessee, to his parents, Dedra Lawson and Keelon Lawson. Growing up in Memphis, Tennessee, Lawson has three siblings.
One is his older brother, Keelon Lawson III (K.J Lawson), while the other two are his younger brothers, Chandler Lawson and Johnathan Lawson.
As a child, Lawson grew up admiring Derrick Rose and Chris Douglas-Roberts and admired the Memphis basketball team. Also, back when he was in elementary school, he would attend their matches.
However, later in the 2008 national championship game, Dedric Lawson had a scar in his memories as a basketball fan. Apparently, his favorite team had lost over Kansas.
High School
As a matter of fact, Dedric Lawson is a graduate of the Hamilton High School in Memphis, Tennessee.
Altogether, he spent three years reclassifying in 2015 to attend the Memphis Tigers Men's basketball team alongside his older brother.
Overall, Lawson has garnered over 1,700 points and grabbed over 1,100 rebounds during his high school career.
Furthermore, he was selected for the 2015 McDonald's All-American Boys Game. Additionally, he was also selected to play in the 2015 Jordan Brand Classic all-star games.
When his high school career ended, Dedric Lawson was rated No.26 among the nation's top players by ESPN.com.
Likewise, 247sports.com also ranked him No.35, while Rivals.com and Scout.com ranked him No.26 and No.46, respectively.
Don't forget to check out:<<Allen Iverson Bio: Career, NBA, Wife, Net Worth >>
College Career & Stats
Memphis and Stats
Apparently, Dedric spent two seasons with Memphis, where right as a freshman, he averaged the team-best 15.8 points & 9.3 rebounds per game.
Following it, he had posted 55 blocked shots and 39 steals. In the meantime, he was the leading one in the AAC in rebounding.
Also, he tied Keith Lee's Memphis record for double-doubles and bagged the AAC Rookie of the Year. Additionally, he was named the AAC Rookie of the Week six times.
During the next season as a sophomore, Dedric Lawson averaged 9.9 boards per game with a 19.2 scoring average.
Altogether, he led the American Athletic Conference while leading his college team with 68 blocked shots.
Later in 2017, Dedric announced his college transfer to Kansas; thus, he sat out a year as a redshirt to follow NCAA policy.
Kansas Highlights and Stats
Apparently, Dedric was with Kansas for just a season, during which he played 36 games for the team.
Consequently, he maintained 19.4 ppg in scoring and 10.3 RPG in rebounding, which eventually led to the Big 12.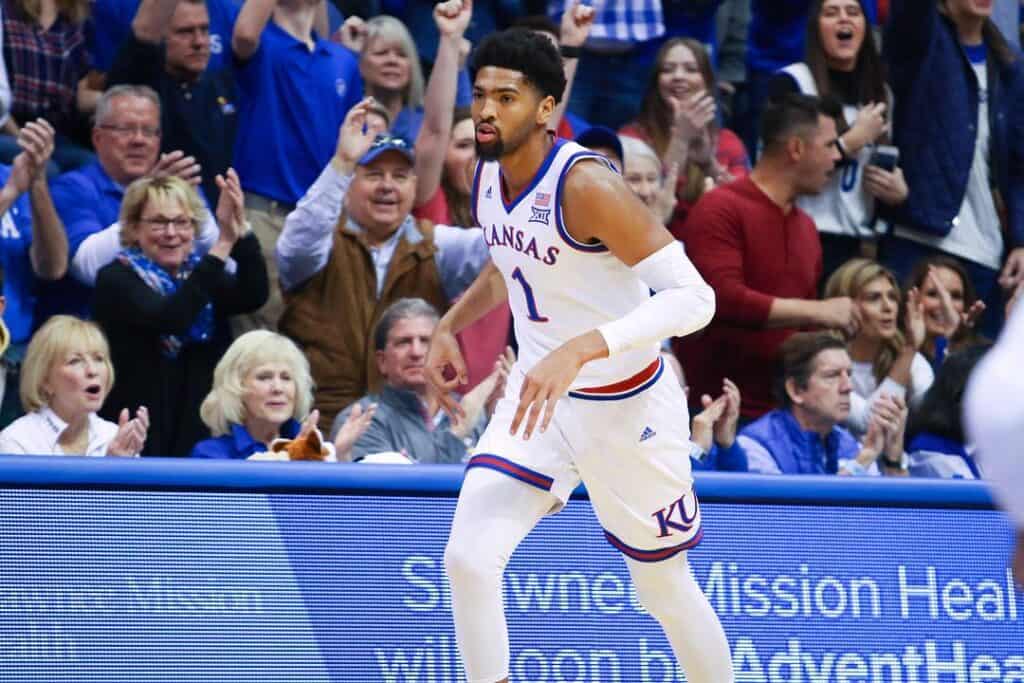 Following it, Lawson announced his decision to forgo his last season with the college. Therewith, he went to declare for the 2019 NBA Draft.
Scouting Report
Well, the scouting report suggested Dedric be a valuable prospect for the NBA draft.
Also, his stats were exemplified during his one season at Kansas when he averaged a double-double with 58 percent true shooting and a PER of 28.5.
Not only at Kansas, but Dedric, during his Memphis days, was also a productive player averaging 17.5 points and 9.6 rebounds per game as the highlight of the Tigers.
Additionally, a wingspan of 7'3 on his 6'9 frame added a lot more advantage to him, a strong trait and qualification. Nevertheless, he remained full-time power forward and rimmed protector.
On the other side, the scouting report also suggested that Dedric has not achieved that professional standard; he is limited and lacks defensive capability.
His long-distance shooting still did not allow him to be a legit player.
College Stats
| | | | | | | | | | | |
| --- | --- | --- | --- | --- | --- | --- | --- | --- | --- | --- |
| Year | G | PTS | TRB | AST | FG% | FG3% | FT% | eFG% | PER | WS |
| Career | 101 | 18.2 | 9.9 | 2.5 | 45.5 | 33.2 | 75.7 | 48.8 | 25.3 | 15.6 |
Dedric Lawson | Professional Career
NBA Draft
After departing from the Kansas Jayhawks, Dedric Lawson was not selected in the 2019 NBA Draft, which states he went undrafted in the year 2019 in Brooklyn, N.Y.
However, they did keep him in the Summer League of the Golden State Warriors roster for 2019. It was quick of him to catch up with a team in a short period of time.
You might also want to read: << Jerry Reynolds Bio: NBA Manager, House, Net Worth, Wife >>
San Antonio Spurs
After the Warriors waived him, he signed with the San Antonio Spurs NBA G League affiliate, the Austin Spurs.
Apparently, his contract with the team was a "non-guaranteed Exhibit 10 contract." Therewith, Dedric Lawson became a free agent.
During his tenure with the team, Lawson maintained 33 points and 10 rebounds alongside his 10th double-double season.
Goyang Orion Orions
Following it, Dedric Lawson started playing for the Goyang Orion Orions on July 9, 2020.
Beşiktaş Icrypex
Dedric Lawson signed with Beşiktaş Icrypex of the Turkish Super League on June 2, 2021. Further, he also played for the Boston Celtics in the 2021 NBA summer league.
G League Stats
| | | | | | | | | | | | | |
| --- | --- | --- | --- | --- | --- | --- | --- | --- | --- | --- | --- | --- |
| Season | G | FG | FGA | FG% | FT | FTA | FT% | ORB | DRB | TRB | AST | PTS |
| Career | 42 | 5.4 | 10.2 | .532 | 0.9 | 1.2 | .780 | 2.8 | 5.2 | 8.1 | 1.5 | 13.7 |
Achievements
Dedric Lawson is best known for his outside shooting ability and has yet a long path to go.
Furthermore, he is an athlete with a consistent role, which makes him perfect for disrupting opposing offenses.
Not to mention, he has good vision finding cutters and mostly credits his basketball IQ as his biggest asset. To date, he has had the following achievements as his highlights.
Second-team All-American – SN (2019)
Third-team All-American – AP, NABC, USBWA (2019)
Big 12 Newcomer of the Year (2019)
First-team All-Big 12 (2019)
First-team All-AAC (2017)
AAC Rookie of the Year (2016)
McDonald's All-American (2015)
First-team Parade All-American (2015)
Although Dedric Lawson hasn't opened up about his net worth yet, it is estimated that he has a net worth of $3 million.
Dedric Lawson's 2017 Suspension
In July 2017, Dedric Lawson was suspended temporarily, just a day before the team's practice trip to Italy.
According to the Kansas coach Bill Self, Lawson was suspended after being part of an altercation.
Additionally, while Dedric was suspended, his older brother, K.J, made the trip to Italy for the practice. Having said this, many fans started questioning Dedric's ability.
"It was a short-term deal, and when he gets back (from visiting home before school begins), we'll be ready to go. In no way did that take away from what we think of him or anything like that. But just like when your own son or daughter (messes up), it doesn't mean you love them less just because you ground them."
-Kansas coach Bill Self
Dedric Lawson | Personal Life
As a fun fact, Dedric Lawson comes from a family of athletes. Indeed, both his father and mother were basketball players back in their days.
To illustrate, his father played for the UNAB, while his mother played at a DII school in Memphis.
Additionally, while his mother graduated the college, her jersey also retired alongside her.
Not to mention, it was they who coached him in his early days and would even teach him the basics of the sport. Moreover, all of his siblings are into sports.
His younger brother, Chandler, plays collegiate basketball for Oregon, while the other brother Johnathan is a highly regarded recruit.
His elder brother, K.J Lawson, plays for the Worcester Wolves of the British Basketball League.
Before this, K.J has also played for college teams like the Memphis Tigers, the Kansas Jayhawks, and the Tulane Green Wave.
"KJ is probably the most competitive person I've ever been around. He's not one to lose, just playing one-on-one games that we didn't finish just because we got to arguing or fighting. It really helped out with my competitiveness."
-Dedric Lawson
Girlfriend/Wife and Kid
As far as the news goes, Dedric Lawson seems to be in a committed relationship. Indeed, there is no news of his relationship, marriage, and wife.
However, he does seem to have a baby daughter. Apparently, he became a father back when he was transferring from Memphis to Kansas.
Apparently, it was also the same day when his whole family trekked to Murfreesboro, Tenn., to watch Chandler's pursuit of a state championship.
However, Dedric was already at the Nashville International Airport to visit the soon-to-be mother of his child.
As crazy as it seems, that was the same tenure when a high-profile visitor had a rally.
Altogether, Dedric could make his visit in time, and now the baby daughter he has, everyone can't help but adore her. As for her name, she is Kennedy Lawson.
Words about Kennedy
It is an unfortunate thing that we have no idea who his wife is or his child. Furthermore, he hasn't uploaded a single pics of them.
However, here are some words about Kennedy (Dedric's daughter) to get by the presence.
"Feisty. She can be sweet at times. Don't get in her way. She gets a little attitude — I don't know where she gets that from. She's definitely the best baby that I can ask for, and I love her to death."
-Dedric Lawson
"Man, she's 'Miss Personality.' Whenever she comes to the gym with Dedric or her uncles Johnathan or Chandler or even K.J., man, she takes to the gym like a natural. She bosses everybody around. He's been a wonderful father. Any time her name comes up or any time we're talking about Kennedy, you can just tell by the grin that he wears (that); of course, he's in love."
-Kevin Conley, former Dedric's Memphis coach
"Fatherhood's a serious thing. Being distant from his daughter — you go out there and create the best opportunity for your family and really for that little girl that didn't ask to be here. You've just got to be a great example for them, and I've just seen him glow."
-K.J Lawson
"Kennedy is like putty in Dedric's hands. He truly, truly, truly loves his family."
-Dedra Lawson
You might be interested in reading:<<James Bouknight Bio: NBA Draft, Stats, Injury, Net Worth >>
Social Media Presence:
All in all, you can check out his social media platforms for his personal uploads of his activities. Well, he is on Instagram as Dedric Lawson (@dsmoove1-2many), with 24.1k followers.
Similarly, his Twitter account goes by his real name Dedric Lawson (@DSmoove1_2many), with 9.5k followers.
Some FAQs:
What are Dedric Lawson's hand size, wingspan, and standing reach?
Dedric Lawson's hand size is 9.75, while his wingspan and standing reach is 7'2 and 8'11 ½, respectively.
Who is Dedric Lawson's agent?
Dedric Lawson's agent is Jason Glushon from Glushon Sports Management.
What position did Dedric Lawson play at KU Jayhawks?
Dedric Lawson played in a junior forward position during his time at Kansas Jayhawks.
Are Dedric Lawson and Shawn Occeus on the same team?
No, Dedric Lawson plays for the Besiktas Icrypex of the Turkish Super League, whereas Shawn Occeus plays for the Phoenix Hagen of the German ProA.
Did the New York Knicks draft Dedric Lawson in the 2019 season?
No, New York Knicks hasn't drafted Dedric Lawson. He got undrafted in the 2019 NBA draft.
Who had more dunks in their junior seasons, Dedric Lawson or Perry Ellis?
According to reports, Perry Ellis had more dunks in junior seasons than Dedric Lawson. Perry had 22 dunks as a junior.