Deion Sanders, the current coach at Jackson State, is a former NFL defensive back who played for 14 seasons with teams like Atlanta Falcons, Baltimore Ravens, etc., throughout his career. Deion is also a football coach and CBS Sports analyst. He also played in Major League Baseball as an outfielder too.
In a world occupied by 8 billion people, fewer than 70, including Deion, have played in two of America's greatest gifts to humanity, NFL and MLB.
Sanders was an outstanding baseball player, but his exceptional athleticism in the NFL earned him fame and wealth.
Most notably, Deion won the Super Bowl twice and made eight Pro Bowls appearances. Aside from that, his love life is also eventful.
Sanders graduated from Talladega College in 2020 with a degree in Business Administration.
As a result of blood clots in 2021, Sanders lost two toes on his left foot
We have accumulated deep information on his net worth, salary, age, nationality, height, and social media. But, first, let's start with some facts.
Quick Facts
Full Name
Deion Luwynn Sanders Sr.
Birth Date
August 9, 1967
Birth Place
Fort Myers, Florida, U.S.A
Nick Name
Prime Time
Religion
Christianity
Nationality
American
Ethnicity
African-American
Education
Florida State University
Horoscope
Leo
Father's Name
Mims Sanders
Mother's Name
Connie Knight
Siblings
Tracy Knight
Age
56 Years Old
Height
6 feet 1 inch (1.85 m)
Weight
198 lb (90 kg)
Shoes
13 (U.S. Size)
Hair Color
Brown (Underwent Hair Transplant)
Eye Color
Black
Body Measurement
Not available
Build
Muscular
Married
Yes (Divorced Twice)
Spouses
Carolyn Chambers (1989-1998)

Pilar Sanders (1999-2013)

Tracey Edmonds (2012-Present)

Children
Deion Sanders Jr.
Deiondra Sanders
Shilo Sanders
Shedeur Sanders
Shelomi Sanders
Profession
Football Player, Baseball Player(Retired)
Teams
Atlanta Falcons
San Francisco 49ers
Dallas Cowboys (NFL)
New York Yankees
Atlanta Braves
Cincinnati Reds (MLB)
Super Bowl
XXIX, XXX (Champion)
Career Earnings
$93 million (Combined)
Net Worth
$40 million
Social Media
Instagram, Facebook, Twitter
Merch
Posters, Jersey
Last Update
November, 2023
Deion Sanders: Early Life, Family & Education
Deion Luwynn Sanders Sr. was born to his parents, Mims Sanders and Connie Knight, on August 9, 1967, in Fort Myers, Florida. Moreover, he has a younger sister, Tracy Knight.
Aside from that, there is not much available on Sanders' family. Moving on to his education, Deion attended the North Fort Myers High School.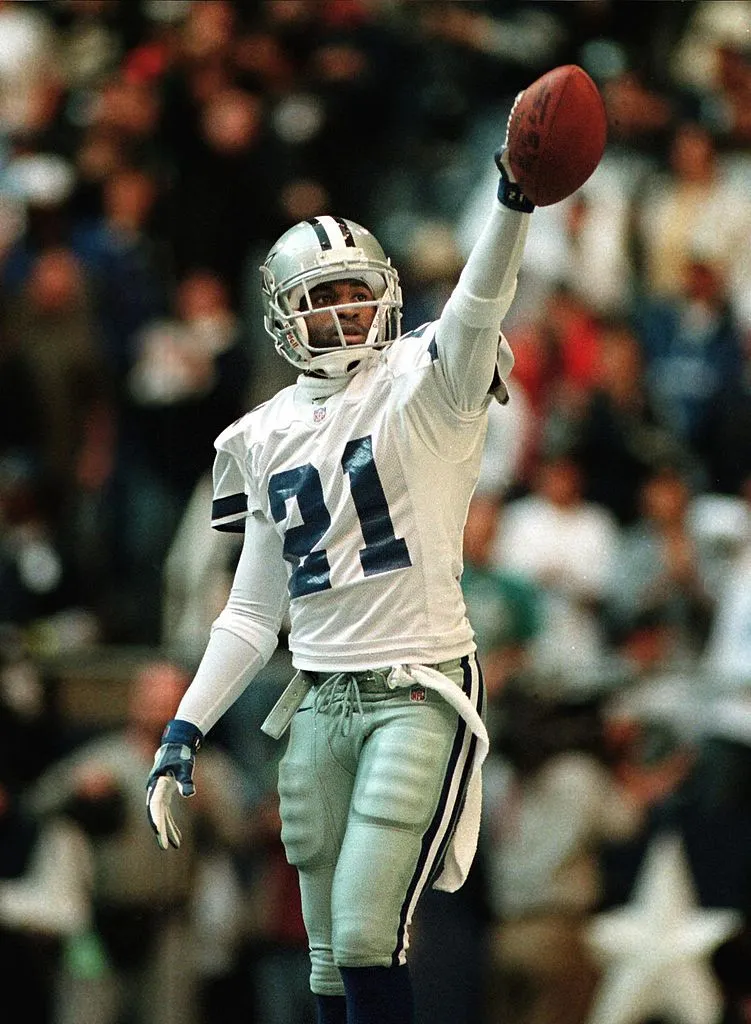 There, he became a letterman and All-State honoree in football, baseball, and basketball.
Upon graduation, Sanders enrolled at Florida State University and played football, track, and baseball.
The Florida native once ran a 4 x 100 relay leg between a baseball doubleheader.
Deion Sanders: Career
During his playing career, Sanders played in the MLB as well as the NFL.
Moreover, he started his professional journey in both sports in 1989, which put him in a select bracket of athletes to play in two of America's most fantastic sports.
NFL Career
Sander began his NFL career when the Atlanta Falcons selected him as the fifth overall pick in the 1989 NFL draft.
After that, Sanders played 14 seasons in the league for franchises like the San Francisco 49ers, Dallas Cowboys, Washington Redskins, and Baltimore Ravens.
Deion won the Super Bowl twice (XXIX, XXX) during that period.
Besides, he made eight Pro Bowls appearances and nine First-Team All-Pro selections.
Also, he won the NFL Defensive Player of the Year in 1994.
Thus, having had a fantastic career, Sanders retired in 2005 as a Hall of Famer for the Atlanta Falcons.
MLB Career
Deion's baseball career was not as fruitful as his NFL one. He did manage to play for nine years in the league as a part-timer.
Moreover, he played for the New York Yankees, Atlanta Braves, Cincinnati Reds, and San Francisco Giants.
With his last appearance in the MLB in 2001, Sanders had a batting average of .263 with 39 home runs, 168 RBI, and 186 stolen bases.
Deion Sanders: Age, Height & Nationality
Deion was born in the year 1967, which makes him 56 years old. Moreover, he is a Leo by horoscope.
Likewise, people who fall under the sign of Leo tend to be passionate, charismatic, and dynamic.
Sanders stands at 6 feet 1 inch (1.85 m) and weighs 198 lb (90 kg).
Aside from that, Deion is an American by nationality and of African-American ethnicity.
Deion Sanders: Position
Sanders played as a defensive back and return specialist as an NFL player. On the other hand, Deion plied his trade as a left fielder/center fielder in the MLB.
What is the net worth of Deion Sanders? Net Worth & Salary
As of 2023, Sanders has a net worth of $40 million from his career as an NFL and baseball player.
Moreover, Sanders played 16 years as a professional in two of the world's most lucrative leagues.
Talking about his salary, Deion earned over $33.5 million throughout his 14-year career.
Aaron Rodgers of the Green Bay Packers makes the same amount in a year to put things into perspective.
Deion earned well about $60 million in contract money alone, which includes his wages from both the NFL and MLB.
During his nine-year baseball career, Sanders earned around $13.2 million in cumulative earnings.
After taking into account the effects of inflation, that is equivalent to almost $93 million.
Besides his wages, Deion has sponsorship deals with Nike, Pizza Hut, GMC, Van Heusen, and American Express. Collectively, they make him millions every year.
Deion Sanders: Career Highlights and Awards
2× Super Bowl champion (XXIX, XXX)
6× First-team All-Pro (1992–1994, 1996–1998) (Cornerback)
First-team All-Pro (1992) (Kick returner)
First-team All-Pro (1998) (Punt returner)
8× Pro Bowl (1991–1994, 1996–1999)
NFL Defensive Player of the Year (1994)
First-team NFL 1990s All-Decade Team (cornerback)
First-team NFL 1990s All-Decade Team (punt returner)
NFL 100th Anniversary All-Time Team
Atlanta Falcons Ring of Honor
Jim Thorpe Award (1988)
2× unanimous All-American
Florida State Seminoles No. 2 retired
Deion Sanders: Coaching Career
Year
Team
Overall
Conference
Standing
Bowl/playoffs
Jackson State Tigers (Southwestern Athletic Conference) (2020–present)
2020–21
Jackson State
3–3
2–3
(East)
Jackson State:
3–3
2–3
Total:
3–3
Deion Sanders: Wife & Children
When it comes to Sanders' love affairs, it is as eventful as his playing career. It is because he has been married and divorced twice and has five children from both relationships.
Firstly, Deion tied the knot with his high school sweetheart, Carolyn Chambers, in 1988. Subsequently, the marriage lasted nine years before breaking it all off in 1998.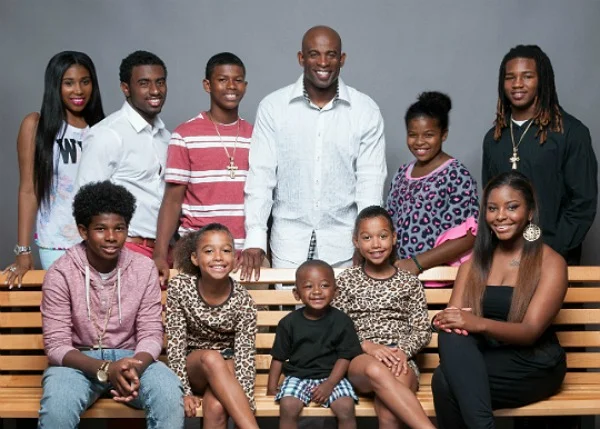 Moreover, the couple parented two kids, Deion Sanders Jr. and Deiondra Sanders.
Prime Time's second wife was Pilar Sanders, with whom he was married in 1999.
The marriage lasted for 14 years, during which three kids: Shilo Sanders, Shedeur Sanders, and Shelomi Sanders, were born.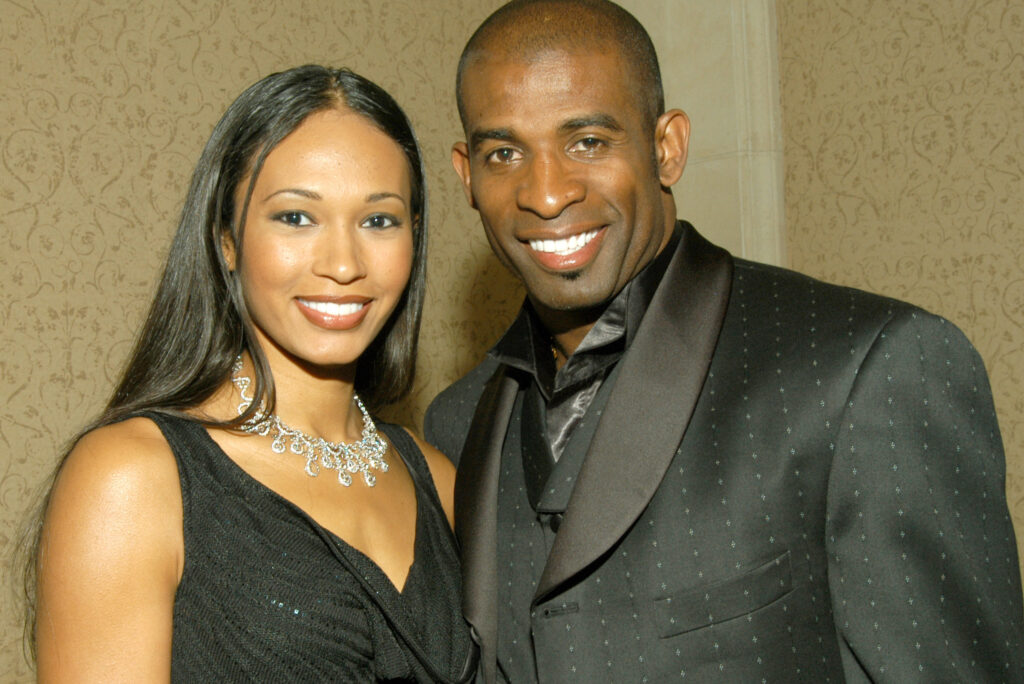 Sadly, the couple got divorced on September 22, 2011. Later on, in 2013, Deion was granted primary custody of all his kids.
Current Affair
Sanders is in a relationship with Tracey Edmonds, an American businesswoman, television personality, and producer.
She is the founder and CEO of Edmonds Entertainment Group Inc and Alrightnow.com.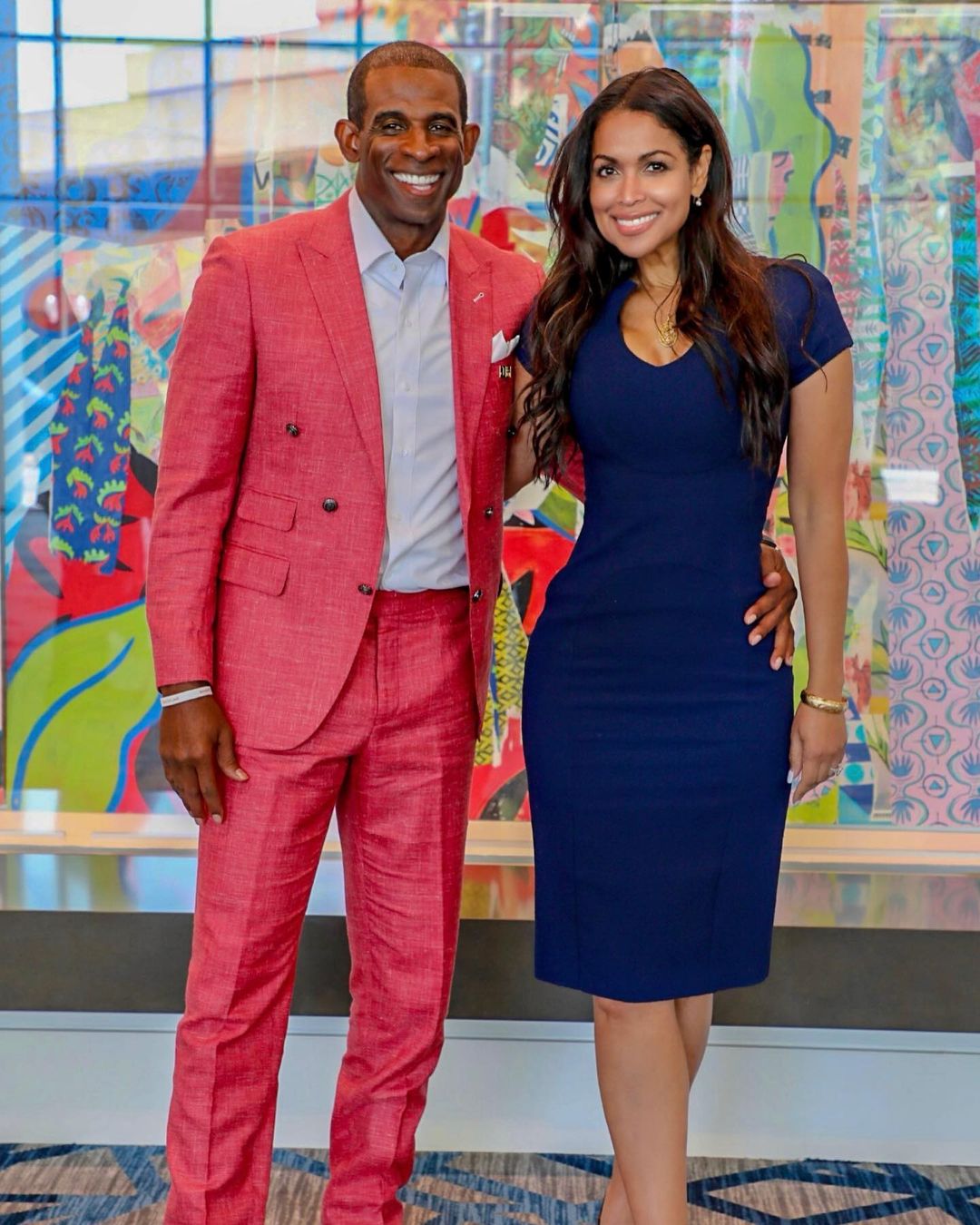 Furthermore, the couple has been dating since 2012 and currently reside in their 6000 sq ft house in Texas.
Deion Sanders: Some Famous Quotes
"If you look good, you feel good; if you feel good, you play good; if you play good, they pay well."
"When you say I committed adultery, are you stating before the marriage of 1996 or before?"
"If your dream ain't bigger than you, there's a problem with your dream."
Autobiography | Power, Money & Sex
He has also written an autobiography, "Power, Money & Sex: How Success Almost Ruined My Life."
In the book, Deion tells his powerful life story and reveals how power, money, and sex could not satisfy the void in his life-a void ultimately satisfied by his relationship with Christ.
He reportedly attempted suicide by driving a car off the cliff; however, he survived the accident.
Since then, he attributes his success and everything in his life to lord Jesus.
Deion Sanders: Social Media Presence
Prime Time is active on all the major social media platforms and shares his life events frequently.
View this post on Instagram
Instagram: 2.6 Million followers
Facebook: 496K followers
Twitter: 1.3 Million followers
Deion Sanders: Popularity Graph
Also known as the "CoachPrime," Dein Sanders is equally popular these days.
The above graph demonstrates the Google Search Volumeforf 3 months in the United States.
Some FAQs
What college did Deion attend?
Deion attended Florida State University college.
What position did Deion Sanders play?
Deion Sanders played defensive back and wide receiver.
How many Super Bowls did Deion Sanders win?
Deion Sanders won two Super Bowl championships.
What happened to Deion Sanders?
He missed three games during the 2021 season after doctors found blood clots in his leg that led to his left big toe and the one next to it being amputated.
HE spent 23 days in the hospital before his return as a coach.
"I'm on my elliptical again because I had lost like 40 pounds," said Sanders.