Demetress Bell is a former professional football player who played in the NFL after Buffalo Bills drafted him in the 2008 Draft.
He served as an offensive tackle for the Philadelphia Eagles in the 2012 season. After that, the Dallas Cowboys signed him.
Moreover, he played collegiate football for Northwestern State University. The former NFL offensive tackle was an excellent player for the Northwestern State Demons. He was named to the All-Southland Conference and All-American in his senior year.
Bell is the son of one of the most incredible power forwards in NBA history, Karl Malone. Sadly, the relationship between the two was anything but smooth sailing.
The father-son duo did not have a close relationship growing up. Besides, it was Demetress's high school graduation day when they first met.
Before getting into more details about the former NFL offensive tackle's life and career, let's look at some quick facts about him.
Quick Facts
| | |
| --- | --- |
| Full Name | Demetress Carte Bell |
| Birth Date | May 3, 1984 |
| Birth Place | Summerfield, Louisiana, the United States |
| Nick Name | Bell |
| Religion | Christian |
| Nationality | American |
| Ethnicity | African American |
| Education | Northwestern State University |
| Horoscope | Taurus |
| Father's Name | Karl Malone |
| Mother's Name | Gloria Williams |
| Siblings | Six; Kadee, Kylee, Karl Jr., Karlee, Daryl, and Cheryl Ford |
| Age | 39 Years Old |
| Height | 6 feet 5 inches |
| Weight | 311 lb |
| Hair Color | Black |
| Eye Color | Brown |
| Build | Athletic |
| Profession | Former NFL Player |
| Former Teams | Buffalo Bills, Philadelphia Eagles, and Dallas Cowboy |
| Position | Offensive Tackle |
| Active Years | 2008-2013 |
| Marital Status | Unmarried |
| Girlfriend | None |
| Kids | None |
| Net Worth | Over $4 Million |
| Social Media | Instagram |
| Jersey Number | 77 |
| Last Update | May 2023 |
Early Life, Family, & Education
Early Life & Family
Demetress Bell was born in Summerfield, Louisiana, the United States. His parents are Karl Malone and Gloria Williams.
The NFL player's father is a renowned NBA player best known by the nickname "the Mailman." He played for Utah Jazz and Los Angeles Lakers throughout his career.
He was Jaaz's 13th pick overall in the first round at the 1985 NBA Draft. Although Malone has never won an NBA championship, he has received several honors and awards for his exceptional skills.
The former basketball player was the Most Valuable Player twice and was selected into the All-Star game fourteen times. He was also the All-Star game's MVP twice.
Furthermore, the Mailman was named the All-NBA First Team eleven times and the All-NBA Second Team two times.
The power forward is known as one of the most hard-working, dedicated, and passionate NBA players of his time.
Bell was born when his father was serving his excellent basketball skills to the Louisiana Tech Bulldogs. Malone was 20 years old back then, while Gloria was only 13.
The footballer's welcome to the world wasn't pleasant as his father refused to acknowledge him, and his mother was still a minor. This led to a long-stretched paternity lawsuit that their attorneys later settled covertly.
Hence, the father-son did not have a relationship growing up, except Bell's father's child supported him. As a result, the offensive tackle mostly grew up with his mother and her family.
So, he shares a very close and tight bond with his mother. Gloria was a very supportive, loving, caring, and encouraging mother to her only son and
Siblings
Bell has a total of six siblings. All of them are his half-brothers and half-sisters.
The footballer is quite close to Karl's twins, Bonita Ford, named Daryl, and Cheryl Ford. He is the older brother of Kadee, Kylee, Karl Jr., and Karlee Malone.
He has a very loving relationship with all of the four. Further, the four were born to the 1988 Miss Idaho USA, Kay Kinsey, and Karl.
Demetress's younger brother Karl Jr., aka KJ, is also a former football player. Similarly, the offensive tackle's sister Cheryl Ford is a former WNBA player. She has been the winner of the WNBA Championship title three times.
Cheryl is also the recipient of the 2003 WNBA Rookie of the Year Award. In addition, she was named to the WNBA All-Star Game four times and the Second Team two times.
Education
The former Eagles player completed his high school education at Summerfield High School. He also played collegiate basketball at his high school, as they did not have a fielded football team.
Bell started playing organized football after he reached college. At Northwestern State University, he served as a defensive end and left tackle on the football team.
To add to that, the offensive tackle played for four years in college before entering the 2008 NFL Draft.
Malone's Illicit Relationship with Gloria and Lawsuit
The legendary basketball player Karl had an illicit relationship with his son's mother. The years-old Malone at that time got engaged in a sexual relationship with then 13-year-old Gloria.
The two were neighbors at the time. He impregnated Bell before going off to play for Louisiana Tech in his sophomore year.
Moreover, he refused to pay child support or even acknowledge Demetress after his birth. Eventually, Bell's family filed a paternity lawsuit in 1998 after Malone began his NBA journey.
Initially, the power forward did not respond to the lawsuit but later settled it confidentially. According to the DNA tests conducted, the footballer's DNA matched Malone or his brothers with a certainty of 99%.
Gloria's family did not file criminal charges against Karl as he would not be able to pay child support if he was behind bars.
Karl Jr.'s Reaction To His Father's Illicit Relationship
Because of the recent release of the Netflix series, The Last Dance, Karl's relationship with the 13-year-old Gloria was again brought to the media and people's attention. As a result, the former NBA player received a lot of backlash and hate.
Exhausted by the criticism and harsh comments, Karl's son KJ stood up for his dad on Instagram.
He said, "I'm probably going to get a lot of backfire for this. My mom is probably going to get mad at me. But at the end of the day, I'm doing this for my family. Just standing up for my dad."
Furthermore, he added, "He made a mistake, but at the end of the day, he's still a great dad…still takes care of Demetress. Demetress is my brother. I love him to death."
KJ went on to praise his dad, saying, "My dad is a part of all of his kids' lives. People want to think he's not, but he literally does anything for us. He'd take his shirt off his back for anybody. That's just who he is."
He talked about how it negatively affected his mother, who had to face all these comments about her husband.
Likewise, Karl Jr. was also backed by his mother, Key, who reposted his video to her Instagram handle. Demetress was awfully silent throughout the situation.
Age, Height, & Weight
Since the offensive tackle was born on May 3, 1984, he is 39 years old as of 2023. Besides that, the former athlete takes good care of his health and diet.
Likewise, he works out daily and has a toned physique. He stands 6 ft 5 tall and weighs 311 lb, i.e., 141 kg.
Football Career
High School And College Career
Bell did not play football in high school as they did not have an organized team. However, he did play softball as a teenager. Moreover, he also played basketball at Summerfield High School.
His high school basketball career eventually earned him a scholarship at Northwestern State University, where he played basketball for three years in college.
Besides that, he started playing collegiate football when he redshirted for basketball in his freshman year. After that, the offensive tackle began as a defensive end.
After that, he eventually moved to the left tackle position after many offensive players were injured. Demetress had an exceptional senior year.
NFL Career
Buffalo Bills
Following his college graduation in 2008, Bell entered the 2008 NFL Draft. Furthermore, the Bills picked him in the second round as the 219th pick.
The NFL team saw the offensive line back as a work in progress that needed some time to flourish. Additionally, he had achieved remarkable success while playing only three collegiate seasons his entire life.
Hence, the Bills added him to their 2008 active roster and not the practice squad so that another team wouldn't sign him. Even so, the former footballer did not play any regular games in the 2008 season.
After his performance in off-season games and training camp, then Bills head coach Dick Jauron felt confident in allowing him to play in 2009. Demetress also became the starting left tackle for the regular season.
Unfortunately, he failed to shine in his chance as he had several penalties against him.
As a result, he had mixed reactions from the public and the media. Bell's career with the Buffalo Bills ended after he suffered a severe knee injury that placed him on the injured list for the remaining season.
Philadelphia Eagles and Dallas Cowboys
After a great four years with the Bills, the offensive tackle signed a five-year contract worth $34.5 million with the Eagles. No matter how he managed to stay with the team for only a season.
Following some injuries in the 2012 NFL season, the Eagles felt it was best to let Demetress go, as keeping him would cost them more, and the Philadelphia team released Bell from their contract in 2013.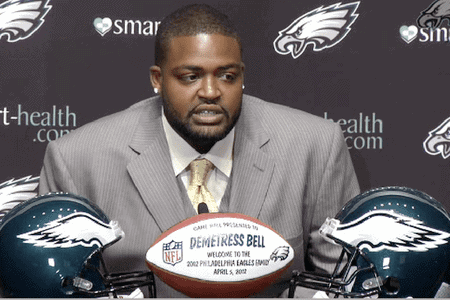 Thereafter, the former Bills player signed with Dallas Cowboys. But, again, the Cowboys released him before he even got a chance to play.
Highlights and Achievements
Associated Press All-American
Second-Team All-Louisiana honors
All-Louisiana First-Teamer
All-Southland Conference First-Teamer
Girlfriend & Relationship
Demetress keeps his personal life very private, so it isn't easy to know if he has a girlfriend. As per our knowledge, the former NFL player is not dating anyone.
He reportedly dated someone briefly in college, but Bell has never confirmed the news.
Net Worth, Career Earnings, & Salary
The football player earned most of his wealth through his career in the National Football League. According to the report of different sources, he is worth over $4 million.
He had signed a $34.5 million contract with Philadelphia Eagles but was able to earn only $3.2 million in his first and only season with the Eagles.
Furthermore, he had a salary of $715,000 with the Dallas Cowboys. In addition, he is the son of one of the greatest NBA players.
Besides that, his career earnings amount to $5,720,129.Therefore, it is probably safe to say that Bell leads a very comfortable life.
Frequently Asked Questions (FAQS)
Which NBA player impregnated a 13-year-old?
Karl Malone, the father of Bell, impregnated a 13-year-old when he was a 20-year-old college student at Louisiana Tech.
Is Demetress Bell a quarterback?
No, the footballer served as an offensive tackle in the NFL.
How much is Karl Malone worth?
The NBA's former power forward is worth over $75 million.
What is Demetress Bell's basketball statistic?
To date, Demetress Bell has played a total of 40 games and started 35 of them. During his career, he has maintained an average of 3.9 points, 3.2 rebounds, and 0.4 assists.