Deryk Engelland is a Canadian ice hockey player. He is currently a free agent.
The Edmonton-born never in his wildest dream had thought of calling Vegas 'home'. However, Las Vegas became his home, holding the memories of him meeting the love of his life, welcoming his sons, and playing for the Vegas Golden Knights.
He had also played for the Pittsburgh Penguins and Calgary Flames of the National Hockey League (NHL).
Engelland has explored quite a few different phases in his hockey career. He certainly has worked his blood and sweat to become mass's favorite.
Engelland is more than just ice hockey, raising his voice for the community. He runs a foundation named Vegas Born Heroes.
It aims to publicly recognize and honor incredible people who selflessly indulge in works to better the community.
Today, we will be talking about Deryk Engelland's personal and professional life. Let's get started!
Quick Facts about Deryk Engelland
Full Name

Deryk Engelland

Date of Birth

April 3, 1982

Birth Place

Edmonton, Alberta, Canada

Religion

Christian

Nationality

Canadian

Horoscope

Aries

Age
41 Years Old
Height

6 feet 2 inches (188 cm)

Eye color

Dark Brown

Hair color

Dark Brown

Build

Athletic

Father's name

Not Known

Mother's name

Not Known

Marital Status

Married

Spouse

Melissa Engelland

Children

Two sons

Son's name

Cash Engelland

Talon Engelland

Profession

Ice Hockey Player

Position

Centre

Active Since

1998

Current Affiliation

National Hockey League (NHL)

NHL Debut

November 10, 2010

Current Status

Free-agent

Former teams

Vegas Golden Knights

Pittsburgh Penguins

Calgary Flames

Awards and Honors

Calder Cup (Hershey Bears) in 2006

Mark Messier Leadership Award (2018)

Foundation

Vegas Born Heroes

Net Worth

$15 million

Social Media
Instagram Twitter
Merch

Jersey

, Autographed Items, Bobblehead
Last Update
June, 2023
Deryk Engelland – Early Life and Family
Deryk Engelland was born on April 3, 1982, in Edmonton, Alberta, Canada. The information relating to his parents and childhood is not available.
His father is a welder by trade. Hence, the Engelland family had to move frequently when Deryk was young.
Deryk Engelland spent most of his childhood in the Edmonton-area communities of Leduc and Mayerthorpe. The family then shifted to Chetwynd, British Columbia.
You might be interested in reading: Mika Zibanejad Bio: Ice Hockey, NHL, Family, Net Worth, & Wiki >>
The Attraction and Efforts
Engelland dreamt of playing for Lord Stanley's Cup as a schoolboy. The Stanley cup is a championship trophy awarded to the NHL playoff winner.
Canadian children aspiring to make it big in ice hockey fantasize about recording the victory goal in overtime of the final hockey game. Skating around the area with the Cup held high is also a big deal to them.
It is somehow synonymous with Americans wanting to hit a game-winning home run in Game 7 of the World Series.
Engelland was one among hundreds of those children dreaming of standing tall as an ice hockey player someday.
Deryk Engelland – Ice Hockey Career (Beginning)
Engelland played junior ice hockey in the Western Hockey League (WHL). WHL is a premium junior ice hockey league based in Canada and the United States.
Engelland has played five seasons of junior hockey for the Moose Jaw Warriors of WHL.
He first was a part of two games in 1998–99. He then built his place as a regular defenseman for the team in the four upcoming seasons.
Engelland recorded 17 points in the 2001–2002 seasons. Further, he had 199 penalty minutes in the 2002–2003 seasons.
The New Jersey Devils picked Engelland in the sixth round, 194th overall in the 2000 NHL Entry Draft. However, he never played for the team in an official game.
Engelland played professionally for the Las Vegas Wranglers of the East Coast Hockey League (ECHL) in the 2003-2004 season. He also played for the Lowell Lock Monsters of the American Hockey League (AHL) in the same season.
Evgeny Svechnikov Bio: Ice Hockey Career, Net Worth & Wiki>>
2004-2005 Season
Engelland returned to Las Vegas for the 2001-2005 seasons. He played in the ECHL, a mid-level professional ice hockey league.
He scored 5 goals and 16 assists, recording 138 penalty minutes.
Engelland then split his time between ECHL and AHL for the following several seasons. He managed to play for both South Carolina Stingrays of ECHL and Hershey Bears of AHL in the 2005-2006 seasons.
Similarly, he distributed his playing time between the Hershey Bears of AHL and the Reading Royals of ECHL in the next season.
Deryk Engelland – Career in the NHL and Beyond
Engelland had a fantastic performance in the 2007 Calder Cup playoffs for the Hershey Bears. He came to the notice of the NHL's Pittsburgh Penguins.
The Pittsburgh Penguins then signed Engelland to a contract.
Engelland also played in AHL for the Pittsburgh Penguins' AHL affiliate team. He represented the Scranton Penguins in the 2007–2008 AHL seasons.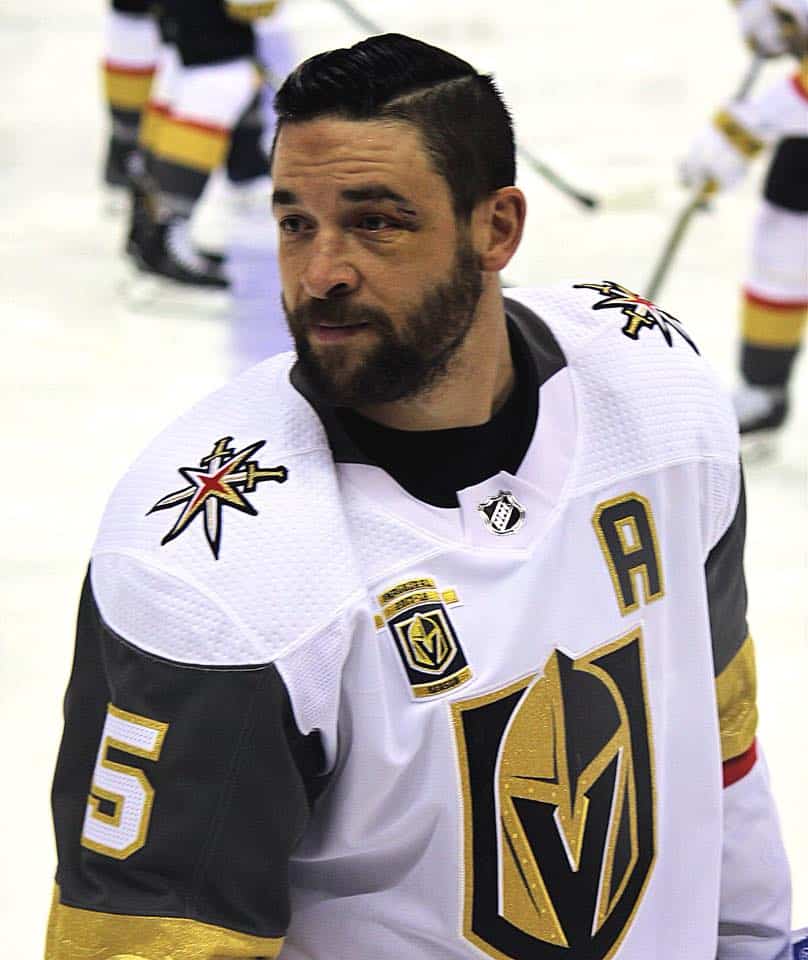 He participated in all 80 regular-season games. Engelland also played 23 playoff games. Moreover, he contributed to leading the team to the Calder Cup final.
Similarly, he played all of 80 regular-season games for Scranton Penguins in 2008–2009.
Furthermore, he started his 2009–2010 season also with the AHL club. He succeeded in reaching consecutive games played streak of 171. The record was broken in a game played on November 6, 2009. Engelland then earned his first recall to Pittsburgh.
Connor Clifton Bio: NHL Career, Family, Girlfriend, & Wiki>>
Pittsburgh Penguins
Engelland invested more than six years of his career in the minor leagues.
He then made his official NHL debut at the age of 27. It was with the Pittsburgh Pirates and against the Boston Bruins on November 10, 2010.
He represented the Pittsburgh Penguins in nine games, recording two assists. Likewise, he played 71 games and scored 11 points for the Wilkes-Barre/Scranton.
Engelland is grateful to the Pittsburgh Pirates for helping him develop his skills as a physical defenseman.
2010-1011 Season
Engelland's first season in the NHL was the 2010–2011 season. He played 63 games for the Pittsburgh Penguins.
He recorded his first NHL goal on November 12, 2010. It was against the Tampa Bay Lightning.
You might want to read: Brady Skjei – Career, Family, NHL, Education & Net Worth
Contract
Engelland signed a three-year contract extension with the Pittsburgh Pirates through the 2013–14 seasons. The deal paid him an average salary of $566,700 per season.
2011-2012 Season
Engelland appeared in 73 games for the Pittsburgh Pirates in the 2011-2012 seasons. His score improved to 4 goals and 13 assists in his second season.
2012-2013 Season
A labor dispute caused a delay in the start of the 2012–2013 NHL seasons.
Engelland signed with Rosenborg IHK Elite, a Norwegian ice hockey club. He represented them in Norway's GET-ligaen. It is a Norway-based top ice hockey league.
He appeared in 15 games for Rosenborg, recording 9 points. Engelland then returned to Pittsburgh Penguins with the resumption of the NHL season.
Engelland played 42 games for the Pittsburgh Penguins, registering 6 assists.
2013-2014 Season
Engelland posted a career-high six goals with added six assists in the 2013-2014 seasons. It was his fourth season with the team.
The score was recorded in a campaign where the Penguins occasionally played him at forward. However, Engelland was typically used for limited roles even though he was a regular in the Penguins lineup.
Calgary Flames
Engelland left the Pittsburgh Penguins in the next season. He then signed with the Calgary Flames, hoping to earn expanded responsibilities with the rebuilding team.
He signed a three-year contract worth $2.9 million per season with the Calgary Flames.
The amount was a five-fold increase over his previous salary. His earlier earnings were also criticized as being among the worst-value contracts signed during the 2014 free agency period.
Engelland had the opportunity to represent the Calgary Flames as an alternate captain during the absence of Troy Brouwer. Brouwer was on injured reserve with a broken finger.
Brayden Point Age, Height, Parents, NHL, Stats, Contract, Wife, Net Worth>>
Vegas Golden Knights
Engelland's contract with the Calgary Flames expired after the 2017 season. He was then left exposed at the 2017 NHL Expansion Draft in a free-agent position. The Vegas Golden Knights finally selected the Las Vegas resident on June 21, 2017.
He signed a one-year worth $1 million with the Vegas Golden Knights. He then declared his official return to professional hockey in the city.
The Vegas Golden Knights made it to the Stanley Cup Final. Engelland, the 35-year-old defenseman, contributed a big part.
Vegas didn't have a formal captain then. Engelland stood up as the de facto leader. He wore an 'A' on his jersey as an alternate captain.
He also accepted the Clarence S. Campbell Bowl as Western Conference champions. It is a role reserved for the team's captain.
He then signed a one-year worth $1.5 million extension through the 2018–19 seasons with the Vegas Golden Knights. It was signed on January 15, 2018.
The Vegas Golden Knights nominated Engelland for the King Clancy Memorial Trophy on April 23, 2018. He was nominated as a player who best exemplifies leadership qualities and gives back to his community.
He was named a finalist for the Mark Messier Leadership Award on April 24, 2018. Also, he won it on June 20.
The Vegas Golden Knights then re-signed Engelland to a one-year contract extension worth $700,000 on July 23, 2019.
You can see Engelland's career stats on the hockey-reference website.
Deryk Engelland – Vegas Born Heroes (Foundation)
Engelland started a foundation named Vegas Born Heroes. It aims to give back to the community members who have worked their blood, seats, and tears to benefit the Las Vegas community.
It is an excellent initiative because people who go out of their way to benefit the community deserve admiration and honor.
This move, started by Las Vegas's favorite ice hockey defenseman, inspires the Vegas people to indulge in society's common good.
Engelland has also brought many of these heroes out to Vegas Golden Knights games. He manages to meet them after the game.
He is also seen appreciating those people on his social media handles.
Furthermore, he contributed to feeding more than 7,500 meals to the staff at local hospitals at the beginning of the COVID-19 pandemic.
Mika Zibanejad Bio: Ice Hockey, NHL, Family, Net Worth, & Wiki >>
Deryk Engelland – Autograph
You can have a glance at the picture of Vegas' favorite ice hockey defenseman man's autograph.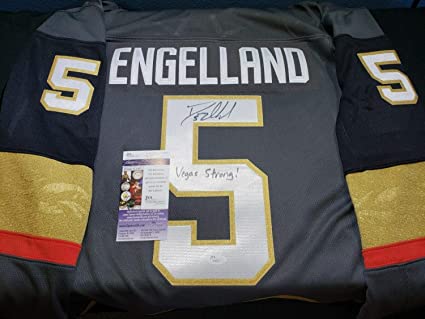 Deryk Engelland – Wife and Children
Deryk Engelland is married to Melissa Engelland. The couple first met at a bar in Vegas. Melissa was then doing her master's at the University of Nevada, Las Vegas.
Deryk used to play ice hockey for the Las Vegas Wranglers. Melissa didn't have the slightest idea about Vegas' hockey team. Hence, Engelland could not impress the beautiful girl he met at a bar by flexing his hockey story.
They exchanged numbers, fell in love, dated, and now have a beautiful family. They have two sons together: Cash Engelland and Talon Engelland.
The family prefers calling themselves not just strong but Vegas strong.
You can see the latest news relating to Engelland on the website of NHL.
Deryk Engelland – Net Worth & Income
Engelland has earned pretty good money from his ice hockey career. He lives a decent life with his wife and children in his Vegas home.
Deryk Engelland's net worth is estimated to be around $15 million.
The Vegas resident believes in giving back to the community. His deeds justify the proper use of the fortune that he has accumulated over the years.
Visit Deryk Engelland – Wikipedia to stay updated on Engelland's life happenings.
Deryk Engelland – Social Media Presence
Engelland dedicates his social media handles mostly to his foundation. He informs his audience about every essential now and then of it.
You can see him via these links:
Common Queries about Deryk Engelland
Did Deryk Engelland retire?
Deryk Engelland is currently an unrestricted free agent. He stands strong in his late 30s.
The Vegas defenseman is already offered a position with the team when he is done playing. He loves Vegas and is certainly willing to be part of the organization.
However, Engelland has not yet come to a firm decision, exploring all the possible options on and off the ice.
Will Deryk Engelland play for the Vegas Golden Knights in the upcoming years?
Deryk Engelland had his last contract extension signed with the Vegas Golden Knights on July 23, 2019.
Kelly McCrimmon, general manager for the Vegas Golden Knights, said that the club would not sign veteran defenseman Engelland for the next contract.
But it does not mean that Engelland will cut his ties with the Vegas Golden Knights. The club would be more than glad to offer positions to him.
He would serve in the Golden Knights's front office. He might instead serve as a coach for the Henderson Silver Knights.
Engelland also has the option to be a part of the Vegas organization if he dismisses other offers.
Is Deryk Engelland good enough?
Deryk Engelland is impressive to watch as an ice hockey defenseman. He has contributed to his team's victory several times.
Also, he has recorded excellent scores.